Moderator Kate Bulkley and Ben Pyne, president—global distribution, Disney Media Networks.
In a rapid-fire series of three fireside chats, representatives from three industry leaders shared strategies for sating a fickle audience's thirst for higher-quality content, with special emphasis on millennials.
Pyne began by talking about Disney's general approach to tech adoption and evolution. Disney has three priorities: "creative excellence, embracing technology and going international," he said.
Bulkley speculated that many thought Disney was crazy to dive into bed with OTTs so quickly, but Pyne saw it as the pragmatic option.
Years ago, "Ten minutes after Lost or Desperate Housewives were off the air, they were ripped around the world and we couldn't control it," Pyne said. Disney decided to make access easier with VOD services and relationships with companies like iTunes, to avail  content on any screen.
He also sought to dispel the myth that viewership is decreasing. "When Lost premiered in 2004, 18m people came to its premiere," he said. "There's this notion, when you see declining ratings, like 'OMG, people aren't watching TV'." But if you look at the launch of Agents of SHIELD last spring, or the launch of Resurrection, the story is different: SHIELD's total audience was 20m, and Resurrection's was 21m. Both are bigger today than Lost was.
Prompted to talk cashflow, Pyne said that "the line is going up," but the money is made in different ways today. Much of that has to do with how Disney's adjusted its distribution offerings based on new habits.
In the life cycle of a piece of content, live viewing generally still captures 52% of total audience. Beyond them are same-day (catchup) viewers, DVR (typically consumed within the first 3 days), set-top box VOD (an American offering that empowers consumption in 4-7 days), followed by typical VOD consumption (4-35 days), and then online (1-35 days).
"Fish where the fish are," said Pyne.
He was also asked about Netflix—whether it's truly friend or foe. Pyne replied, "Netflix is a friend and a very important client. In the early days of our relationship, we sold them library TV series. They'd already aired and were showing in the library window. In general that was how we licensed."
He observed Netflix is great for catchup and discovery: "People discover Lost on Netflix and walk up to me today. I'm like, 'where were you?'" he quipped.
Last year they announced a relationship with Netflix for the development of Marvel properties like Daredevil. "We had an idea for a project that we pitched to broadcasters and paid channels, but there wasn't space for it. But Netflix said 'wow, we are starting to do more originals, what a great opportunity'."
This is a chance for Disney, as a content creator, to experiment with Netflix. Overall, he doesn't consider working with Netflix to be a zero-sum proposition. "It's another creative outlet."
Before wrapping up, he spoke briefly about Maker Studios, whose chief content officer followed him in the next fireside chat. Per Pyne, "We're bringing together their expertise in short-form to try to create more opportunities to reach Millennials."
He implied that Disney would work with Maker to combine their content offerings in relevant cases, which Erin McPherson of Maker Studios elaborated upon.
"With Disney, we will be cross-pollenating," McPherson said, "both by bringing Disney content into the Maker network in short-form, and by taking YouTube talent and the next generation and, where appropriate, mixing them into the Disney array of brands and franchises."
Bulkley asked whether McPherson truly believes the types of short-form content that Maker Studio provides can live on TV.
"It absolutely can. And it will," McPherson said.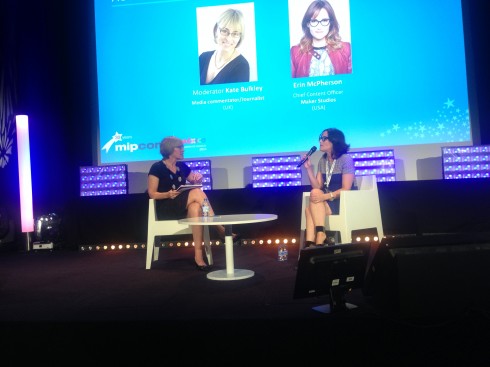 Moderator Kate Bulkley and Erin McPherson, chief content officer of Maker Studios.
Bulkley dug into the subject of PewDiePie, a gamer commentator and fellow YouTube-based Maker who earns a purported $4m per year on his 30m subscribers. How does Maker Studios leverage a business with this kind of talent?
"Our business is diverse," said McPherson. "We work with 55,000 creators and growing. On average, 100 new Makers join the network daily. Those are the ranks of the next PewDiePies, and we'll continue to invest in that because these talents bring audience. They are the new programmers, marketers, producers, their own distributors."
She added that in this world, creators must be authentic and put audiences first. "That's instinctive to them, so we follow that cue." As an example, Makers Studios, in partnership with sponsor As Above, So Below, sent PewDiePie into Paris' Catacombs, where he essentially played out a real-life video game.
"He loved it and his audience loved it," said McPherson, calling PewDiePie "the Jimmy Fallon, the Jon Stewart" of Millennial audiences for gaming commentary, with the added benefit of a one-on-one connection.
Citing rumours that PewDiePie may someday leave the Maker Studios family, Bulkley asked how Maker plans to keep talent on board, given that IP is so crucial to its success.
"PewDiePie's incredibly important to us, and we have a great working relationship with him," said McPherson. "Every participant has to add value"—including Maker itself. "We have to add value to the creator; we can't just be taking a revenue share. It's a commitment to provide the tools and technology to help them make more money, reach more audience, and produce content that hits their passions."
As long as this is the case, "I think it won't be an issue if they stay or not."
She also stressed,  Convergence is here. We're in it. At Maker, it's important to emulate that in our content and be the mixing ground for traditional and new media talent."
Asked whether Maker Studios will eventually move off YouTube, whose fees can be significant for creators, McPherson pointed to the Maker platform and to sites dedicated exclusively to talent. "We are absolutely committed to diversifying distribution, and we've already been doing so… It's about reaching audience where they are and providing the best experience. We can provide a differentiated experience off YouTube where fans can immerse in the world of PewDiePie and the best of Maker."
Still, she emphasised that YouTube is here to stay. "They're our biggest partner and a huge search engine. But they're not  the only point of consumption. It's got to be a diverse environment".
In a year, McPherson said Maker would remain committed to the Millennial audience. "You can't be in the audience business without being in the IP business. You'll see us on a lot more screens. The sky really is the limit as this content continues to merge with traditional content."
She also talked about upcoming channel Smartish, created in collaboration with Morgan Spurlock. The show is populated with voices from both the traditional media and digital worlds. "It's very organic, from and of the YouTube community," McPherson said. "The hope is also to invite talent so in a way it forms its own mini-network."
Spurlock himself says Smartish will "bridge the gap between ted talks and reality TV." Its value-add: Smart, entertaining and informative content.
"Could it end up being a cable channel?" Bulkley asked.
"Absolutely. That's the goal," said McPherson.
After McPherson, co-founder Andrew Stalbow of Seriously spoke briefly about the power of games as a content platform.
"The average American consumer spends 52 minutes a day playing games on their mobile or tablet," Stalbow began, calling games a "very immersive" platform: People literally lean forward into them.
The idea at Seriously was to build mobile games that could become strong content properties. "With mobile, you're seeing a new generation of brands emerging and being built to the power of touch," Stalbow added.
Seriously's first release, Best Fiends, is expecting to do 1m downloads in under a week. One review pits it against games like Angry Birds and Candy Crush—apt, given that Stalbow is the former EVP-executive partnerships of Rovio, the parent company of Angry Birds.
"Session lengths [for Best Fiends]are incredibly high," said Stalbow. "The average for a casual mobile game is 2-3 minutes; we're seeing 12."
But the trick to great content, even in gaming form, is to avoid getting bogged down by data. "When you're building something like this, you can see a lot of data," Stalbow said. "At the end of the day you just have to make this thing fun. Fun is the best platform for building an IP."