Moderator Brent Weinstein, head of digital media, United Talent Agency (left) with Ben Huh, CEO, Cheezburger
Brent Weinstein, head of digital media, United Talent Agency, began this session with a history of the media mogul. He walked us through the birth of Hollywood, to its government regulation, to the days when talent were gate-kept by bullish agents, to today, with the advent of YouTube and the explosion of self-made, cross-platform stars, like Jimmy Tatro, Workaholics (since purchased by Comedy Central), or Andrew Bachelor (King Bach), who found fame on Vine.
This yielded a crop of new media companies, like What's Trending, Machinima, AwesomenessTV, Tastemade, and FailBlog. « These are the media companies, not of the future but of the present, » Weinstein proclaimed. « The access they have to huge audiences is something that no one would have expected just a few years ago. »
Not to mention the new platforms where they can all live: YouTube, Vimeo, Vine, reddit, snapchat, Instagram, Twitter, and Facebook, to name a well-known few.
It's with this hefty introduction that he introduced us to the guest speakers. First up were Damon Berger and Shira Lazar of What's Trending.
« I was at Disney, Revision3, Fox … big traditional companies, » Berger began. « Both of us saw an opportunity where we could take what we learned at these big companies and apply them to our own, more nimbly. »
« I'd always been a broadcaster, kind of in the middle of both worlds, » said Lazar. « I wasn't getting the traditional media jobs I wanted, but hosting a lot of digital media stuff, talk shows and morning shows interviewed viral stars or covered what's trending at all. »
What's Trending was born from a desire to « make a broadcast-quality format » because web shows lacked the reputation of strong production. But it also had to be authentic and interactive for web audiences, Lazar said.
« Our audience can chat with our host and influencers, and be part of the show. That's something unique to online audiences. TV at present just doesn't do it, » said Berger.
Lazar pointed to the production aspect of the show. « We're the first high-quality daily show for the YouTube audience, » she said. « We're saying 'these are the people actually creating the trends. We're getting them first because we're not within the confines of a traditional company. Now big companies want in. But we're only able to do this because we're creating from the outside. »
What's Trending has also done a good job of attracting advertisers like Samsung, which Lazar called a « long relationship, built with time. »
« We put so much effort into making our properties TV quality, it lowered our barrier to entry with these advertisers, » Berger added. « They were very comfortable seeing the work we do. We're trying to fill the gap MTV left, where it used to curate what was cool for audiences of all ages. We're trying to do the same thing with internet trends. »
In terms of big plans, Lazar proclaimed « the sky's the limit for companies like ours who were there from the beginning, and who have credibility in the digital realm. »
Following What's Trending was Ben Huh of media entity Cheezburger (pictured above), which promises « videos, pictures, text, a multiformat way of delivering a way to make you laugh every single day, » said Huh. « We're one of the largest destinations on the net. »
Recently, Cheezburger raised $35 million in venture capital funding — and for good reason: It generates a half-billion pageviews per month. Failblog, a sister channel, was a Top 5 YouTube channel.
At Cheezburger headquarters, 50 people are employed in the service of « curating humour ».
« We're a distribution channel for making others laugh, » said Huh, who purchased the site I Can Has Cheezburger from its previous owner, when it was a mere repository for funny cat photos. He quit his job and drummed a business model out of it.
100% of Cheezburger's revenues come from advertising, of which native advertising plays an enormous role. Huh pointed to how advertising used to be a disruptor, interrupting the content you actually wanted. « Now people can't tell the difference, » he insisted.
But it's also heavily reliant on the platforms and behaviours people adopt, forcing the company to evolve all the time. « How do we create content native to the internet? It is a radically different world, but we're still stuck thinking we have to do TV the way it was done, » Huh said.
« There are more options available. It is not just between choosing what is out there. You can create something that breaks the mould. » He emphasised that when you're a new media entity, you have to make a choice between going hard on content — diversifying your content offerings yourself — or going hard on tech and platforms, enabling others to do the work. Cheezburger is now heavily focused on platform and tech distribution, and how it changes consumer behaviour.
« The habits people develop on their smartphone will change the type of content Cheezburger produces fundamentally, » said Huh. « You have to go out there and make content native to the device of your audience. [A smartphone] is not a shrunk-down television. »
He also spoke on the challenges of working in humour. « The interesting thing about culture and humour is you can't translate it, » said Huh. « You have to go to the native market and figure out what people are laughing at, and create content for them. » That's part of why Cheezburger is « more interested in the platform idea »: it enables local stars to produce the content they want, and to show Cheezburger what's funny in their markets.
Part of doing also this means noticing unserved aspects of your market, and finding ways to accommodate them. Cheezburger recently launched a Spanish-language vertical. « Almost 20% of Cheezburger content that's submitted has Spanish themes already, » said Huh. So the company had to ask, « How do we give them a home, a brand? »
Huh also continues to believe in the power of the ad market, where he sees « a lot of disruption happening. »
« The Super Bowl is still the best deal out there in terms of reaching a huge audience and making an impact, and part of that is because of the digital sideshow that happens » — for example, with brands trying to steal some spotlight on Twitter. « We need to stop being a sideshow and become the real thing! »
All in all, « there's $60 of US spend in TV advertising. We're gonna take a huge run at that big screen that you spend thousands of dollars buying, because TV real estate is something advertisers are still interested in. »
Following Huh was Kerry Trainor, of Vimeo.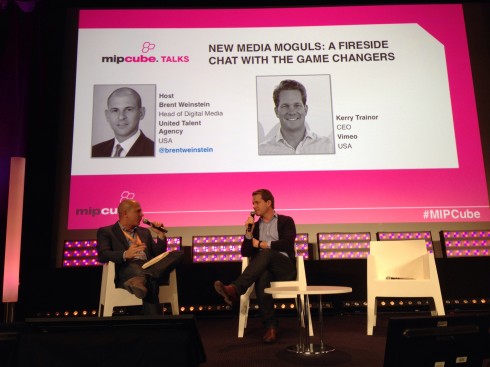 Trainor emphasised the importance Vimeo puts on its community of creative professionals, which drives the majority of the platform's growth.
« Vimeo was the first site to offer true HD streaming over the net, and that solidified its relationship with professional high-quality creators, » said Trainor. « But the exciting next-phase is building revenue for creators. We've transitioned from a sharing tool to the launch of Vimeo On Demand, where subscribers to our Pro account can offer content for paid consumption, at any price and format they wish. We're only taking 10% of the revenue and our commitment to creators won't ever change. »
« We believe the ad-supported economy will continue to grow, » Trainor allowed, « but I also believe that advertising is only one business model. The opportunity for great creators to charge directly for their work is exciting, and we want to power that market. If you want to charge $15 for 20 minutes of content (which breaks almost every rule of iTunes)? Go ahead. There are creators doing it, and doing well. »
He also sided with a point Huh made about traditional brands. Earlier, Huh said that, despite our general contempt for them, speaking with an actual traditional brand exec leaves you feeling enormous respect for the hours they put in and the passion they feel for entertainment.
« Silicon Valley can be an echo chamber, » Trainor said. « When you get the combined exposure to new media and digital DNA, and you can work with people who have decades of experience in traditional media, that's extremely valuable. »
In terms of what's next, Vimeo may take a page out of Netflix's playbook. The company is looking at « search discovery recommendation and promoting content, being able to match interests of viewers with the catalogue. »
He also invited producers to try Vimeo for themselves. « We're interested in a range of content. But we're looking for things not generally super-served by other existing channels. We won't march into the bidding war for first-run studio films at this point in our development; it's well covered, » Trainor said.
« But there's so much content out there that's high quality. We now have over 7500 titles in the catalogue that have been uploaded organically by creators, across genres or formats. We're interested in anything where creators or producers want to take greater control over their path to the audience and greater control over the economics. »
The session closed neatly for Vimeo, with a Ghanaian producer standing up to proclaim he is now making close to $10,000 per month on Vimeo. « There's just one small thing, » he said, « but we can talk privately about that. »
Trainor laughed and said he'd be happy to.
Be sure to read our exclusive white paper "Building the new digital content market"! Download here (email required)