Farmed & Dangerous has been a critically-acclaimed hit on Hulu, airing earlier this year on the online video service. It was fully funded by restaurant chain Chipotle, which worked with branded entertainment company Piro.
The session featured Chipotle's chief marketing and development officer Mark Crumpacker, writer/director Tim Piper and Piro's founding partner Daniel Rosenberg, as well as actor Ray Wise. The moderator was Variety foreign correspondent Elsa Keslassy.
Crumpacker started, explaining why Chipotle opted to fund the show. He suggested that the company spends a lot more money on its ethically-sourced ingredients. « I don't have very much money in my marketing budget! That's led us down this path of using very non-traditional marketing, » he said. « This show we created has all the issues in it, not all of them, but many that we consider important. » Those issues being the less pleasant aspects of industrial agriculture.
Chipotle ran a series of innovative marketing promotions around the series, and saw it notch up more Facebook Likes on Hulu in a couple of weeks than some big TV brands – Modern Family was cited in the session – had accumulated in years. And viewers liked it too: the show garnered an average rating of 4.5 stars out of five on Hulu.
Crumpacker talked budgets. « We wanted to create an entertainment experience that didn't take people out of the show. Sometimes low production values can make it feel less entertaining, » he said. « While we don't as a company disclose specifically what we spend on an individual marketing campaign, it's very similar this to what it would cost us to run a traditional campaign… It's really a relatively small part of our overall budget. »
Rosenberg said the project was a « wide-open brief » for Piro, which came up with the idea of satirising Chipotle's corporate foes: the people who « really think we're going to get in the way of business as usual in agriculture » according to Rosenberg. « Chipotle really gave us a lot of the foundation for the creative. »
Piper talked about the collaboration: « We got a lot of feedback from Chipotle and it was always about making the entertainment better: it was never 'can we have more of our message in there', » he said. Meanwhile, Wise talked about how the
« The production values were first-rate, they were as good as any I've experienced: as well as 24 and Mad Men and Twin P… Well, maybe not as good as Twin Peaks! No, as good as Twin Peaks… And it was a pretty good cast. I think stuff made for the web is just as good now as stuff made for the major networks. It's all becoming one. I don't care who hires me, just as long as they do! »
« The show generated the same number of views in the first two days that Hulu thought it would get forever, » added Crumpacker. Piro is now starting to talk to TV networks about selling the show to them, after a period of exclusivity with Hulu.
Are branded shows still controversial in the US? « From Piro's perspective as a company, we have our own forces that are working against us: the way the advertising business is set up, they don't particularly love the idea of a show bing the advertising, » he said. « And on the other side you've got television networks who don't particularly like the idea that their advertisers are becoming the content, and the 30-second spot is going the way of the woolly mammoth. »
What next for Chipotle? « I think we'll produce more original content… it'll probably become an increasingly large percentage of what we do, » said Crumpacker. « Right now it's hard for the networks to see this as original content that has value… When we go to talk to a network about the show, they're very excited because they think we're gonna buy a bunch of ads! So they have a hard time figuring out what to do with our show… But we're on the very cutting edge of this. No brand has created that much content at that level of quality before, really, in the way that we've done it. »
Rosenberg said that Piro hopes « we would love more brands to become the entertainment », but is also working on original series without a brand attached – it's just had a series greenlit for Bravo for example. But Wise joked that the biggest impact for him has been seeing his face on cups in Chipotle restaurants as part of the marketing around the show.
« I think it's the first time in history a restaurant has put the face of an actor on their cups, except for McDonald's, they do that a lot with Star Wars… but for a web series this is a first, and I'm very proud to be on their cups! And I hope I get the Chipotle gold card, which means a burrito a day for life! So if I ever become homeless, I'll at least eat, » he quipped. « But I really do hope we continue with this show, because there's a myriad of stories we can tell. »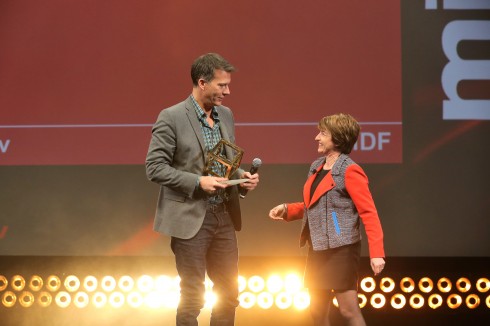 The session ended with Chipotle's Crumpacker being presented with the MIPTV Brand of the Year Award, by MIP Markets director Laurine Garaude, recognising its innovative online video strategy.

Read more: MIPBlog's interview with Farmed & Dangerous star Ray Wise
And be sure to read our exclusive BCMA white paper "The future of digital video content"! Download here (email required)