Millennials are parenting. Gen Z is entering the workforce. And the never-ending wheel of time has spun a new generation for TV producers to watch: Generation Alpha. The oldest members of this digitally native, pandemic-influenced generation are tweens now and their unique media habits distinguish them from previous generations.
Who is Gen Alpha?
Gen Alpha, also known as the "tech-savvy" generation, is the demographic cohort born after 2010. By 2025 (that's when the first Gen Beta will be born by the way), there will be two billion of this youngest generation around the globe. These digital natives have been brought up in a world where technology is an integral part of their everyday life. They are the first generation to have been born entirely in the age of smartphones, tablets, and social media, and as such, they have a natural affinity for technology. From consuming digital content on multiple devices simultaneously to creating their own content and engaging with their peers online, Gen Alpha is transforming the media landscape in ways that were previously unimaginable. They are not passive consumers; they are co-creators – and they are even more digital and global than their elder siblings, Gen Z.
Gen Alpha's media habits are characterized by a preference for digital content, multi-screen consumption, social media proficiency, short attention spans, and a desire for personalized content. So far, they are quite similar to Gen Z. However, while Gen Z's favorite pastime is gaming, and watching TV/movies is only their fifth, for Gen Alpha watching TV/movies is still their most popular activity on the weekends (59% say this), and second-most popular after school (50%). Even post-pandemic, films/movies remain teens' biggest interest (69%), while 8–11-year-olds rank it just behind animals/pets (70%) – according to the GWI Kids Q1 2021 & Q1 2022 Study.
Where and what is Gen Alpha watching?
For Generation Alpha, TV streaming will be the medium that defines consumption habits. They are growing up as a streaming-first generation, with access to seemingly limitless content across a broad range of devices and media. YouTube is a platform that most children today grow up with from an early age, serving as an alternative to traditional TV. They are used to watching what they want when they want, and I don't think there's a way back to appointment-viewing with this generation. Plus, many of their favorite TV shows are available on streaming platforms like Netflix, Hulu, and Disney+. Animated shows in particular are popular with Gen Alpha, with shows like PAW Patrol, Peppa Pig, and SpongeBob SquarePants being among their favorites.
When it comes to TV genres, younger kids are more likely to watch shows they can dance or sing to, while among teens music is already the fastest growing TV genre. Content that's sad or serious like drama or soap operas have seen dramatic decreases. It doesn't come as a surprise that after several challenging years, Gen Alpha expect positive vibes from the content they watch: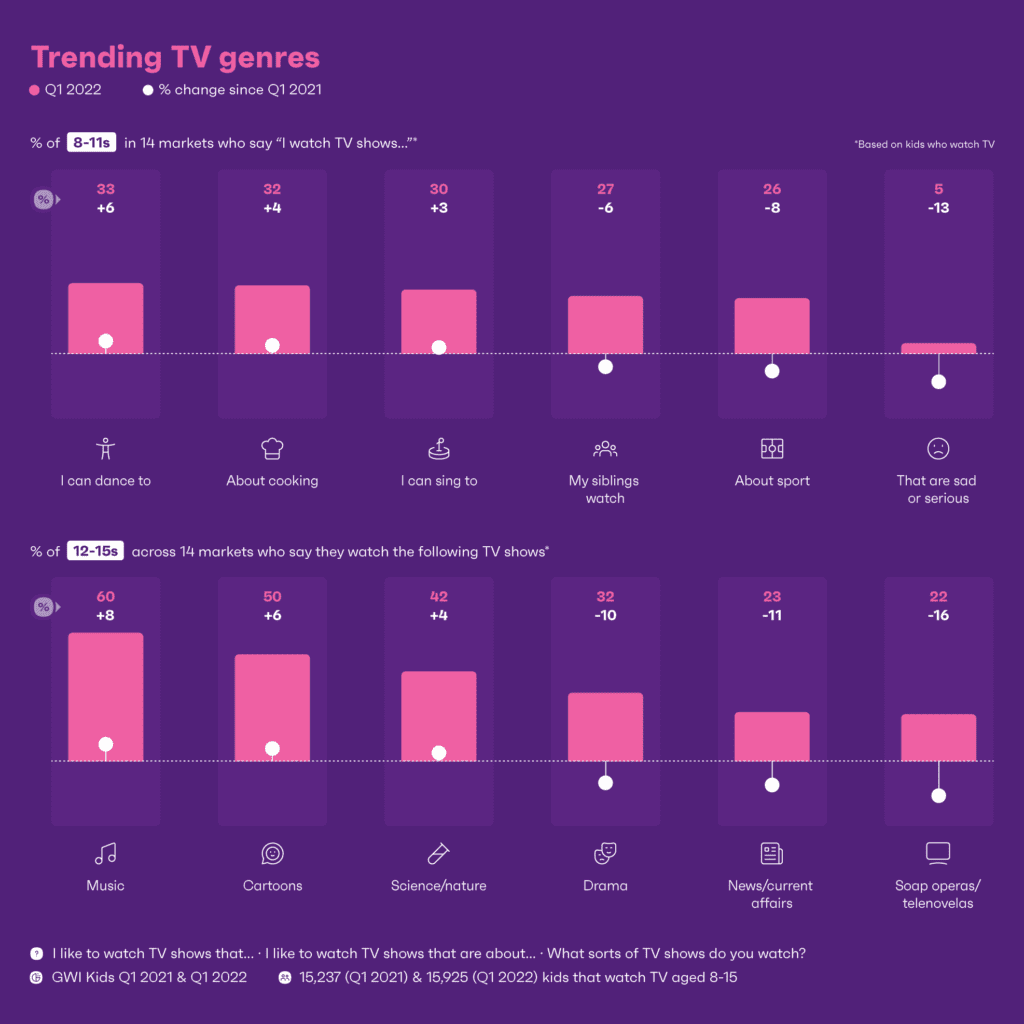 Cartoons are the ones to watch as they have not only increased in popularity among teens in the past year but are also now their second-most watched genre just behind comedy (62% vs. 60%). So feel-good content is most popular with this generation, and they also want to co-create around their stories and characters. One place that offers this, especially when it comes to dancing, is TikTok.
Why is Gen Alpha on Social Media?
It's no secret that kids like to hang out on social video platforms such as TikTok, YouTube, and Snapchat – where successful channels like Cocomelon and Kids Diana Show attract huge global audiences. For Gen Z, TikTok is their favorite streaming platform – next to YouTube -, while 13-15-year-olds are most likely to name it as their favorite platform overall (1 in 5 do). The reasons for following social media platforms are the following: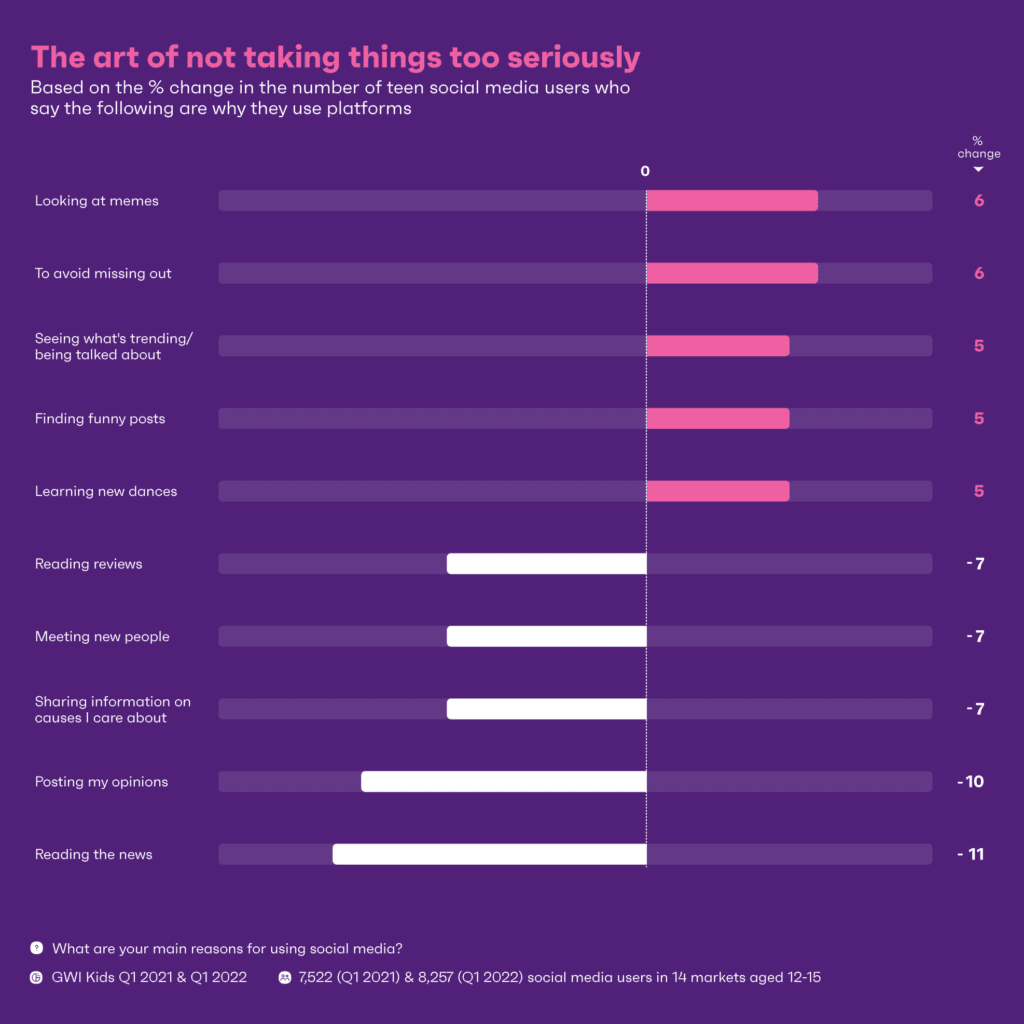 Gen Alpha wants to be entertained and engaged on social media and to be "in the know". They want to avoid missing out and want to see what's trending. In Q3 2022, there was a 125% increase in the number of children ages 10-18 who reported viewing informational content on TikTok.
What about gaming?
Another topic that is also trending when it comes to kids TV is the recovery of family viewing, with parents seeking a reason to be together with their children. However, this doesn't just include TV shows but also gaming. According to Ypulse data, children of Millennial parents are not just playing games on their own—though they surely are—but the majority (64%) are playing them alongside their parents. Playing games together is a form of bonding for this gen of parents, because gaming provides an easy common hobby, especially for the 63% of Millennial parents who consider themselves "gamers."
Also, for older children, playing with friends online is more common than playing alone, especially among 12-15-year-olds. More importantly, it's the general preference among children, with under a fifth saying they'd rather play alone than with others. With Roblox having been described as the "most social ecosystem on the planet", Gen Alpha's experience with creation systems has not only sparked their imagination, but also prompted them to crave social interaction while playing: 48% of teen players want games to include either teamwork or events, rising to 56% among Minecraft users.
All of this means Gen Alpha is growing up inside the metaverse. Already, this demographic is hanging with their friends in virtual playgrounds in the form of Roblox and Minecraft. They are expressing themselves with online avatars that can be customized with digital wardrobes that are purchased using online currencies. And this trend will continue.
In this era of rapid technological change, understanding the media habits of Gen Alpha is crucial for anyone looking to engage with this dynamic and influential generation. If you would like to find out more about Gen Alpha, join us on Tuesday 18 April at the Palais des Festivals in Cannes for an afternoon of keynotes and panel discussions about the future of kids TV.