Take a look at the latest deals announced in Cannes on day 2 of MIPCOM.
FilmRise brings raft of TMS anime to North America
New York-based film and television studio and streaming network FilmRise has entered into a distribution deal with TMS Entertainment, one of the world's largest anime studios. The deal gives FilmRise AVOD rights for the US and Canada to 38 anime television series and films — comprising over 1,100 episodes. 
Content includes multiple seasons and films from popular franchises Lupin The 3rd, Sonic X, Virtua Fighter and Case Closed. In addition, the TV series Sherlock Hound, Monster Rancher, ItaKiss, Kenichi: The Mightiest Disciple, Saint Seiya: The Lost Canvas and classic children's film Little Nemo, among others, are included in the deal. FilmRise will distribute to AVOD/FAST platforms, and the FilmRise Streaming Network, where the programmes will run on a soon-to-be launched FilmRise-branded OTT anime-focused channel. 
Max Einhorn, senior vice-president of acquisitions and co-productions at FilmRise, said: "TMS Entertainment is one of the world's premiere anime studios. These highly sought-after productions are an incredible addition to our offerings."
Sam Maseba of TMS Entertainment added: "Already having a dedicated and loyal following around the world, these hit series can now be enjoyed for free on streaming platforms in North America."
Insight TV goes for Winter Gold
Millenial-focused global channel and content producer Insight TV is teaming up with China Media Group (CMG) to co-produce a new documentary series about a group of athletes preparing for the 2022 Beijing Winter Olympics.
In collaboration with CMG's Film, Drama, and Documentary Programming Center, Winter Gold will be an intimate study of the sporting elite, covering the run up to several Winter Olympics events, such as figure skating, alpine skiing, and snowboarding. 
It is set to feature athletes from all over the world, including the US's Alice Merryweather, an alpine skier; UK snowboarder Katie Ormerod; Russian ice hockey champion, Mikhail Sergachev; and Mexican figure skater, Donovan Carrillo.
The Insight TV crew is currently filming the series across all athletes' home locations.
Epic's bold stories win new deals
Canadian prodco Epic Story Media (ESM) has signed deals for both broadcast and licensing partners on several key titles across its children's programming slate.
Educational series Pocoyo (209 x 7 mins) has landed with WarnerMedia Kids & Family US for its Cartoonito pre-school block, and been picked up by Knowledge Network for broadcast in Canada. 
ESM and Mowrer Meta-Story have partnered with Reesee Entertainment on brand-new animated series Hailey and the Hero Hearts (26 x 11 mins), which launched in China this summer. ESM is also launching global sales for its hilarious Pet Shop Zombies (20 x 5 mins). 
Other projects on the slate include comedy-adventure Dex and the Humanimals (6 x 11 mins), and Piper's Pony Tales (30 x 3.5 mins).
WarnerMedia Latin America snaps up BBC content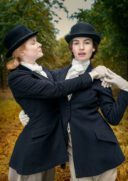 BBC Studios has agreed its first ever content package with Warnermedia Latin America for HBO Max. The deal covers over 100 hours scripted, children's and factual content, and includes some regional premieres.
Drama firsts include Emily Mortimer's adaptation of Nancy Mitford's novel The Pursuit Of Love, starring Lily James, Emily Beecham and Dominic West. Time is a gripping prison tale from writer Jimmy McGovern, starring Sean Bean and Stephen Graham. Meanwhile, The Outlaws features Christopher Walken in his first lead British television role.
Factual content ranges from Presidential tale The Trump Show to Greta Thunburg: A Year To Change The World, following the extraordinary global activist. Younger audiences will have the chance to see Emmy award-winning pre-school series Hey Duggee.
TF1 snared by All3Media International's Love Trap
Distributo All3Media International has licensed Great Scott Media dating show The Love Trap to TF1 France. The deal, which will see the French version air on TFX, comes ahead of the show's domestic launch on Channel 4 UK. 
According to All3Media International, the reality game show hybrid subverts familiar dating show tropes, by getting audiences to question just how good people are at spotting a genuine connection. Ten women do all they can over a series of dates to win the affection of one single man. In a twist, only half of the women want to win the bachelor's heart, the other half want to stay in the game to win a big cash prize.
The deal was negotiated by All3Media International's Graham Spencer who said: "The French know the delights and perils of dating — and this show highlights both aspects."
Talpa wins orders for entertainment hits
THE Netherlands' Talpa has unveiled key show sales at MIPCOM, with Dutch network SBS6 placing second series orders for both Hunting Season and Dream Duets. 
Hunting Season sees a celebrity duo attempt to flee a team of three prison guards, despite wearing GPS trackers. Dream Duets pairs well-known artists with their entertainment icons, enabling them to sing and record a video together. 
An as-yet-unaired talent contest by Talpa has also been commissioned by the Middle East's MBC Group. Avastars, which is set to launch in the Netherlands in April 2022 on SBS6, sees two top talents — a dancer and a singer — combined into a single digital creation. The MBC show will be produced by Talpa's new partner, Blue Engine Studios.
Host of Russian dramas find new homes
Russian period crime thriller Noble Detective, produced by Moscow's NTV, has been acquired by Japanese media company NHK Enterprises.
The drama series, which is set in early 20th century Tsarist Russia, follows an aristocratic crimefighter called Nikolay Bezsonov. The series stars Denis Nurulin and Aleksei Grishin, and will air on the crime-focused AXN Mystery channel in 2022. It will also become available for subscribers of five online services through the AXN Mistery on demand SVOD platform.
The deal tops a successful year for NTV, which has also recently placed shows including period drama The Sacrificing, crimedy The OPERAtive, Five Minutes Of Silence and crime thriller Unidentified with Brazilian VOD platform Looke. This follows several deals inked in 2020 with Brazilian distributor Encripta.
All3Media cleans up with home clutter show
Distributor All3Media International has clinched several format sales for Sort Your Life Out, the factual entertainment show from Optomen Television which offers families the chance for a major declutter.
Following a successful BBC One pilot, the format has been picked up by broadcasters including The Netherlands' SBS6, which will show IDTV's adaptation. TF1 has signed rights for France and French-speaking territories, while Tower Productions has commissioned a first series in Germany. 
In Denmark, TV2 will adapt the format, with MTV Oy making a series for Finland, and Monster Entertainment producing the series for Norwegian audiences. 
BBC One has already commissioned six episodes of Sort Your Life Out, presented by Stacey Solomon, which will air later this year. 
Classical platform EuroArts changes its tune
Les Echos – Le Parisien Group has acquired a 95% stake in EuroArts, an audio-visual production and distribution company specialising in classical music.
The group said it made overtures to Berlin-based EuroArts to create a worldwide creative group of classical music assets. The deal adds to holdings such as TV with Mezzo – in partnership with Group Canal+, which has 65 million subscribers in 90 countries; plus digital platform Medici.tv, with Eren Group, featuring 3,000+ programmes on SVOD and 150 live events each year. It also covers radio with Radio Classique, boasting 1 million daily listeners in France, and some heritage audio-visual catalogues.
EuroArts has produced over 800 original programmes since 1979 and is also a major global distributor of performing arts content. 
Guru's Rainbow Kingdom spans the world
Canada's Guru Studio has scored a raft of deals around the world for True And The Rainbow Kingdom, its pre-school animation. The series has now been picked up by Clan RTVE (Spain), Carousel (Russia), WarnerMedia Boomerang (France, Africa) Mediacorp Okto (Singapore), EBC Yoyo(Taiwan), TG4 (Ireland), Spacetoon (Middle East), Channel 4 (Finland) and Pixel (Ukraine). Having previously acquired multiple seasons of the series, Gloobinho (Brazil), NET (Indonesia) and NINE (Australia) have quickly acquired Season 4. 
"True is building a massive global fanbase with its message of empowering kids to be mindful, compassionate and courageous," said Jonathan Abraham, vice-president of sales and business development at Guru Studio.
The series first launched on Netflix in 2017 and has since become popular with broadcasters including CBC Kids in Canada, Tiny Pop in the UK, Gloob in Brazil and Canal Panda in Spain. On AVOD platforms, including YouTube and YouTube Kids, True And The Rainbow Kingdom has amassed over 650 million views.