The dynamism and enthusiasm displayed by many of the speakers at this year's MIPDOC summit reflected the growing hunger among TV viewers for programming that decodes and untangles the realities of our complex and contradictory world.
​This was very much the case at two Project Pitch sessions, in partnership with DocuBay. One focused on Current Affairs and Investigation factual and documentary projects. The winner was The Doubt Makers, (top photo) exploring misinformation around issues like tobacco, climate change and big pharma, and presented by Chloé Persyn-Preljocaj, head of sales and acquisitions at ZED. "Science can be manipulated to create doubt, turning science against itself," said Persyn-Preljocaj in her winning pitch. "Our idea is to decode one by one the strategies put in place by private corporations to mislead the public and paralyse political decision-making."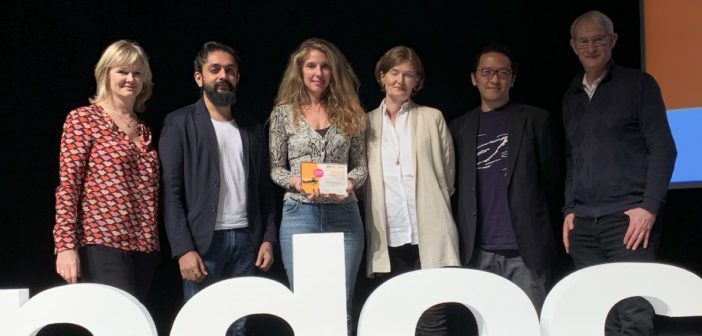 The second looked at  Science and Technology programmes, with One Giant Leap winning the competition. P3 Media CCO Fairouz El-Baz's project tells the story of her father, an Egyptian scientist who prepared US astronauts for space travel. "We are honoured that One Giant Leap was chosen as the winner of MIPDoc's Project Pitch (Science and Technology)," she said afterwards. "The film — which traces my father's incredible journey from humble origins in Egypt to the apex of the American space programme — comes at an important time in our national and international conversation about immigration, race and religion."
Meanwhile, Thematic channels and platforms such as CuriosityStream, bilibili, and Tencent are seeing audiences for factual shows grow, while increasingly available funding is creating a virtuous circle, pushing up quality and increasing choice.
At the MIPDOC content strategy session, Bo Zhang, senior content producer at Chinese website bilibil described the company as a "swiss army knife platform". "We host production houses, broadcasters and individual YouTubers," he said. Zhang described the platform's viewers as "highly educated, internet savvy, creative, caring and the first generation brought up with a willingness to pay for content". "We have 8,000 hours of quality factual content," Zhang said. "We co-produce big shows like China's Hidden Kingdoms with National Geographic, and we comb international doc festivals for hidden gems such as Pailin Wede's feature-length documentary, Hope Frozen."
MIPDOC audiences were treated to the unexpected sight of Winston Churchill losing his swimming shorts during a sneak peek screening of footage from the Smithsonian's forthcoming Britain In Colour. The show will take three themes — Royalty, Empire and Churchill — and present them as audiences have never seen before using newly colourised footage. "When you see something in black and white it feels old. When it's colourised, the veil of time is swept away and suddenly it feels new and emotionally engaging," Arrow Media executive producer Sam Starbuck said.
The fifth MIPDOC International Co-Production Summit united producers, distributors and commissioners to discuss the challenges and opportunities in co-production. "It's like speed-dating for people already in the co-production market," said Amanda Groom of The Bridge, one of the moderators of the session. Among the key insights were the idea that co-productions only work for truly global content ideas, and that harmony of editorial vision among the different players was vital. "There have to be shared goals and editorial agreement because you want to do one version and not two," she said. Manjyot Sandhu of Zee Entertainment helped to present the case study for The Life Of Earth From Space, a big-budget CGI series that examines the ancient history of the planet as seen from outer space, produced by Talesmith for The Smithsonian Channel and distributed by Zee. "This is a great forum, it gives us a broader perspective on what is happening worldwide rather than just sitting in our siloes," he said.
Public broadcaster France Televisions has just undergone a major reorganisation. Caroline Behar and Thierry Mino came to MIPDOC representing its International Coproductions and Acquisitions hub, part of the new documentary unit, to explain the acquisitions strategy. "Right now, we're working across all channels and all slots, and we are pushing collaboration between the international market and French producers," said Behar, head of the new hub. She also said that France Televisions had set up an alliance with RAI and ZDF to develop international documentary co-productions, just as it did in drama last year.
Under the terms of a new distribution partnership between PBS International and HHMI Tangled Bank Studios, a seam of premium science content will be coming to the international marketplace. The deal was announced at Saturday's MIPDOC Networking Lunch by Germaine Deagan Sweet, managing director of co-productions and drama acquisitions at PBS's global co-production and distribution arm. The company will distribute Tangled Bank's science films, including The Serengeti Rules (top photo), a multi-award-winning film that follows a band of visionary scientists from their first forays into the world's wildernesses in the 1960s to their discovery of a single set of rules that govern all life on our planet. "The Serengeti Rules is a beautiful film that speaks to the vital work that Tangled Bank is doing to shine a light on ground-breaking scientific stories," said Tom Koch, vice-president of PBS International.
Leading French producer-distributor Zed beat off fierce competition to win this year's MIPDOC project pitch for current affairs and investigation. Its film, The Doubt Makers, looks at how corporations systematically discredit scientific research that threatens their profits. "This project brings new insights in ways that are original, relevant and have high production values," said juror Martin Pieper, head of current affairs and contemporary history at ARTE ZDF. "Some of its case studies have been touched on before, but this gives the whole picture."
Meanwhile, MIPFormats – like MIPDoc, held across the weekend before MIPTV – featured high-level panels as well as pitches, content showcases, matchmaking sessions and other networking opportunities.
Jeff Apploff, president and CEO of Apploff Entertainment, delivered a keynote at MIPFormats in which he discussed the creative process that has enabled him to deliver hit shows including Don't Forget The Lyrics and Beat Shazam. According to Apploff, "It all starts with me asking what people are doing every day that I could blow up into a game show. Beat Shazam really started with the fact that people love listening to music and there are 350 million of them using Shazam to work out what they just heard." Great shows, Apploff said, all have a "secret sauce that catches the audience's interest. But to get a show on air there are no short cuts — you really have to try and poke holes in it. You can't make believe problems don't exist, you have to flush them out."
At a session on Paper Formats, panelists agreed that just because a format idea exists only on a piece of paper does not mean it will be of no interest to commissioners.
"Some countries are more open to paper formats than others," Izzet Pinto, CEO of Turkey's Global Agency, said. "You need to convince just one key person, who will then convince his or her team — and it's on air." Looking at successful paper-format case studies, Pinto cited The Legend, a singing format that took a while to get on to TV but, once it did, proved to be a sensation. "No one wanted it initially," he said. "But after countries including Nigeria and Turkey used it, Lionsgate has closed a deal for the US."
Too many content-makers are unaware of the IP protections available to them to avoid having their formats ripped off, the joint chair of an international rights specialist said at MIPFormats. Addressing delegates at the FRAPA-organised session Format Ripoffs, Jan Salling, co-chair- man of the Format Recognition and Protection Association (FRAPA) said there was a mistaken perception among producers that IP infringement protection is not available universally.
"People think that in certain markets it's impossible to protect IP," Salling said. "That's not the case. You can protect IP anywhere in the world. Some markets are more advanced than others, but you can still protect IP anywhere."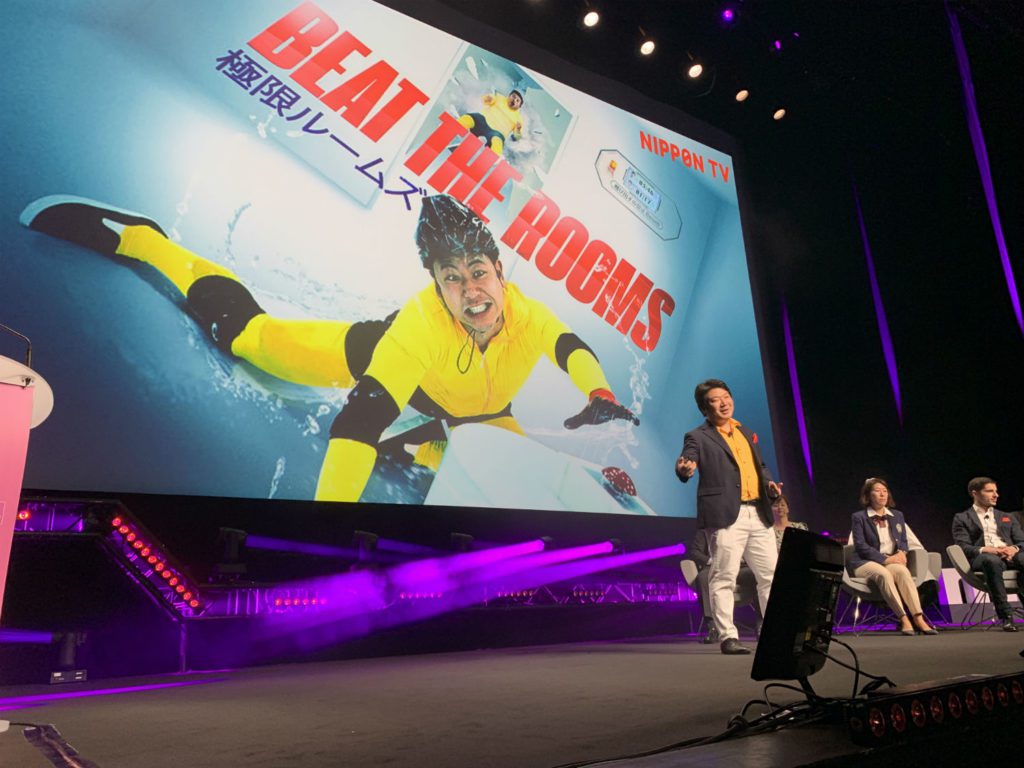 The ninth edition of Treasure Box Japan unveiled some innovative and surprising new formats from eight Japanese terrestrial broadcasters.
"It's kind of rare," said TBS Television's Makito Sugiyama of the annual collaboration between Japanese broadcasters, many of which are also rivals.
TV Asahi presented Sweet Kiss Bitter Kiss, at the showcase. Mayumi Nakamura, head of format development and sales, described it as a new twist on the dating-show genre inspired by on-screen romances that have migrated into real-life affairs.
Francois Grosjean, manager of Fuji Creative Corporation, introduced Endless Pranks, in which Japan's best pranksters create hidden-camera gags, including the "faceless taxi driver".
Other countries showcasing their home-grown formats included Korea and China.
Korea's best format makers came out in force on Sunday during the MIPFormats session, K-Formats: The Next Big Hits From Korea, to present some of the country's most exciting new titles.
Yen Cho, MBC's global business department/sales manager, introduced King Of The Masked Singer and Mystery Ranking Show 123. The former, a singing competition recently remade for Fox in the US, features panelists guessing the celebrities behind mask-wearing performers.
And the second edition of Wisdom In China: New Opportunities For Chinese Formats, confirmed that Chinese format-makers are producing original ideas that reflect their country's rich cultural heritage and huge talent pool.
This was amply demonstrated by seven of China's leading content innovators, who showcased some of the original formats to have emerged from China in recent months. Including Heroes, presented by TV host and producer Sarah Chen of Dragon TV. The format combines factual and drama to re-create the key moments in the lives of extraordinary people — such as the Tibetan wildlife official who was killed fighting a gang of poachers.
The annual MIPFormats' International Format Pitch was won by a concept pitting individuals with vastly different beliefs against one another in an intimate, 48-hour confrontation.
Change My Mind, the brainchild of Kristy Fuller and Amy Parks of Australia's 1440 Productions (above), is a "fresh and challenging format, capable of tackling contemporary ideas in a new way", the jury ruled. With potential topics ranging from gun laws and veganism to sex education, each week the show follows the emergence of unlikely sympathies between a pair of diametric opposites.
This is the last in a series of posts wrapping up the highlights of April 2019's MIP Markets. Discover all six posts here!