In this morning's session, Domingo Corral, director of original programming at Movistar+, discussed parent Telefónica Group's content differentiation strategy, including an original series project that will give Movistar+ viewers an exclusive product every month, created with premium production values.
Movistar+ itself is a leading pay TV company in Spain, revolutionising the Spanish audiovisual market. Corral hit the stage first, kicking off by stating plain truths.
"We live in an overcrowded market with too many series. It's fragmented, fast-changing," he said. In the last 1 and a half years, Spain has seen Amazon, Netflix, HBO and Sky — all on top of existing market players.
"We're talking about a highly populated, over-competitive market," Corral said. "There's no question you can watch excellent shows. The key for Movistar+ is how to compete," as a local operator, against major global conglomerates.
"We had to stay in TV, no question," he went on. "Clients that have TV are more inclined to stay with us than clients that don't. So TV is critical. But we have to offer something unique."
In an impressively short amount of time, he outlined the brand strategy:
Investing in original programming. The question was, how many shows? "I don't think TV's about quantity; it's about quality," Corral mused, "but you have to make enough shows to be relevant." For Movistar+, they decided the best figure was 12 originals, one per month.
These shows are infused with a certain philosophy.
"We're trying to do very Spanish shows — shows that are local, that reflect our reality, culture, and tradition, working with our talent," Corral said. "If we give our talent the right resources, they can make very competitive shows. But at the same time, they need international production values and the best storytelling."
Character is also central to all shows. "You engage emotionally with them," because they're complex, he said. "Challenge [talent]to get the best of their potential."
And lastly, take risks. "In this overcrowded market, the only way to stand out is if you really make bold, risky decisions. Avoid cliché, predictability, formula. We want to have shows that are truly unique, original. To do that, you need the best talent."
He concluded his keynote by adding, "TV series have been liberated from the constraints of the past. It's become an incredible, powerful tool to tell great stories. The audience is more sophisticated. But if Movistar+ is surrounded by the best talent, if we take risks and tell great stories—and if we locate our stories in a very local context, in our Spanish and European tradition and culture—we'll have a chance to succeed."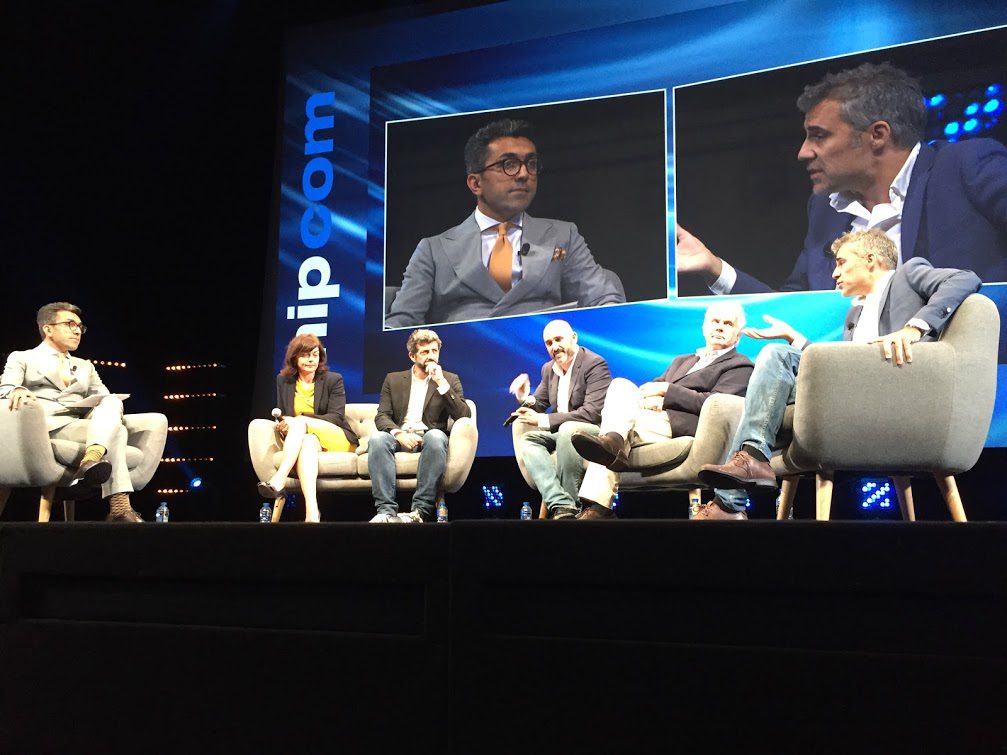 After this rousing speech, Corral was joined by a panel moderated by journalist Ali May, which included Sky Vision managing director Jane Millichip, Kubik Films producers Alberto Sánchez-Cabezudo and Jorge Sánchez-Cabezudo, and original programming head at Beta Film, Jan Mojto.
Asked whether the arrival of telcos in the sector would be a gamechanger, Millichip replied, "What worried me years ago was that premium pay players were few and far between. There's a certain kind of drama that comes from those organisations: Great drama, lean-forward TV with scope and scale. Sky is that kind of player."
We were then treated to a trailer for Movistar+'s La Zona.
Jorge Sánchez-Cabezudo described in passionate terms what makes this show special.
It takes place in the framework of the nuclear accident in Chernobyl, where the army is charged with cleaning the plant. But they have to cut a deal with the Yakuza in Japan to help them. "Within that context, we created a thriller, suspense that grips spectators," Jorge said. "The key was finding the right balance between thriller and drama, because the drama allows you to develop the characters in-depth. This allows you to use this situation as a metaphor for the economic crisis—a local reality in Spain."
As for how La Zona fits into Movistar+'s catalogue, Mojto said, "We observed Spanish productions years ago, there was something specific there. We believed there was a need in Europe for something different than Scandinavian noir, something colourful, different. Spain would be the place. In the end we got La Zona, Spanish noir."
Next, we watched the trailer for La Peste.
"This is the result of chance," Alberto Sánchez-Cabezudo said. Alongside his cocreator Rafael, who, like him, lives in Seville, they decided to explore the Seville of the 16th century.
At that time "it was probably one of the most important cities in the world, because it had commerce in America," Alberto said. "It was when ships came from America with gold and other goods; it was a really cosmopolitan city."
To give the show its unique appearance, he emphasised the importance to putting the camera in the street, facing frescoes from a pedestrian perspective—to provide a full picture of Seville in the 16th century that is much more democratic than the perspective of aristocrats.
Millichip called La Peste a gamechanger for Sky. "We've not seen a drama like this before. The scale and scope is grand, but it's not just that; everything starts with the writing. It's a fantastic script—a fast paced, taut murder mystery set against the world of Seville."
Turning to Alfredo, she added "You have created such an authentic world … I didn't think it was possible to make plague and pestilence look quite so inviting."
We wrap with something Corral said, early on in the panel. "Netflix is the only big player invested in local content, but to my knowledge they only make 1-2 shows per year" that are relevant to the market, he said. "For true Spanish content, the only destination is Movistar+."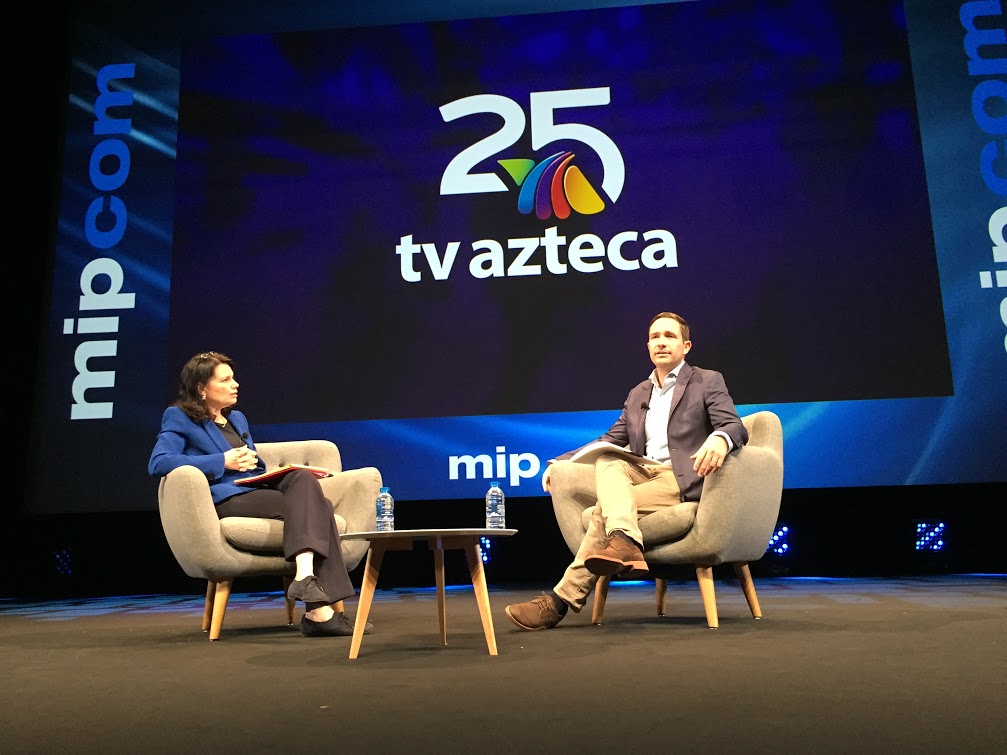 Later in the afternoon—auspiciously on the 25th anniversary of his company—CEO Benjamin Salinas of TV Azteca in Mexico shared his reflections on his own content strategy, with a Q&A session led by Anna Carugati-Guise, World Screen group editorial director.
Salinas took up the mantle of CEO just two years ago. "When I arrived, we had a 28% share in primetime; now we're well over 35 percent," he said, attributing the evolution to "small changes" and "having fun at work."
How did he do it? By pulling TV Azteca into content production.
"When I arrived, we had no owned telenovelas," Salinas marvelled. "We just bought internationally and aired them, and we had a big lag in the pipeline." Now TV Azteca produces 9-10 owned telenovelas, a strategy that's proven successful. 
"Now I can proudly say that, next week, we'll be airing three dramas" between 7pm-9pm, Salinas continued. "It's the first time we're airing 3 owned dramas. That's great."
TV Azteca is among the biggest free TV players in Mexico, and Carugati-Guise credited the company with helping evolve the sector. In addition to new fiction, it also hosts a 24-hour news channel. "In the first two months, we became the No. 1 news channel in Mexico," Salinas said.  "When I say No. 1, in ratings I mean by triple. All the other news channels were on paid TV. That shows how massive free-to-air TV is in Mexico."
By and large, TV Azteca covers general entertainment, local and, of course, sports—the low-hanging fruit of any prosperous network. "Every year we have the No. 1 show in ratings in the whole year. it's usually a boxing match," Salinas said.
He also outlined his vision for the future, based on the facts of today's ecosystem.
"We're now facing a complex environment; international players and platforms are key players in the industry," Salinas said. "Now I'd like to co-produce everything we are doing. It just makes sense to do something with bigger budgets, shared platforms and windows."
He'd also like to better connect with audience … the better to understand their consumption. "TV is mass media by excellence; but it's by far the most effective tool in marketing," Salinas observed, revealing that TV Azteca is leveraging big data to study consumption behaviour. "Who is this guy that watches boxing? Is he drinking beer?"
His optimistic outlook stems from his perspective on the market. "There is an imbalance between supply and demand," Salinas pointed out. "There's more demand than supply. That's a clear opportunity for us."
With that in mind, he splashily revealed his newest venture: Dopamine, a production company that will be "completely independent" in management, budget and strategy, charged with "producing top tier, prime original content." 
Why a totally separate entity? "The answer is really simple," Salinas said. "In our industry, there's a market size. We're local players; that's the size of the market. We can't invest more money there. And we can't compete with content worldwide being done with much larger budgets than ours. With Dopamine, we'll be able to do that."
Its independence from TV Azteca can't be emphasised enough; Dopamine even has its own sales arm.
"TV Azteca comes here and acquires content from all the big players," Salinas said. "Hopefully Dopamine will become one of those big players, too. If TV Azteca wants to buy that content, that's great. If they don't, that's great too."
And the production company is off to the races. It's just announced a coproduction with Sony, about the secret life of Mary Magdalene. "Maybe TV Azteca can afford to buy it," Salinas quipped, "but if not, I'll sell it to any of you!"