Tokyo was destroyed and rebuilt twice in the 20th century, and its rebirths and spectacular rises make for a compelling narrative. That's the basis for Tokyo Phoenix, the ambitious new show co-produced by NHK, Arte and CC&C, which was premiered at MIPDoc today, before a panel talking about how shows like this can become tentpoles for broadcasters' activity around big international events – in this case, the upcoming Tokyo Olympic Games in 2020.
The screening was introduced by Hiroshi Tanami, deputy director of NHK's programme production department; Louis Vaudeville, producer and CEO at CC&C; and Anne-Séverine des Longchamps, producer at CC&C. They talked about the show, which uses colorised footage to provide a new insight into the modern history of Japan's capital city.
"People outside Japan want to know how a city in the far East came to be the biggest megalopolis in the world," said Tanami, who added that NHK wanted to tell the story about how Japanese people "have overcome calamity in the past" – not least to inspire those who were facing up to modern disasters. The Japanese version of the show was a big hit, spurring the co-production partnership to make the international version premiering today.
Vaudeville stressed the strong collaboration that had been involved in the product, with a number of partners coming together to make the "beautiful" programme work. And Longchamps added her own perspective on the cinematographic and historical significance of the project.
"The archive footage that NHK discovered is no less than a treasure," she said. "These images are the only remains of Tokyo's past. We were very excited to take up this challenge, first of all in terms of image restoration and colorisation, and also of storytelling for an international audience."
After the screening, the audience was treated to a discussion of how Tokyo Phoenix ties in to NHK's wider plans in the run-up to the Olympic Games. NHK's Hiroshi Tanami returned, accompanied by Alexandra Kosterina, editor-in-chief of NTV Broadcasting Company, and former VP of the Sochi 2014 Organising Committee in Russia. They were interviewed by journalist Chris Forrester.
Tanami talked about NHK's desire to leave a legacy with the Olympic Games of 2020, based around three key elements. It's the official host broadcaster for the games. "Our primary mission is to deliver an exciting live broadcast of the games to the entire world, by employing the most innovative technologies available," he said.
The second mission is to produce programmes via international co-production that teach viewers elsewhere in the world about Japan. Tokyo Phoenix is one, while five-part series Japan From Above is another, showing off Japan's scenery with a mixture of helicopter and drone footage. "Through this series you will discover many things about Japan," he promised.
The third mission is to transform NHK from a public broadcaster to something more suited to the digital age, particularly by appealing to younger viewers, who will be able to participate and share their own experiences. One project is called Tokyo Miracle City, with its app for citizens to submit their own 15-second video clips of impressive sights. Professional directors will then use this crowdsourced material to put together films about the city's modern incarnation. But the clips will also be made available online for people to share on social media.
Another project is called Time Travel, with an app that associates archive footage of Tokyo with location-based data. "When a tourist holds up a smartphone, the app uses GPS data to pull videos of that same location from NHK's archives," explained Tanami. "We think this app will create a new kind of tourism where visitors can experience one place over different times and history." The app will launch this summer, starting with some content in Hiroshima, with Tokyo to follow by 2020.
Finally, there are events to maximise viewers' participation, from robot-building contest Robocon to a jump-rope tournament for elementary-school children. "We hope that young people can experience the fun of sport, and how great it feels to be united as a team," said Tanami, while expressing the hope that the tournament will be able to expand internationally. "NHK wants to help create positive legacies for the future… and international collaboration will be vital."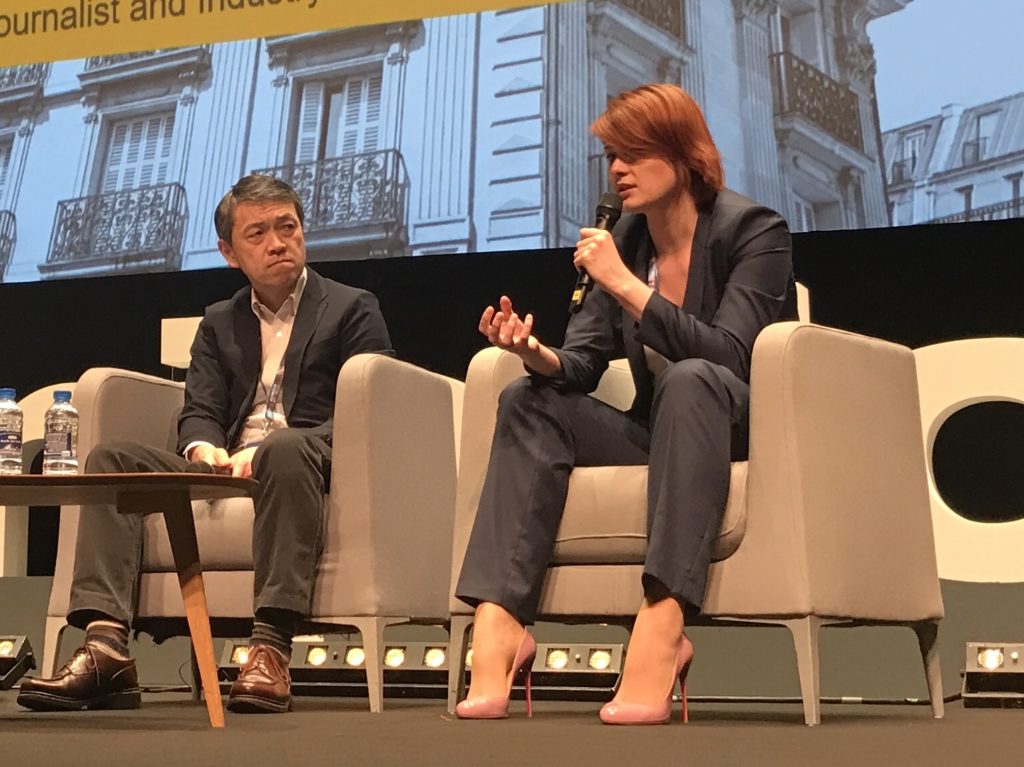 Kosterina gave her views, suggesting that the optimism that runs through Tokyo Phoenix is also a key component of the Olympic Games. That was certainly the case for the Sochi 2014 Winter Olympics. "For us, it was all about bringing awareness of sports, awareness of people with disability, also boosting the volunteering movement. And a lot of it was done with the help of the host broadcasters," she said. "The games are really defined by the legacy, and legacy ultimately decides whether it was worth it to host it, and whether it was worth it to get the rights."
Kosterina noted that host broadcasters always see a spike in viewership domestically during an Olympic Games, but said that the big challenge for NHK in 2020 will be the digital era that the games are taking place within. She added that while broadcasters and viewers born before 2000, the internet and social media are instruments, but that this is different for younger viewers. "Tokyo will have the generation that was born after the millennium. For them, the internet is no longer an instrument, it's a habitat."
How else will NHK attract young Japanese viewers to its coverage of the Olympic Games. "Actually in Japan, the Rio Olympics was watched by very few young people. Young people got the results from the internet instead of broadcast," he admitted. "They preferred short clips on the internet… It's a real big challenge for us: how to attract young people, even for the Tokyo Olympics."
Could virtual reality and 360-degree films play a role? "Probably so, yes. As far as virtual reality is concerned, we are trying to utilise the technology to let people experience the games as if they are in a stadium… They can feel more vividly what the real games is."