MIPTV's Brand of the Year award went to PepsiCo this year, with its VP of marketing and cultural connections Adam Harter giving a rousing keynote speech outlining the company's excitement about TV partnerships and branded content. The session began with him receiving the Brand of the Year Award, from Reed MIDEM's Laurine Garaude:
"We are truly living in transformative times. Never before have consumers had so much access to so much content through so many devices, throughout the day," began Harter. "How do we create content that continues to excite and engage fans? That challenge is what motivates us, and fuels everything we do at Pepsi."
"In today's market, being innovative and experimental means stretching and sometimes even removing the limits," he continued, before talking about Pepsi's partnership with hot TV series Empire.
"In direct partnership with Empire's producers and writers, we developed a three-episode holistic story, which used Pepsi as the catalyst for elevating artists," he said, stressing that the idea emerged from Empire's writing team rather than from the brand.
The plotline saw a musician character appearing in a new Pepsi commercial within Empire, but which also found a life outside. "The brand was personified within the script, and ultimately became as integral to the storyline as a living, breathing character."
Harter said that the campaign led to a 5% volume lift among Empire viewers. Now PepsiCo is trying to use the lessons learned from the project for its future activities, including working with Empire.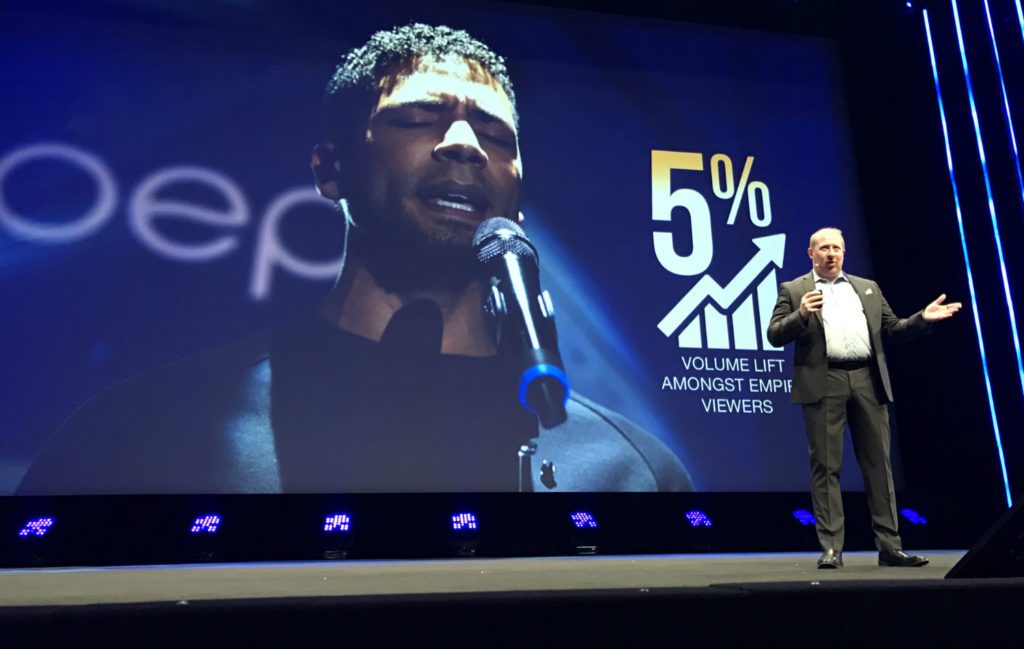 This year's integration will use Pepsi's new-music platform The Sound Drop. "It truly is a mobile-frst data-inspired partnership that transcends every point of engagement and communication with the fans," said Harter. "The first thing we'll do is reward fans with a deeper narrative through Empire Emerge. A nine-episode social series on Instagram, co-produced with Fox."
It will follow the character through his new visual album – "think Beyoncé," said Harter – with the Jamal character bringing real-world emerging talent into his project, which in turn will give those artists a platform outside the show.
Pepsi will also launch six collectible mini-cans "that will in a sense feature as another screen" to showcase the visual album. "And we'll also unlock exclusive content for those fans who are dying to go deeper into the show that they love." Then Jamal's visual album will drop in real life, alongside the in-show album.
So what next? "We're engaging fans in new and unexpected ways, focusing on deeper and more meaningful experiences, and driving active conversation with our fans," said Harter. "The speed of that change demands that we move rapidly: appealing to shorter attention spans and wider ranges of interests."
PepsiCo has a team called Creator, which is looking for creative partnerships. "To create an advantage pipeline of scalable marketing platforms that delivers growth for our brands," as Harter described it." Meanwhile, its Creators League Studio is an in-house creative studio producing branded content.
"It's really these teams that set the stage for PepsiCo to stay ahead of the pace of change," said Harter. "And the larger opportunity, which is so much bigger than the business objective, is to leverage what could instantly become a transformative moment, and position our brand everywhere our fans are."
Watch this session in full on Facebook here!