Above: Jukin Media's co-founders, CEO Jonathan Skogmo and chief development officer Josh Entman.
Jocelyn Johnson of VideoInk hosted this afternoon's Digital Fronts, which began with New Form and its COO, JC Cangilla, shown below.
New Form is an entertainment studio that is redefining how stories are developed, packaged and distributed, empowering creators and audiences to produce narratives that transcend traditional categories and platforms. Its series have appeared on TBS, CW's The Seed, Freeform, Fullscreen, Refinery29 and go90.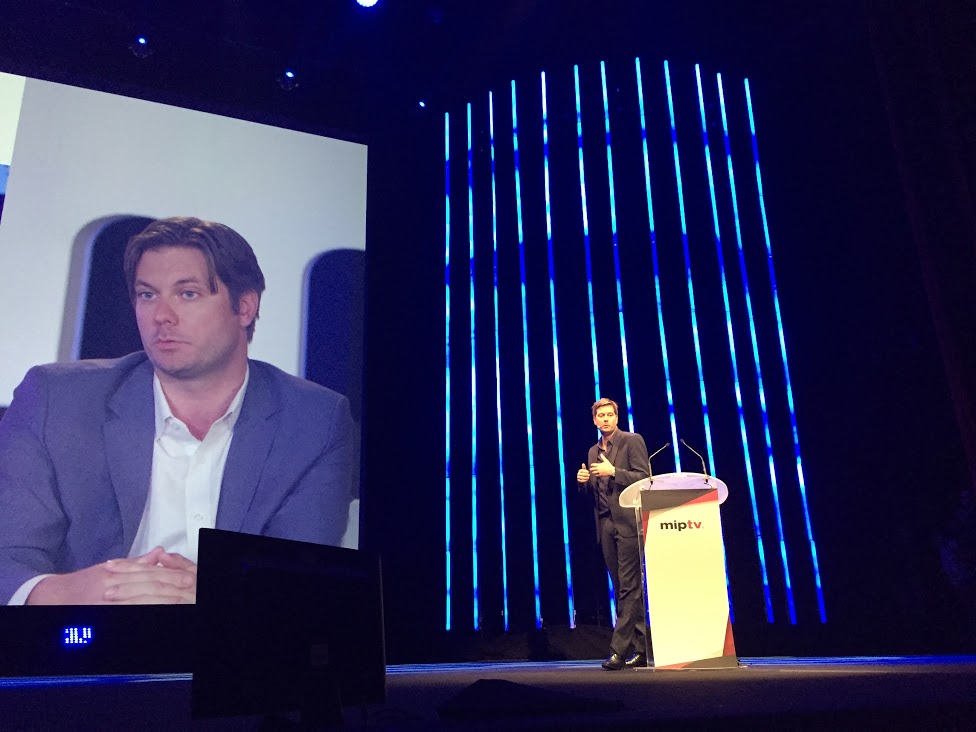 Last year, New Form changed its name from New Form Digital to New Form, with Cangilla saying it's outgrown the D-word.
"In 2016, we took you through our amazing initial successes," he said, "30 pilots produced, 19 series sold, and 10 different distribution partners."
Since then, it's premiered 16 series in 16 months, five of which went to second windows internationally. It also sold a straight-to-series order to TBS: Final Space, an animated comedy created by social media star Olan Rogers.
"A full-length linear TV series," Cangilla said. "And now we're in talks for more."
Topping that off, in December, ITV led an $18 million financing round for New Form. "No longer a digital studio for sure. So what's next?" Cangilla teased.
This is what's next: "We are quality scripted series. Not short form," he said. Currently New Form is increasing its pipeline, releasing 40 pilots this year—with the next batch rolling out in just a few weeks.
Below is Shitty Boyfriends, about a girl who goes on a quest to find love, and the trials and tribulations that follow. Season 1 aired on Refinery29.
New Form's first guest was Paul Kanareck, group director of online, iTV.
"Everybody's obsessed with millennials, whether you're a media owner, brand or producer," Kanareck said. "Sometimes it's important to take a step backwards, which we did at iTV a few years ago. A view is a view, a screen is a screen. We need to be agnostic … as long as we are measuring it and serving advertising, we don't mind, because people are spending more time with us."
This attitude birthed the ITV Hub, which services 50 percent of 16-24-year-olds in the UK. Total users count about 18 million.
"Buy for all your platforms. Buy for all your audiences. Worry about the distribution mechanisms later on," Kanareck said.
As Kanareck exited, we were treated to a trailer for Miss 2059, airing on go90. It's about life in the year 2059, when the human race is in peril. One fierce warrior is prepared to defend the planet in a battle royale … but her sister—a beauty queen played by Anna Akana—is sent to do the job instead.
Here's episode one.
Next, Keshet's SVP digital & acquisitions, Sebastian Burkhardt, hit the stage.
"We look for quality of content in storytelling and concept," he said. "We're living in a moment where there's a lot of disruption in the market … millennial audiences are migrating into the OTT space. Being a broadcaster, and operating a lot of digital assets in Israel, we understand where the market is shifting. We wanted content that is very clear and stable."
Laser-sharp material that hooks millennials is key for Keshet. "The format … tends to be in the short-form, mid-form range, not traditional TV formats," he added. "But we felt there was a change in the global market. There were new opportunities popping up in the US and that's something we wanted to be part of."
Speaking of, here's Cold, a ripe piece of Keshet fruit created by New Form:
Next, EVP/global creative director Brendan Gaul of UM Studios joined Cangilla.
"When we asked consumers what matters most, it's around health and family," Gaul said. "We were already playing strongly in health, but when we heard about family, we asked ourselves how we could tell meaningful stories."
#HowWeFamily, produced by New Form for UM Studios and Tylenol, was the result of that.
Brands are now looking for content implant strategies that can stretch for 3-5 years, Gaul added.
Before New Form left, we were treated to one last trailer—for season 2 of Oscar's Hotel for Fantastical Creatures. Sadly, we don't have it, but we'll share the Season 1 trailer with you:
Next in Digital Fronts, Johnson introduced Jukin Media, a global entertainment company powered by user­-generated video content. Its co-founders, CEO Jonathan Skogmo and chief development officer Josh Entman, presented.
Jukin Media provides licensing and clearance solutions that allow premium brands, publishers, and media networks, to commercially use its content. Its portfolio of social video properties includes FailArmy, People Are Awesome, The Pet Collective, and JukinVideo, combining over 55 million fans online and 1.5 billion monthly video views.
"We are living in an era where all of us are walking around with a TV studio in our pocket," said Skogmo, who added that YouTube alone sees 400 hours of footage uploaded every minute.
"At Jukin Media, we believe the future of storytelling is user-generated," Skogmo said.
Jukin Media is now the world's largest curator of user-generated video content and the 12th most-watched digital media property. It boasts 4.000 videos, 150+ employees, and offices in LA, New York City and London. Its clients include broadcasters like Sky and brands like Nike.
Our first screening was for Fail Army, the ultimate source for watching epic fails to your heart's content. It gets 850 million monthly views. Below is one of its regular features, the Fail of the Week:
"Fail Army started out as a YouTube channel. We were programming 1 video a week; today it's a global media brand with 28 million fans and engagement of nearly 4 million shares and 2 million comments per month," Skogmo told us.
That massive audience enabled it to spin off a digital format for Verizon's go90. "Fail Army became the blue print to launch original content … and create a development team."
Entman joined Skogmo onstage to talk more about that.
"We always wanted to own distribution from end-to-end, be the makers of that content," said Entman.
"Everyone here has a phone, everyone here has a video. You have that content, sitting in your pocket," Entman said. "We're looking to acquire that so we can share your story, and package that in new and interesting ways."
He means that literally. For Comcast's Watchable, Jukin created Awesome Pet Thoughts, a 20-episode, four-minute format where footage of pets are given thoughts, intentions and millennial-friendly storylines.
And its latest project, People Are Awesome, features ordinary people doing extraordinary things and represents what Jukin believes will be the next big IP to develop across platforms. People Are Awesome has 15 million fans, 350 million monthly views, 3,8 million monthly shares and 1,1 million monthly comments.
"With People Are Awesome, we have this amazing, amazing ability to discover raw talent. With these creators, it's all walks of life from all parts of the world," Entman beamed.
As evidence of that, just before leaving Jukin Media chose this time to present its latest People Are Awesome-originated IP: Fly Guys, who appeared onstage to treat us to magic!
.@JukinMedia @PAAVideos @JoshEntman @JonSkogmo And here's a video of @JukinMedia's @PAAVideos Fly Guys team in action at #MIPTV pic.twitter.com/xhW70FLWp5

— MIP Markets (@mip) April 3, 2017