This summer was a good one for SVOD platforms. Netflix's Stranger Things became the biggest show of the season, overtaking linear hits such as Mr. Robot and Game of Thrones to become the most popular title in the United States (source). While the premiere of The Get Down was less successful, Netflix's older series such as Marco Polo and Narcos released popular new seasons during the same time period. Other streaming platforms may not have had hits this summer, but titles from both Amazon Video and Netflix recently won several major awards at the Emmys. Overall, the popularity of original content on SVOD services is rising. So which platform is winning across Europe?
For 44 markets in Europe, the audience demand from June – August 2016 for the digital original series on each of the five most popular SVOD platforms—Netflix, Amazon Video, Hulu, Crackle, and YouTube Red—were summed by region and in Europe overall. The share of audience demand for each platform in each region was calculated, with Netflix taking the majority of demand across the board: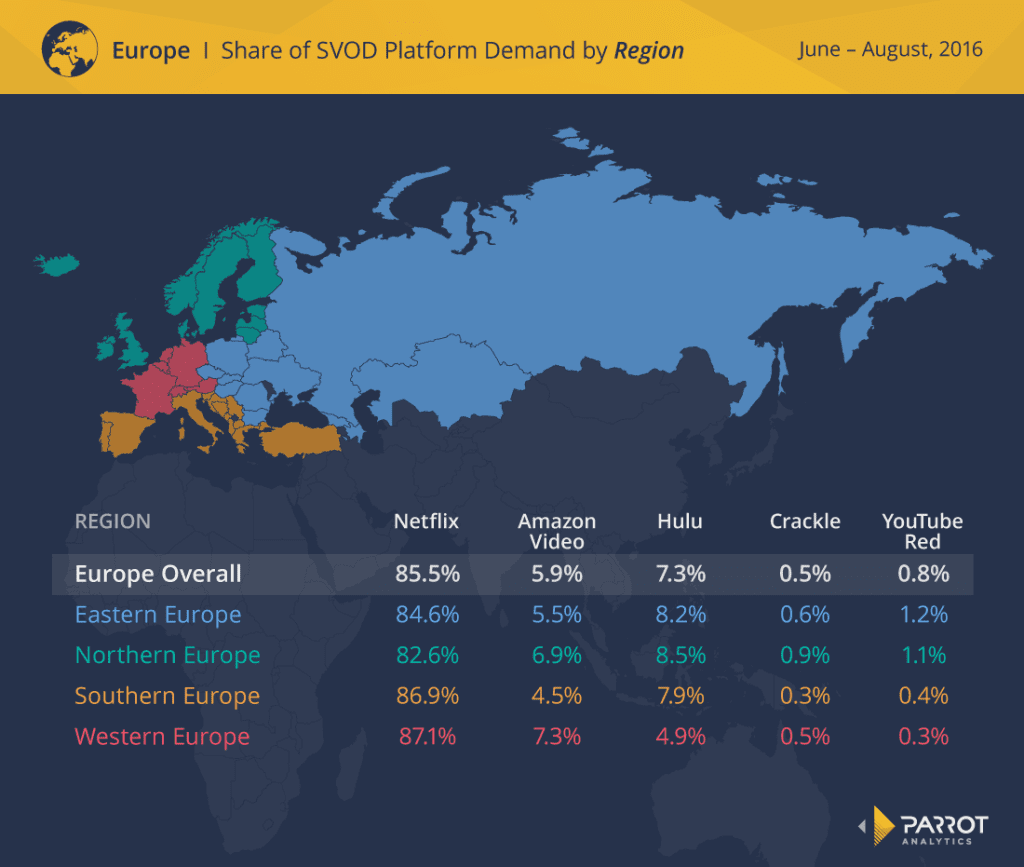 Since Netflix has the largest number of digital original series, the fact that it commands over 80% of the share of audience demand for digital originals is no surprise. What is more unexpected is Hulu's slight edge over Amazon: while Amazon Video is available in several European markets, Hulu is available only in the US and Japan. Despite its unavailability, Hulu's originals have more demand than Amazon's in all regions but Western Europe. Similarly, Crackle and YouTube Red are unavailable in Europe and do not produce many original series, which explains their low share. Perhaps because YouTube Red's originals can be purchased in much of Europe, it has more demand than Crackle in all regions except for, again, Western Europe.
While Netflix can be found in all 44 markets, Amazon Video is available in several of them. The share of demand in these countries reveals that this presence does not change the picture significantly: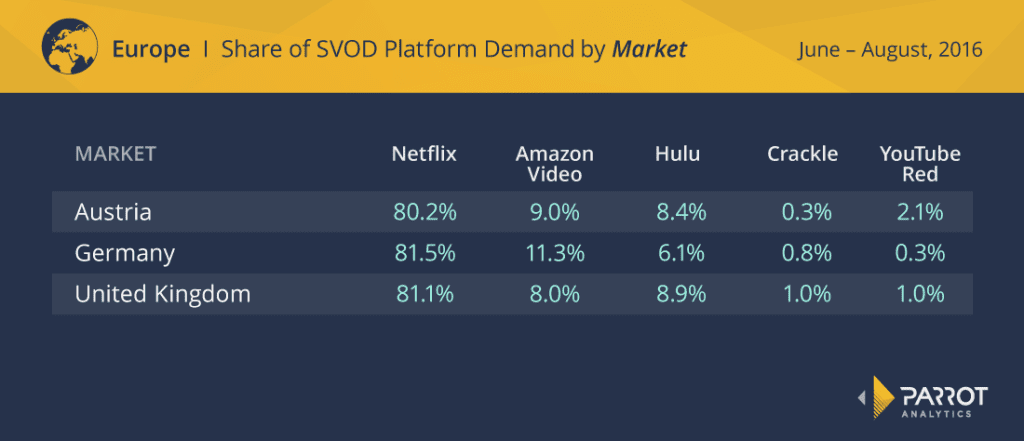 All three have a below-average Netflix share, but it still exceeds 80%. Austria has the lowest share from Netflix; while Amazon's share is greater than average, YouTube Red's share is more than doubled. Germany has the largest share of demand from Amazon and the United Kingdom has the least. The availability of a platform seems to have only a small impact on how popular its original content is in a market.
Netflix clearly dominates the total demand for digital originals in Europe, but lets delve deeper to find out where this demand comes from. Instead of calculating the share of demand from each platform in each region, the share of demand from each region is found for each platform. If the SVOD service had the same amount of demand from each region in Europe, the values would all be 25%; however, significant variations are observed: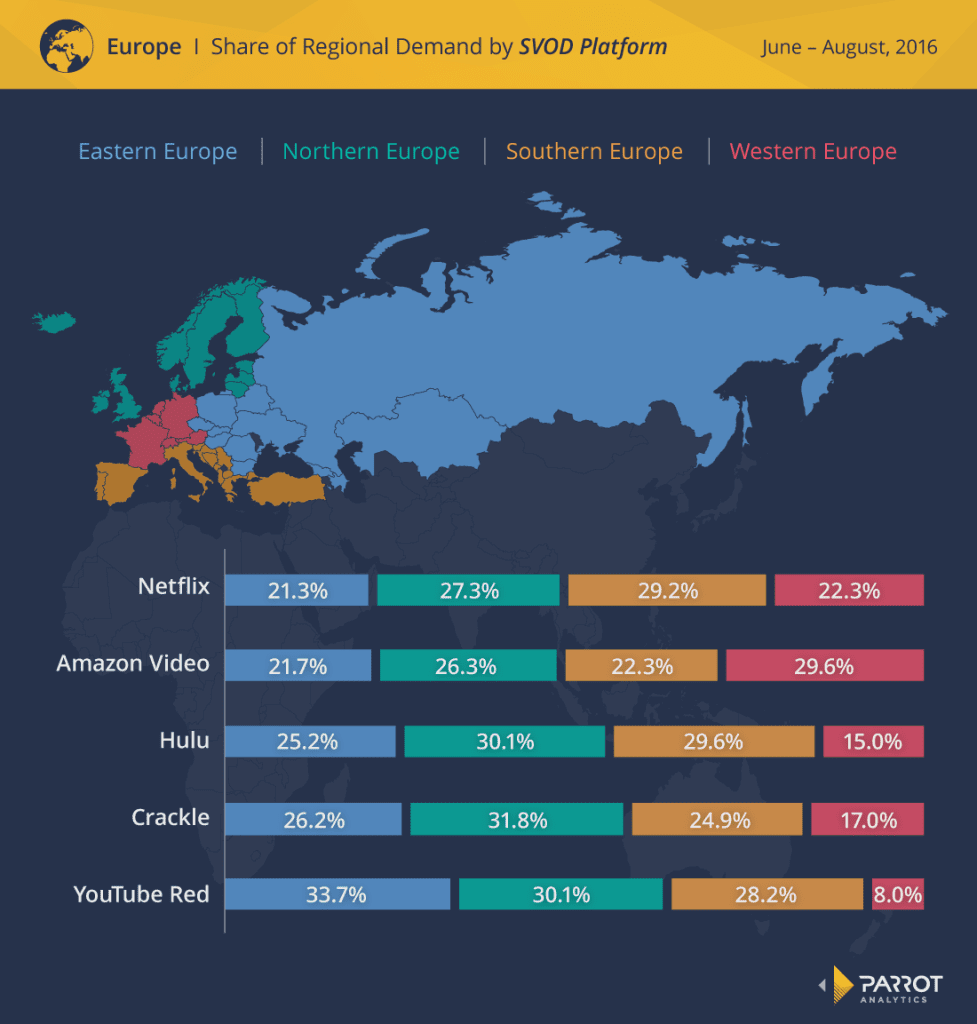 The two most available platforms — Netflix and Amazon Video — have the least variation between regions, with an average difference of about 3%. This content, especially in the case of Netflix, can be accessed in all regions and so is about equally popular everywhere. Crackle has the next-lowest variation, though its content is almost twice as popular in Northern Europe as it is in Western Europe. The same is true for Hulu's content, which also has nearly 30% of its demand from Southern Europe. YouTube Red has the greatest variation: only 8% of its demand comes from Western Europe while nearly 34%, the largest amount from any region for any platform, is from Eastern Europe.
Within these SVOD services, what type of content drives their success in Europe? The total demand for each platform's original series was summed by genre to find which has the greatest share of the platform's European demand: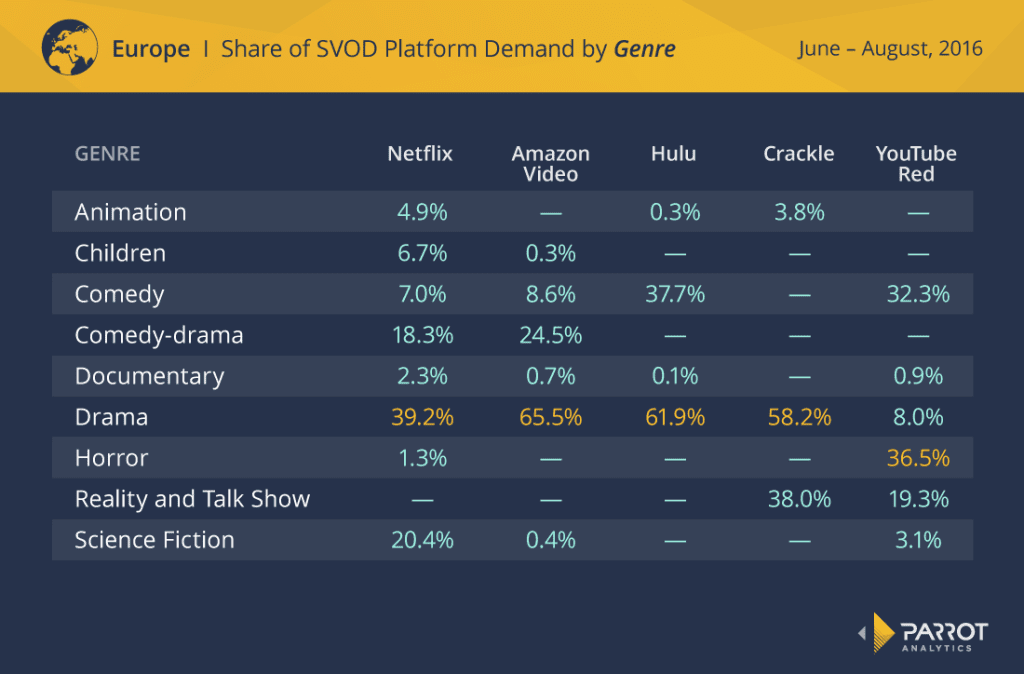 With the greatest number of original series, Netflix naturally has the largest spread of genres represented, only missing reality or talk shows. However, the majority of its demand comes from its popular dramas such as House of Cards. Stranger Things causes the science fiction genre to have the second-highest share, followed by Orange is the New Black's genre, comedy-drama. Amazon Video, Crackle, and Hulu skew even more heavily towards drama, with comedy and comedy-dramas having less than half as much demand. In contrast, YouTube Red has only 8% of its demand from drama; its roots in short-form content means it skew more towards comedy and reality shows, though horror series Escape the Night also accounts for over a third of the platform's demand.
Overall, Netflix is the most popular SVOD platform in Europe. Its many digital original series account for over 80% of demand in each region in Europe, even in markets where it faces competition from Amazon Video. Netflix may dominate, but each platform has regions where it is more or less popular. For example, YouTube Red gets much of its demand from Eastern Europe while Crackle and Hulu are weakest in Western Europe. In addition, different types of content attracts the most demand on each platform: while comedy/comedy-dramas are strong on Netflix, dramas are the most popular on Amazon. In the end, which platform is truly "winning" is down to personal preference. Depending on what genre of show a consumer is looking for, on which platform, in what region, any of the five SVOD platforms could provide the content they want.

Top photo: © Gettyimages/ Demaerre