Japan is MIPCOM's Country of Honour this year. Not only are its drama and anime series popular around the world, but the country is also host to a number of competing SVOD platforms. Notably, it is the only country, outside of the United States, where the three major American SVOD platforms—Netflix, Amazon Video, and Hulu—are available. While Hulu launched in Japan in 2011, the other two are more recent newcomers. Netflix launched on September 2nd, 2015, with Amazon Video following later that month. All three platforms have produced Japanese original content in hopes of attracting users, as they compete not only with each other but also the many local SVOD services.
In this report, Parrot Analytics explores the effect of Netflix and Amazon's launches on demand for their original series, compared to the existing demand for Hulu originals. To see how demand for these platforms relates to demand for them in their home market, the average Demand Rating™ for the digital original series is found in both Japan and the United States. Lastly, the demand for each type of series is summed to find the most popular genres on each platform in Japan.
To see the effect on demand for Netflix and Amazon's original series after their release in Japan, the total number of Demand Expressions™ for these shows is found during the three months before (June-August 2015) and the three months after (October-December 2015) the launches. Demand for Hulu's series during the same time period is included for comparison.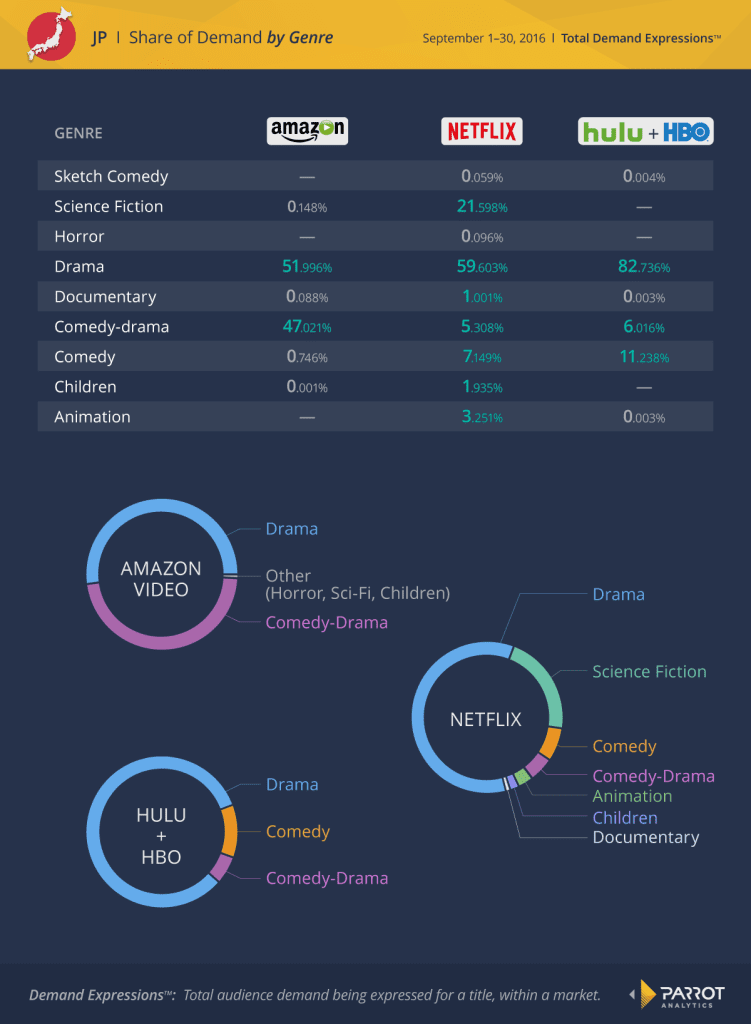 Hulu begins with slightly more demand than Amazon Video, but Amazon overtakes it as their demand rises by 128% after launch. As Netflix has the most original series, it has the most total demand even before its release in Japan. However, after-release demand for its series grew by only 8%, significantly smaller than the other platforms, even Hulu which had been in the market for four years. Netflix's absolute growth was also small: both Amazon Video and Hulu added about 76 million Demand Expressions™ during this time period, but Netflix only added 62 million Demand Expressions™. One reason for this stagnation may be that since Netflix's originals were in high demand in Japan before launch, there was not a surge in interest after Netflix's official release because people there were already aware of, consuming, and engaging with the series.
In contrast, Hulu may have had the lowest demand for its originals after Netflix and Amazon's launches but in February 2016 it announced a powerful new deal, exclusively licensing popular content from HBO in Japan. In the United States, this content is only available online through the HBO Go service. To see the effect of this acquisition on demand for Hulu in Japan compared to the US, the average demand for each was found during September 2016.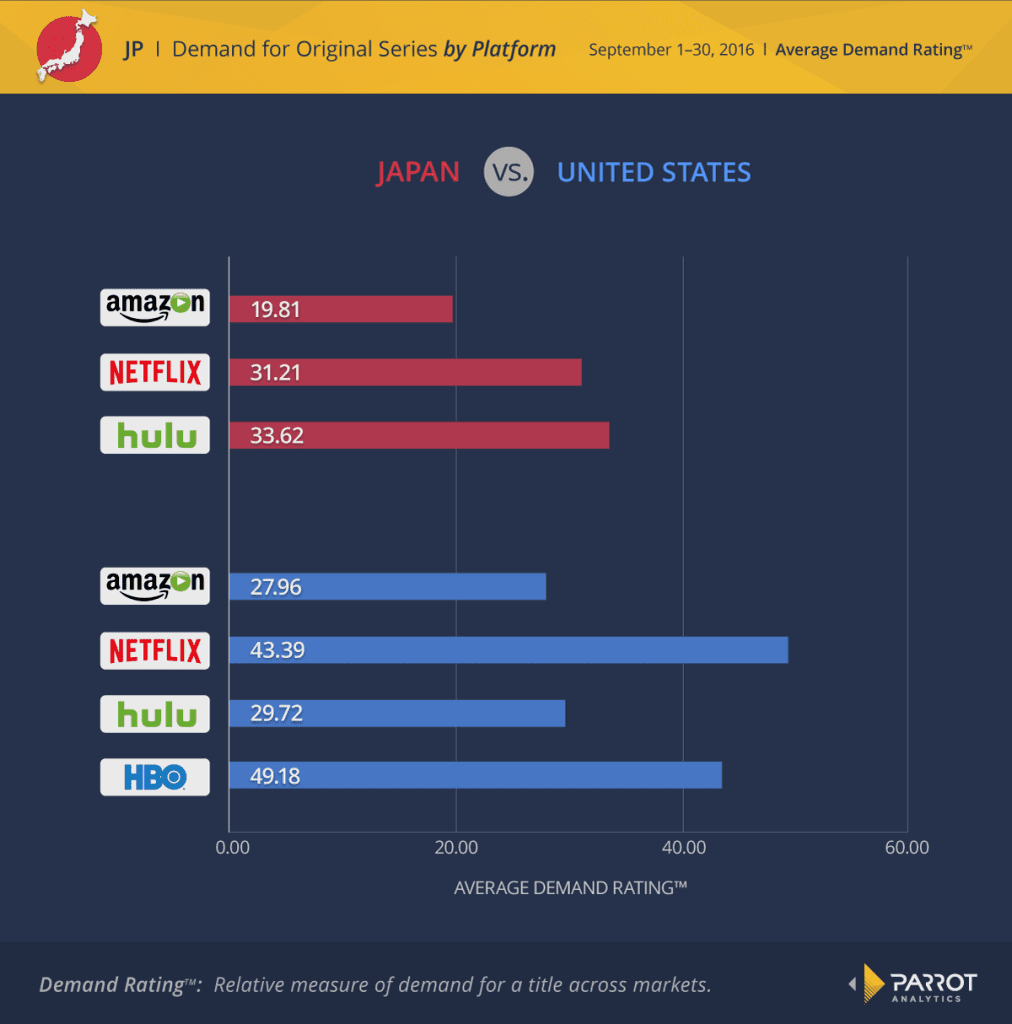 With HBO's titles included, the average demand for Hulu in Japan is greater than the average demand for solely Hulu originals in the United States. This result is not unexpected: the average demand for HBO content only in the US is relatively high so HBO likely lifts the average in Japan as well. Within Japan, Hulu with HBO has the highest average demand for its content, followed closely by Netflix, then Amazon Video trailing behind. For both Netflix and Amazon, their average demand is higher in their home market, though still less than the demand for HBO. Hulu's acquisition of HBO's catalogue has paid off: they have become the SVOD platform with the most attractive content in Japan.
The highest average demand for American SVOD platforms in Japan belongs to Hulu with HBO's content, but what type of titles are consumers watching on each platform? To explore these trends, the percentage of Demand Expressions™ for each major genre on each service was found for September 2016.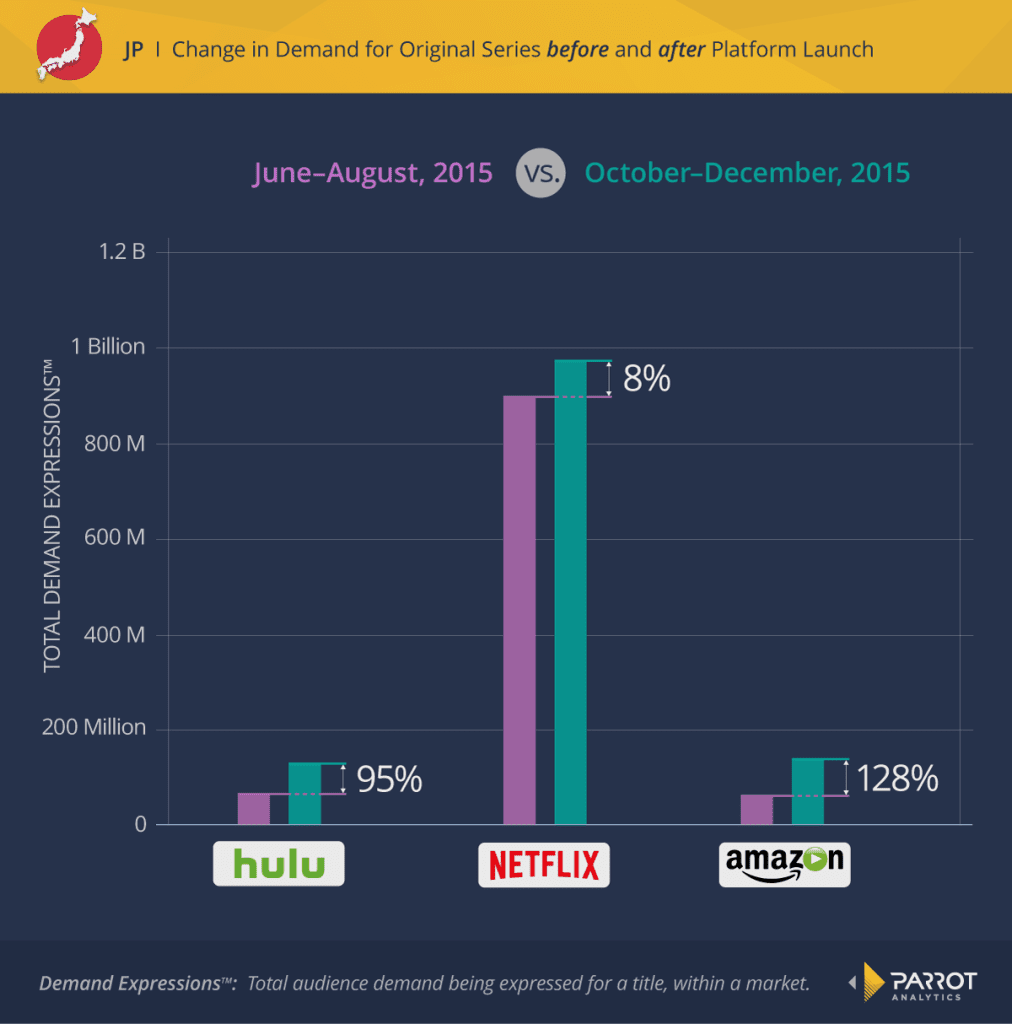 Netflix, as the platform with the largest catalogue, naturally has the most varied offerings, with entries in all nine different genres. However, much like the other two platforms, dramas dominate with nearly 60% of the total demand for Netflix's original series. Its science fiction titles, led by the summer hit Stranger Things, have over 20% of the demand, more than Netflix's comedies and comedy-dramas combined. Animated and children's content accounts for about 5% of the remaining demand, whereas documentary series only have 1% in Japan.
Demand for Hulu and Amazon is more homogenous: over 80% of Hulu and HBO's demand is from dramas, while over 99% of Amazon's demand is from its dramas and comedy-dramas. Most of the dramas on Hulu in Japan are from HBO's catalogue, led by the globally popular Game of Thrones. While the 6% of demand for comedy-dramas is also from HBO, Hulu's original comedies account for 11% of the total demand for the platform. Though Amazon Video has entries in six out of these nine genres, only its dramas (i.e., The Man in the High Castle) and comedy-dramas (Transparent and Mozart in the Jungle) have a non-fractional percentage of Amazon's demand. Overall, dramas command the majority of demand for these English-language SVOD originals in Japan.
With the three major American SVOD platforms competing for users in Japan, the country is a excellent case study for the future. Hulu and Amazon Video have both stated interest in expanding to other international markets where Netflix is already present. While those two platforms may experience a boost in demand from their release, from Japan's example we conclude that Netflix may not have had such an increase upon its release, as its originals are already known worldwide. Important partnerships, such as Hulu's acquisition of HBO's content, can significantly increase the average popularity of a platform's catalogue and therefore its appeal to consumers. Dramas are the most popular genre for the digital original series imports; perhaps the humor in comedies does not translate well into other languages, whereas dramatic storylines tend to be more universal. As more SVOD platforms expand into more markets, Japan will become an important example for their future strategies.
Find out more about Japan, MIPCOM's Country of Honour, here…
Top photo: © tetsuomorita / Getty Images