For the fourth consecutive year, MIPCOM hosted yesterday's Women in Entertainment Power Lunch, in association with A+E and Lifetime Networks.
Opening remarks came from Lifetime's Danielle Carrig, who stressed the need for female directors. Through a series of slides and video, Carrig introduced Lifetime's Broad Focus, an initiative to put more women in creative roles behind the camera. She shared a picture of her working mother whom she cited as woman in a non-traditional role. Carrig challenged the audience to seek out new female talent, "…not going to the traditional routes of Hollywood or the ways we make things today. We have to dig a little deeper."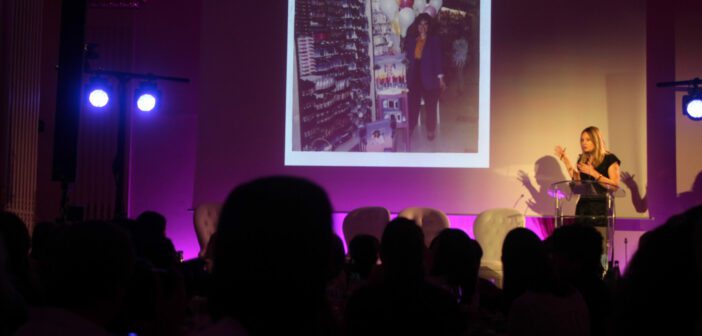 The panel that followed,  moderated by the Hollywood Reporter's Marisa Guthrie, had a wide range of traditional and non-traditional topics.  The panelists were Vivian Yin (Fremantle Media), Sharmeen Obaid Chinoy (Academy Award and Emmy Award winning documentary filmmaker),  Pelin Distas Yasaruglu (Kanal D), Sarah Phelps (Writer and Executive Producer, And Then There Were None), and Sharon Tal Yguado (Fox International Channels).
Globalisation of content was discussed, as each panelist described the unique features of their own markets.  Vivian Yin described China's market as being able to monetise digital content as much or more than terrestrial venues. Pelin Distas Yasaruglu described Turkish audiences, as still not wanting to pay for digital content, but felt digital content is the way of the future. Sharmeen Obaid Chinoy spoke of censorship and how certain digital platforms are blocked by the Pakistani government. Sarah Phelps said when BBC3 had started discussing taking the channel digital, "There was rioting in the streets. If one can call standing in queue quietly drinking tea a riot."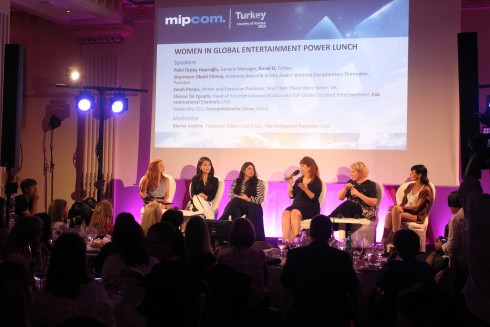 With the delivery platforms established, the discussion moved to content and the success of non-traditional stories among the global content consumers.  Sharon Tal Yguado said, "The trick with wearing a global box office hat, you're trying to find global themes that will resonate…and make a difference."  She went on to discuss a particular issue with The Simpsons, and how Fox had challenges in the Middle East with a religiously themed episode. "That had to be censored.  So obviously, we refused."
When the discussion changed to the 'Woman in a Man's World' theme, all agreed that it was the women who typically do all the work. Most were given their start and opportunities by men, but often had to have a CV one and a half times longer than their male counterparts to compete for the same job. Then of course, there is always the criticism. Sharmeen cited death threats,  the need for additional security and a bulletproof car. Sarah's experience of staying home "writing in my pyjamas" was a bit different.  Sharon said she "forgets I'm a woman when I walk through the door at work."  Vivian cited long hours on the shows she executive produced only stopping to "grab a snack from the table".