Tyrant: Recap Mural on Instagram (FX, USA)
In anticipation of the season two premiere of geopolitical drama Tyrant on June 16, 2015, FX teamed up with American mobile game developer Ludomade to launch a "Recap Mural" on Instagram on May 20. Next to providing users with full episode recaps of season one, the mosaic mural, which is to be viewed horizontally, also contains a video teaser from the upcoming second season. Tyrant tells the story of Bassam "Barry" Al Fayeed, the younger son of the dictator of a war-torn nation in the Middle East, who ends a self-imposed 20-year exile to return to his homeland accompanied by his American wife and children.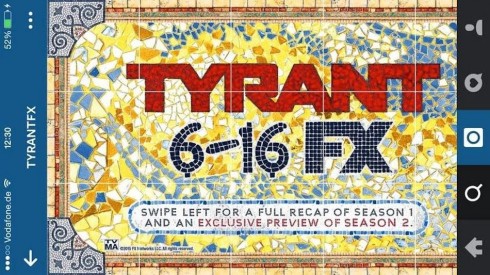 Users can access the comprehensive experience via the dedicated Instagram account TYRANTFX. The mural contains 321 elements, both images and videos, that are arranged in such a way that they form an overall picture if viewed horizontally on mobile devices. By swiping left and right, users can explore the full mural that features images of important scenes as well as video recaps of all ten episodes of the first season. Each episodic recap is labeled with the corresponding episode title.
By selecting the elements with a small video icon, users can see short videos that either feature season one footage or animated quotes. If users swipe fully to the left and thereby reach the end of the experience, they are provided with a video teaser of the upcoming second season.
https://instagram.com/tyrantfx/
Saturday Night Live: #DubsmashSNL (NBC, USA)
The 40th season of NBC's Saturday Night Live (SNL) ended on May 16, 2015. To celebrate the show's anniversary, the network gives fans the opportunity to dub the best highlights from the 40th season using third-party app Dubsmash. For this purpose, NBC provides Dubsmash users with exclusive audio clips from this season's best moments and sketches.
Available for Android and iOS devices, the Dubsmash app allows users to choose an audio clip from a large library of well-known quotes and record a short video of themselves lip-syncing to it. SNL audio clips can be accessed through a folder on the app's main page. NBC encourages fans to share their Dubsmash versions of SNL quotes on Facebook, Twitter, Instagram or Vine and is planning to promote the best submissions across SNL's social media accounts. In addition, users have a chance to be featured in a SNL sketch by tagging their videos with the hashtag #DubsmashSNL.
The collaboration originally kicked off in early April 2015, when three of SNL's cast members created their own Dubsmash clips for the show's official Instagram account. Fans saw Cecily Strong, Jay Pharaoh and Peter Davidson lip-syncing to Carly Rae Jepsen's "I Really Like You", which Jepsen later performed as a musical guest on the show. Over the summer, NBC plans to add more SNL audio clips to the Dubsmash library.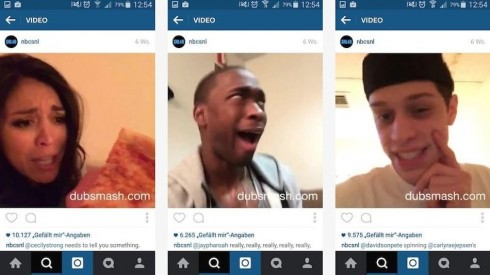 https://twitter.com/nbcsnl/status/600425953622368256
24 – Live Another Day: #FindJack (Prosieben Maxx, Germany)
The event series 24 – Live Another Day was broadcast on five consecutive days from May 18 until May 22, 2015 on German channel ProSieben MAXX. To promote its premiere, the channel started the online-based sweepstakes campaign "#FindJack" in early May. For a chance to win 24,000 Euro, fans had until May 17 to locate the series' main character Jack on an interactive world map.
First, fans had to sign up with either their mail or their Facebook account at FindJack.de. Afterwards, they could start to investigate. Available at the top of the website was relevant information about Jack's location in the form of short videos provided by ProSieben MAXX. Each video contained footage from what looked like a violent abduction and a daring escape with clues to Jack's current location, e.g. iconic landmarks.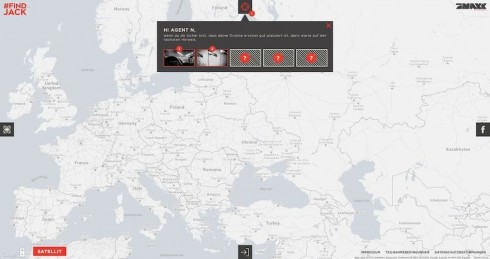 Sweepstakes participants had to follow the different clues and place a virtual search drone on a Google Maps-based world map. New clues were released throughout the run of the competition and featured on television and the official ProSieben MAXX Facebook page. The new information forced participants to adjust the position of their virtual drones every few days.
During flight, participants were able to follow their drone in real-time. However, they had to wait until their drone arrived at an assigned location before sending it to another one. Meanwhile, participants could track down other drones around them. The sweepstakes ended with a 24-hours-countdown on May 17. The drone closest to Jack's location won the grand prize of 24,000 Euro.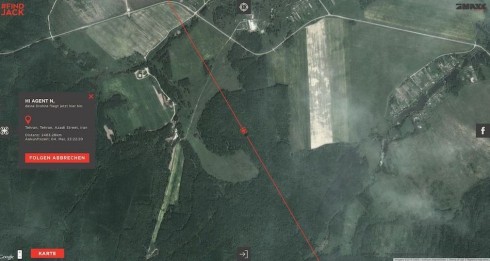 VAST MEDIA tracks and benchmarks interactive and multiplatform initiatives of broadcasters and producers worldwide. Check out all of their MIPBlog posts here! And be sure to follow VAST MEDIA on Twitter for more updates.