At the end of this session, Marriott was presented with the Brand of the Year Award for 2015. Above, VP David Beebe of creative and content marketing, and global marketing officer Karin Timpone, accept the award on behalf of Marriott International from Reed MIDEM's Laurine Garaude.
Elsa Keslassy of Variety moderated this special keynote featuring Marriott International's Karin Timpone and David Beebe, as well as Daniel « Malakai » Cabrera, director/producer of « Bellman #3 »; « GAGE » stunt performer William Spencer; and stuntman/parkour specialist Caine Sinclair (all shown below).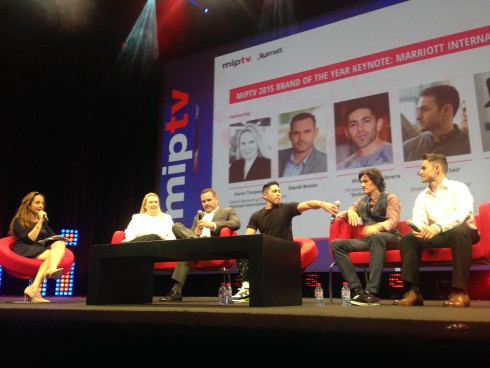 Marriott International developed its content studio about six months ago. Its first short, Two Bellmen (below), generated over five million views, and its second short, French Kiss, will mark its first-ever international production and was shot at the Champs-Elysées in Paris.
« Our strategy is to create raving brand fans around the next-generation traveler, people seeking great experiences all around the world, » said Timpone.
Travel lends itself nicely to stories, so the idea was to put stories together around next-generation travel, then take that and « bring marketing to the next level—the way companies should be working today, » Timpone added.
Much of this is about waiting for the right vehicles and stories to come to life, she explained. « We have an eye on the emotional core that's really valuable around travel. We're interested in a deep, intimate relationship with customers, especially Rewards customers. They know us really well and expect us to anticipate what they're doing. » She calls this quality genuine service, the act of treating viewers as clients.
Cabrera confirmed this holistic approach. « What's most important for us is authenticity, » he said. « This was a wonderful experience because David [Beebe] provided parameters that led us down the right road, but didn't constrain the story we wanted to tell. »
One charming expression of their creativity is in the music of Two Bellmen. « The soundtrack is up on iTunes. It's really exciting, » said Cabrera. « We did a remake of Lovely Day, some jazz, some hip hop influences, but it all fits into the creative. That's the next thing we're really excited about. »
Beebe also revealed Marriott's ambition to partner with brands like GoPro, with whom they plan to encourage guests to develop their own stories.
On the television side, Timpone's said they're talking to various outlets. « We had a show on access TV in the US for the Rennaissance brand called Navigator Live. We're also looking at formats that lend themselves around travel, things related to lifestyle like food. »
It comes down to balancing what content stories will sell, and what will enjoy longevity, Timpone said, adding that they are currently in discussions for « a major deal related to lfiestyle » and will own the IP.
French Kiss, Marriott's first international production, premières on May 19th in theatres, on YouTube and in hotel rooms, said Beebe. « We'll post it in 8 languages, can build a community around it, and can later engage that community with brand messaging. »
The business strategy is to build loyalty and fans: Viewing, said Timpone, is « the jumping-off point to continuing conversations » worth cultivating.
« We are developing other projects with Ritz Carlton right now, with Renaissance, » Beebe added. « We are going across the portfolio, and as we scale that, from a consumer perspective, what we want to do is make that a portfolio sell. »
He concluded by pointing out Marriott's hotels are in 78 countries. « We look at that as a platform: places we can shoot in, some of the top chefs in the world that we have access to, so as a platform, a brand, we can go further than just a physical product. We can be more intimate. »
Check out MIPTV, MIP Digital Fronts, MIPDoc & MIPFormats 2015 full live coverage