What does a creative TV producer need to know about the digital landscape in 2015? This morning at MIPTV, a group of storytellers convened to share their learnings from an ever-shifting landscape.
The session included Kathleen Grace, Chief Creative Officer, New Form Digital; Victor Adebodun, founder and CEO, PurpleGeko and Baby Isako, writer & creator of new Sky Living drama 'Venus vs Mars'; and Hayley Dickson, VP, acquisitions & development, global content, FremantleMedia International. The moderator was Miles Bullough, MD of Wildseed Studios.
Grace was first to speak. New Form Digital is a partnership between Discovery Communications, Ron Howard and Brian Grazer, which focuses on original scripted series for digital-first distribution, working with talent from YouTube, Vine and other digital platforms. « We work with them to shoot pilots then develop them into series, and we're heading into production for 14 series, » she said.
« YouTube has created this ability for filmmakers to build their own audience on the platform… I call it the best development executive ever. If you start a show there and start building an audience, it means you have not just the creative vision but the stamina to make something bigger and more ambitious, » she said. New Form Digital uses a mixture of analytics and gut feeling to decide which YouTubers have what it takes to make a great scripted project.
« In our first round of pilots we worked with 14 YouTubers, and this round we're working with 10, so in about a month we'll have made 24 pilots in our first year, » said Grace. Those first pilots were uploaded onto the YouTubers' channels to see how fans responded. « This audience will absolutely watch an 11-minute scripted short, » she said. « And they will share and comment on it 60% more than any of the other videos on the channel. »
New Form is pairing these YouTubers with writers from the traditional television world, as well as directors and producers once a pilot turns into a full series. The company is also working with its stars on marketing. « We have a robust social media plan to go with every single one of our series, that we co-create with the talent, » said Grace.
New Form works mainly with American YouTubers, but also with some Brits. « We work with a lot of UK YouTubers, I just like them a lot. They're hard-working, they're smart and they're generally under-tapped by the big players in the US, » she said.
Grace talked about the differences between digital and traditional production: « You have to be good, and fast, ad cheap. You have to be able to respond to things that are trending, respond to your audience commenting on your show in some way. And you have to be really good… at the end of the day, you have to overcome the fact that most of your audience would rather be updating their Facebook. People are narcissists! They'd rather be spending time talking about themselves… And because of the emerging business models, it cannot be a $100m production. It has to be more like a $2m production for a season, or in some cases, a $500k production for a season. »
Grace said that she is looking for shows that « can expand into a bigger world » – the first season might be quite simple, but it needs to show potential for expansion – including on Facebook, Tumblr, Instagram, Vine and other platforms for its characters. « I really look at are there people who are interested in this? » she said.
Grace was asked about how she feels young viewers will be watching TV in four or five years' time. « It's really hard to undo what DVR and YouTube and on-demand video has done for this landscape. I don't really see the audience passively siting and watching a feed of channels, » she said. « The days of sitting back and turning on a channel and just watching what's served to you are over. There will be brands like Vice and BuzzFeed that dominate the landscape and understand how to navigate a fragmented audience… They are getting their storytelling into every single outlet, as much as possible… They're not building a channel, they're building entertainment brands. »
Over to Victor Adebodun and Baby Isako, to talk about their work on a new series called Venus vs Mars. Adebodun is the founder and CEO of production company PurpleGeko, and took a script idea for a web series that would represent the urban audience in the UK from Isako, and made six episodes for YouTube, which proved popular.
« I don't have a scriptwriting background. It's not that easy to make a project for television, so I came up with a web-series because I knew the platform of YouTube was there, » said Isako. Adebodun talked about the UK debate about there not being enough diversity on TV, as well as the fact that the roles that there are for black and Asian actors are often negative. « Baby's script is a light-hearted romantic comedy in essence. It's got a predominantly ethnic cast, but there's no stereotypes in the show, » he said.
The first six episodes were made for « more or less no budget » as 15-minute episodes, with very basic cameras and sound equipment. « It was very entry-level camera equipment, but we had done research into what kind of hacks we could do with the footage and in post to make the quality as good as possible, » he said. And PurpleGeko has only reshot about a third of the show for its relaunch on the Sky Living channel now.
« On YouTube, as you put it out, you get a lot of feedback from the audience: they will tell you what you're doing wrong. The show got better episode by episode! » said Adebodun, noting that complaints about the lighting were able to be rectified quickly. The first season got more than 1m views, with Isako taking a key role in the marketing. « We made sure we had a platform on Facebook, Instagram, Twitter, Snapchat. My job was to send out the message, the images, to make sure people knew when the next episode was coming out, » she said.
Adebodun said that there are plenty more filmmakers following in PurpleGeko's footsteps, particularly in London. « There's a new generation of creators that are not waiting around for commissions, not waiting around for funding. They are getting up and doing it for themselves, » he said. « If you've got a true understanding and educate yourself to get the best out of the resources, you can truly make whatever you want… It's a sense of 'if you wanna do it, just get up and do it'. »
PurpleGeko has also made a film, The Intent, which is at the post-production stage now. « We get the best out of our equipment: it looks like it cost a LOT more than it actually did, » he said. Adebodun also talked about his company's focus on emerging talent for actors. « We decided to go with a cast that's new and fresh. We've grown together as a team, » he said.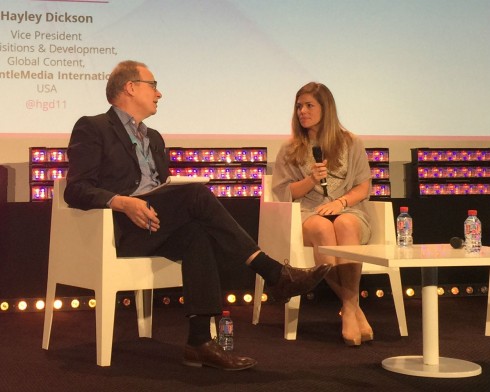 The final speaker in the session was FremantleMedia's Hayley Dickson. « We've always been an innovator as a traditional distributor in the digital space, » she said, noting the company's deal with Hulu four years ago. « I have always been looking for quality, scripted storytelling to sell internationally, no matter where it comes from, » she said. For example, Blue: a web series starring Julia Stiles that originally aired on YouTube and Hulu. « I said listen this is a crazy idea and it might not work, but if you geo-block it and re-edit it into 10 hours, we can take it out to MIPCOM and target linear broadcasters, » she said.
Are there challenges in funding these kinds of shows? « Yes, which is good, because we can help! » she said. But she admitted that selling shortform content can be a struggle, if it's not repackaged. She talked about a show called Park Bench starring Steve Buscemi – a talk show on a park bench in New York City. AOL ordered shortform episodes, but then FremantleMedia came in to help the producers also create a longer-form version, with a behind-the-scenes element to it swelling its running time. « Then we were able to launch it as six half-hours, » she said.
« Talent is a big element, » she added. « When you have someone like Julia Stiles fronting a series, it's very helpful. Or Steve Buscemi. But the must must-have is linear storytelling… with shortform videos, a lot of the content will repeat itself because they will assume people are coming back to watch it over many weeks. »
She talked about acquisitions. « The 90-minute trend, where you take nine 10-minute episodes and make it into a 90-minute. I'm over that trend. But with this trend in the US for anthology series like True Detective and Fargo and American Horror Story… can we create returnable series?… I am really looking for that cut-through content that can get half a million dollars internationally. »
Are the new digital platforms spurring a rise in a more diverse range of filmmakers and actors appearing in shows that can translate to TV, as suggested by PurpleGeko earlier in the session? Dickson cited the success of US TV series Empire as also having an impact on that front.
« I think we're going to see a whole different shift in diversity programming. You're going to discover all kinds of talent that has a unique and passionate voice, digitally, » she said, while noting that even famous names like Julia Stiles and Steve Buscemi are trying to spread their wings. « You find a lot of talent in the US that have a desire to work on digital platforms because they have a reputation for being incredibly open to allowing them to have the creative freedom that they desire. »
How hard is it to sell digital-first projects to linear broadcasters for sizeable fees when it's already aired for free online? « We think about this all the time. Ideally, the most ideal scenario is what we're doing with Connected: we have geo-blocked it globally – it is only available in the US, » she said. But FremantleMedia has experimented with geo-blocking after the fact, as in Blue, while using the analytics from its original airing to pitch it in specific countries where the online version found a good audience.
She was also asked about digital platforms. « AOL, Yahoo, Machinima, YouTube, as BuzzFeed starts to get into original content, Tumblr. Anything. I don't really think of Hulu, Netflix, Amazon as digital. For the purposes of this it's those [previously mentioned]platforms in the US that are beginning to have commissioning budgets now. »
Check out MIPTV, MIP Digital Fronts, MIPDoc & MIPFormats 2015 full live coverage