Is YouTube winning the battle for millennials?
Younger viewers have begun to consider YouTube as their go-to viewing hub over traditional television. Not only did 13- to 24-year-olds report that they were more entertained by YouTube content than traditional TV shows, according to Defy Media's new Acument Report: Constant Content, but they also espouse lots of respect for YouTube creators. In fact, 69% of those between 13 and 17 suggested that YouTube stars could be perfectly successful TV or movie stars.
Defy conducted this survey with Hunter Qualitative Research and KnoWhy Research. The companies surveyed 1,350 people between the ages of 13 and 24. Here's some statistics they got indicating the growing power of YouTube over young people.
1. Millennials watch 11.3 hours of free online video per week
They also report watching 10.8 hours of weekly subscription digital video. Meanwhile, this demographic only watches 8.3 hours of scheduled television each week. Guess which category YouTube falls under?
2. YouTube videos are rated higher by 13- to 24-year-olds than free broadcast and cable TV offerings online
It's not even digital vs. linear TV that's determining entertainment levels for millennials. Content that originates on YouTube is simply more entertaining according to 76% of millennials surveyed, while just 55% feel that way about free TV offerings online.
3. The older millennials get, the more polished they want their YouTube content
While 46% of 13- to 17-year-olds say they're more likely to watch content on YouTube that looks more "polished," 57% of those between the ages of 18 and 24 go for the professional-looking videos on the video platform.
4. Advertisements are more annoying to millennials on TV
Sixty-three percent of millennials believe that TV "has too many advertisements." Meanwhile, only 41% feel that way about the internet.
5. Younger viewers look up to YouTubers, not movie stars
Okay, that may not be strictly true, but those between the ages of 13 and 17 are more likely to deem a YouTuber a "role model" than are older video-watchers. While 32% of these teens say they idolise YouTubers over movie and TV stars, just 26% of 18- to 24-year-olds go for YouTube stars over those on TV and the big screen.
6. Perhaps younger viewers look up to YouTube personalities because they're so relatable…
The youngest of those surveyed can relate so much to YouTubers that they feel they might as well be them, with 56% of 13-year-olds agreeing with the statement, "I could be a YouTube star." This says a lot about the future of role models. Teens seem like they're having more attainable goals (assuming that way under 56% of them feel that they could be movie stars).
 7. YouTubers make better marketers to young people
Millennials are much more likely to buy products that a YouTube uses than a TV or movie star tries out in a show or film. Sixty-three percent of survey respondents said they'd try using a brand showcased by the former, with only 48% saying they'd do so with brands used by the latter.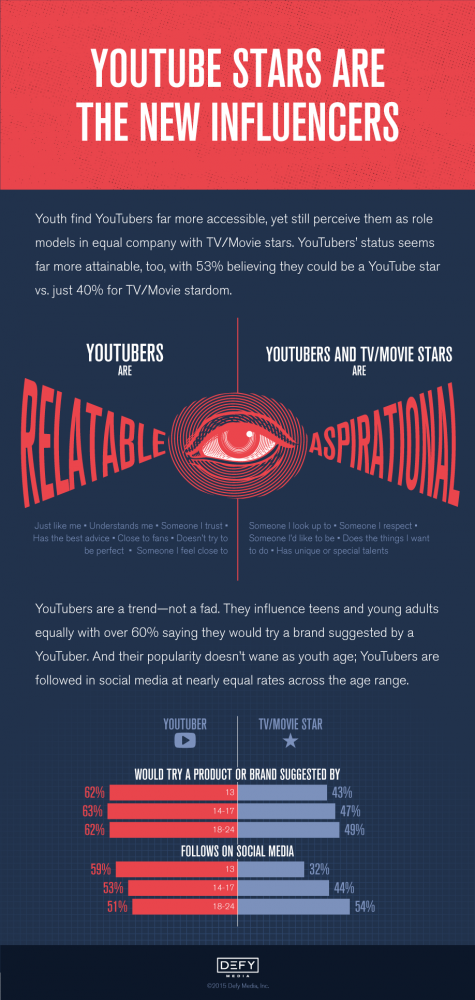 Jessica Klein is a reporter at VideoInk, supporting the publication's coverage of online video. Read all of her posts here!
Online video will be honoured at MIPTV 2015 next month with the return of MIP Digital Fronts: two days of showcases and much more, dedicated to the finest online video in the world. More info here…
Top image: captured from YouTube star PewDiePie's DISGUSTING JEALLY BEAN CHALLENGE (sic) video