Is the notion of the "first screen" still relevant in an ever-changing media landscape, where our attention keeps switching from phones to tablets to other screens? Or should we just find new ways to describe our increasingly complex media consumption?
As Flurry notes, the need to rethink our whole jargon is even more urgent as "mobile has just bumped TV as America's first screen", with consumers spending more and more time on their mobile devices year after year (see chart below). If size no longer matters, content must adapt to fit these new, smaller screens that transform our watching experience dramatically.
The situation is a little different on a global level: "TV remains primary screen", Rapid TV News points out, but "multiscreen and social are growing fast". Therefore, the conclusion is the same: producers and broadcasters now need to adapt to totally unpredictable consumers. In this context, it's no surprise that Netflix "wants to bring personalisation to personal devices" with "bite-sized content", Gigaom writes…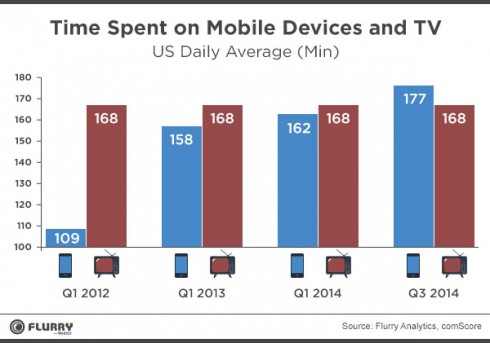 Unsurprisingly, social media plays a pivotal role in the rise of smartphones and tablets as our main screens. Re/code reports, for instance, that half of YouTube's trafic is now from mobile, with CEO Susan Wojcicki stressing that mobile "is important for every business right now." This new paradigm brings a new generation of celebrities — the top 20 biggest YouTubers in the world, listed here by Business Insider. Interestingly enough, many of them are relatively unknown, but they have managed to build "absolutely huge fan bases around niche formats like video game commentating and unwrapping toys." But do new screens necessarily mean new opportunities for content creators to make a breakthrough?
One thing is certain: the future of online video will be more and more social in the next few years. Indeed, the latest evolutions of video posting and sharing – as analysed by Business Insider – show that "Facebook is stealing a huge chunk of YouTube's audience" (see chart below):
The shift is dramatic: Until very recently, Facebook was simply not a destination for video. Now, the social network is slicing off large chunks of YouTube's business. (…) YouTube's share of the number of video posts has dwindled throughout 2014, while Facebook's share is on an upward trajectory.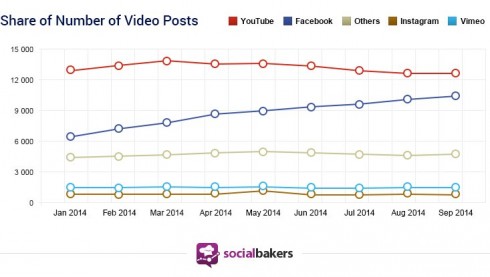 In other words, the battle to become the new generation's "first screen" has begun – but to date, it's more about content distribution than screens themselves… And it's a merciless battle, where every content sharing platform risks losing its biggest stars. Twitter, for instance, "needs to court its Vine stars", according to Gigaom:
"There's plenty of social sharks circling nearby, who would be happy to have both them and their massive advertiser-friendly teen audiences." 
Some of these stars still resist the sirens of brands' money, like 24-year-old French social media star Jerome Jarre, who just turned down a $1 million advertising deal, Buzzfeed reports. Watch him explain – in his own, humorous way! – why, right here:
Buzzfeed itself is making the headlines: its reach "now rivals that of the largest TV networks, and is even bigger among millennials", according to the latest insights: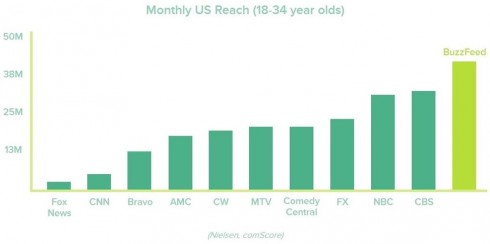 What's left for the "traditional" TV screen in this world of endless original content streamed, watched and shared on more and more platforms? Is broadcast television "about to go the way of AM radio", as Newsweek predicts in an alarming post?
"The forces at work, driven by the Internet and data, add up to a giant generational shift toward a 21st century, free-form, urban, mobile lifestyle and away from the schedules, structures, suburbs, offices and marriages of the post-World War II era. In this new environment, the old model of broadcast TV will last about as long as an ice cube in a freshly poured glass of bourbon."
The question is, will this ice cube have melt by the time we find the new, official "first screen"?
Discover more TV industry knowledge on our TV Biz News page, where the hottest business developments are curated by the MIP Markets team, via scoop.it…
Top photo: The Ellen DeGeneres Show, June 2014