Above: Yiume Ying, winner of the pitch, with "Emmy" 
Below: the jury. Left to right: host Christophe Erbes of Media (c)nsulting. Judges: Patricia Hidalgo, SVP, chief content and creative officer kids, EMEA, Turner Broadcasting Systems Europe; Rémi Jimenez, head of children's programmes, M6; Tara Sorensen, head of kids' programming, Amazon Studios; and Emma Rigney, creative producer – kids' video, National Geographic Kids.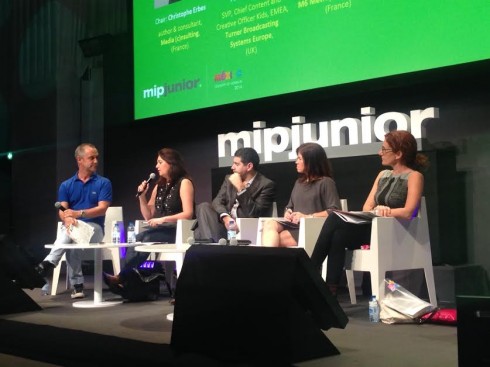 This morning, a selection of future-forward creators pitched their formats to a panel of industry judges, for the 2014 MIPJunior International Pitch. Below is a sampling of each, followed by a reveal of the winner. (Though as Erbes hastened to say, they're all winners, because they've been chosen from a group of 130.)
Emmy (LeftPocket Animation Studio, China)
Emmy is an girl who lives in an enchanted forest filled with magical creatures, including her best friend Gru. Together they solve  problems that crop up in the forest, using common sense. "She does not rely on magic, or fairy-tale logic," said pitcher Yiume Ying. "She's a real girl."
Erbes added, "There is a backstory to why she's in the magical forest. It's very believable."
Krakatoa (QB9 Entertainment & Nuts Studios, Argentina)
In YA!polis, a dystopian world where music is forbidden (except for what's produced by the powerful company YA!), rock music seeps out of the outer districts and sparks a revolution. Four children, the main characters of this "Hunger Games"-style show for young viewers, find the courage to start a band.
In one story, the group goes to free a city in a forgotten land where there's a big volcano. The rumbling under the city also stems from a monster with a deep voice that ultimately teaches the characters about rhythm and blues. Krakatoa was pitched by Marcelo Liberini.

Isi (Edebe Audiovisual Licensing, Spain)
In this CGI-driven comedy series, targeted to 4-8-year-olds (and their parents), social issues like religion, recycling and death are addressed by Isi, an 8-year-old who lives with her rockabilly dad and stressed-out, controlling mum. Other characters include her brother, who thinks he's a superhero; her inventor grandfather; and a robot. Think of them as a typical urban working-class family with a few made-for-TV quirks.
In a typical storyline, the newly-unemployed mother tries raising money to support the family. Her little son proposes robbing a bank with his superpowers, but Isi ultimately finds an invention contest, where the inventor grandfather participates and wins a prize that keeps everyone afloat.
The project is transmedia-ready but producers also hope for interest in licensing and merchandising for the production of rag-doll toys, for example, that will better reinforce their recycling message to kids. Isi was pitched by Ivan Agenjo.
Larva in New York (Tuba n Co, South Korea)
In this short-format 3D CGI comedy (each episode is only two minutes long), two worms based in New York engage in slapstick fights. They are sometimes joined by dung beetles, mosquitos, flies and snails.
"We have more than 600 different SKUs now," proclaimed pitcher Euddum Park. In Korea, the show has even inspired a theme park and pop-up store.
Asked by Jimenez why they chose to kick off in New York (each season will take place in another city), he explained that it's a beloved city for the target audience.
My Dream Job: A Customized series with Dad, Mum and Me! (Contentinuum, Belgium)
In this show, a kid wakes up every morning after having a dream about the day in the life of a different profession: postal workers, clowns and even hairdressers. But what makes it special is its unique look:  Paper dolls animated via stop motion, FX and CGI. A custom app lets kids produce their own versions of the series, putting their faces, and their parents' faces, in place of the existing protagonists.
To wrap, pitcher Alexandre Touret gave us a demo of an episode, featuring the faces of the judges and hosts. Here's one scene with Erbes: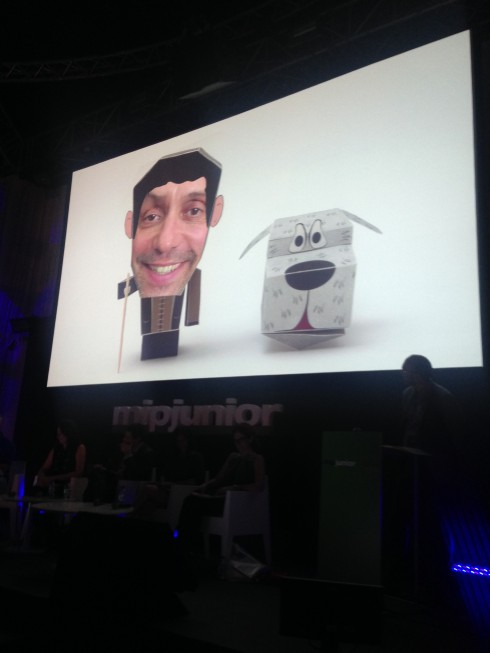 Asked by Sorensen why he chose to incorporate parents, the pitcher replied, "90% of kids just want to spend more time with their parents. 80% of them see their parents as their number one hero."
The first episodes will begin with nuclear families, but future ones will also include single-parent families and families with gay parents.
OONGU LOONGU: Animal Palace (OOMPH! Animation, South Africa)
OONGU LOONGU is a magical animal sanctuary on a game reserve. There, endangered, rescued or injured animals rehabilitate in an atmosphere reminiscent of Willy Wonka's Chocolate Factory, in part because the reserve is run by a childlike vet, Papa Joe.
"What sells the show are characters, the potential to connect with the kid," said pitcher Tariq Khan. Other characters include Zak, a 10-year-old orphan who converses with animals; his best friend Boomba, a Hollywood pygmy bear; and Poley, a puberty-stricken humanoid Lion. Storylines include protagonists and strong educational themes, like animal facts and environmental issues.
At session's end, the winner was announced: LeftPocket animation Studio, China's preschool programme Emmy! A proud Ying said Emmy's humanity is what makes her special in her magic forest. Asked by Sorensen how audience members can tell that she's human, versus the other characters, Ying pointed out the other creatures have magical powers; Emmy only has her mind and her creative skills.
My Dream Job also got a special mention from the jury, in what was clearly a close-run race. Congrats to all!