In a risk-averse time like the present, formats are a solid and comparatively cost-effective option for broadcasters, and it looks like the very concept of acquiring big, formatted series is currently taking a significant step toward being considerably less expensive, says ITV Studios' director, international formats, Mike Beale.
MIPBlog: Is the practice of using one set for global versions of format shows catching on?
Mike Beale: I'm not sure if it was Wipeout that started the trend for big formats that sell to multiple countries making use of one regional set, but it was certainly amongst the first to do so, and the reasons for working like that are numerous. It keeps production values constant, as well as keeping the brand solid, and it could end up being anything up to 50% less expensive!
> Is that why ITV is constructing a set for I'm A Celebrity, Get Me Out of Here in South Africa?
Yes. At root, it's very expensive to create a set that is embedded in the jungle for a mere three weeks of shooting, and South Africa offers the perfect solution (photo below). The crews are excellent, the post-World Cup infrastructure is first class, and it's on GMT, so it's timezone neutral. Plus it has plenty of jungle, and you might even get lions roaring at 3am, which is perfect for the show! The UK and German versions will still be using the Australian set, because they've been doing so for 13 years, but South Africa will make production much cheaper for the countries that use it.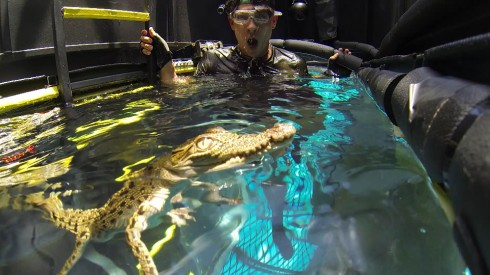 > Apart from cost savings, what other benefits are there to having a specialist crew?
We already produced the German version of The Bachelor in South Africa and saw how good the local crews are, and they'll only get better as they become more familiar with the mechanics and peculiarities of each show, because at any given moment they will know exactly what they have to do. This is not a solution for all formats, of course. It has to be a big enough production to make the travel worthwhile, but I believe it also breeds confidence with the networks because they know that their show is being made by a reliable production operation.
> What can you tell us about the background to the The Secret Life of Students, which set social networks alight this summer when it was broadcast in the UK?
It follows 12 freshers in their first year at university, exploring the drama of their new experiences and sharing their texts, tweets, pictures, videos and status updates. The idea came from the fact that people are putting all this stuff out on the social networks anyway, but then developing a system that could aggregate it all and enable us to make a show out of it was the challenge. Then the real drama comes from the difference between the public and private faces of these individuals, which is often vast as they struggle with adjusting to university life, new friends, missing old friends, family and so on.
> How did ITV manage to collect and make sense of all the data so quickly?
We've created a new piece of technology called the Digital Rig (D:Rig), which was developed by (show producer) Raw TV's head of development Tim Wardle and co-executive producer Lucy Willis. The D:Rig allows contributors to share their digital communications with the documentary production team. The system comprises customised mobile phones given to each contributor which, with their consent (and the explicit consent of those they communicate with), will send their data – including voice calls, text messages, Facebook posts, photographs and internet search history – back to a secure central server in near real time. Then the data on this server is viewed and processed by a dedicated team of D:Rig researchers and producers, who use it to inform what observational documentary teams are filming on the ground.
This is the latest in a series of posts from MIPCOM's top influencers, ahead of our 2014 edition. The posts are coordinated by Gary Smith, senior reporter for the MIPCOM News. Read of all his posts here!
Top photo: ITV Studios' new show The Secret Life of Students