Where is linear TV headed, in the midst of an ever-increasing number of screens, OTT devices and ways to watch shows? Not to mention the proliferation of quality content on more and more channels?
A quick look at the current media landscape should alarm any "traditional" TV executive: Gigaom reports that 47% of all US households now subscribe to Netflix, Hulu Plus, Amazon Prime or a combination of these services. More than a revolution threatening incumbent players, this impressive shift in TV consumption also means that we rely less and less on physical devices to store content. According to The Guardian, digital home video revenue – i.e. streams and downloads – "will outstrip physical media in 2016".
Not to mention the fact that TV's major revenue source – advertising – will become the internet's major revenue source within seven years, The Hollywood Reporter analyses, quoting PricewaterhouseCoopers' (PwC) annual Outlook (see forecasts in chart below).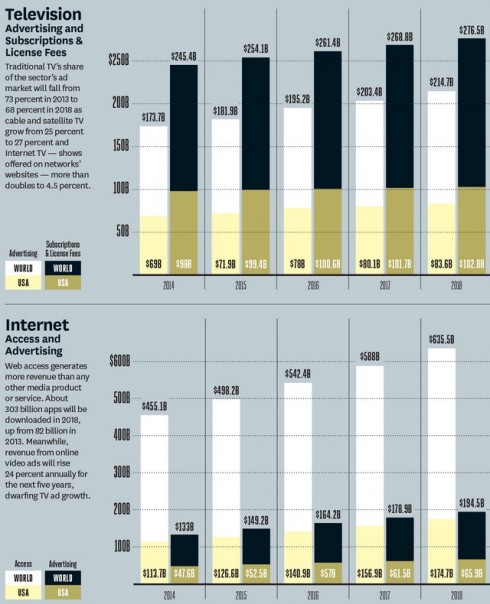 Chart via The Hollywood Reporter; click to enlarge 
As they face such tremendous changes, there is no doubt that TV producers and broadcasters will have to strengthen their online presence. But who could have predicted 3 years ago that the quest for connected devices and original online content would turn into a merciless gold rush?
Perhaps encouraged by one of the only very positive figures in TV-related studies nowadays – PwC says that OTT revenue will grow by 28.1% per year, Digital TV Europe reports – every single major IT company is taking a chance at developing its own all-inclusive smart TV. The past few weeks have seen this army of media streamers grow, with Sony announcing it would launch its PlayStation TV box for PS4 this autumn (Variety); not, however, an announcement that set the world alight…
Amazon's move to connected streaming devices with its Fire TV (top photo) was given a much warmer welcome by tech media. According to Forbes, Amazon may succeed here thanks to its focus on content, which remains key when it comes to founding an ecosystem and populating it with cord-cutters:
"It's not about getting customers to cut the cord, it's what you do with them once you've got them that is core to the business opportunity of the competitive media streamer market. And if there's one company that has the ecosystem in place to potentially kill it in this space, it's Amazon. (…) Apple TV has done well over the years because of Apple's iTunes ecosystem as an initial attraction for consumers, but Apple and even Google don't currently have the TV and movie content and services in place that Amazon has."
And the battle of smart TVs has just begun, judging by the endless series of annoucements: Gigaom reports that even Dish will soon join the race with a new internet-based TV service targeting cord-cutters.
So what does this mean is next? Perhaps it's time to look to the millenials again…  The Wrap quotes analyst Mary Meeker's annual Internet Trends report, stressing the fact that young people still "watch more TV live than online" in the US.
That said, Meeker notes that the millenials' revolution will come from "overseas, where a growing number of people are using smartphones and tablets, especially in the world's largest countries (like China, Brazil and Indonesia)".
Meanwhile in France, TV watchdog the CSA revealed that 15-24 years old now spend more time consulting their smartphones than TV (26% vs 20%… article in French here).
So is it the death of TV as we know it? One thing seems clearer than ever: the future of TV is everywhere but on the traditional TV set…
Discover more TV industry knowledge on our TV Biz News page, where the hottest business developments are curated by the MIP Markets team, via scoop.it…