The final session today in the MIP Digital Fronts was a corker: a parade of digital studios showing off their latest shows and formats, hosted by Shira Lazar, co-founder of What's Trending. Sci-fi, comedy, video games, talk-shows and sports all rubbed shoulders on the Grand Auditorium's big screen.
First up was Collective Digital Studio, a multi-channel network (MCN) that had one show to screen, presented by its SVP of strategy and sales Paul Kontonis. Video Game High School is three seasons in: an action/comedy series about "best friends, first loves, and landing that perfect head shot":
It's a co-production with Rocket Jump, a firm founded by YouTube star Freddie Wong. "These series, in seasons one and two, were viewed over 120m times on platforms all across the world," said Kontonis.
Season three is being shot at the moment, shot in a mixture of 24 and 48 frames-per-second. Collective is now bundling up the first three seasons in a 17 x 30 minute package for distribution.
Next up was digital studio SXM, showing its The Comment Show – an interactive talk-show that's made available on music video network Vevo:
Its founder Thomas Bannister explained that he formed the company in 2008, based in LA and New York. It produces shows for various online networks, as well as for brands – Samsung is one of its clients. Besides The Comment Show, he screened Armed Response, SOS Island and Jump Outs, two of the company's other series.
"What we try and do is create programming which is similar to what's on television or what's in movies, but with additional elements indigenous to the internet woven into them," he said. The Comment Show aggregates user comments under the week's music videos on Vevo, and uses them as jumping off points for skits and comedy.
Armed Response is more of a 24-esque action/adventure, shot entirely from the perspective of helmet cameras, inspired by citizen journalism. SOS Island was sponsored by Samsung: "A crazy production, we marooned 16 contestants on a desert island off Puerto Rico.. and have them Samsung cameras and allowed them to broadcast."
Jump Outs is launching with Dailymotion: "a reality format aimed at young audiences, aimed at 17 and 18 year-olds, really trying to reinvent the reality genre, the reality format for this new kind of YouTube audience coming through," said Bannister. "It's made on a decent-enough budget that it's good – it's competitive with television – but it's certainly not made for the budget of a TV show."
"To my thinking the real opportunity is creating content for this new generation that have come up on YouTube, and really using the tools of some of these sites.. to really differentiate the shows from what's going on in film and TV." And he added about SOS Island: "The winner won a real island, which is off Panama, and he's living on it now!"
"As a producer in 2014 you really need to have three skillsets: you need to be able to work in Hollywood, Madison Avenue and in Silicon Valley… all those skillsets go into producing new shows."
The next to present was Smokebomb Entertainment: VP and digital/creative director Jay Bennett and actor, writer and director David Hewlett. They showed State of Syn (image above), another sci-fi thriller that runs across multiple platforms and devices. "It's a series, it's an app, it's a Google Glass game and it's a social experience," explained Bennett:
Hewlett explained the production process: "This ties very much into this science fiction world of early-adopting nerds like myself who will really take to these nihilistic worlds and future tech!" he said. The prologue was launched as an app for iOS and Android. And now a Google Glass app too. "We wanted to push the boundaries of that. We were very interested in seeing what is an immersive experience on Glass," said Bennett.
"It's the best pickup item you can possibly buy a nerd!" said Hewlett, of the experience of wearing Google Glass around MIPTV. "I'm sure my wife is thrilled to hear that… I spend most of my time walking into furniture in the bar!" But Bennett suggested the project is "really thinking about digital natives today, and about how stories do move across multiple platforms".
Next to speak was Vuguru, showing its scripted series Play Nice, which is being sold at MIPTV by FremantleMedia:
Vuguru CEO Larry Tanz said that five years ago "digital was not really a place people were going for premium programming, and now we're seeing some of the best shows on digital platforms… who have really jumped from what we consider as digital content to television content."
Next up: Bigballs Films, showing its project Maya's World Cup Cities, presented by creative director Richard Welsh:
About 18 months ago, when YouTube was running its original commissions initiative, Bigballs pitched to run a football channel and won: the result was Copa90.
"We built Copa90 from scratch without any rights, any associations really, any massive talent. We've identified around sports there's a massively under-served audience that are connected, but actually care about the stories around the 90 minutes… and the stories outside the 90 minutes make the 90 minutes matter more," said Welsh.
"It's a massive sea-change in the way sports have traditionally been done. It used to e that you needed rights to build an audience… for us, Copa90 is the first in a planned series of channels," he added.
Next up, another cross-platform project: Hoodlum's Secrets & Lies, presented by chief creative officer Nathan Mayfield. It was originally aired in Australia, and is now being remade for the US:
It plays out on Twitter, Facebook and other websites – including its own – giving viewers the chance to solve the case before the TV detective does. Meanwhile, people watching can use the Zeebox second-screen app to get clues as they watch the show. Fans following the show on Facebook will get exclusive clues, that pay off when they watch the next episode.
"One of the most exciting things is this is the first time a free-to-air network has commissioned a show from the outset to be a multi-platform show," said Mayfield, who said Zeebox had been brought in at a very early stage in the project. "It has to be mainstream, it has to actually feel like this is not a new thing for our audiences to learn," he added.
Hoodlum was followed by Diagonal View, with its founder Matt Heiman talking about a channel called Alltime10s:
"Diagonal View is a production studio, but we only produce digital content. Some of our shows, for example Alltime10s, get one to two million views a day," he said, before explaining that show. "We want people to ask an entire clip: the clip starts with 10 and winds its way down to 1."
It has 2.3m subscribers on YouTube, but no sponsor yet: that's what Diagonal View is hoping to sign up at MIPTV. Heiman also explained the licensing deals behind the channel. "We spent the money and time to license all that raw footage from the original IP owners," he said.
Finally, What's Trending finished off this Digital Front with Lazar's co-founder and CEO Damon Berger explaining how that channel works:
"We use data to programme to our audiences what's cool," he said. "These trends are the new watercooler: our way of establishing social currency online… We give our fans and audiences the hottest trending topics online, and do so with the brightest traditional stars and the biggest online influencers in the world."
The channel has worked with Ford, Samsung and other brands. "The idea I think really is we're trying to fill that gap that MTV had back in the day, where they would curate what was cool and bring these music videos to the people," said Berger. "We're also very fortunate to have big traditional media companies as partners."
The company also has a live show, What's Trending Live, which gets fans to interact with traditional celebrities and YouTube stars – while visiting big events around the US. "The fans is a very core component to who we are as What's Trending," said Berger. "Our audiences and communities are among the most socially active participants anywhere online."
"We are tomorrow announcing a television pilot for a Stateside cable company," he added. "Our 2014 is really focused on expanding not only vertically but internationally as well. We are actively looking at partnerships with some of the biggest media companies in the world to bring What's Trending into local markets with local languages."
Hats off to all the participants of this mammoth session!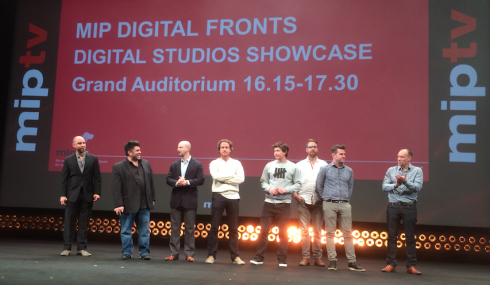 More from the MIP Digital Fronts tomorrow, only on MIPBlog! 
Be sure to read our exclusive Vast Media white paper "Multi-channel Networks"! Download here (email required)