It was a bumper afternoon of keynotes at MIPFormats today, as four big hitters from the media industry took to the stage to give their views on production, digital media and the state of the television industry.
First up was Marco Bassetti, CEO of Banijay Group (photo), who came bearing news: his company has just signed a deal with former Endemol USA boss David Goldberg to launch a new production company, with Goldberg heading up shows for English-speaking markets.
Bassetti took questions about whether his company is still searching for the elusive « big hit » in good spirit, and maintained that Banijay is well-placed to roll out the kind of formats that has made the names of Endemol and Shine. « We have all we need in oder to be in a position to create a big hit, » he said, while also suggesting that the starting point for such a hit has to be local.
It's not just about the monster global formats, though. « A good company should not just be based on the big hits. The company has to be solvent, » said Bassetti, describing the desirability of medium-sized hits that have « a long tail » – especially when this is paired with innovative multi-platform aspects.
« The advertisers, they like very much these types of shows, because they want to sell their products with an experience, » he said. « They love to start a dialogue with the audience… These types of show are very important for the company: through this long tail you can create extra value, not just to make money in the traditional forms. »
Bassetti talked about the importance of digital innovation, noting the industry chatter about a new generation of teenagers who tend not to watch traditional TV. « With this generation, I think we are just in the beginning. We have just to learn, » he said.
« There I think the production company has to risk, has to invest. The companies that will be most successful in future are the companies that will fail more now. This is going to be a big opportunity for a production company, but we are still just at the beginning of the process to learn how to engage this new generation. »
Bassetti also warned producers not to forget that not all their viewers are from that new generation. « For sure, nonlinear consumption will grow, but there are still a lot of persons out there who like to watch in a passive mode the shows, » he said, noting that there is keen industry interest in new digital platforms despite this.
« You have to always keep in mind that you are a storyteller, and there are many parts of the audience that like to be passive watching your show. »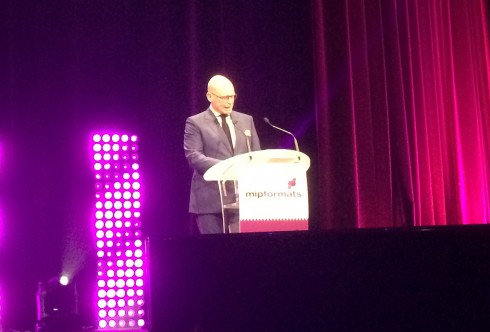 Second up was Gary Carter, chairman, Northern Europe and chairman, Shine 360° at Shine Group, with a speech focusing on what the "next big thing" will be for the TV industry.
He didn't have easy answers, referring instead to Nassim Nicholas Taleb's Black Swan theory about rare, surprising events with a widespread impact, where people then use hindsight to try to explain them as something that was entirely predictable.
"What is the next big thing? The consumer will decide. The fact is the next big thing is unpredictable from within the industry that both generates and relies on it," said Carter.
"The next big thing is a Black Swan event, and the small number of Black Swan events explains almost everything in the world of non-scripted television. The next big thing will come from nowhere. It will have a major effect. And we will construct a narrative that explains its origins and success, and will try unsuccessfully to apply that narrative to the future."
Carter cited Who Wants To Be A Millionaire, Big Brother, Pop Idol and Masterchef as previous examples, but noted that the nature of the theory means the next Black Swan event is unlikely to relate to the ones before it.
"It is impossible to predict the next big thing, so it is worth asking if one is within us already. But whether we cannot tell, because the effect is not clear," said Carter, citing the much buzzed-about format Rising Star from Israeli company Keshet as one possible candidate.
Carter isn't entirely sold on the idea: he suggested that if Rising Star is a Black Swan it's because of the way it was sold and marketed within the industry – it has so far only aired in Israel, yet was sold around the world at surprising speed.
"Rising Star accumulates its predecessors: it's a reality show, a talent show, a singing talent show with live voting and an app. But it is too early to tell whether it will be a big thing," he said. "It is also too early to tell whether its much-vaunted innovation – its live voting app – is going to be the killer innovation Keshet claims it to be. Personally, I doubt it… But one of its lasting effects will be the legacy of the scale of its marketing to the industry itself."
How so? « We may be entering a period where the sales and marketing of formats to potential buyers requires more strategy, more marketing knowledge and much more money than it does now. Perhaps more money than small companies have at their disposal."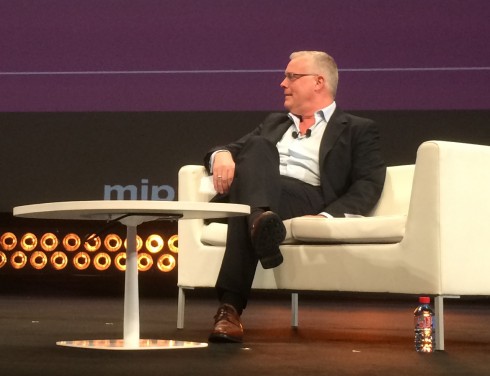 Third to speak was Rob Clark, director of global entertainment development at FremantleMedia, who addressed some of the same global versus local themes as Banijay's Bassetti. "We need to realign the agenda: it shouldn't just be about global, it should be about local and about regional," he said. "It isn't necessarily just about just finding the next big show. It's more interesting than that."
Clark suggested that "truly creative" companies need a broad production base that's about more than simply churning out Idols, X Factors and other big talent, game and reality show formats. "It can also come from local shows designed within the company, or designed with the broadcaster for that particular slot," he said. "I don't want Fremantle to just be a big global company that sends out formats constantly. I want that, but I also want the producers and development teams to feel they can operate within their own territory, within their own region, the same way a smaller production company would."
Clark talked about three central tenets of formats: they need to be transferable between territories; returnable so they're not just a one-off event; and scalable so they can be produced for different budgets in different countries without losing their essence. Clark also said producers need to have had a serious think about a digital strategy too: "This isn't something I would have said five years ago," he noted.
Clark had some blunt words about broadcasters and their willingness to take risks in partnership with producers. "I don't think that broadcasters have got the same balls that they used to… they often want the format that's worked somewhere else," he said. Fremantlemedia is big enough to be able to produce pilots on its own resources, but Clark said it prefers not to. "I'm really insistent that we pilot with a broadcaster, because they have to believe in it as well. It shouldn't be that we just come and deliver them a pilot. They need some skin in the game."
Clark was bullish about the current state of the industry, and warned against naysayers who suggest TV is stagnating creatively. « I think the industry's extraordinarily creative at the moment. I think this MIP will be the sign of that. There's a lot of great formats around, » he said. « It's the cyclical nature of television. I've head so many people say 'oh, music's dead!'… Well, go away and look at your schedules in the territories you live in and tell me music's dead. Nothing's ever dead: it's just how you retell the story. »
Keshet's Rising Star is retelling that story, but like Shine's Carter, Clark was cautious about judging its impact – or its status as a bona-fide Next Big Thing – at this stage. « In Israel it was a qualified hit, but it hasn't been made anywhere else yet, » he said. « It's a show that was marketed and sold extremely well, and it's yet to prove itself in terms of how it engages with a wider audience… It's not a hit yet. When it gets 15-20m in the US, when it launches on ABC, then we can call it a hit. But if it doesn't get that, it ain't a hit, full stop! »
Clark did say that Rising Star is a reminder that exciting new formats don't just come from the US, UK and the Netherlands now. « If you walk round this market, you will see that those shows are no longer centred around those three countries. There will be shows worth taking note of from all sorts of different countries that historically weren't the creators, they were the consumers, » he said. « All of these places have got hugely creative and broad-based production industries now, and the next [big]show could come from there. »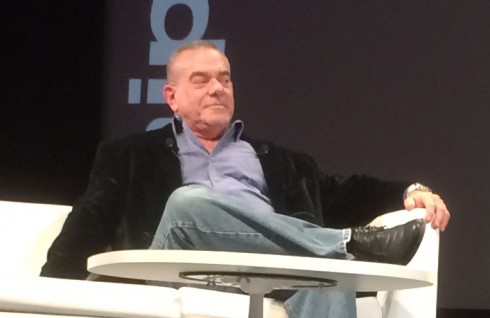 The fourth and final keynote of the afternoon came from Mark Itkin, board member and global head of television at William Morris Endeavor. The session was moderated by C21's David Jenkinson. Itkin reminisced about his most memorable moments from his career in the industry, including selling Big Brother to CBS in the US, and the tale behind Deal Or No Deal as a format.
"A friend at NBC introduced me to a man in Canada who had an insurance company willing to put the largest cash prize ever on a game show: $5m. This man had created 25 suitcases, but he had no game: nothing. I took that idea, called John de Mol, he gave it to Dick de Rijk, who created the game, and we all met in New York six months later to see the game," he said. "The first version of that show was a Q&A game, and the show you know was the bonus round of the show. Everyone felt that bonus round was so strong, that could be the show itself."
Itkin gave his views on what the next big thing might be for the industry. "I think everybody right now is looking for the next big unscripted hit. They come few and far between," he admitted. "It's important to try to really evolve the genre: looking at the world and see what's not being reflected on TV… There's probably [also]some really good formats that could be contemporised and brought back."
Itkin warned producers to avoid being derivative. "Right now, there's enough of every genre out there: singing competitions, dancing competitions… It's time to push the envelope and figure out the next thing that hasn't been done, or hasn't been done in a new way. It can come from anywhere, and it can come from any country."
He also gave some advice for producers hoping their format idea will be the next show to break big in the US. "I think that it's got to feel like an event today to be really successful, at least on American television, and probably elsewhere in the world," he said, before later expanding on the idea. "If you're going to sell something to an American broadcast network, it's got to feel like a big event in order to get the eyeballs to come to it… It doesn't have to be live, but it has to be something people can talk about the next day.
He also talked genres: "It's time for a big event gameshow, there hasn't really been one that's worked since Deal Or No Deal. I think something maybe in the docu-soap space too, but on a bigger level than what we see on most of the cable networks. There's such a blurring today: look at Duck Dynasty, which is basically a sitcom. I wouldn't even put it in the non-scripted world any more: it's a hybrid."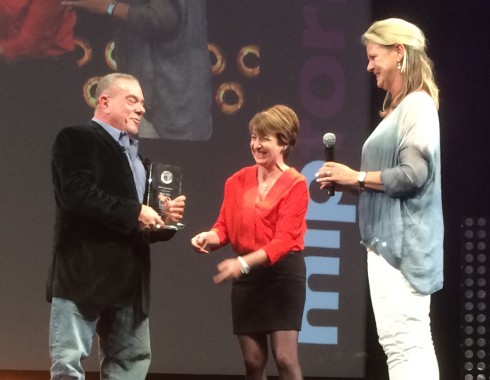 The session ended with Itkin picking up an award: the C21/FRAPA 2014 Gold Award, presented in association with MIPFormats (by Reed MIDEM's Laurine Garaude, centre, and FRAPA's Patty Geneste), to honour him for his long career. There are sure to be more anecdotes swapped with his industry friends over the coming days…