Jan Frouman is group managing director of global production and distribution group Red Arrow, launched in 2010 as part of the ProSiebenSat.1 Group. It has since grown to a network of 15 production companies spread across nine countries.
Frouman appeared for a Kate Bulkley-moderated keynote session this afternoon at MIPTV, and he brought some friends along from new TV show Bosch, which has been commissioned by Amazon Studios. But he started off by talking about his company's strategy, and how it's evolving.
"The notion was the group wanted to be in the IP business, they wanted to be in the content business on a global scale, and they felt they had a platform to do it with," he said. "Over the following years… we had production assets in the US, we had production assets in the UK, throughout German-speaking territories, Benelux territories, Israel etc. Red Arrow became a strategic priority regardless of where they had channels."
80% of Red Arrow's business now comes from countries that don't have channels run by its parent group. "Our ambition is to be a big major player in the independent production space, but we want to do it thoughtfully. We won't go out and just gobble up size for the sake of it," he said. "I wouldn't want to do deals that disrupt what we've built."
Red Arrow has put a lot of focus in the US recently, and Frouman accepted that it's a tough market to get a foothold in, although he declined to say it's markedly tougher than other countries. "You could argue the US has more channel slots than any other territory in the world. There's more competition, but you're going to have more opportunity to sell shows throughout the year than in any market," he said, while admitting that having a hit is much, much harder. "If there's a magic recipe, I don't know what it is."
Frouman talked about a project called Esio Trot, based on Roald Dahl's children's novel, which has some startling talent attached to the project: Dame Judi Dench and Dustin Hoffman. "There's loads of film talent also doing television, and that's great for television producers," he said, before denying that Red Arrow has immediate ambitions to move into full film production. "It's a good question, I don't get it much, and the answer is not at the moment. We have done a lot in a short amount of time, and we're still in the let's-prove-it mode."
ProSiebenSat.1 bought a 20% stake in YouTube multi-channel network (MCN) Collective Digital Studios in March this year. "That was the one deal we've done that we didn't source," admitted Frouman. "Our digital team were talking to the guys at Collective, combing the market and looking for the right partnership model. They suggested that we collaborate on it, and when we met with the Collective guys, it made a lot of sense."
Now, Red Arrow will make content for online. "All of our current production companies have been obviously very well-versed and well-briefed on what we're doing. One of our companies is already in late-stage talks with Collective. I'd expect our companies to have channels on Collective, I'd expect stuff to come off of Collective which will be produced for linear," he said. Why only buy 20% of the company? "For the moment it's 20%" said Frouman, smiling and declining to expand on possible plans to acquire a larger stake.
The conversation moved on to Netflix, which Red Arrow now considers as a possible distribution partner whenever it has a new scripted project. "If they're the right outlet for the show, that's fine," he said. "Their model is they order a series. They wanna see a full package, they commission a series, and then how they deliver it – whether it's binge or one-off – that's up to them."
Red Arrow is also working with Amazon, which has a different model. They have partnered for a new series called Bosch, based on a series of novels, and which is being promoted at MIPTV this year. Frouman praised Amazon's way of doing things: it doesn't order a full series initially, but instead focuses on pilots and audience research.
"They have a pilot model. I would say it's the most egalitarian, transparent pilot model there is. They order a show, that pilot is made available to their user audience for a period of time, whether its a month or two months, and they gather data," he said. "You as a producer have a chance to dive audience attention and traffic to the project. and you feel like it's a transparent process" – as opposed to a "backroom" negotiation.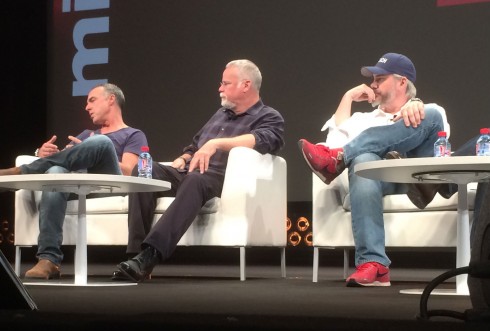 At this point, Bosch's star Titus Welliver, the original books' author Michael Connelly and executive producer Henrik Bastin joined Frouman on-stage to talk about the project.
"We're green-lit, so we'll go into production at the end of July. We'll have the pilot episode then we'll shoot an additional nine, and go from there," said Welliver, before Connelly talked about his perspective on the series – he's also doing the screen adaptation for Bosch.
"My whole history as a writer is wrapped up in Harry Bosch," he said. "When Henrik gave me the chance to be fully involved, I took that… This is a character that is near and dear to my heart." He said that in the books, the Bosch character is "very internalised" – his thought processes aren't as easy to get across in the scripts for a TV show. A tough acting challenge, but one that Welliver has clearly met. "Titus Welliver IS Harry Bosch: that's how I feel."
Bastin said the project has been a great experience: "Very few times have I been starstruck going into a meeting, but I'm such a big fan of the books, I really wanted this to happen, and to get it right," he said.
Welliver talked about the way he checked in with Connelly and Bastin regularly on how the pilot was performing, without getting too deeply sucked in to reading every review, or scanning whether people thought he was the right actor for the role or not. He praised Amazon's pilot system. "It is oddly Marxist in its idea, but it's a very smart business model. What you're doing is empowering the people to facilitate this. While they don't ultimately… Amazon's not going to be coerced by this, but they look at it. It's very, very intelligent," he said.
"Particularly with the reviews, if you've made something compelling enough to prompt people to watch and then go in and review it… Some of the reviews are pretty extensive, from what I've heard. And what I saw on Twitter was people really rallying to get this show on. They have a kind of ownership, and that's kind of wonderful, that you can engage people on that level."