MIPBlog spoke to Eliott Reilhac, CEO of France's TVTY, fresh from winning the 2014 MIPCube Lab startup competition.
TVTY monitors TV channels, detects its clients' competitors' TV advertisements, and then triggers online campaigns, synchronised in real-time, to concentrate media firepower.
Reilhac said the prize, awarded by a jury of TV and tech influencers, comes just as his startup is finalising a new round of funding. He said the jury was impressed by the fact TVTY already has a lot of "blue chip customers"; plus "a new technology which is really accurate and quite rare on the market… and maybe they liked my pitch!"
Currently expanding globally, TVTY is now looking to add TV clients to its principally-digital/agency customer base; and winning MIPCube Lab will undoubtedly help in this sense, said Reilhac.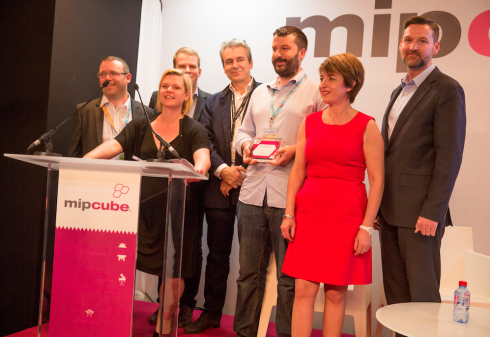 Photo: Reilhac was granted the award by MIPCube Lab's expert jury (left to right): Gary Woolf, All3media; Kirsty Hunter, Sony Pictures TV; Rhys Noelke, RTL Group; Eric Scherer, FranceTélévisions and (far right) Christopher Barry, A+E TV Networks, with Reed MIDEM's Laurine Garaude. Image © Olivier Ezratty. 
Thanks also to MIPCube Lab's selecting partner, Fabernovel, represented by Caroline Pandraud.
Congratulations to this year's finalists! Discover all five here…
And be sure to read our exclusive white paper "Building the new digital content market"! Download here (email required)