Left to right: moderator Adrian Monck, MD, head of communications and media, World Economic Forum; Kenneth "KC" Estenson, SVP & GM, CNN.com; Bruno Patino, SVP of programming, network TV and digital strategy, France Télévisions Group
Digital deciders of two of the world's biggest broadcasters sat down at tech conference LeWeb today to discuss the future of TV. Digital disruption, new forms of TV consumption, 2screen TV, multiplatform content and advertising were all covered in this quickfire and inspiring session.
Moderator Adrian Monck began by asking the two speakers what keeps them awake at night. "We're entering the video age," said France Télévisions' Patino. "Video is everywhere, TV is everywhere; we're in a golden age of what we can do. But what keeps me awake at night is how can we make our vertical organisation fit this horizontal world, and live with the age of context. So we're embracing the second screen, and being present on every platform. We also have to embrace the age of the audience being present (in the shows), with Twitter & Facebook, the sharing of TV programmes, and welcoming an audience that can now create its own programmes. Institutionalised TV still has a long way to go. Then there are the interfaces. I don't believe broadcasters can make interfaces like those that exist in the tech world; so APIs are important. Finally, you have to organise the data around the programmes to be present around algorithms (such as Google Search). I'm very confident in the future of programmes we can publish; the challenge is how to handle this complex world."
Then CNN's Estenson was asked to react to recent media claims that TV is dead. "The rumours of the death of TV are overrated," he said. "But every operator must have a massive digital setup behind them. CNN was disruptive to begin with, so we made the decision to be on as many platforms as we could (now over 20). "
He then gave an impressive list of the news network's multiplatform reach:
– 100m TV homes for TV
– 41m desktop web users
– 31m mobile web users (+30% this year)
– 51m social media followers (+75%)
– 42m apps (+96%).
The network's social media growth and presence is one of its key strengths, said Estenson: "CNN is far and away the largest social media news brand in the world. Two of the biggest Twitter accounts in the world are CNN's. That's because we're actively reaching out and publishing specifically for Twitter & Facebook audiences."
CNN is also closely tracking who looks at which platform when, and has discovered that whilst the majority of newspaper reading happens in the morning, mobile and app news consultation peaks midday, and iPad news consumption takes off in the evening. Food for thought…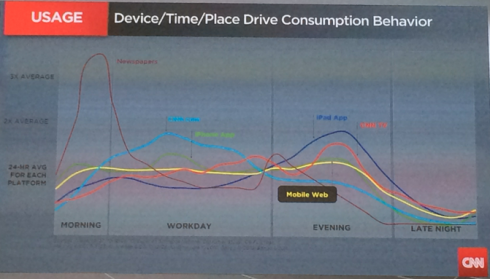 Patino then observed that, for France Télévisions, "being on every screen was not as difficult as you would imagine. It took us 3 years to become present on all pltaforms. That's rather easily done, including with the producers. They're really happy when they see their programmes everywhere. "Fais pas ci fais pas ça" (one of France Télévisions' biggest series) has 15% of its audience coming from another screen than the TV. What's harder is to convince producers to include sharing and participation within the programme. So we started introducing these elements with 3 programmes a few years ago, then 20 the next year, then 50. At first, for example, political programmes didn't want tweets on screen. Then they realised that the conversations we got via Twitter are first-rate, and that they improve the overall quality of the programme."
"Whether digital leads the way or comes after traditional TV is not my problem," added Patino. "My problem is making both worlds work. We have to adapt to things like on-demand viewing, viewing based on recommendations, or optimising series for binge viewing, so maybe without cliffhangers, for example. We'll be ready for that."
Then came a surprising digital TV comment from Estenson: "In general, I think second screen experiences suck. It's a hacked attempt to bring some kind of interaction to TV. For me, there are two ways to do connected TV. It's either about internet connected straight into the TV, and we'll build an app layer with the TV manufacturer. Or it's about devices like Chromecast or Apple TV, and we'll work with them to provide apps. There's a huge opportunity for people who are building those boxes right now.
Patino agreed that "these experiences are going to explode, and we need to be ready for that."
So how will TV consumption evolve in the near future? "If i see a great interview on the TV, I should be able to send it to my mobile device before I go out," said Estenson. "That capability is coming very quickly. So ultimately, we'll take the news down to the atomic level and organise it so we present it to you in a very personalised way."
Said Patino, "we're experimenting with things like that, but for now the innovation doesn't come from the TV set itself; it has to go through the second screen, if, for example, you want to share a section of a programme via Facebook."
Finally, the speakers were asked about how advertising is evolving on these new platforms, where traditional audience rating systems no longer apply. "We're experimenting with Twitter Amplify (which allows sponsors to target content to viewers of specific shows) on a few programmes," said Patino. "It's a great way to experiment with engagement. So we're trying to figure out how to sell engagement (rather than traditional audience ratings)."