Saturday October 6, MIPJunior gets underway; you can watch selected conference videos right here on mipjunior.com from mid-afternoon, plus we'll be liveblogging the show's key panels, with a special focus on Sunday's innovation-focused digital panels.
Once again, the amazing Stuart Dredge and Angela Natividad will be live- and video-blogging MIPJunior & MIPCOM's top sessions & personalities, here on MIPBlog, October 6-11 included.
From Monday October 8, MIPCOM kicks off in the Palais and our live coverage shifts up a gear. All the keynotes, plus selected panels, will be available in full video on mipcom.com, a few hours after they finish in Cannes. We will ask you for your email to access them; but you'll only have to do this once, if you accept cookies on your browser.
Tuesday October 9, after a hard day's blogging, we'll head off to Morrison's Pub for the MIPCOM Tweet up (19.00; click to RSVP), where you can meet fellow MIPCOM tweeters and the MIPBlog team.
Star-wise we've lined up video interviews with Gillian Anderson (of X Files fame), Matthew Modine (last seen in The Dark Knight Rises) in partnership with The Hollywood Reporter; and we'll be talking to the cast of new BBC drama Ripper Street, including Jerome Flynn (Bronn in Game of Thrones!). More TBC, fingers crossed!
Not forgetting Monday night's red carpet entrance to the MIPCOM Opening Party, which we'll cover in photo and video.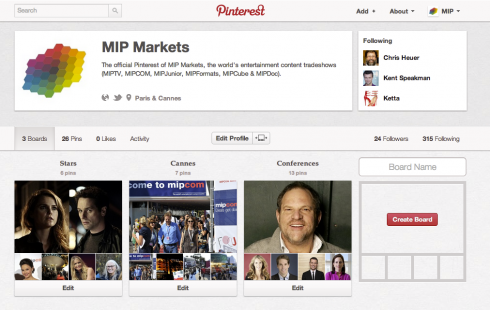 New this year: MIP Markets are now on Pinterest! We'll be updating our boards with photos of stars, Cannes, conferences & more. Expect the unexpected 🙂
Finally, selected sessions — namely MIPJunior's Digital Kids panels October 7 and MIPCOM's innovation focused sessions in Esterel, October 8-10 — will once again feature tweetwalls, so be sure to pop your questions with #MIPJunior & #MIPCOM hashtags!
So many different ways to say: see you in Cannes! And if not, see you right here on MIPBlog, mipcom.com & mipjunior.com 🙂