A measure of just how much money and faith is being invested in co-productions right now came when MIPTV 2011 Producers' Forum Keynote speaker Rodolphe Belmer, COO of Canal+, announced recently that in 2011 the broadcaster would be investing €50 million in high-end drama co-productions such as XIII and The Borgias, representing an increase of 25% on the previous year.
A process that started more or less exclusively as a way to get series made has, over the last five years, become an integral and creative part of the production and distribution process.
"The co-production model is extremely important – and gaining momentum," says Martin Irusta, SVP global programming & acquisitions, Universal Networks International (UNI). "From the production perspective, we get a lot of pitches from North American and international producers who are encouraged that UNI is interested in a model that doesn't require all the financing to be sewn up by one broadcaster. Co-producing means that there are innovative routes to getting a project off the ground and on air in multiple territories."
From UNI's perspective as a pay-TV broadcaster, co-productions open up the possibility of new kinds of collaboration: "It means we can weigh in creatively during the development process," Irusta says, "in order to ensure the concept is an appropriate fit for the channel brand, and that the audience gets to see original shows that they can't find elsewhere."
Paul Cohen, commercial director, Hat Trick Productions remains unconvinced that co-producing is the answer every time: "Co-productions are often touted as a panacea for funding pressure and have worked brilliantly in some genres such as high-end drama, but the model doesn't always fit others, especially comedy."
On occasions it can work, however. Hat Trick recently produced Episodes for the BBC in the UK and Showtime in the US. "The series was a success thanks to several key elements," Cohen states. "First, a premise that resonated with both audiences – an English couple resettling in LA to remake their successful TV show for an American audience – a scenario that worked thanks to first class writing by David Crane (Friends) and Jeffrey Klarik, (Mad About You)."
The show's premise also meant it could use both UK and US actors including (Matt Le Blanc (Friends), Stephen Mangan (Free Agents) and Tamsin Greig (Green Wing) without it looking forced. Equally important was the fact that the two broadcasters had the same editorial take on the project: "Even what might be considered a small thing such as the running time was hugely important. Neither the BBC nor Showtime take ads so their running times were almost identical, meaning there was no need for costly re-edits with different comedy beats to meet ad breaks."
With budgets being cut for factual programming and documentaries, factual producers are more than ever looking for other sources of funding. "Using a combination of broadcast and state funding is already common In continental Europe, in the UK less so" David Hooper, managing director, Espresso TV, observes. "But boutique distributors like us are now very active in assisting small and medium-sized producers to source co-production funding either through international broadcasters, or through grants, sponsorships, advertiser funding and even charities."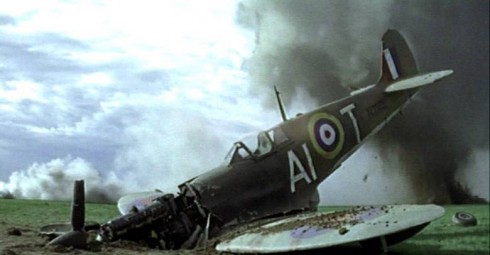 Espresso TV was instrumental in getting funding for ASA Productions' hit World War II documentary series Fighting The Blue (photo): "We initially got the project funded through a co-pro with UKTV as the UK broadcaster, and Acorn as the UK DVD distributor," Hooper reveals. "The producer put in some funding, and Espresso TV generated pre-sales interest based on the trailer and treatment." ASA also re-versioned the series idea to generate further co-pro funding with the History Channel.
The series then sold well internationally to high profile broadcasters such as ARTE, PBS, Canal+, Fox, Discovery Europe, DRTV, Foxtel, SBS and many others, giving ASA Productions a genuinely international profile and generating further spin-off series. "The success of Fighting The Blue has generated funding for two new projects, but we all have to be just as creative in the funding cycle as in the production cycle these days," Hooper says.
According to Ken Anderson, executive director & creative officer at August Media Holdings, who recently bought UK animator Red Kite Animations, anyone who wants to compete in the international television marketplace, or even simply survive in their repective domestic markets, is going to have to engage in co-production at some level:
"Broadcasters have to leverage their production funds by utilising domestic producers and international partnerships, while simultaneously producers have to invest more judiciously on development, and work even harder to create world-class products. The co-production model spreads risk. It also opens up greater opportunity from a larger number of markets and gives access to a diverse range of talent from all over the globe."
August Media Holdings and Classic Media recently entered into an agreement to develop and produce up to ten television series, based on classic American properties. The agreement will see an initial production of five new TV series based on properties from the Classic Media catalogue which includes titles such as George of the Jungle, Underdog, Mr. Magoo, The Lone Ranger, Casper the Friendly Ghost, Rocky & Bullwinkle, Richie Rich and Little Lulu.
Gary Smith is senior reporter for MIP Publications, including the MIPTV Preview & daily News.