Connected TV is high on the agenda of all the big players in the media industry, and a panel session at MIPCOM this morning dug into the challenges and opportunities around it: Google TV, iPads and the numerous connected TV platforms.
Columnist and media commentator Kate Bulkley moderated, and the participants were (l-r):
– Vassilis Seferidis, director of European business development at Samsung Electronics Europe
– Gidon Coussin, co-founder and VP of global business development at Boxee
– Shirlene Chandrapal, director of Yahoo! Connected TV – Europe
– Lesley Mackenzie, group digital officer at Lovefilm
– Jim Packer, co-president of MGM Worldwide Television
Seferidis started the ball rolling by saying Samsung prefers to use the term 'Smart TV' rather than 'Connected TV', but then gave some stats.
Parks Associates estimates that by 2014 there will be more than 600 million TVs connected to the internet in some way – either through games consoles, Blu-ray players and digital video players, or through built-in connectivity in the sets themselves.
Boxee's Coussin was up next, explaining that it has 1.3 million users putting their local media and internet services on their TV using its service.
« For a growing number of people, especially the younger generation, the user experience is key, » he said, claiming that existing Electronic Programme Guides (EPGs) can't cope with the demands of consumers accessing apps and web content – they were designed for a « finite grid of 200 channels ».
Coussin also said that recommendations and discovery are key to Boxee's service, allowing users to access a feed of content that friends are talking about and linking to on Twitter and Facebook. Boxee also curates and features specific content from its partners, while running an app store that includes Netflix, MLB TV, MRV Music and YouTube.
« We like our chances against the likes of Apple, who are a closed system, and Google, who see things in a search way, » said Coussin. Boxee doesn't license or syndicate content, nor does it sell advertising on behalf of its content partners.
It is also preparing to launch a payment system though, with a paywall feature for content providers to sell their content – Boxee will take a 20% cut of the revenues, in an effort to compete with Apple.
Chandrapal explained Yahoo's connected TV strategy, which involves partnerships with TV manufacturers, and next year with set-top box and Blu-ray player manufacturers too.
« We believe TV still remains the star of the show, and we're trying to complement the TV experience, » she said. « Content that augments the TV experience is probably the biggest opportunity for people in this room. »
By which Chandrapal meant broadcasters and producers creating games or providing extra footage that can be offered alongside their shows, through Yahoo's service. Yahoo offers content providers a choice of selling their own advertising, or working with its sales team.
What's the difference with Google TV? « We're not trying to bring the Internet to the TV as the internet is on the PC. We don't think that's the form for it. This is a shared environment, » she said. « We're not trying to ambush the TV, it's really trying to complement the experience. »
Next up was Lesley Mackenzie from Lovefilm, which started as a physical DVD-rental business, but which is evolving into a digital streaming service, having launched already on Sony and Samsung's connected TV services.
« The opportunity for Lovefilm is not just consumer electronics devices… but also games consoles, set-top boxes like Boxee, tablets – iPad – but the key is the volume of distribution and the percentage of that base that's connected, » she said.
« There will be a lot of devices out there that won't get very much traction… It's about consumer experience and how it's marketed. »
Mackenzie said connected TV manufacturers could do more to educate buyers about what these devices do, and how to set them up, suggesting that a number of people who have bought a connected TV aren't yet using its connected features.
Meanwhile, MGM's Packer gave a content-owner's view on how the connected world looks to him. « Spaghetti ball! » he laughed. « It's complicated… It just creates a rights situation that is much more complicated than it used to be five to ten years ago. »
By way of illustration, he showed a slide explaining how The Man in the Iron Mask has been licensed over time for different services: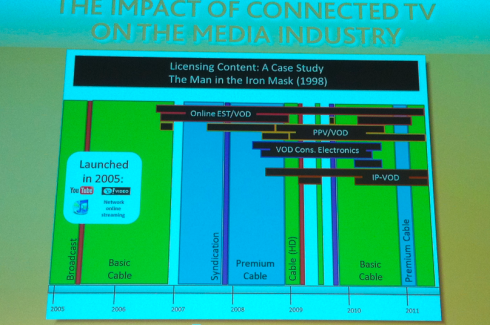 « We don't want to necessarily start doing too many things that hurt the normal revenue flow, » he said, warning that MGM is keen not to alienate its traditional distribution partners.
« What we try to do is ask what are consumers actually going to be able to use easily? The interface is one of the key things that is going to change people's habits in using things. »
The panel moved on to how business models are evolving in the connected TV area, and how markedly they differ from traditional broadcast models.
« I think it's unreasonable that you pay $80-100 a month then somebody tells you what you get for it, » said Coussin. « The new model is I wanna pay for what I want to watch. »
Bulkley asked whether someone like Yahoo can compete with pay-TV providers like, for example, Sky in the UK, who are putting more connected features into their set-top boxes. « It is now possible for some of that content to be accessible in other places at different price points, » she said.
However, Packer stressed MGM's neutrality when it comes to these issues – it doesn't matter who 'wins', since it's able to make its catalogue available to a range of services, going deeper in that library for some of the new connected services than ever before.
There was also a discussion around internet business models, with Coussin keen to dispel the regular claim that internet means free content.
« Everyone thinks the internet means free, but on the contrary: the spend will increase. But you will pay for what you want, » he said, claiming that this is much more appealing to consumers than traditional cable TV models.
Packer pointed to Netflix's success in the US as a key proving point for the industry. « You've seen them really grow quickly through technology, and the barrier for entry for them is much lower because they're using anybody's device. »
« They're soon going to be bigger than Comcast in the US! » added Coussin. However, Packer pointed out that Netflix is still subject to windowing – it gets new film releases after traditional distribution channels.
In a year's time, even a non-geek consumer may have three separate connected TV devices – a connected TV, an Xbox 360 and a Sky set-top box for example. How will that affect consumer behaviour, and will it provide confusion?
« Over time they're going to consolidate: good candidates are the game consoles and the TVs, » said Coussin. « I don't want eight CPUs in my living room! »
Meanwhile, Mackenzie said Lovefilm allows its customers to pay a single subscription fee, then access the service from all their connected devices, whichever manufacturer provides them.
Packer was asked about parallels with the music industry – 'is connected TV the Napster effect, will someone be able to bring up The Pirate Bay on their Google TV?'
« It is a concern, but our hope is first of all that if you have a big 60-inch TV… you want good content, » he replied. So legal services are providing quality content that will be more appealing than pirated content. However, he also had a warning.
« We also quite frankly need to be very diligent. If all of a sudden one of the widgets on Yahoo TV is Pirate Bay, I'm going to be making a phone call! I don't necessarily like that, and do you want my content… »
Coussin chimed in, saying that making content available legally is crucial – many people turn to piracy because they can't get TV shows or music through legal means, often due to licensing reasons.
Yahoo and Samsung both run walled gardens in their connected TV services, with the explicit purpose of ruling out any apps that allow people to access illegal content.