Conferences and sessions continued into day three of MIPCOM focusing on French daily dramas, the new streamers, investor strategies and Korean content. There was also a mentoring session for women in the industry.
'We all need to wear our big-girl panties!'
MEDIACLUBELLES' international mentoring and networking event for women in TV, film and digital media has become an important fixture of the MIPCOM week.
Strong themes of the discussions over breakfast were mutual support and what work is still to be done. Delegates sat at tables, each hosted by a senior industry executive, who shared key talking points with the wider group at the end of the session.
"We all need to wear our big-girl panties! We need to take responsibility for what we bring, and for working with people who enable our voices to be heard," was the summary of one table's views.
"The only people who can help ourselves are ourselves," was another's. "Women share, they don't keep the power for themselves, and that's how we will all benefit."
The creative industry's diversity and inclusion efforts were also on the minds of delegates.
"It's changing but there's still a lot to change. In front of the camera, behind the camera, everywhere," was the view from one table.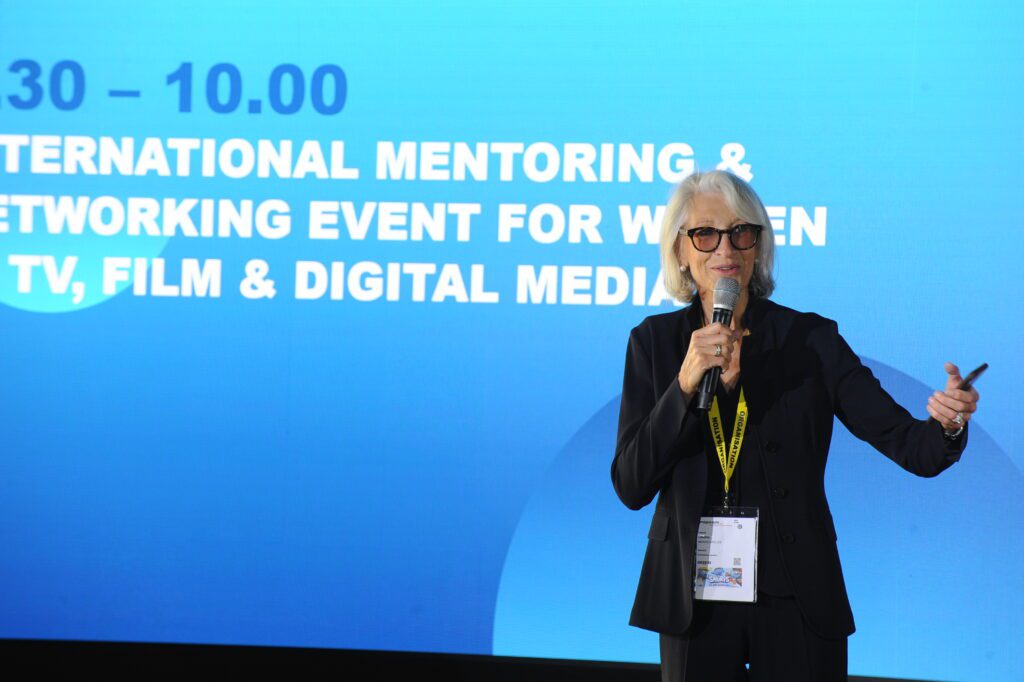 The need for mentorship for younger women in the media was also on the agenda. "How are we going to be able to influence the next generation and ensure that they are strong, independent women and contributors to our industry? One of the challenges is to ensure that they have the type of support that they need, when they need it and that they have access to the right people."
Another executive said this in her summary: "When you're young and you have unique stories to tell, you need to find people to connect you with the business side, and find champions who believe in your story and you as a creator — and help you open the door and bring it all the way through to the green light."
Co-organiser Laura Lemens Boy outlined the broader aim of the event: "It's not just mentoring, it's support and networking, because mutual support is the best way forward," she said. "We women really do know how to support each other, and that's fantastic."
It's not our strategy to try and unseat Netflix
The launch of new streaming platforms has been key a focal point at MIPCOM 2021. Delegates heard from executives at ViacomCBS-owned Paramount+ and Nordic Entertainment Group-owned (NENT) Viaplay — two platforms in the middle of aggressive expansion programmes — during the Global Streamers Keynote, on Tuesday.
Douglas Craig, senior vice-president programming and acquisitions at ViacomCBS, said Paramount+ is currently in 25 markets, with 45 additional territories due to go live in 2022. An SVOD offering, he said the platform is able to draw on "an embarrassment of riches" in terms of the content that is produced in-house. "But the message to content creators is that we want to hear from them. We believe in diversified programming, so we want to work with third-party producers. A key issue right now is getting the balance right in each territory — so while a lot of content can be propagated across all regions, it will be complemented by strong local programming."
Due to reach Europe in 2022, Paramount+ will offer a wide variety of genres. "It's not our go-to market strategy to try and unseat Netflix, but we can aim for number two, three or four. Over time we will learn that certain things work better than others and adapt accordingly."
Craig distinguished the service from Disney+ by saying "we're not placing all our bets on one platform. We will follow consumers wherever they want to go". Explaining the key to a successful platform, he said: "Great content, bulletproof user experience and a coherent approach to discovery/marketing. Don't underestimate the importance of the product."
For Viaplay, NENT Group executive vice-president and chief content officer, Filippa Wallestam, said the rollout of the platform will follow two models. In territories like Poland and the Netherlands, it will follow the Viaplay blueprint in the Nordics — by offering a mix of premium live sport and scripted series. In territories where it does not have the firepower to compete for sports rights, at least in the short term, it will offer a more targeted service — a kind of BritBox for Nordic content. "This is the approach we will take in the US, UK and German-speaking territories," Wallestam said, "offering subscribers the very best of content from the Nordic region."
A key pillar of Viaplay's global rollout is its content origination investment. Having produced its first original in 2016, Wallestam says the target is 50 new shows this year and 60 in 2022.
Investors get creative to fill the funding gap
MIPCOM delegates were given an insight into a range of investor strategies on Wednesday morning, with film and TV financiers outlining how and why they get involved in projects — during the Investors' Brief, on the third day of MIPCOM.
DCD Rights CEO Nicky Davies Williams explained how her company's content investment is underpinned by three active funds. "We're not trying to be producers, we are more like the producer's business department," she said. "We aim to develop a model that allows producers to make money long-term, not just as guns for hire."
Also on the panel was Jordan Nutson, sales and acquisitions executive at 108 Media, who explained how his company has expanded out of distribution into project development. The company, which is seeking to bridge Eastern and Western markets, has optioned around 20 books, mostly of Asian origin. However, it is also in the market for third-party projects. Current projects include Mrs Raffles, which looks at the two wives of Stamford Raffles, founder of modern Singapore.
Silver Reel Partners CEO and managing partner Claudia Bluemhuber, discussed her company's investment in film and television. Having completed two feature films during the pandemic, she outlined some of the lessons she had learned after losing the director and crew on a project, the result of COVID-19 restrictions.
Rounding off the session, New World Film Finance's Robert McCrea described his company's new proposition, which has just been launched to the market. "We work with a panel of investors which operates in tech startup and property development. They know there is huge demand in film and TV and have expressed an interest. But what makes them nervous about this sector is the lack of process. Our company seeks to provide that process."
Are French daily dramas heading for the streamers?
Daily dramas including Plus Belle La Vie, Ici Tout Commence and Demain Nous Appartient (DNA), have become a staple of French broadcast television. Now their producer Newen hopes these kinds of shows will find a place on the line-ups of streaming services too.
"We are convinced that in the next two to three years, one of the key challenges for the streamers will be to connect with their audiences," said Rodolphe Buet, chief business officer at Newen Connect, said, during the session French Dailies: Extending Local Audience And Production Know-How Successes To International Markets.
"For the time being, they are all about new subscribers, as being able to take a huge part of the pie is everything. But at some point, the next challenge for them will be to make sure that subscribers to Netflix or Amazon or Disney will enjoy and value their subscriptions on a daily basis," he said.
"With our shows, you are generating a daily contact, and so you make people come back every day to discover what's going on. We are convinced it will be one of the key requirements for the streamers in the future."
Aude Thévenin, producer at Telsète, suggested that French dailies have international potential. "Maybe we can say that the French touch for dailies is production values," she said. "We think of our dailies like primetime shows, and we work on them like primetime."
Are any topics off limits for the French daily dramas? Newen's shows steer clear of French politics, but they will deal with subjects like climate change, homophobia and sexual harassment.
"It's not really a taboo, but we don't really think it's interesting for people to talk about money in these programmes," said Thévenin. Sarah Farahmand, producer at Telfrance, agreed. "When your heart is broken, no money can fix it!"
Korea showcases the next big hits
MIPCOM delegates were given an early preview of upcoming Korean shows at a special screening session on Wednesday afternoon, featuring all of the country's major content innovators.
Kicking off the session – Borderless Creativity, Korean Showcase, KOCCA – KBS Media sales manager Sol Kim presented Dali And Cocky Prince, a 16 x 70 mins romantic comedy that she hopes will emulate the success of KBS dramas such as The Good Doctor, which has been adapted in seven territories. The show focuses on a sophisticated but naïve art gallery owner who falls in love with a rich but ignorant businessman.
Next was Junhee Koh, sales manager, format sales, MBC — the company behind The Masked Singer phenomenon. Koh pitched a range of new shows including The Masked Talent — an extension of the Masked franchise that will focus on non-celebrity singers. She also introduced Wild Idol, a show that aims to create the next K-Pop boy band.
SBS producer Yool Kwon focused on factual series Tails Of Tales, which combines true crime with the immediacy of a talk show-style format. The show has been popular with young audiences. SBS also used the showcase to present action thriller Taxi Driver, about a vigilante cab driver who seeks vengeance of behalf of victims unable to get legal justice.
CJ ENM sales executive Albert Park presented Exchange, a dating reality format in which four pairs of exes share a house — and have to decide whether they want to get back with their former partners or find a new love interest. "One of the biggest differentiators is that the participants are not wannabee celebrities — they are ordinary, relatable people."
JTBC Studios content team associate Ha You-Jun came to the showcase with Misty, a 16 x 70 mins scripted series about ambition, romance and revenge — focused on a successful female news anchor whose career goes into freefall when she is accused of murder.
Insoon Kim, executive vice-president and head of content at format specialists Something Special, introduced Still Alive, a witty format that has been piloted on cable channel iHQ, with financial support from government agency KOCCA. In this show 13 contestants compete in a murder mystery-style elimination format to secure a cash prize.
The showcase was hosted by Sunghoon Yoo, general director of KOCCA's Europe Business Centre.
Catch up with content through  our new platform onemip ! Coming up – 2022 exclusive content spotlights
Newsletter →
For more information on TV Trends, attend MIPCOM and MIPTV
You can read also :
5 things we learned at MIPCOM 2021
Financing TV production : The magic money tree grows
Battle studies : News from the frontlines of the streaming wars in Europe