More international deals were announced as business hotted up in Cannes at MIPCOM 2021.
Here in Cannes…
Many people will remember global music hit Gangnam Style, released in 2012 by PSY. Gangnam is a vibrant district within Korean capital city Seoul — famed for its culture, fashion, food and heritage. In 2019, Gangnam mayor Jung Soon-kyun gave the greenlight for the production of a travel documentary to promote the district's many attributes. Roll forward to 2021 and the series, Gangnam Insider's Picks, consists of around 100 episodes available free to international broadcasters and partners. Gangnam District Office (GDO) policy and PR division director Kiho Lee — pictured here, centre, with the GDO team — is at MIPCOM for the first time to promote the show. Created in partnership with Korean English-language service Arirang TV, and also aired by Channel News Asia, the information-packed series is available in around 200 million homes worldwide. Lee is now keen to extend its reach through new partnerships. The GDO is also exploring new programming concepts.
Fuji's Iron Chef heads to North America
Filmrise has signed an exclusive deal with Fuji Television Network, through its distribution arm Fuji Creative Corporation, to bring domestic and international audiences the hit Japanese culinary cook-off series Iron Chef. New York-based FilmRise has secured all SVOD and AVOD rights and will also present the series on its FilmRise Streaming Network.
"Iron Chef is a legendary brand and the true godfather of the modern cooking competition format," Max Einhorn, senior vice-president of acquisitions & co-productions at FilmRise said.
Fuji Television Network senior manager Masaru Akiyama added: "Iron Chef was a groundbreaking series, inspiring eight highly successful international editions.  By partnering with FilmRise and plugging into their streaming network, we will be able to seamlessly reach our loyal fans and create new fans."
Japan's Iron Chef features top chefs with almost limitless supplies of exotic and expensive gourmet ingredients. The competition, hosted by Chairman Kaga, introduces a secret ingredient that the challenger and the chosen Iron Chef has to incorporate into every dish. Each chef presents their dishes to a panel of judges who rate the dishes to crown a winner.
Hotel Portofino welcomes overseas guests
Germany's Beta Film has inked a raft of pre-sales for its period upstairs/downstairs drama series, Hotel Portofino.
The six-hour series, centred on a British family, which moves to Italy to open a high-end hotel, weaves together the beauty of the Italian Riviera with the encroaching menace of the rise of Mussolini.
Dutch national broadcaster NPO has picked up the series, as well as DR for Denmark, SVT for Sweden, NRK for Norway, YLE for Finland and SYN for Iceland.
Earlier, ITV, BritBox, Sky Italia, and Foxtel in Australia acquired the drama, produced by Eagle Eye in association with Beta Film, while PBS Distribution took North American rights. Hotel Portofino is executive produced by Eagle Eye's Jo McGrath and Walter Iuzzolino.
Big Little Fish doc is good catch for C4
Big Little Fish TV's new documentary Sir David Jason: The Lancaster At 80 (1 x 60 mins) has been acquired by the UK's Channel 4. Celebrating one of the most iconic aircraft in history, the AVRO Lancaster, and narrated by the legendary actor and aviation enthusiast Sir David Jason, the show documents how, following heavy losses for RAF Bomber Command squadrons in the early stages of the second world war, AVRO chief designer Roy Chadwick was tasked with creating an aircraft that could boost the resolve of aircrews and enable allied forces to take the war to Hitler's Germany. The film features contributions from historians, authors, military history enthusiasts and veteran Lancaster crew members. International distribution is being handled by Abacus Media Rights.
Steve Jones, co-founder and CEO at Big Little Fish said: "As an engineering feat the Lancaster became a legend — but as one of the first weapons of mass destruction it also has a dark side that makes it all the more fascinating."
Mediaset takes time-twist drama from Studiocanal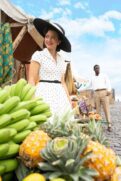 European studio Studiocanal has agreed a deal for 255 episodes of Spanish daily drama Dos Vidas (Two Lives) to RTI Mediaset in Italy.
Produced by Bambú Producciones, the show centres on two troubled women: Julia, a 36-year-old woman living in contemporary Madrid, and Carmen, 25 years old, who lives in Africa, in the 1950s.
Beatriz Campos, senior vice-president global sales and production financing at Studiocanal, said: "RTI Mediaset has a strong record of positioning this type of content successfully on their channels and we are glad our series has found a premium home. The series is an ambitious drama connecting two strong women in a universal story of love and family which we are confident will be very attractive to viewers in Italy."
All3Media serves up format deals for Snackmasters
Belgium's RTL TVI is the latest broadcaster to snap up and serve its own local version of Snackmasters, the BAFTA-nominated Optomen Television series. Independent distributor All3Media International agreed the deal for the format adaptation, which is being produced by Belgian independent producer Lecter Media.
The series sees top chefs battling it out to recreate the nation's favourite snacks. Optomen's original UK version, which airs on Channel 4, is now in its second season. Nick Smith, executive vice-president formats at All3Media, said: "It's a fantastic format that really flips the traditional culinary show on its head."
The Belgian deal follows recent agreements with Australia's Nine Network and M6 France.
CBC and Radio-Canada Distribution ramps up roster
New Aquisitions at MIPCOM for CBC and Radio-Canada Distribution include: live-action comedy Do Not Enter! (26 x 22 mins), based on the bestselling books; About Sex (35 x 7 mins), a live-action entertaining series that educates teenagers about positive, respectful and healthy sexuality, which was recently sold to ABC in Australia and is currently streaming on CBC Gem; pre-school animation Glowbies (Season 1, 26 x 12.5 mins/Season 2, 7 x 12.5 mins/Season 3, 5 x 12.5 mins), which launched on CBC Gem and CBC Kids; fantasy animation Amos The Mask Hunter, which was acquired by Norway's  NRK; Marika Season 4 (10 x 9 mins), a live-action kids series that was recently sold to Globo in Brazil and TV CAT in Spain; Gary's Magic Fort (13 x 11 mins), a show that focuses on learning about emotions; and Moose (1 x 60 mins/5 x 11 mins), a book-based holiday special about an expressive, fun-loving, and curious moose that shows up in a Canadian family's backyard and is adopted as their pet.
Discover the MIPCOM 2021 Live Coverage blogpost – Day Three Sessions here!