MIPBlog: How are your formats currently selling internationally?
Fusako Nagashima: Stacking It! (below) is our brand new studio game show format developed with ITV Studios, where two teams race to compete and build the tallest tower of prizes to win what you stack. Our creator, Keita Ono, came up with the crazy idea for an international game show production about families stacking everyday items from their homes to win prizes. Then, working with ITV Studios, we elevated it to the next level as a studio game show on a global scale. It's a leading co-production of the current times and was premiered at MIPTV on 9th April 2021, 9.30am CET.
9 Windows, and Mute it! are some of the gameshows that we were actively selling immediately before the pandemic had hit. They both happened to be formats that produced by placing distance between the contestants and still not losing the excitement. Mute it! is a studio game show with a simple rule, don't make any sound. It brings a breath of fresh air to a world normally filled by loud game shows. Warner Bros. International Television Production has struck a deal to produce the format in multiple territories including the U.K., Australia, New Zealand, France, Germany and the Nordics. Its first local version "Stilte AUB!" produced by WBITVP's production company BlazHoffski launched prime-time on SBS6 Netherlands on 12th March with high ratings, well received by its audience. As for scripted, Mother is still being coveted from creators around the world and it is now one of the most exported drama formats out of Asia, with additional European versions to be announced shortly. I'm Mita, Your Housekeeper, is another long-running scripted format that will see international versions in the coming years.
> Do you create formats with an international audience in mind?
Most definitely, yes. Successful experiences we recently gained through the sales of our scripted formats Mother, Woman –My Life for My Children-, Abandoned, as well as unscripted formats BLOCK OUT (International versions in Thai, Indonesia, Vietnam, Spain and The Netherlands), Sokkuri Sweets/Eye Candy (US version), Red Carpet Survival (ITV Studios acquired the format), Mute it! (mentioned above), 9 Windows (co-development with The Story Lab ) and more, can prove that Nippon TV's creative ideas have international production value as formats. Many creators behind these successes aim not only to be the number one creative company in Japan, but also number one in the international format industry. When Nippon TV strategises on creating shows, we value ideas that work on an international scale and advise our creators with the global business in mind. Stacking It! most likely is the top-notch example of this mindset.
Last but not least, Crush Park (above), a stress-busting game gameshow format, gained domestic success by topping the viewer market share across multiple target audiences including children 4 to 12 male/female (41.5%), teens 13 to 19 male/female (36.7%), and female aged 20 to 34 (35.7%) as well as 35 to 49 (31.8%) on Nippon TV. This idea also originated from Keisuke Yonenaga, one of our rising creators, travelled the world, watched shows in every country, and had an idea that he thought would work in Japan and globally. It is now available as an international format, and just as Keisuke predicted, we are currently receiving numerous offers that we hope to finalise during MIPTV.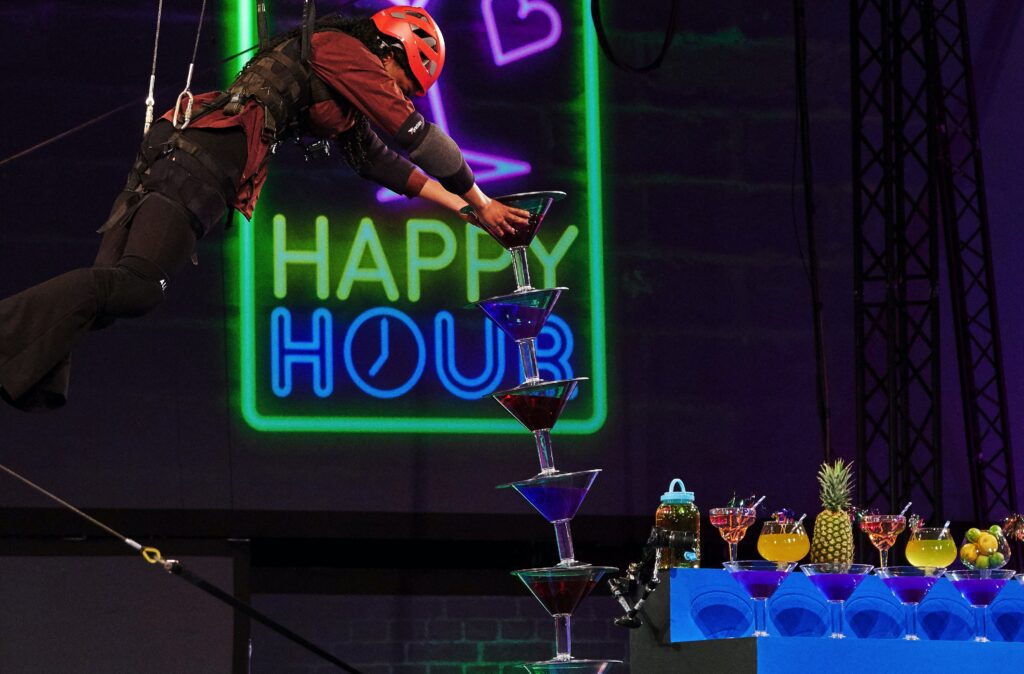 > How has the pandemic affected the market and production methods?
As people try to overcome the stressful pandemic, we aim at Nippon TV to offer thrilling game show formats that are far removed from the daily reality, to entertain and bring joy to family audiences around the world.
All of these game shows are produced under strictly controlled COVID-19 protocols, either played solo or in small numbers, minimising the risk of contact during taping, making it appropriate for the current times.
Stacking It! is a fun, visually engaging format, which unleashes the willingness to win prizes, with benefits to sponsorship opportunities.
9 Windows was created from the co-production of Nippon TV and The Story Lab and it is a unique gameshow-meets-talent contest that celebrates ordinary people with outlandish skills. Set in an iconic, interactive studio setting, each episode features nine contestants, all beamed in from their homes via 'nine windows' in the form of giant, on-set screens.
Crush Park is an action packed game show which breakthrough the stressful reality by just watching the show, perfect for the current times.
Mute it! is a silence filled game show which engages viewers by a new twist of escapism and silent TV experiences.
Discover these shows and more on the Digital MIPTV platform, open until May 14!
(sponsor post)