Behind The Curtain – A Conversation With Marc Anthony
Singer, songwriter, actor and TV producer Marc Anthony delivered a frank and compelling keynote talk during Day 4 of Digital MIPTV. In a session entitled Behind The Curtain – A Conversation With Marc Anthony, the six-time Grammy and Latin Grammy Award winner reflected on his incredible 30-year journey in entertainment. In addition, he explored the impact of Latino culture on the music and entertainment industry. Of particular interest to MIPTV delegates, he also set out the global ambitions of his production company, Magnus Studios.
Anthony's road to stardom came through music, something that was wired into him from childhood. "My family migrated from Puerto Rico and I was born and raised in East Harlem," he said. "Music was the language my parents used to communicate with each other and it was all around me as well. I'd hear Gladys Knight and Luther Vandross playing out of other people's windows, so I was becoming intimate with different kinds of music almost without realising it."
Music played a pivotal emotional role for Marc Anthony "because I stuttered as a child. It was only when I sang I didn't stutter — so music became my language and sanctuary. It started out of necessity but became my sacred place."
He was surrounded by Salsa as a young person, "but at first I rejected it as the music of my parents. I was more into R&B and Hip Hop. That was great training for me, because I'd written around 300 records before I made my first album — so by the time I was ready to do that I knew every trick in the book."
Having honed his craft, Anthony eventually found a way to fuse the Latino rhythms of his childhood with the diverse influences he had been exposed to as a young man. It was this that created his unique sound: "I went into the studio with no constraints. I thought, if I'm going to do Salsa, I'm doing it my way — so it was a kind of naivety that enabled me to come up with my distinctive voice."
Anthony had his first taste of film and TV came when he appeared in the 1995 movie Hackers. More recently he worked on Simon Fuller's LatAm talent series O'Viva! The Chosen with his ex-wife Jennifer Lopez, and was a guest mentor on The X Factor US in 2012. Now, he has crystallised his interest in visual media via Magnus Studios, part of his entertainment firm Magnus Media. The Studio division focuses on the development, creation and production of digital video content, film and television production as well as the creation of original music for advertising, film and TV from recording artists and composers.
The transition from music to visual entertainment has not been such a great leap, he said, even though the structures and process are different. "First and foremost, I consider myself a storyteller, an interpreter. Filming is an elongated process compared to writing and performing a song, but the mechanic doesn't really matter because engaging storytelling is the common denominator."
Crucial to the Marc Anthony vision is a Latino style with universal appeal. "The data shows that there is an appetite for Latino-centric storytelling around the world. I think you only have to look at the success of Despacito on YouTube to see that. The goal of Magnus Media is to use our reach to provide access to the global market for Latino writers and producers. I think we're only just scratching the surface of what's possible with talent from this side of the planet."
Anthony was interviewed by JC Acosta, President ViacomCBS International Studios & Networks Americas (VIS, left above). As part of the keynote, they discussed a first-look deal that the two outfits signed in February 2021. At the time of the deal, Anthony explained why the new venture made sense for Magnus: "ViacomCBS is one of the world's leading producers of premium entertainment content, reaching billions of people around the world.  Their diversified portfolio of global brands checks every box for us, and it provides us with the opportunity to continue to create content that has an appeal for audiences everywhere."
During the course of their conversation, Anthony shared a clip of an animated children's series called Gloria Wants To Know It All that the two companies are currently working on. A pre-school show that sets out to empower diversity, Gloria tells the story of an eight-year-old alpaca from the big city who spends her vacation at her grandfather's house in Pueblo Lanugo, an incredible small town that is a vibrant example of the richness of Latin American culture.
"It's a beautiful cross-cultural animation," Anthony said. "We have been developing it for quite a while and assembled a top team for the project — including the music which I think is second to none. It's the kind of show I wish I had as a child. In many ways, Gloria is like me — having grown up in an urban environment and then going out to experience and learn from the world."
Anthony and Acosta also gave a sneak insight into their next project — a dramedy for young audiences called Liked. The show, said Anthony, focuses on a young Latina woman who is obsessed with social media. Gradually her real life and her virtual life come into conflict with inevitable comic repercussions.
Asked what he would like his legacy to be, the 52 year-old Anthony said he was too young to start thinking about legacies. But he stressed the importance of his Latin-powered cultural vision. "Latino artists are among the world's biggest brands. Unfortunately, though, many of my colleagues, and new artists coming up too, haven't had the support to turn that influence into long-term businesses that build value. We're going to change the game. I want people to say — he never gave up on the Latino way of telling stories. We have a lot of work to do, but in five years' time, I want to be able to sit here and say 'I told you so'."
Behind The Curtain: A Conversation With Marc Anthony, hosted by JC Acosta, President ViacomCBS International Studios & Networks Americas, took place on Wednesday, April 14, at 18.00 CEST, and is available on catch-up until May 14.
Fresh TV: Kids
Throughout Digital MIPTV, The Wit's Virginia Mouseler has been providing wide-ranging insights into content trends across genres in her Fresh TV sessions. In today's wrap, we focus on her Fresh TV Kids and Young Adults round-ups.
Looking first at Fresh TV Kids, Mouseler identified "diversity, inclusion and mental health" as key trends on the international market. The first project she looked at was "African animation series Super Sema, which is about a young superhero girl living in a futuristic African world. She fights villains using super smart powers in science and technology. The show is produced in Kenya by an all-female team and is available via a Super Sema YouTube channel." From New Zealand, she singled out TVNZ's The Adventures Of Tumeke, a space animation comedy series in which the lead character is of Maori ethnicity. The show is a spin-off from a previous TVNZ animation series called The Barefoot Bandits.
The issue of inclusion was reflected in a range of scripted and non-scripted projects presented by Mouseler. Camp Kookiness, from the Netherlands, is a "musical live-action comedy series about seven children at a summer camp, where they discover themselves and deal with sensitive topics for young people." Similarly, the short-form live-action series Puberty Camp from Norway deals with children learning about the process of growing up in a camp context.
One thought-provoking factual series, Stripped Down, sees an audience of 11- to 12-year-old school children meet five naked adults. A Dutch show based on a Danish format, the kids then get to ask anything they want about the subjects' body. As for the emotional/mental side of growing up, Mouseler introduced Mikki Vs The World, a factual entertainment series in which a "new psychologist uses her creativity to explore the mental health issues that plague teenagers — everything ranging from family dynamics to anxiety to social media."
In US series Operation Awesome, from Spoke Studios, the emphasis is on five young people with ideas for change. They get to launch their initiatives and take a road trip to help other communities achieve their goals. Make Up Cup, meanwhile, is a Dutch reality competition which tests the make-up talents of 10 children aged 13 to 15. The host is transgender celebrity Nikkie De Jager.
There were also a couple of shows that didn't place mental health front and centre. Netherlands game show The Faker sees celebrities spend a day with a regular family where one member has been swapped out and replaced by an actor. They have to deduce who it is. From Italy, Mouseler picked out live-action series The Knights Of Castelcorvo. Produced for Disney+, the 15 x 25 mins fantasy series sees four kids solve riddles and look for magic keys to defeat a witch.
Fresh TV: Young Adults
Mouseler kicked off Fresh TV Young Adults by saying: "This is a brand new session, created because the subject was so popular at the last MIPTV." She described HBO's Euphoria as "the reference point when it comes to this much coveted target group". But while the world waits for a new season of that show she shone a spotlight on HBO Max's Generation instead. "This is a 16 x 30 mins series in which high-school students explore modern sexuality and test entrenched views about life, love and family in a tongue-in-cheek, ironic way."
From the Nordics, Mouseler drew attention to Delete Me, a Federation Entertainment show about two teen girls who get embroiled in a sex-tape scandal. Aired on Viaplay, the story is told in reverse order and starts with the death of one of the girls. Also from the Nordics, she picked out After Party, a Discovery Nordic show produced by Banijay-owned Rubicon. This show follows the story of a girl who falls in love with her half-sister's boyfriend.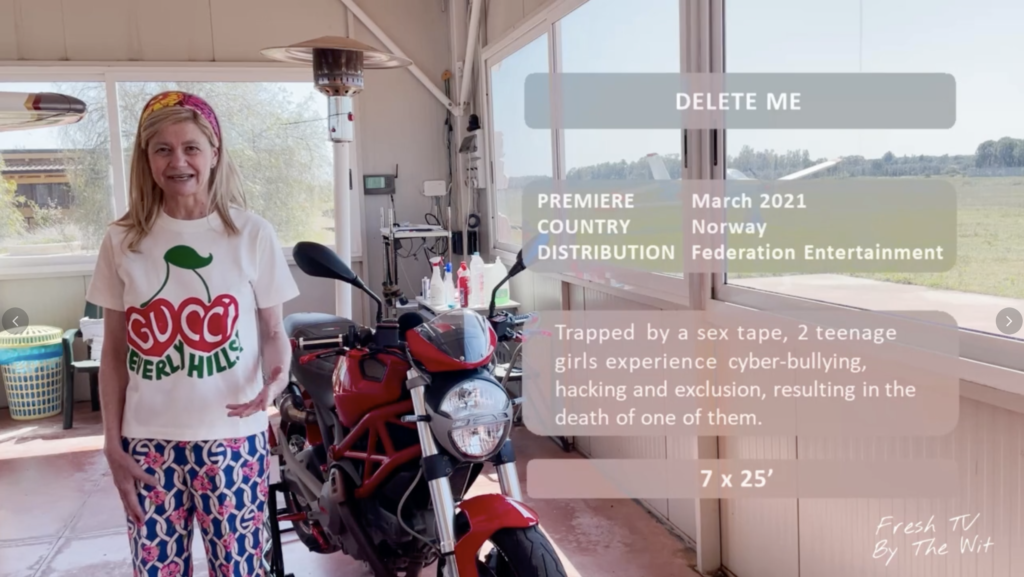 Young adult issues are also explored in the German period drama We Children From Bahnhof Zoo. A Fremantle production based on the biography of Christiane F, it explores the drugs and club scene of West Berlin in the 1970s. Also coming out of Germany is Beta Films' Echoes, a thriller which begins with a group of young people attending an illegal rave in catacombs under Munich. Still on live action, Mouseler also presented a Russian series called Happy End, about a young couple who turn their relationship into a sexual attraction for whole world by filming and distributing porn content over the internet.
In the young adult animation category, Mouseler showcased an eclectic mix of titles. From the UK, streaming platform All4 has produced a series of animation shorts called Reset And Rewind, where MCs, rappers and singers talk about issues of mental health and how to get better. From the US, meanwhile, Fox Entertainment has produced Dogs Playing Poker, a short-form comedy series where animated dogs discuss American Football while playing cards.
Mouseler also introduced The Legend Of Hanuman, an Indian animation series based on a mighty warrior from the Hindu Ramayana story cycle. A high-quality 13 x 25 mins series for families, it is available via Disney+ Hotstar. Also from India comes Bombay Rose, a hand-painted animation movie from Cinestaan international that tells "stories of impossible love on the streets of Bombay, It was supposed to be in theatres, but because of Covid is on VOD," Mouseler said.
Factual Trends with K7 Media
Delegates were guided through the world of factual TV by K7 Media's David Ciaramella. Ciaramella noted that Covid-19 had made things difficult for non-scripted producers in sectors such as natural history and access documentary — but pointed out that the likes of Netflix, Sky, Discovery+ and YouTube had continued to make serious investments in factual content.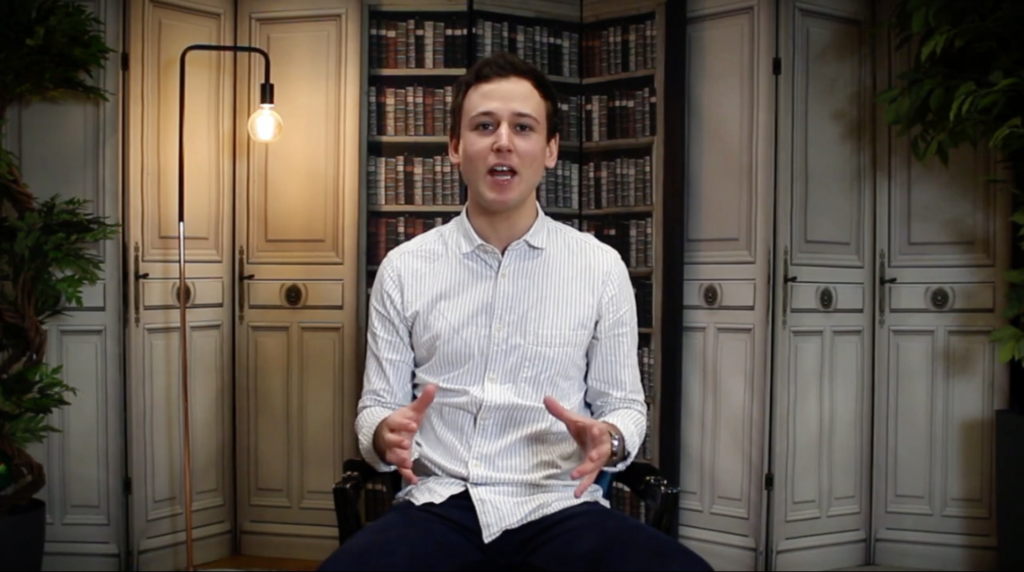 Ciaramella singled out some interesting examples of shows that had attempted to capture the impact of the pandemic, for example London Zoo: An Extraordinary Year (eOne) and Cape Town, Gang Town, Lockdown (NPO2/VPRO). He then identified a series of trends that have emerged during this challenging time. Firstly, he said: "In the era of post-truth and fake news, it is refreshing to see people trying to set the record straight by speaking their truth and going beyond the headlines. Riding this wave was Oprah's interview with Meghan and Harry on CBS, but other examples include TeleCinco's Rocio: Tell The Truth To Stay Alive and ABC Australia's Reputation Rehab."
Ciaramella also said there is a trend towards docs that "seek understanding" — delving into issues such as mental health, wealth, illness or sustainability. He also identified "aspirational content, programming that takes people away on flights of fancy". Examples include More4's Billion Pound Cruise, Channel 4's Britain's Most Luxurious Hotels and Channel 5 UK's Super Rich Sleepovers.