On the second full day of the Digital MIPTV conference programme, the emphasis was on market intelligence, with analysts from research firms Glance and The Wit providing delegates with insights into emerging global content trends. Running in parallel, drama and kids buyers from around the world provided Programming Briefs to help content creators shape their offerings effectively.
One TV Year In The World
Glance Vice-President Frédéric Vaulpré kicked off his company's session, One TV Year In The World: Cracking Audience Trends, by saying that TV consumption had increased in 2020 vs 2019, after 30 years of relative stability. "Average viewing time per day was two hours and 54 minutes, up six minutes on 2019," Vaulpré said. "Among young adults, the figure was one hour 49 minutes, two minutes up on 2019. The number one region for TV consumption was Europe, followed by South America."
Non-linear viewing continued to be a strong trend in developed TV markets, Vaulpré added, with shows like ITV's I'm A Celebrity Get Me Out Of Here and Sky's Gangs Of London both attracting high levels of non-live audience. Interestingly, he noted, the vast majority of pay-TV viewing is now non-linear — suggesting an increased blurring in the traditional distinction between pay-TV and VOD services. In terms of SVOD, a major talking point in 2020, the US, Norway and France all reported strong increases, with French SVOD consumption almost doubling in 2020. Among the most in-demand programmes across Europe in 2020 were The Queen's Gambit and Emily In Paris.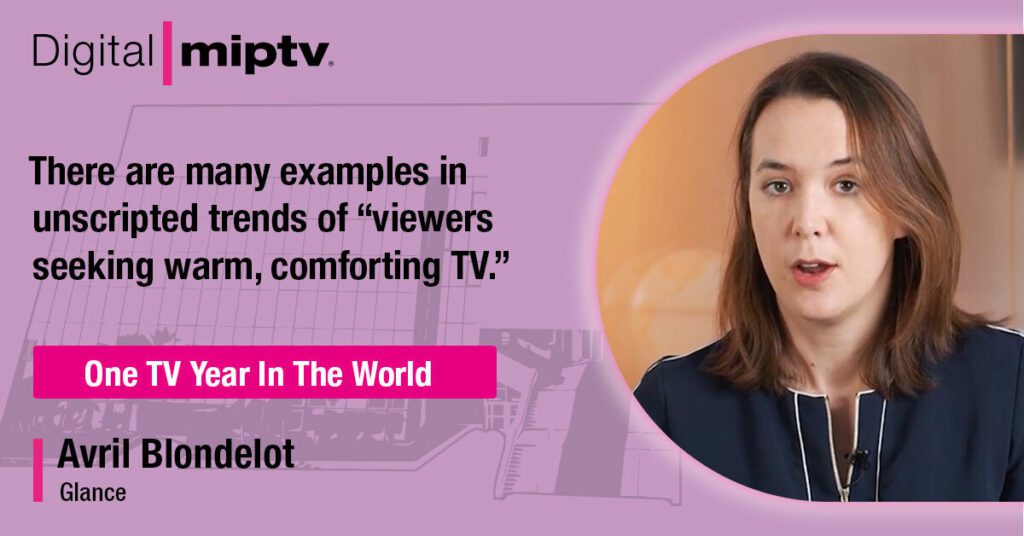 Glance Head of Content Insight Avril Blondelot (above) explored the strongest launches across Europe in 2020, with The Masked Singer especially prominent. A key insight, Blondelot said, was that "despite Covid-19, 2020's launches were not as strong as 2019, with 18 out of the 32 countries analysed down year-on-year". The picture was more positive in terms of acquisition launches.
Blondelot said 2020 was dominated by cop shows, with Banijay Rights' Backstrom, All3Media's Van Der Valk and ITV Studios' McDonald & Dodds performing strongly. However, there was also room for empathetic human dramas like RAI Italy's Live And Let Live. In unscripted Linda's Wintermaand on SBS6 Netherlands was an example of "viewers seeking warm, comforting TV", Blondelot added.
Coming into 2021, The Masked Singer continues to be strong, but there are also positive signs for Lego Masters and I Can See Your Voice. Cop series and thrillers have started well in 2021, with ITV's Pembrokeshire Murders, TF1's La Promesse, and Keshet's Line In The Sand among star performers. Paul Youngbluth, director of Glance's UK-based sister company Tape Consultancy, finished the session by providing insights into why series such as Showtime's Your Honor, ITV's Finding Alice, Comedy Central's Growing Pains and Dave's Unforgivable had already proved popular with audiences.
Fresh TV Fiction
There was more incisive content analysis in The Wit's Fresh TV Fiction session, presented by Virginia Mouseler. The major scripted trend she identified was the overwhelming number of series about serial killers. "These shows aren't successful just because people think serial killers are fascinating characters, they also take audiences back into past eras like the 1970s and 1980s, creating portraits of familiar eras," she said. Pembrokeshire Murders one such show, based on true facts and relates to the 1980s."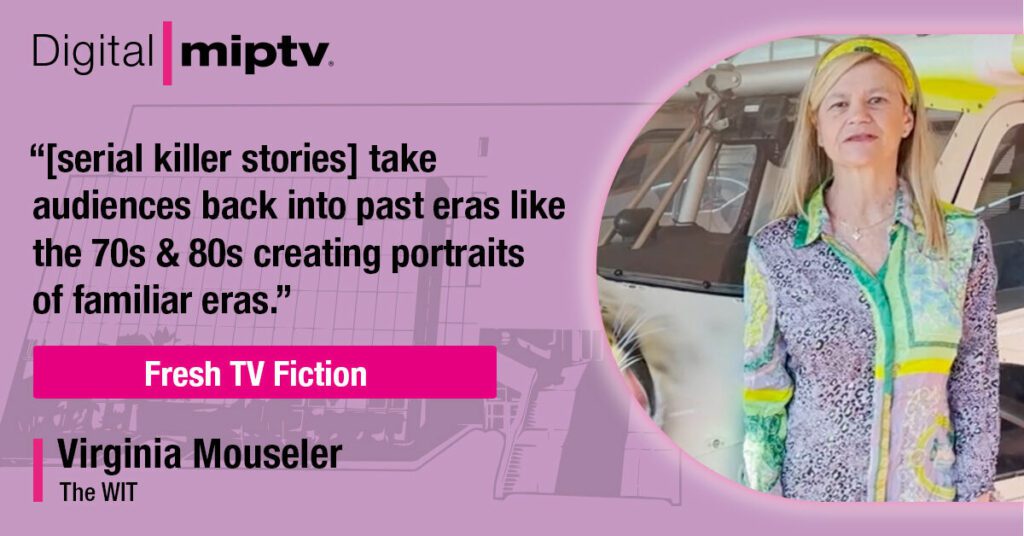 Other period-based serial killer stories included The Serpent, a BBC series set in Asia's hippy trail in the 1970s; Okko Studios' The Red Ripper, about an infamous Russian serial killer; Newen Connect's The Showdown, a TF1 drama set in the 1980s/90s; and Clarice, from CBS, the latest show to return to the world of Hannibal Lecter.
Mouseler also noted a continued interest in scripted series with strong female leads. As well as Clarice, she referenced Parot, a Spanish-language series about a female cop who wants justice when her rapist is released from jail early; Lolita Lobosco, an Italian series about a female cop who returns to work in her native city in the South of the country; and Red Light, a Dutch thriller about three women who join forces in a story set against a backdrop of the world of prostitution and human trafficking – from Federation Entertainment. ZDFE's Unbroken and Stan Australia's Bump are very different but equally compelling explorations of women who have unexpected pregnancies.
Programming Briefs: Drama
A stand-out feature of Digital MIPTV has been a series of briefings during which buyers provide insights into the services they work for, and the content they are currently seeking. After formats and factual took centre stage on Friday, Monday was a chance for delegates to learn about the needs of drama and kids buyers. Following their briefings, the buyers in question made themselves available for questions via a series of individual Breakout Rooms.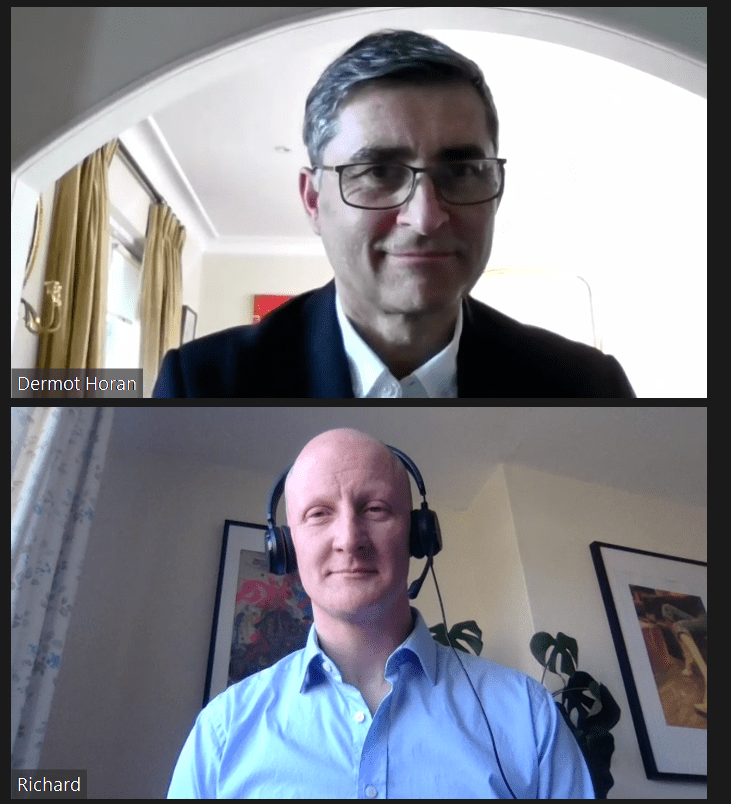 In drama, RTE Director of Acquisitions and Co-production, Dermot Horan, explained to Richard Middleton of TBI how the adoption of Covid-19 protocols enabled the Irish public broadcaster to ramp up its scripted production by the end of summer 2020. "Perhaps surprisingly, the introduction of protocols meant some ambitious and difficult shoots continued to be made, whereas cheaper factual shows that depended on access haven't."
Horan emphasised RTE's interest in scripted partnerships, for example Smother, co-produced with BBC Studios and Treasure Entertainment. "That was a way for us to participate in a story that was authentically Irish but had great global appeal." RTE, he said, can bring a lot to the table by combining its own budgets with Irish tax breaks and other forms of support for Irish-based production. He is interested in scripted acquisitions, but typically favours shows that can offer flexible rights so that shows can appear on RTE's on-demand platform.

Karni Ziv, Head of Drama and Comedy at Keshet Broadcasting, is responsible for the development of scripted projects destined for Israeli free-to-air channel Keshet 12. Shows that have worked well for Keshet 12 and are now making their mark internationally include Line In The Sand. Ziv is looking for "partners that are interested in working with an Israeli company representing a lot of talented Israeli creators. For example, we are developing an Israeli-French co-production, based on A Long Night In Paris, a spy thriller about an Israeli tech executive who disappears from Charles de Gaulle airport. We are trying to find a way of making a series that interests both [French and Israeli] audiences."
Keshet also creates shows that are not connected to Israel. "We have a series that we're working on with a Belgian production company for Netflix Europe, telling the story of Jewish family whose business is in the diamond industry. It takes place in Durban and it's in Flemish and English and Yiddish but there's no connection at all to Israel."

Flying the flag for Asia was Sahana Kamath, Head, Original Production, Indonesia & Malaysia, at streamer Viu: "It's an exciting time for premium drama in Malaysia and Indonesia," she said. "We are seeing a lot more premium content created for platforms like Viu. This has created more opportunities than ever for creative talent to shine."
Kamath's target is Gen Z-to-Millennial. On the scripted format acquisition side, Viu has had successes with Pretty Little Liars, with WBITVP; The Bridge, with EndemolShine Group; and Black, with CJ ENM. "What's critical is that the storytelling is locally rooted and relatable, yet highly differentiated from anything anything else out there."

In June 2020, the BBC announced its Creative Diversity Commitment, allocating around £100 million of its TV budget over three years to producing diverse and inclusive content. A key element of this commitment is The Right Script Campaign, headed by the BBC's director of creative diversity June Sarpong and the BBC's head of creative diversity Miranda Wayland. Digital MIPTV was fortunate to have Wayland on board to deliver a buyer briefing, outlining how diversity is feeding into the corporation's content strategy.
Wayland explained that her job is "a new role supporting commissioners and suppliers in the BBC's objective to achieve greater representation, and ensure our audience is reflected in our content. One particularly powerful aspect of the role is that I sit on the board of commissioners, so I get a great landscape of what is coming up in the schedule. At the same time, I work with genre controllers to advise on best practice and help amply diversity in our output."
A key ambition is "to really think about who we want to work with and understand what authentic portrayal of diversity means. One positive since the CDC was announced is that we are seeing a real increase in the number of diverse production companies coming to us, that maybe haven't seen the BBC as a place for them in the past."
Programming Briefs: Kids

The roster of kids buyers included Orion Ross, Vice-President, Animation, at Walt Disney EMEA (above right, with The Ceative Garden's Sarah Baynes). He said: "The big story last year was the phenomenal growth of Disney+. That has been the number one priority for the company worldwide but it's important to remember our linear kids business is still significant. The channels are the front door for a lot of our kids content. We are looking to co-produce and commission shows that can work on Disney+ and our channels."
Disney in Europe doesn't have its own physical production studio, Ross said, "so we rely on indie producers across the region to work with us. We like to look at things early — but you don't need a pilot or a full script. It's more about talent and ideas that have a clear vision to them. We strive for optimistic shows that work for the whole family."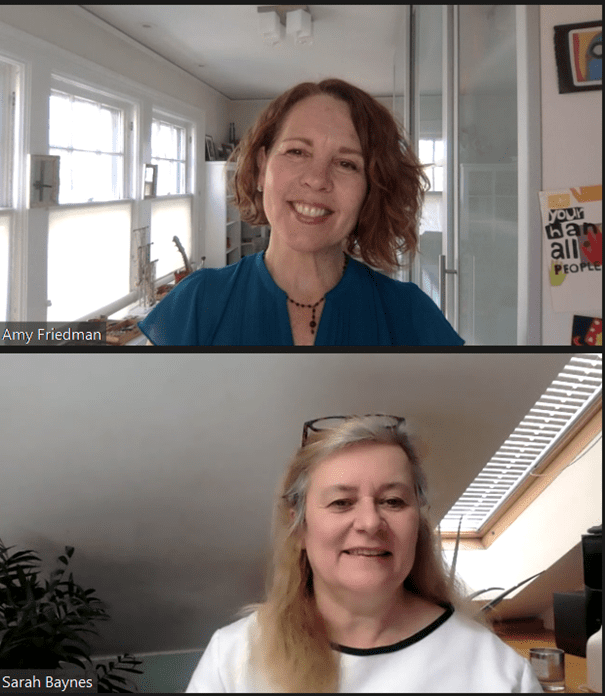 Like Ross, Warner Bros. Head of Kids and Family Programming, Amy Friedman, is part of a group that is pivoting decisively towards streaming, with the launch of HBO Max. But at the same time there is still a lot of emphasis on growing the company's flagship kids brand Cartoon Network: "My team has been tasked to mean more to more audiences. So we are expanding the Cartoon brand into pre-school and we are focusing more on girls aged 6-11. Previously we concentrated more on animation targeted at boys in that particular demographic."
Around 80% of commissioning or acquired content will run on both linear channels and HBO Max, though exact windowing will depend on the job that Friedman's team believes a particular brand can do for the Warner Bros. ecosystem. The same team is responsible for commissioning across linear and streaming. Expansion into pre-school will primarily be driven by animation but Friedman also has a soft spot for puppetry. Animation will also remain the driving force for Cartoon Network among older kids — although there is likely to be room for live action as the company pursues girls. "The tag line is 'always animated but not always cartoons'. It could be live-action comedies and dramedies, movies as back-door pilots for series. Limited series are more likely because I'm not sure long runs are right for streaming."
Among kids pubcasters, Natalie Engel, Director of Content, PBS Kids, said her mission is "to develop characters, worlds, and stories that reflect the broad diversity of the American experience. We believe the best way to do that is by talking with a variety of talented, creative people with stories to tell. Some people come via producing partners; we also develop projects with studios that we haven't worked with before. As long as the idea feels right for PBS, we will explore it."
PBS prefers to develop content with creative talent, rather than to acquire. "Recent series we're particularly proud of are: Molly Of Denali from GBH; Xavier Riddle And The Secret Museum from 9Story; and Elinor Wonders Why from a new creative team, Jorge Cham and Daniel Whiteson. Each of these represent many of the hallmarks of PBS Kids' shows: curious, resilient, funny kids who are eager to explore and make discoveries about the world." At MIPTV, she is "looking forward to exploring new content opportunities and partnerships".

Libbie Doherty, Head of Children's Content, ABC Australia, said ABC has two children's dedicated channels, ABC Kids and ABC ME, for pre-school and primary school-age kids respectively. But there is also free video streaming service iview. "Audiences have shifted towards iview. So really, when we're thinking about content, we're thinking about what works both on linear and on the dedicated app as well."
In terms of what she is looking for, she said: "We're always looking for very high quality — exciting, global brands, the best that our ABC money can buy. And diversity and inclusion is obviously the other really big element. Our aim is for gender diversity — 50-50 in front of and behind the camera. Also on-screen representation of the LGBTQI communities, people living with a disability, indigenous Australians — and then cultural and linguistically diverse content as well."

MIPTV veteran Sebastian Debertin is Head of Content Acquisition and Co-Productions at Ki.KA, the kids content arm of German public broadcasters ARD and ZDF. Part of the channel's success, he said, is that there are so many eyes and ears looking out for great content — from Ki.KA, ZDF and the nine regional broadcasters that make up ARD. Turning 25 years old next year, "the recipe of our success has been getting the right mix of fiction and non-fiction content. Our linear and non-linear offerings are targeting kids of all ages, from pre-school upwards."
An important piece of advice, he says, "is to look at our website. That way you very quickly get an idea of the look and feel of Ki.KA. Ask yourself, will my show or idea fit into this environment?"

Rounding out the kids Programming Brief section of Digital MIPTV 2021 was Katie Wilson, Vice-President, Channels & Curation, Wildbrain Television. Services within the company's portfolio include the flagship Family Channel, Family CHRGD, Family Jr. and Télémagino: "Family Channel focuses on programmes that will encourage shared viewing and appeal to every age within a family. We're on the lookout for both animation and live action where strong, authentic storytelling is key. We're also keen to acquire more unscripted content, as we've seen a lot of success with these types of series — again, this is perfect co-viewing content."
Where partnerships are concerned, "all are welcome", Wilson said. "We look for partners who are aligned with our values and our vision. Also, as part of the global WildBrain organisation we're always looking at potential rights curation from multiple perspectives — broadcast, production, distribution, consumer products and YouTube."
Discover the Digital MIPTV Wrap day 1: Trending Topics, Formats Accelerator, Factual and Documentary & Fresh TV Formats here!