It was an action-packed opening to Digital MIPTV 2021, as delegates were invited to connect with experts across drama, formats and factual programming. Highlights from a diverse day's activities included the launch of MIPDrama, the ever-popular Fresh TV from The Wit, ten Formats & Factual Programming Buyer Briefings, a Formats Accelerator event and a Factual & Documentary Showcase.
Kicking off proceedings, MIPTV director Lucy Smith said: "After a year that has brought such disruption to our lives and our industry we are looking forward to bringing everyone together for the best of MIPTV, MIPDoc & MIPFormats online. It has been a year that has shone a light on the important role played by the TV industry, where demand for content has soared as the unprecedented growth of global streaming platforms has created a thirst for quality programming and TV viewers have re-discovered the joys of family entertainment."
Trending Topics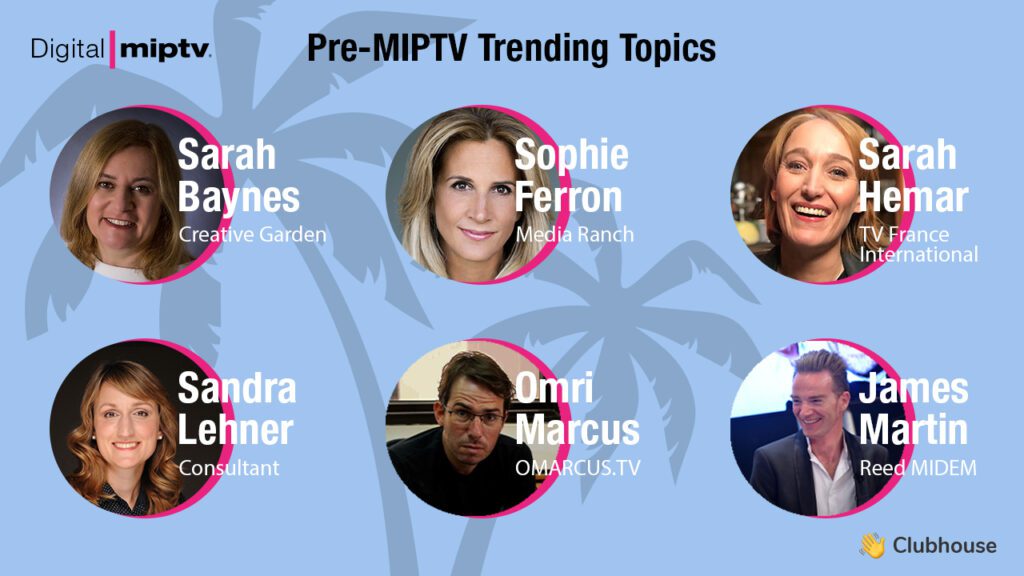 April 6 saw a special pre-MIPTV Trending Topics session, designed to give delegates a heads-up on the industry trends set to mark the coming week. Held on Clubhouse, and moderated by James Martin, Head of Social Media, Reed MIDEM, speakers at the session included Sophie Ferron, Founder & CEO, Media Ranch; Sarah Baynes, Consultant, The Creative Garden; Sarah Hemar, Executive Director, TV France International; Sandra Lehner, Branded Entertainment Consultant; and Omri Marcus, creative director, OMARCUS.TV
Sophie Ferron's trending topic was "superpowering format incubation". Media Ranch has an incubator called Horsepower, which counts TF1, La Fabrique des Formats and Quebecor as partners. The idea is to bring industry experts/mentors together with new creators for workshops to build formats for the global market. Surprisingly, the pandemic has not slowed the progress of this endeavour; indeed, said Ferron, Media Ranch's sales doubled in 2020. "We created QTFs, quick turnaround formats that can be developed really quickly", she said. "The biggest impact was for our show Watch, which had 12 options as a paper format. Unscripted is in high demand, and that started before the pandemic – because scripted is harder to produce."
Sarah Baynes' key line of debate concerned streamers integrating creative with linear. "Previously, everyone sat behind their own doors. Now, it's all about focusing on the story and blending it across platforms. The timing of a format is one way that's changing, as you no longer have to cram things into a limited time. That's great for different voices, and diversity." On Covid-19, she said there is "a feeling that the audience wants more optimism. We've also found out there's a lot of co-viewing going on. People are looking at how do you get the whole family on the sofa, how do you write for that?"
Sarah Hemar's emphasis was on "the French recipe for a global TV hit". She said there has been "a rise in French fiction in the past 10 years, and it's now the number two category in terms of France's international TV sales." She added: "We are seeing industrialisation of French fiction, and talent moving from cinema to TV. We're moving away from the 90-minute model, producing more quickly and also seeing format adaptations." She cited the success of Lupin on Netflix as an example of France's progress: "When Lupin makes it in the US, it says French producers are able to do this, so it opens the eyes of other broadcasters."
Sandra Lehner explored the subject of star-powered production houses – especially pertinent with keynotes from David Beckham and Marc Anthony. "In Hollywood, it's hard to get a project noticed without well-known people as producers, as that gets you immediate recognition. Beckham and Anthony both have huge communities, and bring very different stories. Marc Anthony is focusing on the richness of LatAm culture, for kids; and Beckham is notably producing a documentary about the founders of Adidas and Puma. IP and prestige are big reasons for going this route, but it's good for diversity too. That was very much the case for Reese Witherspoon, who did it when she realised studios weren't commissioning shows with women over 30."
Omri Marcus's emphasis was on entertainment for social awareness. Exploring his experience working with a political party, he said: "I imagined the whole campaign like a series, as you need to stand out from the crowd in a very loud environment. The best way to get people's attention was technology, so we did campaigns on Tinder, Waze and Zoom. Content in general is a 360° experience, like a journey. Right now, you can't be just a TV show. We're in the attention economy, so you have to work out clever ways to stand out."
Fresh TV Formats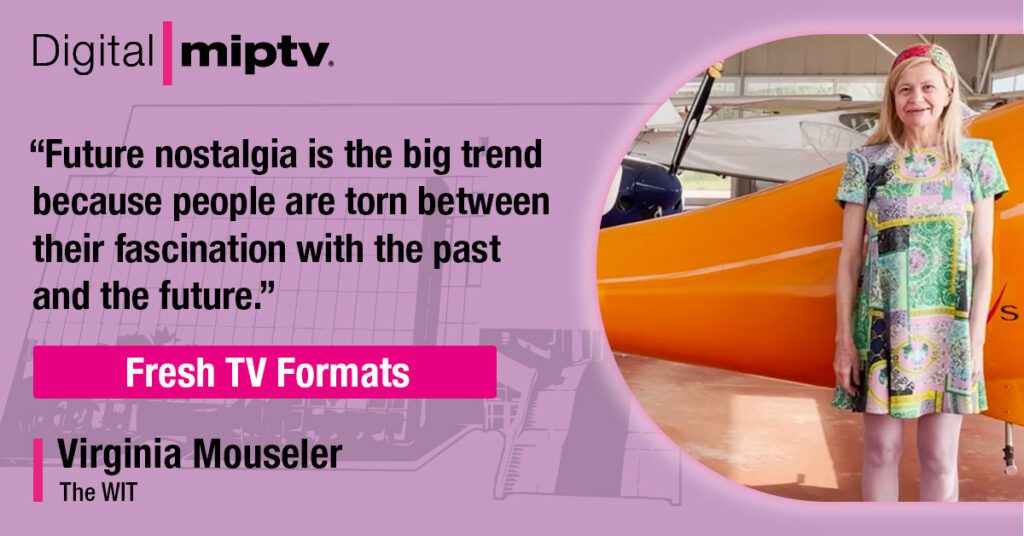 One of the most popular features of any MIPTV, physical or digital, is Virginia Mouseler's Fresh TV sessions. On day one, she opened up with her take on the formats business in Fresh TV Formats. In her opening remarks, Mouseler noted that the dominant theme in the last six months is that not much has changed, with formats like The Masked Singer and Masterchef securing most local commissions.
She noted positive trends for franchises including Lego Masters, Game Of Talents and I Can See Your Voice; and also identified "future nostalgia" as a key theme. "Future nostalgia is the big trend because people are torn between their fascination with the past and the future. Formats that capture the zeitgeist include Marble Mania, produced for SBS6 in the Netherlands and has now been optioned in Germany, France and Belgium."
Other shows to fit Mouseler's "future nostalgia" theme included French format Roll The Dice from WeMake; Germany's The Money Shot, a physical/quiz show produced by Banijay for Vox; and Family Piggy Bank, from Israel's Armoza Formats. "From Propagate in the US there is also Cherries Wild, a pop-culture trivia game that ends with contestants trying to the jackpot on a giant slot machine," she added.
MIPDrama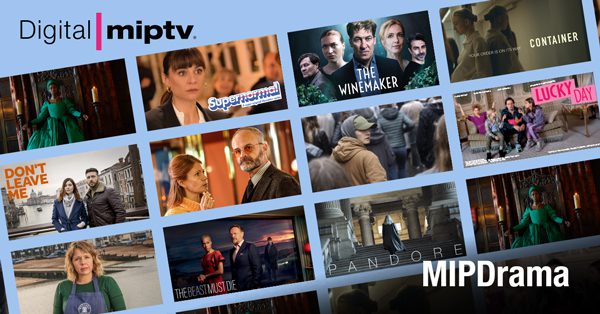 The 7th annual MIPDrama gave buyers an exclusive first-look at a curated selection of the most anticipated series in production around the world. Eleven shows and series were selected for the event by the MIP Markets' Buyers Advisory Board – and then presented to buyers by actress Josephine Draï. Narrowing the MIPDrama selection down to just 11 productions was tough, Draï said, "because so many submissions were exceptional in their creativity, production values and quality of storytelling".
Among the 11 were projects from Belgium, Canada, Germany, Italy, Russia, Spain, Sweden and the UK, which was home to three dramas. There were also co-productions from France/Switzerland and Germany/Norway. The most prominent genres in the pool included crime, thriller, comedy and period.
One interesting project presented to buyers was B-Reel Films' adaptation of Agatha Christie's Sven Hjerson. This is the first time that Christie's retired criminal investigator Sven Hjerson has been adapted to the screen.
Before introducing the 12 series, Draï encouraged buyers from around the world to "vote for the work they feel is most deserving of the MIPDrama Buyers' Coup de Coeur". The vote for this prestigious award closes on April 15 at 17.00 (GMT+1) and will be announced the following day.
Formats Accelerator
Running in paralel with MIPDrama, the Formats Accelerator event saw five executives share the latest news about their formats in development. Nick Smith, EVP, All3Media International pitched Sort Your Life Out, a factual entertainment series from All3Media's Optomen Television, for the BBC. As its name suggests, Sort Your Life Out calls in experts to help transform the nation's most-cluttered homes: "It's a life-enhancing entertainment format that is easily reproducible anywhere in the world, cost-effectively," Smith said.
Other shows in the Formats Accelerator included Stacking It!, a co-development from Nippon TV and ITV Studios; 50 Men 50 Mats from Small World IFT; and from Paris-based studio WeMake. Another show with a French connection was Pet Match, from Newen Connect, a division of TF1 Group: "It's a family entertainment format where you have three teams of celebrities, 12 pets and 12 pet owners. Participants start thinking out loud and disagreeing with each other and it becomes very funny," Newen Connect head of format distribution, Arabelle Pouliot-Di Crescenzo, said.
Factual and Documentary Showcase
Digital MIPTV day one also saw the unveiling of 12 high-quality non-fiction productions at the Factual & Documentary Showcase. The 12 were selected by a panel of industry experts and are all currently in production. Buyers, including potential co-production partners, were given access to 10 minutes of content from each project – with a view to getting involved as partners.
Popular factual themes included Sharks and World War II, but there were also less well-documented subjects ranging from the Pimp Gangs of Hamburg to the mystery of sacrificed children in the ancient Andean civilisation of Chimor. The timeliness of the curated selection was underlined by a film about Covid-19 vaccines, and the story of a journalist's assassination when he discovered links between politicians and organised crime. Projects ranged from single films to eight episodes, with the majority in the two-to-four part range. France was well-represented but there are also high-profile projects from Germany, Russia, Canada and the US. Among these was Ali, a PBS/Ken Burns documentary about the iconic heavyweight boxer.
Programming Briefs
A stand-out feature of MIPTV's schedule was a series of Programming Briefs from format and factual buyers, during which they provided insights into the services they work for, and the content they are seeking. Following the briefings, the buyers then made themselves available for questions via a series of individual breakout rooms.

Among the format executives was Kevin O' Brien, commissioning editor, entertainment, ITV Studios (above right) who had only been in his job for a few months when the pandemic hit. Speaking ahead of his briefing, O' Brien described how content creators and producers responded really positively to the crisis and were "brilliantly reactive. We were being pitched so many shows. So we made a decision, as a partner, to make ourselves even more accessible. If a company had an idea and wanted to get in touch about it, suddenly, with Zoom, we could take more meetings and listen to more new ideas than previously."

TF1 EVP Head of Content Development Julien Degroote (above right, with moderator Broadcast's John Elmes) used his Programming Brief to outline his remit and the channels he oversees. His two primary jobs are to commission local versions of international hits such as The Masked Singer and The Wall, and to create/co-develop original IP with producers from France or around the world. In the latter category is District Z, created by Sony joint venture Satisfaction.
Both international and original paper formats are welcome – Julien Degroote
As for the channels, flagship service TF1 "is home to big entertainment franchises for broad family audiences – though it does have one daily factual entertainment slot," Degroote said. "TMC is a leading DTT channel that targets 25-49 year-olds, mainly urban. This channel airs docuseries, live chat shows and comedy gameshows. TFX is the youngest-skewing channel and airs a lot of reality or factual entertainment – shows like Supernanny and Wife Swap."

TV4 Sweden head of formats and development Niklas Vestberg (above right) also provided an insightful briefing in which he said: "TV4 and its AVOD service TV4 Play target the whole of Sweden, so it is important to have broad formats that make a big noise and appeal to all age groups. We have a lot of international formats like Survivor, Masterchef and Got Talent, but we also pick up original ideas from local producers in genres like talk shows and factual entertainment. We like to work closely with producers to make sure ideas really fit TV4's profile."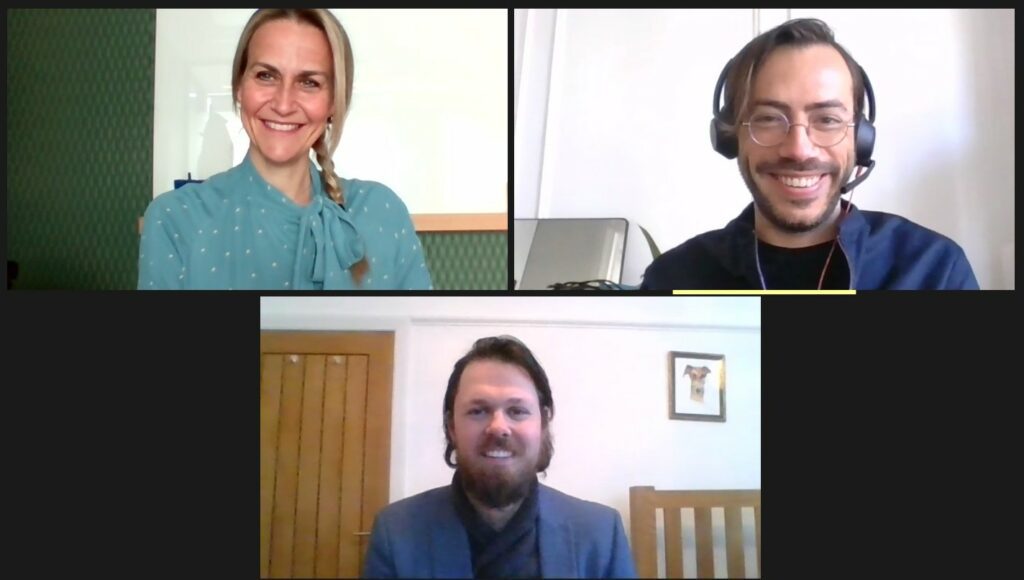 In addition to Programming Briefs from major European broadcasters, there were also insights into the strategic priorities at streaming platform Amazon and Chinese regional broadcaster Hunan TV. In a double-header, Nicole Morganti, Head of Originals at Amazon Italy, and Thomas Dubois, Head of Originals at Amazon France (above, top) both stressed that their priority at the moment is unscripted content.
Morganti said Amazon Italy started with a local version of Celebrity Hunted, "because it is an engaging format and we thought it would be intriguing for Italian audiences to watch a show about strategy." However, she said she does not favour established over original formats: "We developed Dinner Club with Banijay. This show is not about competition but the experiences you can have through food."
Dubois said Amazon France has commissioned a local version of Love Island and is now making its own version of Celebrity Hunted after the show's success in Italy. He said: "We have real freedom in the formats we are adapting. We are not tied to a schedule grid. Our main job is finding innovative formats for our customers and making the best stories."

For Hunan TV, Lester Yangzi Hu, Head of Formats and International Business, stressed that a key priority is to "co-create a hit in China and then take that IP to the rest of the world". In 2020, the company sponsored the MIPFormats International Pitch competition as a way of introducing Biu, a format incubation initiative open to independent producers and emerging production talents worldwide. Hu is happy to work with producers from markets as diverse as Japan, Israel and Western Europe, selecting partners based on their specific strengths.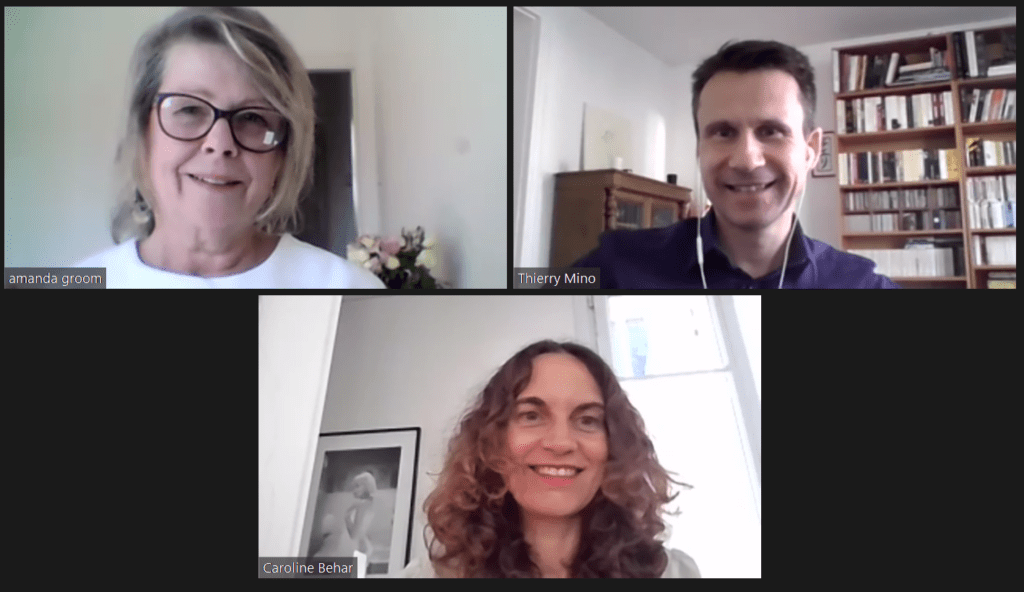 The factual buyers line-up included France Televisions' Head of International Acquisitions and Co-Productions Caroline Behar (below in above image; moderator Amanda Groom, of The Bridge, is top left), who provided a comprehensive insight into the French pubcaster's factual requirements and its strategic mission. "We want to make the best international creations accessible to France TV audiences, push French projects to the forefront of the international industry and co-create projects with broadcasters around the world. There are lots of ways for content creators to work with us."
She discussed France 2's use of spectacular blue-chip natural history, and a co-creation initiative called GlobalDoc. She also referenced online platform France.tv's interest in true crime and current affairs investigations. In addition, she stressed the importance of France 5's prestigious Science Grand Format franchise in terms of working with international partners. Behar's colleague, Thierry Mino (top right in above image) then provided examples of how France TV has worked with the likes of NHK, Smithsonian and UK producer Blakeway – the latter on an archive-based Egyptology series called Tutankhamun in Colour.
Other leading public broadcasters to provide Programming Briefs included NHK, with executive producer Kinu Miyano (above right) noting that "we currently have three slots dedicated to international acquisitions: World Documentary, Dramatic Planet, Welcome to the Wonderful World of Documentaries. For World Documentary, the target audience is people with global interests, so we are looking for such topics on current affairs, investigative documentaries, with new ways of storytelling. For Dramatic Planet, the target audience is family. So we hope to find family friendly programmes with an exciting and strong storyline. For Welcome to the Wonderful World, the target is women 30-50. We are looking for heartwarming human documentaries."

Kristina Hollstein, Director Acquisitions & Co-Productions, Documentaries, Children and Youth at ZDF, said the German state broadcaster is "a stable and reliable partner". While it has long-standing partners, "we are also open for new talent", she added.
For potential partners, ZDF publishes a Factual Programming on ZDF brochure, where it presents slots and content requirements. "Here producers find all the information needed to approach us," she said. "This year the focus is on history programming – especially shows already in post-production." History drew big audiences for ZDF in 2020 – notably in its Sunday evening Terra X slot. For the future, she predicts a growth in the popularity of programmes dealing with green issues: "We have already started, with series like The History Of Trash, a carbon-neutral production that is currently in development."

Vikram Channa, VP, head of content and products for East and South East Asia at Discovery Networks Asia-Pacific (above right), used his Programming Brief to discuss the company's launch of streaming service Discovery+. Based in Beijing, he also described the important bridging role his team can play in linking China to the world. "In China, there are no Discovery channels, because of local regulations. So we are more like a studio business, collaborating with producers and platforms in genres like survival, adventure, lifestyle and culture." His overarching philosophy is "made in China for the world" – which means working with local talent on projects that international audiences can enjoy.

Also briefing MIP delegates was Andrea Walji, head of content and production at the Waterbear Network: "It's a brand new streaming platform that offers free VOD downloads," she said. "It's all about environmental and humanitarian stories – linked to the UN's Sustainable Development Goals. We have around 90 NGO partners and our emphasis is on impactful stories that change behaviour."
Typically, shows on Waterbear are linked to social campaigns. An example would be Not A Pet, a 5 part short-form series that is part of a campaign to stop the illegal trade in exotic animals. "Short-form works for us because people are often looking for quick bites of information, but we will acquire anything from 1 minute episodes to feature docs if there is a strong solution-based story at the heart."

Additional reporting by Julian Newby