Korea, this year's Country of Honour, received a warm welcome at MIPCOM Online+, with Monday sessions devoted to its producers, platform and distribution strategy, and more. 
In an opening statement, Han Sang-Hyuk, chairman of the Korea Communications Commission, said, "The slogan of this year's Country of Honour is 'Korea, Story Connects Us.' Where do you think the strength of popular Korean content comes from? The answer lies in stories. Experts from around the world consider Korean content to be unique and fast-paced, with creative ideas and stories."
Then on to a panel looking at mega-hits from Korea, including The Good Doctor, a scripted series about the struggles of an autistic surgeon with savant syndrome. "It was sold to the US and started its first season, a first for Korean TV series," said KBS Media's Sales Manager, Yoo Jin Lee.
And on the formats side was I Can See Your Voice, where judges try gauging someone's singing ability based on how they look. "Since its debut in 2015, it's had a strong track record, with many episodes scoring record breaking numbers," said Diane Min, Head of Format Sales at CJE&M.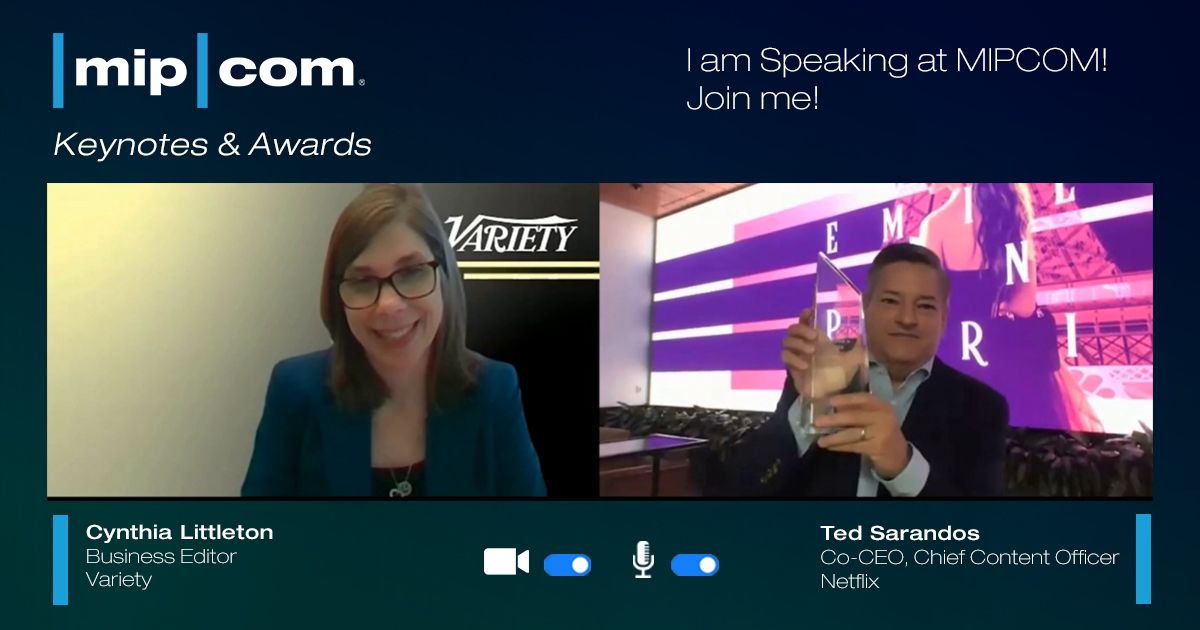 Ted Sarandos, Co-CEO and Chief Content Officer of Netflix, received the Variety Vanguard Award by business editor Cynthia Littleton.
"On behalf of Variety and Mipcom, we are very pleased to award Variety's vanguard award for achievement and impact in the global television business to Ted Sarandos and Netflix," Littleton proudly intoned.
In the talk that followed, Sarandos lamented the loss of international travel due to Covid restrictions. "Beyond just the ability to see people around the world, those long plane rides were accommodating to catching up on the viewing," he said, explaining that, unlike when Netflix was small, and original series were few, it is impossible for him to watch everything now.
"Today it's not unusual for shows to come on Netflix without me having seen any of it. And that's because we've got incredible teams in each of these content verticals and countries, producing great original content. They're really empowered," he said.
Asked about what metrics matter most to the now nearly ubiquitous OTT, Sarandos said, "Netflix is pretty traditional: Audience matters. Are people showing up? Are they loving the shows? The things that [are]more difficult to measure in traditional media – I almost said old media, sorry – is things like, what are people watching in the first 24 hours? That gives you a good signal that people actually join Netflix to watch that show. That show is more valuable than other shows in that way."
And he described the way Netflix perceives competition. "The thing that we're competing for mostly is for time folks spend on screens. That could be through traditional TV or various subscription services, and also things like YouTube. In many countries, TV watching is dominated by YouTube."
Where will Netflix go next? The answer to that is simple. "Our addressable audience is so big and diverse and so evenly distributed around the world. We're focused on all of them," Sarandos said. "We're trying to get everywhere; it's just a matter of when."
"Antarctica, here we come," Littleton quipped.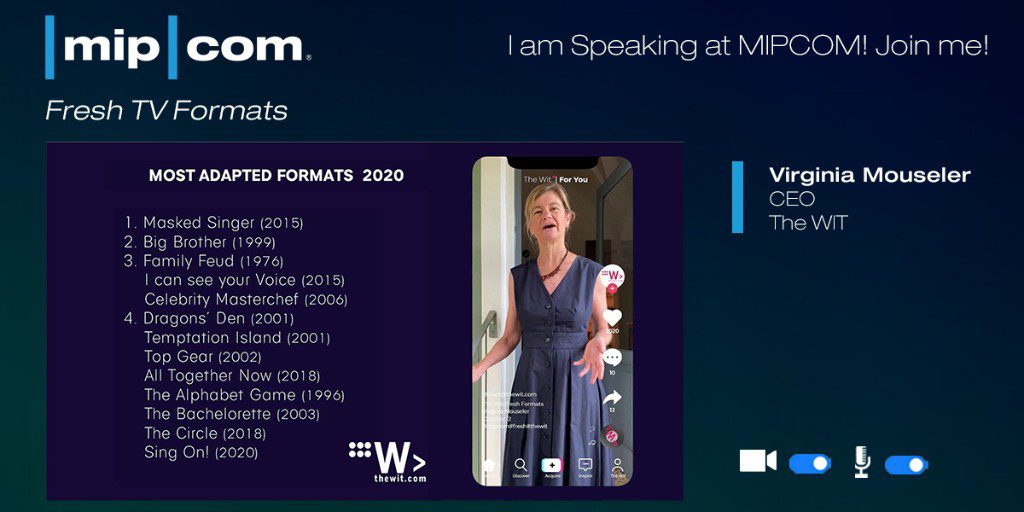 As always, The Wit's own Virginia Mouseler spearheaded the much-anticipated Fresh TV, both for formats and fiction, this opening day. 
Most formats for 2020 are adapted from old "surviving" formats, she said. The Masked Singer, arriving at No. 1, hails from Korea and first appeared in 2015. It's followed by Big Brother, which first ran in 1999; and Family Feud, the very one from 1976.
Other formats, like A Real Job: Nurses (Newen Distribution), are "a tribute to these real life superheroes—medical staff, nurses, caretakers," she said. To scratch our "survival" itch, there was also Good with Wood (Magnify Media), where woodworkers compete for the title of "best wood-worker of the nation"; and, for some stay-at-home fun, Celebrity Snoop Pets (SPTI): Pets of the famous are outfitted with cameras and permitted to go about their lives, with the objective of the show being that viewers guess the identity of their owners.
On the fiction side, Mouseler opened with a tribute to Michaela Coel's I May Destroy You, which she felt was "our story this year." 
"We are attacked. But it's not just a story of destruction, for this girl who has been raped," Mouseler said. "It's a story of survival, and also our story, especially this year. We are attacked, but we may survive."
Other standout scripted shows include Interrupted (Inter Medya) from Turkey, in which a young, idealistic journalist dies in a car accident, then returns in another body to find answers to the questions surrounding his death. There was also Armas de Mujer (NBCU), where four women band together after police arrest their husbands for being linked to a criminal organisation; and Sherlock: The Russian Chronicles (Yellow, Black and White), in which Sherlock Holmes pursues Jack the Ripper from London to St. Petersburg, where, alas, no one takes him seriously.
"I hope we will meet again for real, in a couple of months, in Cannes under the sun," Mouseler said. "Meanwhile, let's enjoy the sunset after all those dark stories. In our difficult and dark age, don't forget there are also stories of survival. Let's try to survive and create together."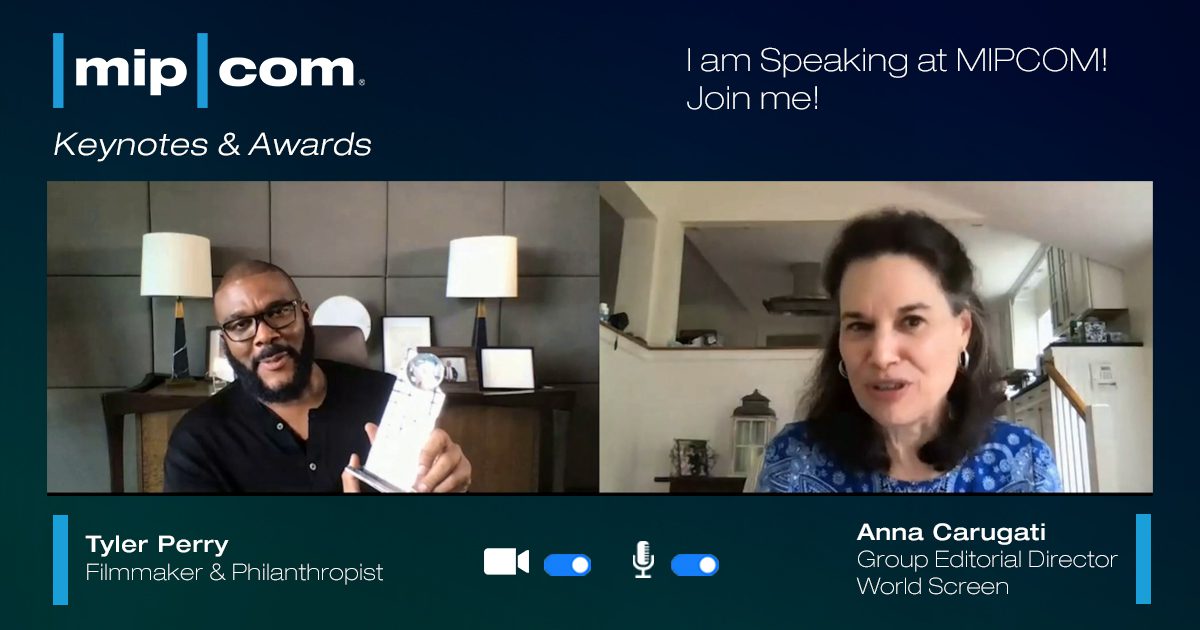 Last but certainly not least, actor, writer, director and producer Tyler Perry received the World Screen Trendsetter Award from the latter's group editorial director, Anna Carugati.
Carugati observed that Perry has written and directed nearly 1275 episodes of TV, 25 feature films, and some 20 plays. Perry described his difficult upbringing, and the inspiration he draws from a strong mother who did her best despite abuse of both herself and him by his father and her husband.
"Television was such an escape for me," Perry said. "People ask me, how do I write so much content? It's because in trauma, I developed this place to go in my brain to escape, into these different worlds, and inside these different worlds I could actually stay there for hours. Which is how I write now. I can still tap into that place in my brain that creates these worlds."
Perry revealed that Gilligan's Island was among his favourite shows as a child, and described the moment he wrote his first play.
"I wrote my first play after watching Oprah, where she said it was cathartic to write things down," he said. 
He put in $12.000 of his own money to put that play onstage. "Nobody showed up," he recalled. "But out of the 30 people there, there was somebody who wanted to invest. So for about 7-8 years, I tried the play, and it would flop over and over again in every city. Then in 1998, it hit. It changed everything. The audience showed up. That was one of the defining moments in my career."
Carugati complimented him on his tremendous determination.
It was "beyond difficult," Perry agreed. "That's why I tell anybody who has a dream or a hope, let nothing deter you."
Watch all of these sessions, discover screenings and network with TV industry peers, only on MIPCOM Online+!