Robert Greenblatt (above), Chairman, WarnerMedia Entertainment and Direct-to-Consumer, is one of the most successful entertainment executives of the last 30 years, and now he's overseeing the launch of WarnerMedia's new direct-to-consumer service, HBO Max. This afternoon he delivered MIPCOM's Personality of the Year keynote, interviewed by World Screen's Group Editorial Director Anna Carugati-Guise.
Greenblatt started by remembering when he got the bug for the entertainment industry, in his teenage years. He watched a film called That's Entertainment, which compiled the best scenes from MGM musicals. "I was really knocked out," he said. "I realised that one studio made them all, MGM, and a lightbulb went off in my head. I was always a fan of movies, but I thought 'I wanna someday run a studio!'"
In the early 1990s, Greenblatt was a young executive in drama series development at US network Fox, at a time when there were three established networks, and it was the new challenger. "We were supposed to be going out of business every year! People said there was no way a fourth broadcast network would ever take root in the United States," he said. "We decided we had to establish ourselves as the alternative network in town. The place you could go to do a show you couldn't get on any other network." Targeting a young audience was a key part of that too.
Greenblatt later struck out on his own as a producer. "I learned right away at the Fox network… that you really need to look for things that no one else is doing. You've got to distinguish yourself somehow and do something that's unique and bold and different, and outside the norm… That's informed my whole life." One of those shows was Six Feet Under. "I mean, how many shows were there about funerals?!" he laughed.
Greenblatt later moved to NBC, at a time when its primetime schedule was struggling. "I thought 'this is one of America's great cultural institutions, and it's far from dying'. But of course cable had come alive and SVOD was on the horizon… There was a lot to the argument that the old broadcast networks were getting to a point where they were slowing down, and the audience was starting to have other options. But I didn't care: 'let's see if there's something we can do with NBC'… I inherited a primetime schedule that was in fourth place. It had been in fourth place for about ten years! If we had got to third place, that would have been a win as far as I was concerned!"
Within a few years, NBC was in first place. Part of the strategy involved being bold with digital, accepting that some viewers were drifting away from linear viewing. "The digital audience for something like This Is Us is about 50% of the audience," he said. "A significant amount of the audience is going to the digital experience, and in my mind that's no bad thing. We still try to monetise that… if you can follow the audience with advertising and get some credit for it, that to me is the totality of the universe. It's actually very healthy, broadcast television. They're just not watching a show on Monday at 8 o'clock like they used to."
After NBC, Greenblatt took his current role at WarnerMedia, where he's overseeing the launch of HBO Max. "To me, it's a big challenge. I love the idea of looking to the future, and I think the future is direct-to-consumer, there's no doubt about it," he said. "It absolutely is, and you've gotta be there. WarnerMedia is really very aggressively moving into this space. The assets are undeniable, the buy-in from the parent company AT&T is strong and aggressive. We're going to bring this product to market next spring… it's all coming together in one big platform that we're really excited about." He also promised that "there'll be a big new slate of original programming" alongside the existing shows.
Carugati-Guise expressed concerns that plans for HBO to increase its number of productions could impact its famed quality levels. Greenblatt sought to reassure her. "HBO is the great brand of all time in our opinion," he said. "People know it for its excellence, and the amount of great shows is just staggering… There's no plan to do anything but keep that intact, and exactly what it is."
WarnerMedia is open to partnerships for great international shows, rather than just confining its commissions to the US. "We see all the great shows that are being made around the world… and we are wide open for putting those kinds of shows on HBO Max as well… either in their original languages or not," he said. "On Netflix and Amazon we've seen some extraordinary shows from Israel and Russia and different countries. We would love to have some of those as well."
He also talked about the future for linear television. "There's sports and movies and acquired programming and original programming on those services. HBO is HBO and will continue to be exactly what it is. We do value the linear as well, and they [linear and digital]complement each other. There's different audiences that come to different mediums." Friends, for example, found a completely new audience when it went to SVOD. "We have no interest anytime soon in getting out of our linear business. They're very robust businesses, it's where a lot of advertising is generated… The whole ecosystem can work together."
The conversation returned to one of Greenblatt's great loves: musical theatre. "We're in a moment in time where the musical is really back. Movie studios are making them, people are going to them, Broadway has never been a stronger business," he said. HBO Max is absolutely aware of this. "We are looking at a few things, and in fact we're announcing today another new original series. We're calling it Grease: Rydell High… We're taking Grease: The Musical and we're going to reinvent it as a weekly musical series… It'll be a big, fun, rock'n'roll musical!"
Greenblatt finished off by striking an optimistic note about HBO Max's prospects. "It really is like building a startup. We're building a company from scratch. A massive company, inside another massive company… It really is a whole new enterprise. And I love the fact that it's really bringing together all the assets of WarnerMedia… Everyone's in this together to some degree, and that's really exciting."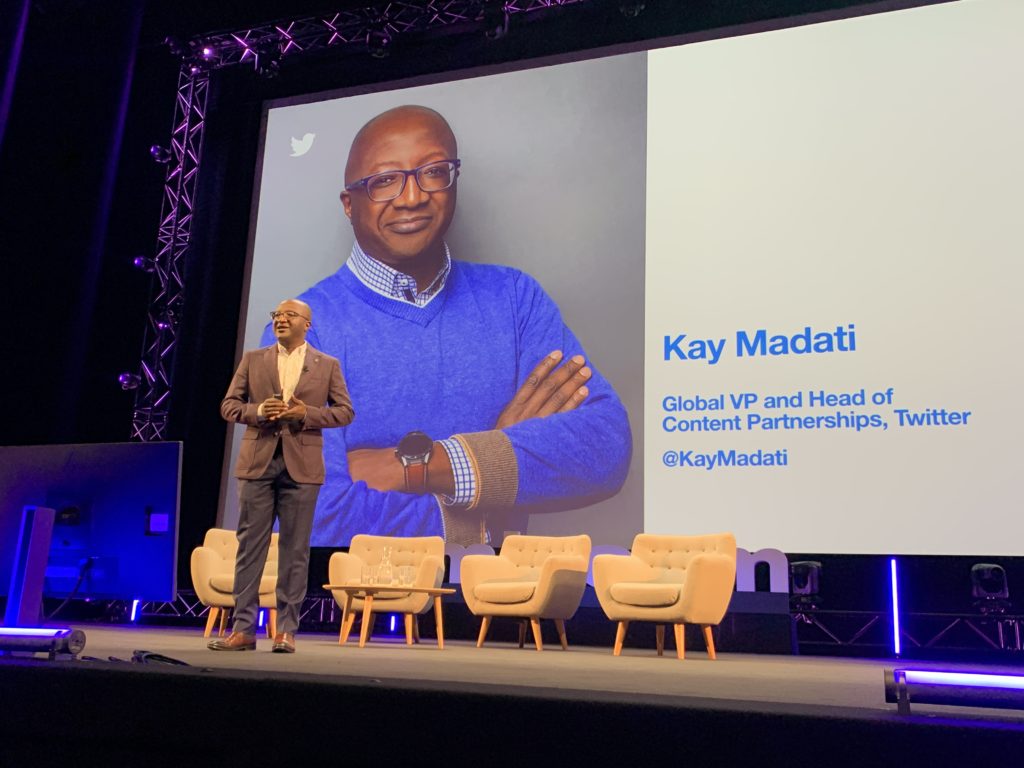 The afternoon's other keynote featured Kay Madati, Global VP and Head of Content Partnerships at Twitter. He outlined the 'past, present and future of Twitter's content partnerships', aided by ITV Partnership Controller Bhav Chandrani; Eurosport Digital General Manager Paul Rehrig, and Twitter's Head of News and Sport Partnerships, EMEA, Jo Kelly.
"Twitter is the place where people come to discover and talk about what's happening in the world. And increasingly so it's publishers like you who bring your premium content to the platform… to partner with and marry that conversation, » said Madati, adding that Twitter's users play an active, not passive role in the process. "They are not passengers on that content journey. They are drivers."
Madati offered three examples of content partnerships from 2019. First, the final episode of Game of Thrones, with its #TheFinalEpisode hashtag and some unique and exclusive content on Twitter. "More than 100 million people tweeted about the show, making it the most tweeted-about show on the platform," he said.
Second, the FIFA Women's World Cup, and a daily show on Twitter devoted to the England Lionesses, with two sponsors. "This show was viewed by more than nine million people over the tournament," he said. "Twitter is the sports bar that never closes: there is always a sports conversation on this platform." And third: BuzzFeed UK's #What2Watch show, based on what TV shows people were talking about on Twitter.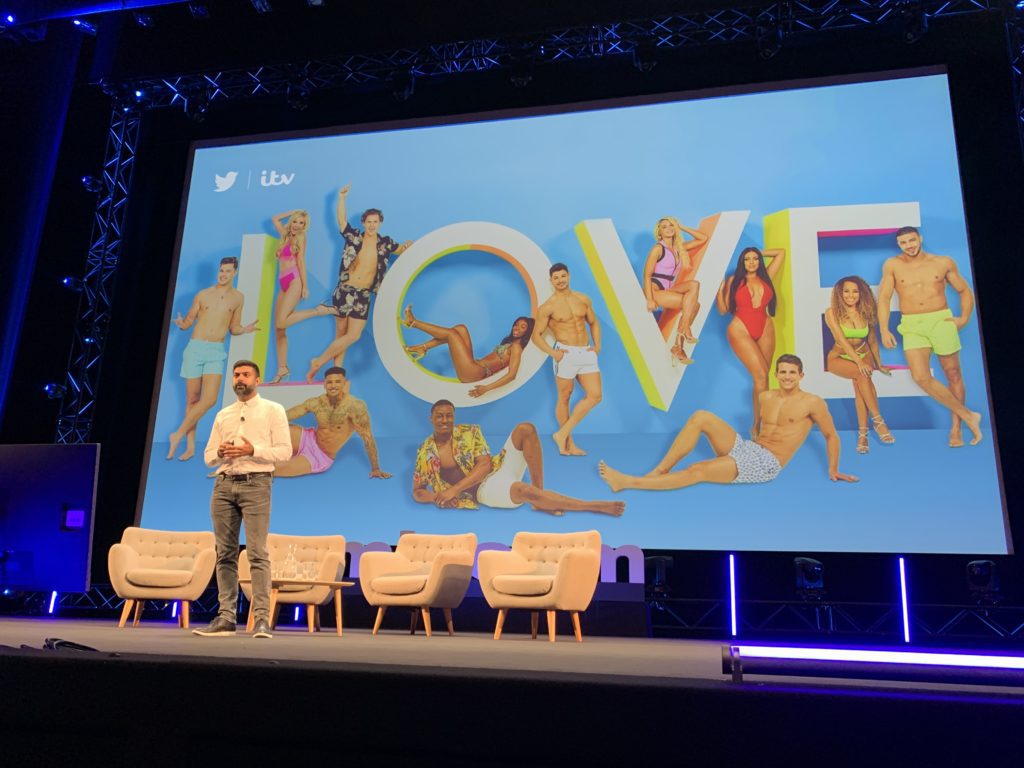 Chandrani then offered his views on the potential of Twitter, from ITV's perspective, using Love Island as a case study. "Over the years, its cultural impact has really grown, and never more so than in 2019," he said, noting that the last series sparked debate around topics including female no-shame sexuality, gender politics, cultural biases around race. « The chat on Twitter around Love Island has always gone a bit crazy, but it's even more so when there are seminal moments, » he said. « Does telly love Twitter? Yes. Yes we do. In the present, and in the future. »
Next up, Rehrig talked about how Eurosport sees Twitter, particularly in regard to the 2020 Olympic Games. "It's our goal to reach more people on more screens than ever before," he said, citing Eurosport's app and website, as well as Twitter. "Eurosport and Twitter are going to be partnering on a big marketing relationship around the Olympic Games. Eurosport is going to be publishing a lot of live real-time content on Twitter, including video highlights… and extending all of those engaged conversations to Olympic advertisers and sponsors."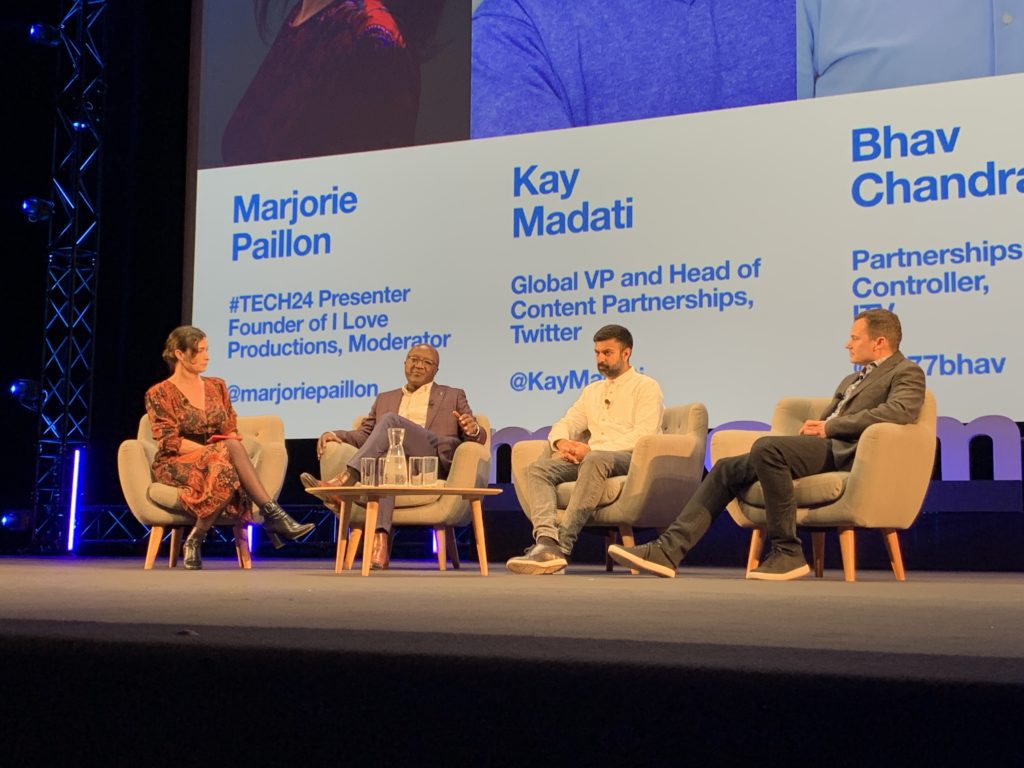 Madati, Chandrani and Rehrig were then joined by Marjorie Paillon, of France24 and I Love Productions, for a conversation. "My team around the world is looking at where the conversations exist, and finding opportunities for the right content partners… to bring their premium video content," said Madati. "We believe that Twitter is THE conversation platform." Chandrani chipped in: "Twitter is very much complementary to television. Not all the other platforms out there have that position."
"We think that it is still a pretty compelling value to have linear events brought to your home, to the biggest screen in your living room," said Rehrig. "We see opportunities, however, to innovate around that… and provide customers with more in-depth coverage and experience, and content that goes beyond the live experience itself." Madati: "This is not supposed to be moving eyeballs from one place to the next. This is supposed to make the experience around content that much bigger and more robust."
The conversation continued with Madati summarising Twitter's pitch to the TV industry: "Extend your audience reach strategies into a multi-platform world, and make money doing it." Meanwhile, Chandrani summed up the incentive for the TV industry to forge partnerships with platforms like Twitter. "The viewer behaviour is changing, and we have to be responsive to that… That leads us to be imaginative in how we approach audiences."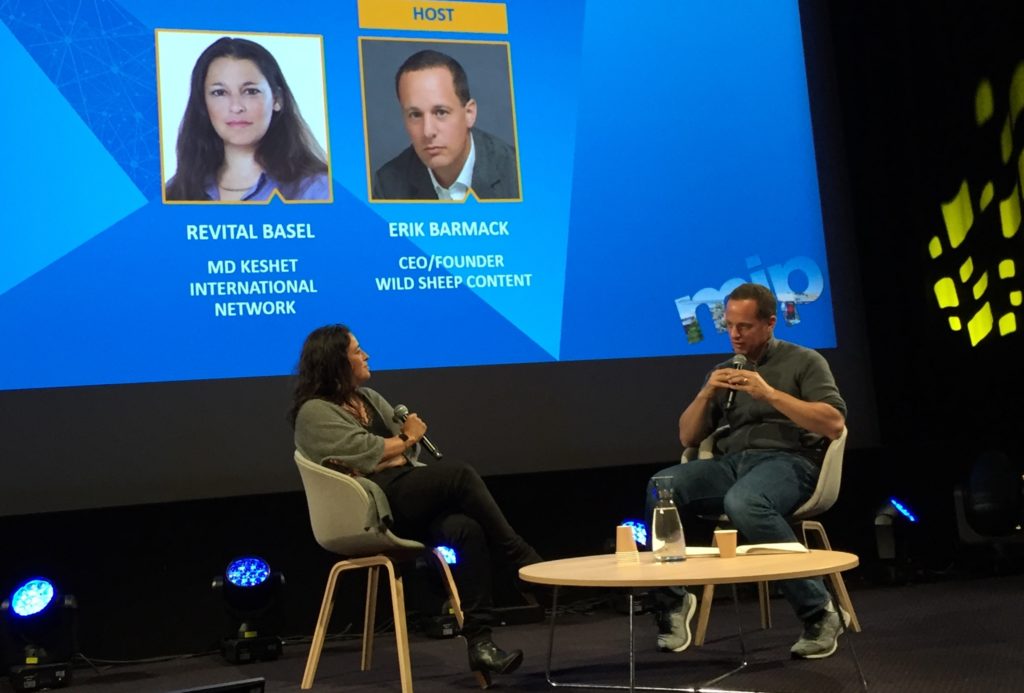 Elsewhere at the show, there was another 'funding creativity' discussion, this time with Revital Basel, MD of Networks at Keshet International. She was interviewed by Erik Barmack, CEO at Wild Sheep Content.
"Sharing is caring", Basel said as an explanation for how Keshet works globally. "What we say to the channels is that we really want you to engage in a process with us. It's a relationship of trust. Our first goal is to succeed locally, wherever that broadcast takes place."
An example brought forth in the session was the show Drive Master, a show based on cars and challenges, which was produced in Russia. "The  idea was to create prime time entertainment for the whole family, albeit a little more male skewed. We were not looking to produce more talent  – no cooking, dancing, singing… we wanted to take something that we all have seen on television, but something we haven't seen as a talent format", Basel explained.
This ties into how Keshet works when it comes to approaching channels. "We try to profile the the channel – what demography are they aiming to reach, what are their needs, what would work with their audience. We interview and do research", Basel said. "We're an international company, but we're still from Israel. We are a small country and a young country. We had to build it, and that spirit is very much driving us and our companies"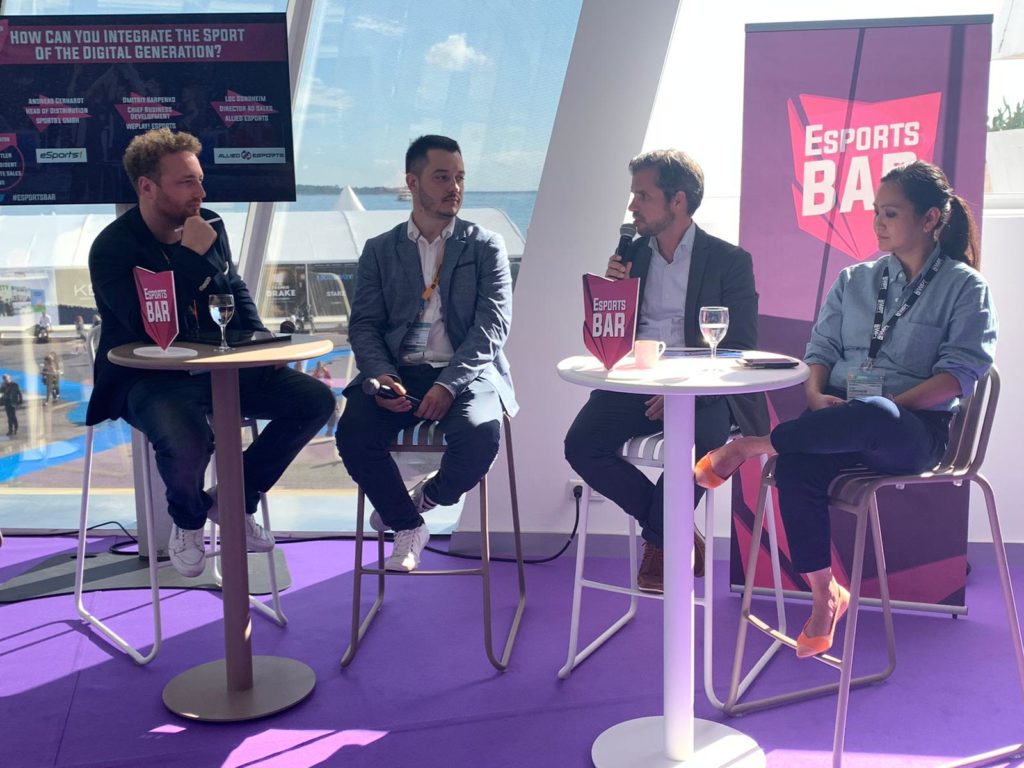 The latest session exploring the industry of esports explained to MIPCOM attendees how they can engage with the world of professional, competitive gaming, in partnership with sister event Esports BAR. Esports1's Andreas Gerhardt, WePlay's Dmitry Karpenko and Allied Esports' Loc Sondheim sat down with GINX's Sam Butler to discuss barriers to entry.
The number one obstacle remains the difficulty for non-gaming fans to understand what's going on in an esports tournament. "Kids are into esports because they love the fact anyone can play, and anyone can become a broadcaster/producer on their own" (through Twitch), said Sondheim. "But beyond that, how do you make (mainstream) happen? There's no magic wand."
« People need someone to explain what's going on on the screen », said Karpenko; « it's like a blurry, colourful mess otherwise. This is esports' main problem. We need to present it properly so the casual viewers understand. » This is precisely why WePlay proposes content that's complimentary to – and more understandable than – footage of tournaments: documentaries, news items and so on.
That said, this is a highly resourceful sector, which is both growing and learning fast, which helps to overcome such obstacles. « The professionalism of esports has grown enormously« , said Gerhardt. « Before, we had problems with signal quality, or which partner to choose. Now we have one partner, and we can give esports a big push to mainstream audiences. »
Another example of resourcefulness came from Sondheim, who affirmed « It's easier to sell a fun game like Fortnite to a brand like Coke than it is an first-person shooter like Counter-Strike. We worked with Captain Morgan rum, who wanted to do something with (gory fighting game) Mortal Kombat; we had to cut all the blood out for YouTube! »
Additional reporting by Simon Staffans