Over the last decade, RuPaul's Drag Race has become a televisual institution, not to mention a format that's spreading well beyond the US. Host and producer RuPaul Charles delighted MIPCOM today with a keynote, in which he was interviewed by Variety's managing editor, television, Cynthia Littleton.
"We love drag, we love television and we love drag queens!" he said, pinpointing the appeal of his show. "We all were little boys who society said 'There's no place for you here'. We start there in that commonality of the struggle. Things are said sometimes that are salty! But it always comes back to 'you are my sister, you are my brother: we all come from the same place."
He continued: "Drag says you are more than it says you are on your passport. You are way more. You are connected to the power that created the universe. So if you start there, you are aware that you can create the life that you want to have on this planet," he said. "Drag reminds our culture that the real you is not what's on the surface. Look deeper! Look deeper. And that has served me very well… And a little makeup doesn't hurt. Doesn't hurt at all!… I do this because I love colours, obviously. And music, and laughter, and magic, and joy, and I love creativity."
With Drag Race having recently launched a UK version, Charles sees plenty more potential for expansion of the franchise. "We're trying to pitch Drag Race: Prison Break here… Drag Race Junior, maybe? And Drag Race: The Elder Years is the show that we're pitching," he joked. "There's so many platforms. People want drag! And guess what? We're going to give it to 'em."
"Drag is really about outsiders who are commenting on the status quo. It's people who society has said 'You don't fit in this box, this box, this box'. So we said 'I'm gonna create my own box. I'm going to give a big F-U, a middle finger to your boxes'" he continued. "You're born naked, and the rest is drag. And truer words have never been spoken!"
Charles is excited about the reach of Drag Race: the fact that people growing up in remote parts of the US or the world can watch the show, and learn "how to navigate some of those sticky parts of being a human".
The personal experiences of the drag queens in the show are key to this. "The stories that our girls tell, from being from families who put them in gay-conversion therapy or mothers who put the sons out of the house," he said. "So many horrific stories, and by telling these stories in our television programme, young people around the world get some real navigational skills about their own lives."
Charles is also relishing the fact that Drag Race is reaching such a wide audience. "I'm pop culture, I've seen everything," he said. "I was walking down the road with my husband George, and he said 'Do you know what that flower is?' and I said 'No, but can you name ALL of the Supremes?… I did not know the name of the flower. But pop culture? Yes!"
The keynote ended on an inspirational note, triggered by a question about his favourite colour. "I was 34 when I realised orange made me feel happy," he said. "I love orange tones. When you get to a certain point in your life and you realise 'This makes me feel good', do it. If it makes you feel good, do it!"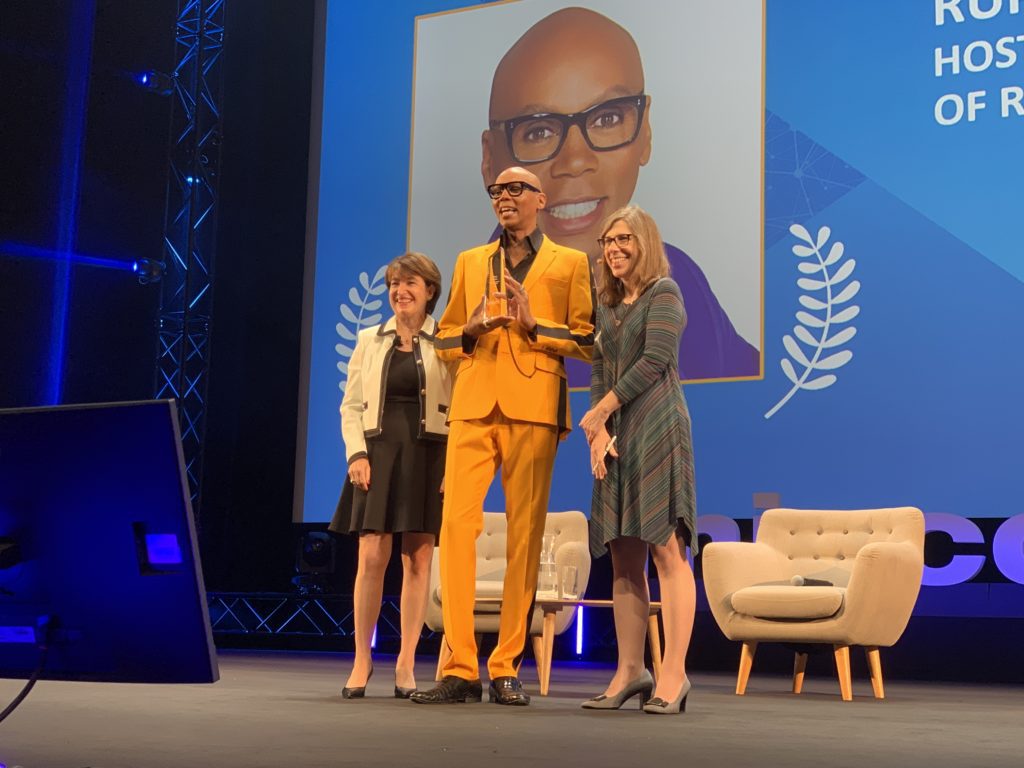 Before the keynote, Charles was presented with the Variety Vanguard award by Littleton and Reed Midem's Laurine Garaude.
The day's second keynote saw ProSiebenSat.1 CEO Max Conze talking about Germany's largest freemium streaming platform, Joyn – a 50/50 joint venture with Discovery Networks – and the plans to launch a premium, subscription-based tier this winter. The moderator for this session was journalist Kate Bulkley.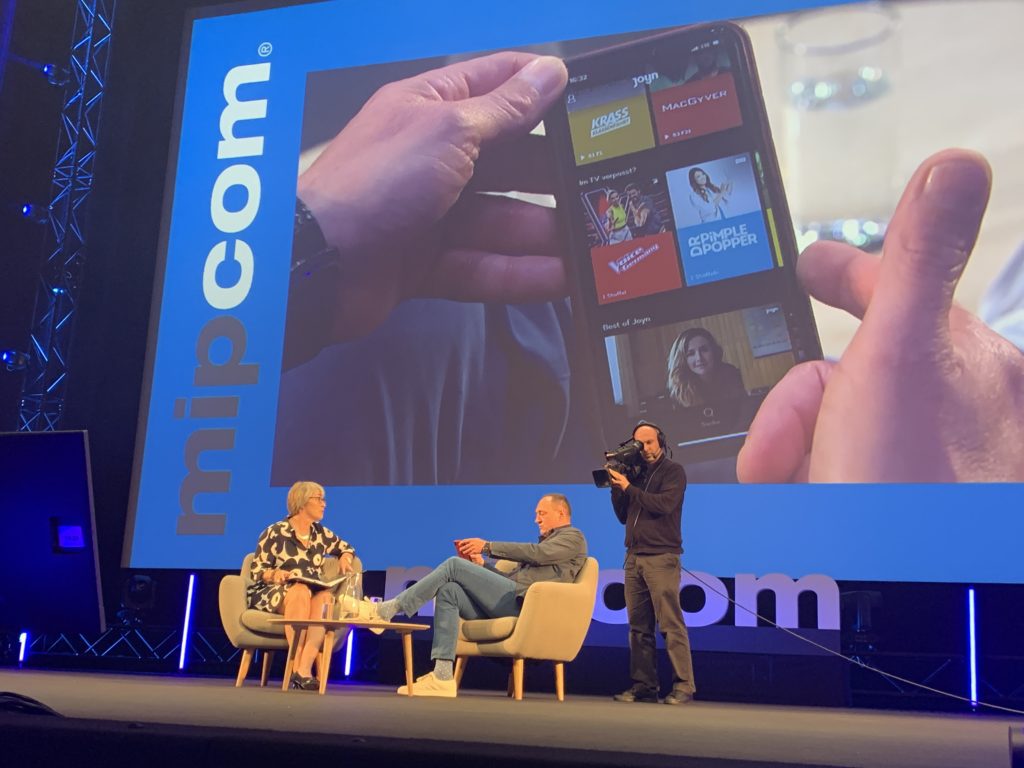 "One of the things I've been all my life is be in consumer-facing businesses where technology plays a role, and to a certain extent, where marketing plays a role," he said. "We need growth going forward… linear distribution alone, viewing is declining, probably the money that you can make with it is declining as well. So probably we need to make that business future-fit as well."
Conze talked about the company's moves into dating and other non-TV experiences, and the likelihood of making more acquisitions in this area. "We likely will. We're very focused on four verticals, and they're all big consumer needs: Matchmaking is about falling in love and finding a partner, and everybody wants to do that! Consumer advice is about getting the smartest deal and saving money, and everyone wants to do that too. Experiences is about the parachute jump for your 50th birthday, the candlelit dinner when you've been away for a week… And beauty and lifestyle is about looking great, and everybody wants to look great! So I'm glad I'm in a business that fulfils those human needs."
The conversation moved on to Joyn, with Conze giving the audience a demo of the service's app running on his smartphone. The app offers a blend of on-demand content and live TV channels – 55 of the latter. "We have four million-plus app downloads. We launched a little over 100 days ago," he said. "We built it in under a year by the way. It's heavy lifting too: we now have close to 300 people working on the team, and we have invested probably about €150m on it. So it's not for the faint-hearted!" The premium layer will launch in the winter, he added. How will it compare to the cost of a service like Netflix, asked Bulkley. "I may have ideas, but I won't reveal them!" laughed Conze.
How does Joyn compete with the giants like Netflix and Amazon? "You go local, you go sticker, you go live. And we do that with big entertainment formats," he said. "There's something incredibly powerful in broadcast infrastructure… It's not about sport, it's about entertainment. But we've carried some big news and big cultural moments. What we're finding is that those happen in broadcast, but they travel very quickly through a digital world."
Conze also talked about paid versus ad-supported models. "I personally think the advertising model still is more powerful than the pay model. But it's a bit like Spotify: do you want to listen to all the music and not pay for it and have a bit of advertising, or do you want to pay for it and lose the advertising?… Don't force people, let them make the choice."
Bulkley asked about the Red Arrow Studios subsidiary, which comprises 20 production companies. "The business is doing very well, we're growing 20 percent-ish top and bottom line," he stressed, although ProSiebenSat.1 is still exploring a potential sale or partnership for the division. "Now that we have structure of the business and it's doing really well, why don't we have a strategic look about how we can partner with someone… or if someone is willing to buy that at a really good price? If not, I'm a really happy keeper. I will say there is huge interest, so if something happens, it will be very expensive and very competitive." He added that by Christmas, the next steps should be clear.
The conversation turned back to competitors like Amazon, who are going more local with their content. "We're in a world where you have to be quite three-dimensional, and understand that you on the one hand partner and on the other fiercely compete," he said. "One has to be in the sanity that that is the world that we are living in. Second, yes they are all vastly big… But you need to look at it in a local context. And by local I mean in a national German frame. We have 60 million Germans that consume or view programmes by us. We spend a billion-plus on content, not all of that on German content but we are increasing the percentage on German… and you need to double down on owning that relationship with German viewers, and then be a little bit agnostic about these two models co-existing."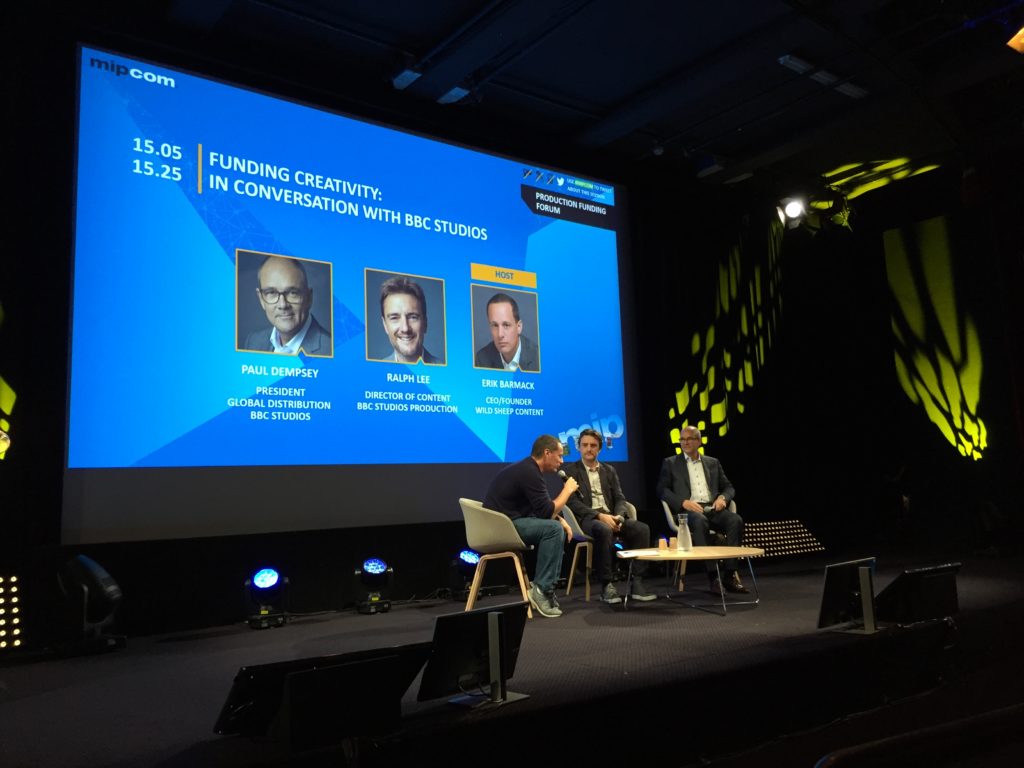 Earlier in the day, the Esterel room at MIPCOM hosted a strand devoted to 'funding creativity', including a conversation with BBC Studios. Paul Dempsey, president, global distribution, and Ralph Lee, director of content, BBC Studios Production, fielded the questions from moderator Erik Barmack, CEO of Wild Sheep Content.
BBC Studios have seen some great new content this year, and some familiar, but recharged. "This year we relaunched Top Gear, which has come back really strong" says Lee. "And in our new series Seven Worlds One Planet we've gone further than before with aerial photography, as well as storytelling"
BBC is well known for their natural history content, which has enabled them to create long-lasting funding models.  "For our natural history content we have fully funded productions well into the coming decade", said Dempsey. The funding model was enabled through a worldwide network of broadcasters combined with a deal for a new global streaming service with Discovery.
The session featured a sizzler for the upcoming fantasy adventure series His Dark Materials, based on a series of novels by Philip Pullman. The series is produced by Bad Wolf and New Line Cinema, but would not have been possible only a few years ago.
"Earlier we would have looked at co-productions, at the US and the Chinese markets, and we would have had a number of producers just waiting for the green light", says Dempsey. "This time we underwrote the whole production, thus giving us access to a production of that quality, for two series, with no buyer onboard."
In the end, it was all fairly straightforward. A deal was struck with HBO.
"We did a deal with HBO and retained the UK window for BBC", said Dempsey "From our investment to the HBO deal was probably less than a month"
The deal reflects the agnostic approach BBC takes with regards to OTT platforms and other distributors, but also when it comes to producing for other companies.
""Earlier, our production arm was called in-house production and delivered solely to BBC. Now we've delivered to Amazon, ITV and many more… we're being increasingly agnostic, ready to adapt", Lee said.
A lot has been achieved but there are still areas where improvements can be made.
"We've stated that we are Bold, British and Creative – that is the BBC. We're good at being Bold and Creative but sometimes we're a bit shy to bring forth the British", Lee said