The second edition of the In Development Drama Producers Pitch, co-organised by MIPTV and CANNESERIES, saw eight series pitched to an expert panel today (four others had been pitched yesterday; full details here).
This morning, we discovered Crashers (Watchmen Productions), a Berlin-based drama where a fake hostage situation, set up by his ex, saves him from suicide (Christopher Zitterbart & Rolf Roring presented); Blackout, in which an enclave is plunged into darkness, and migrants pour through its electrified border gates (Nabil Ayouch and Maryam Touzani presented); Radical Eye, a 10 episode series in which Monica Bellucci plays Tina Modotti, a photographer who rose above her poverty through her art (Paula Vaccaro and Aaron Brookner presented); The Mandela Effect, an alternative history sci-fi drama set in a South Africa where Apartheid did not end; and Mandela might be virtually reborn (Gwydion Beynon and Phatu Makwarela presented).
This afternoon, we saw 24 Land, about a high society woman in Lisbon in 1941 who is willing to do anything to save her country from a foreign invasion (Pablo Iraola of Ukbar Filmes presented); Transport, which examines food crime, the "2nd most profitable crime type after drugs," re. writer Auli Mantila (with Miia Haavisto); Second Life, a Spanish sci-fi series where participants in an experiment are offered €300,000 to find out exactly when they'll die (Juan Rodriguez-Briso presented); and Perfect Monsters, which tells the story of a teenager who runs away after his parents are murdered, and is recruited as an arms seller (Enrique Rizo and Christophe Bouffil presented this thriller/road movie-style seriess, set in Mexico in 1968).
Then Federation Entertainment's Pascal Breton announced the winning projects (drum roll):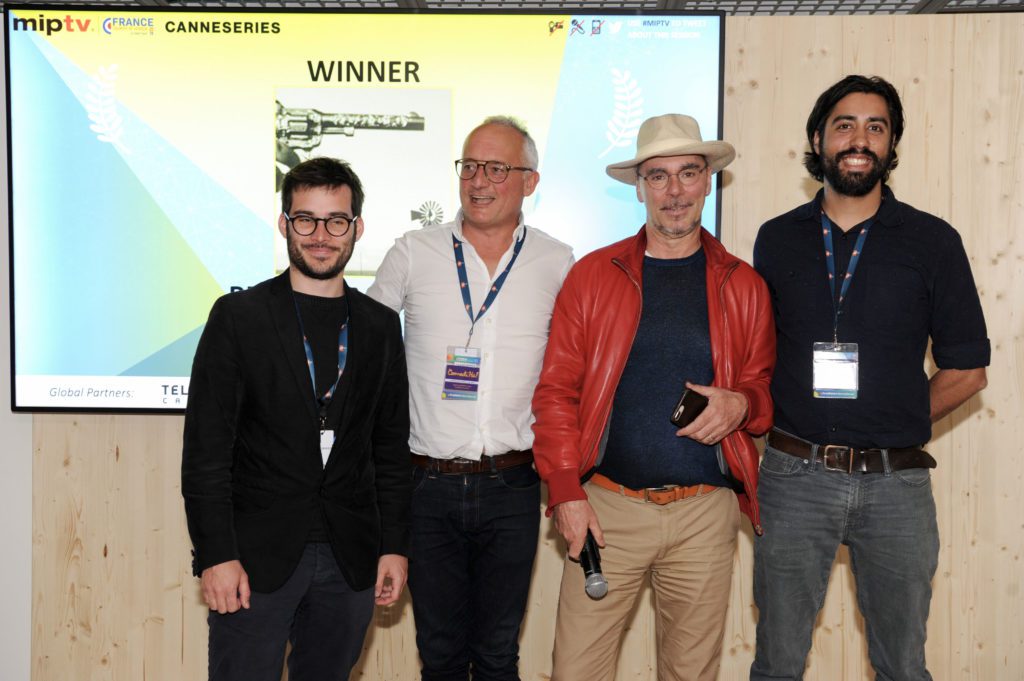 Perfect Monsters
, represented by Enrique Rizo, Christophe Bouffil and colleague, won coproduction support from his company (which notably produces The Bureau, so they're in good hands!)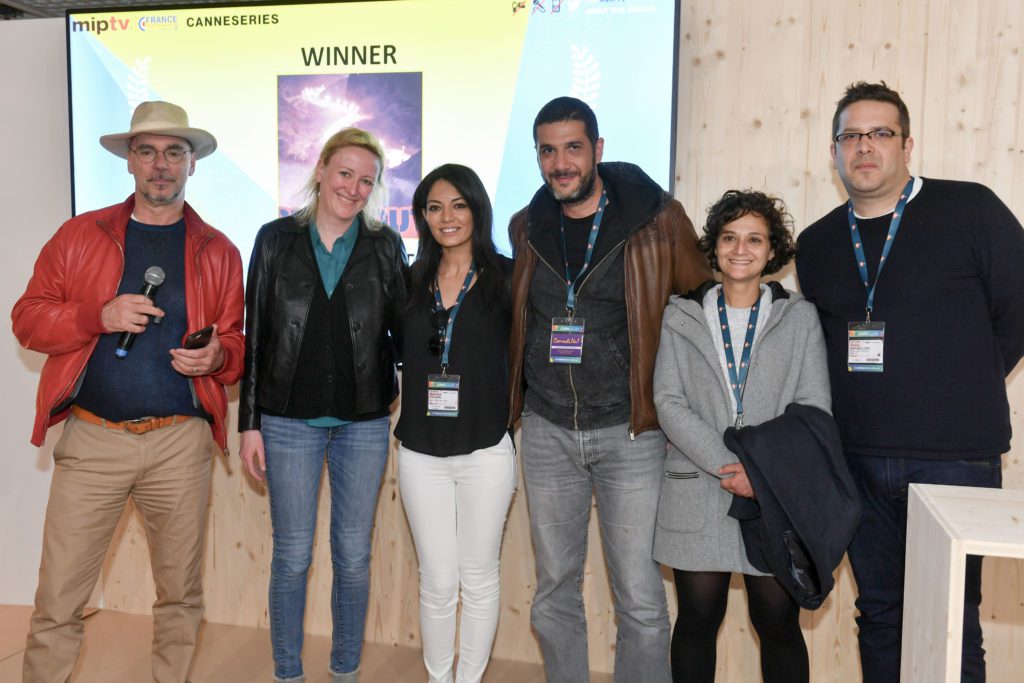 Blackout
won funding from La Fabrique des Formats; pitchers Nabil Ayouch and Maryam Touzani were joined by the whole crew.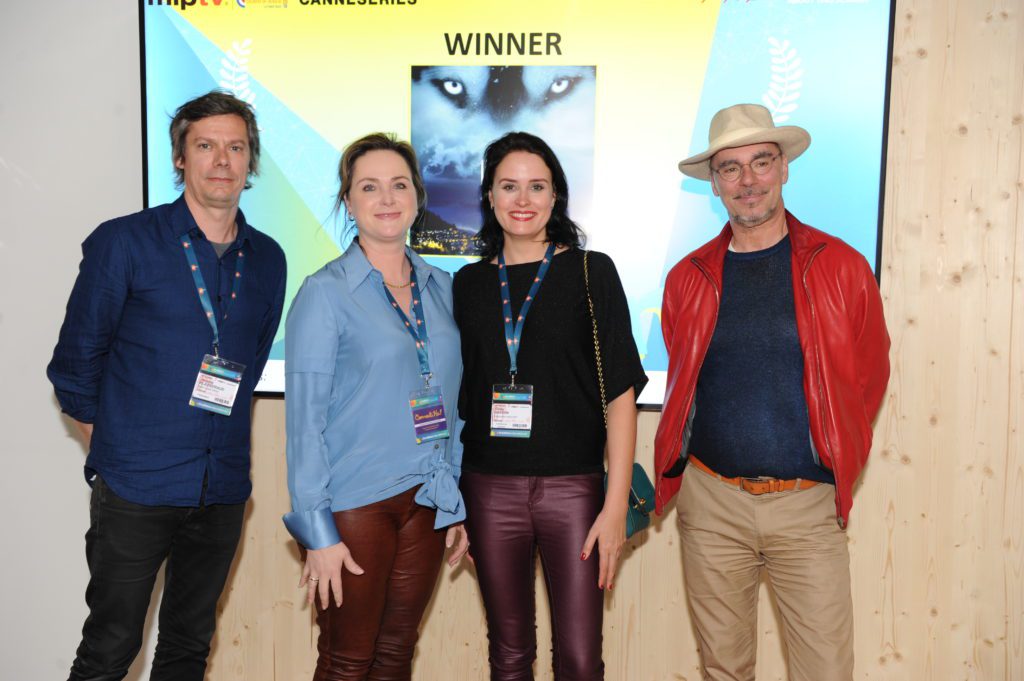 Ice Valley
– in which students Thea and Amir become obsessed with investigating the mysterious disappearance of their new housemate Ida during a hike in Ice Valley – won support from both Federation and La Fabrique des Formats! Guy Meroz, Orly Vilnai & Cindy Hanson accepted the prize.Congratulations to all our participants, jury members, hosts and partners (pictured above); and see you next year!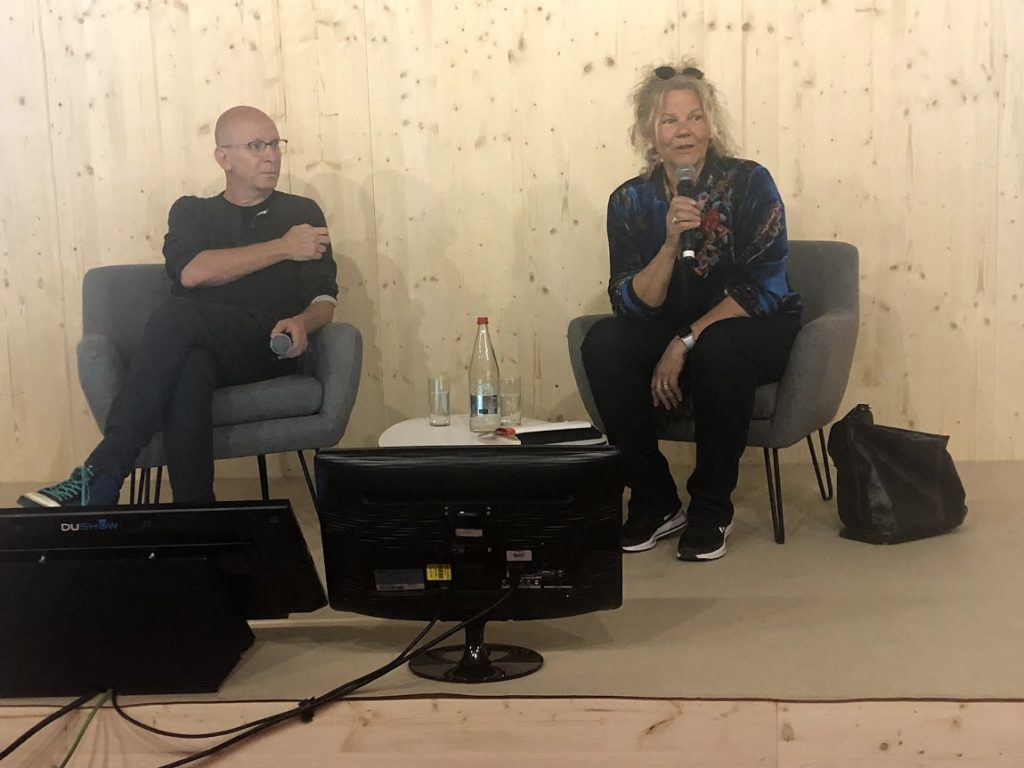 More drama inspiration came from this afternoon's Creative Masterclass on International Content Strategies, which featured Mediapro Group's Head of International Content Development, Ran Telem. He was interviewed by Tone C Rønning, Executive Producer Drama at NRK.
Telem recounted the tale of Mediapro's latest project, Paradise, an international co-production with Finland's YLE and MRP Matila Röhr Productions Oy. It's a criminal drama set in both Finland and Spain.
"We pitched the idea of taking all that is strong and powerful in Nordic noir, but putting it in a place where there's sunlight," Telem explained.
The components of the show itself are just as unique. The detective is a 62-year-old Finnish woman from Oulu, Finland, who's managing a husband with dementia. The drama kicks off when a friend calls and expresses concern about her son's family, who've gone to Fuengirola, Spain on vacation and can't be reached.
Asked how he was able to finance a show that stars an older woman investigating the deaths of other older women, Telem replied, "I think the commissioner is a brave person, who's also answering what his viewers are looking for. When we started, he said 'I don't want another young police officer. Give me something else'."
The sector, he explained, is saturated; everything looks the same, and Paradise marks a difference. But it also speaks to problems that are common and close to home, like dealing with dementia.
Referring to carers whose loved ones suffer dementia and perhaps don't know how dramatically they're transformed in the grip of the disease, Telem said, "The question you ask yourself is, 'do I tell him? Will it help him or depress him?'. One person [on the team]filmed that person [in their life]and showed it to him… I think the most powerful moment in Paradise is when this character's husband is able to see what happens to him when he loses it, becomes violent. It's an important story to tell, one many people are interested in."
What's more, the Fuengirola expat community Paradise explores is composed of retirees. "We thought a major element of the show is memory. And when you leave your country for another place," memory becomes compelling; so much of your identity is tied to the way you remember the place you left. "To remember, you have to be old."
He also told us about The Head. "We tried to do a thriller without cops. It's a different way of talkng to people," Telem said. "It will be told by 2 people telling an opposite story. You the viewer have no idea who to believe. One has to be lying, if not both of them."
And we were treated to reflections about his process.
On collaborating: "You need to feel secure with people you're going to be working with. You need to share a bit about your life and why you're doing TV," said Telem. "Then I think it's much easier to work together."
On whether SVOD has transformed storytelling: "When you're writing a story, you're writing a story. It has to move at its own rhythm," he said. "The end of the first step has to be so compelling that you need to watch the second one; it's not related to whether you binge or not."
He did acknowledge that SVOD did change scripted content, but not the way we think. "Without it, we wouldn't be creating so many shows. They do deserve a thank you, but have they changed the way we tell stories? I don't think so."
Which brings us to his reflections on writing. "At the end of the day, there's only one pair of hands that will touch the keyboard. That's the hand of the writer. You can have a lot of discussions and notes, but you need to let go and trust your writer. Let them find the solutions in the best possible way. And once you understand that, you know your role as an executive producer and a showrunner."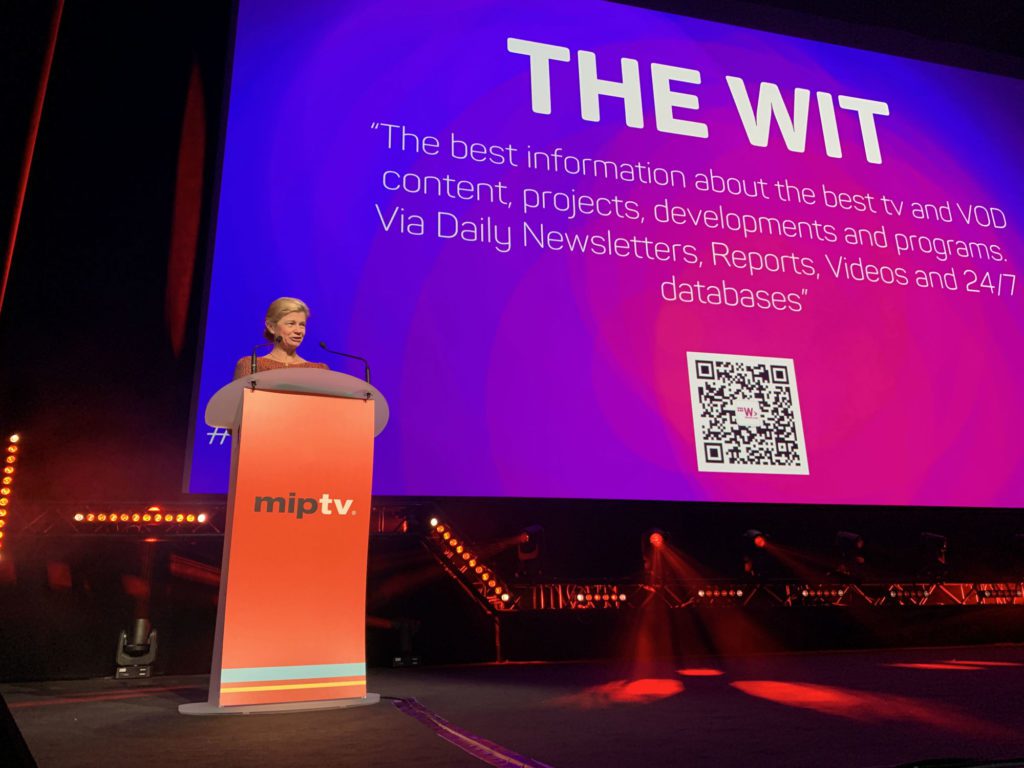 This morning, The Wit CEO Virginia Mouseler gave her latest Fresh TV presentation, this time focusing on scripted drama. 15 new series from across the world were highlighted, with an overriding theme, she explained, of "women on the verge of…" What are they on the verge of? Rage, murder, and taking action against "disastrous" men, for the most part.
Among the highlights: Dirty John (distributed by NBCU) is a spin-off from a successful podcast, which itself was based on a true story. Bad Mothers (Red Arrow International) is about five women who are friends and mothers… and then one of their husbands is murdered! Dangerous Moms (Mediterráneo), which won the MIPDrama Buyers Summit's Coup de Coeur award this weekend, has a similar lineup – but a whole series of murders.
Aruanas (Globo TV International) is a "fair trade series" focusing on four women who are managing non-governmental organisations (NGOs) protecting nature from industrial pollution; Betty en NY (NBCUniversal International) is a Hispanic reboot of Ugly Betty, which was itself the US remake of a Colombian show from 1999; and Undercover (Federation Entertainment) from Belgium is loosely based on a real story around the "narco business" – the story of two undercover agents, a man and a woman, who do not know each other in the beginning, but have to live together and pass as a couple. See our full tweet-thread for the other shows featured in the session.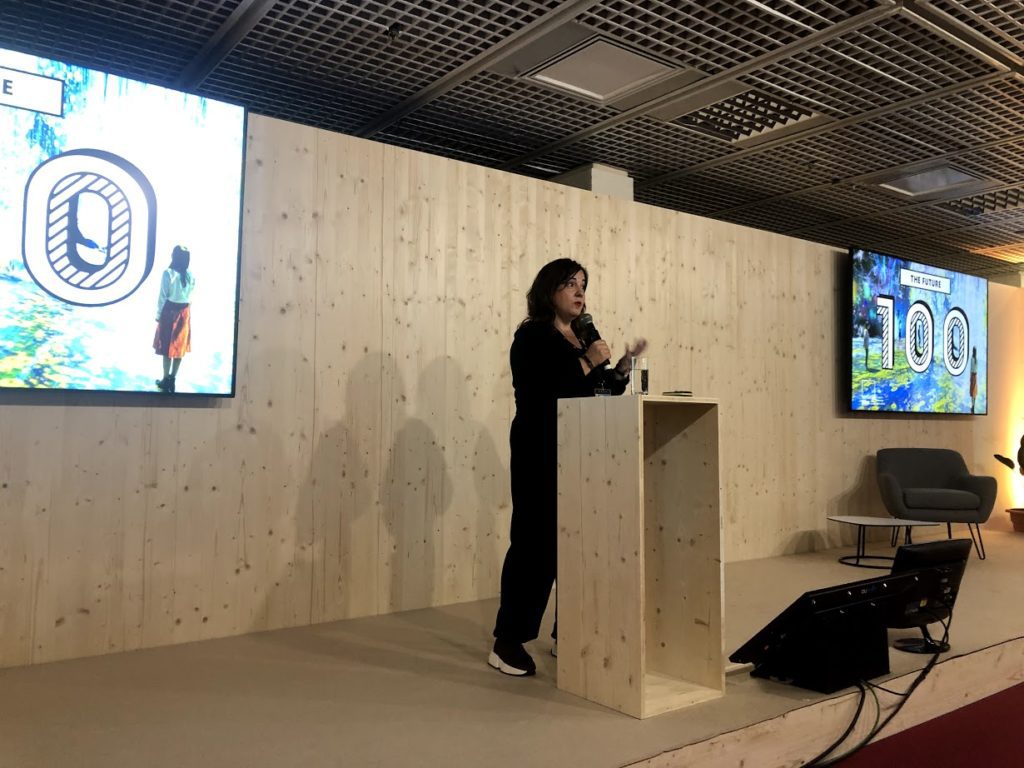 JWT Intelligence's Future 100 2019 is an annual snapshot of the year ahead, built around some of the most compelling trends, themes and phenomena. Marie Stafford, the European Director of JWT's Innovation Group, walked us through a handful of the 100 trends. (You can also download them here for free.) She went on to outline some of the most creative brand integrations in entertainment today.
MUSEUM FUTURES
No longer fusty places that don't let kids touch anything, the concept of a museum is evolving. Meow Wolf's House of Eternal Return in Santa Fe is, per Stafford, "A great example of non-linear storytelling": You explore a house and forge your own path, free to touch and interact with stuff as you please. Everything is tied to a storyline: A family has disappeared. Can you find out why?
This is about "putting the viewer at the heart of the experience, building a relationship with the viewer. It's going to have real implications beyond entertainment, through retail, hospitality, leisure… the new generation is highly sophisticated and has very different expectations of content," Stafford said.
HUMANISING TECH
"Gone are the sleek black, shiny lines we used to see," said Stafford. "We're talking about a gentler, more tactile look that aspires to feel more human."
Consider this ad for Google's Pixel II, based on interviews with testers. The interviews were given to animators who used traditional animation techniques, like stop motion and line drawing, to create a folksy atmosphere.
"It's a real departure from the glossy, lifestyle-driven stuff we've seen from Apple before, part of a wider trend we've seen of tech taking a backseat, becoming unintrusive, to convince people it can live alongside us humans," said Stafford.
Tech is also being used in different ways; Massive Attack put its album, Mezzanine, in strands of DNA hidden in spraypaint cans.
It turns out DNA "is incredibly stable and can last for millennia," Stafford said. "Once our floppy discs have rotted away, we could store the world's knowledge in our DNA. So it's not quite as crazy as it sounds… though it does take 17 hours to convert back into music."
RETAIL
The reality show Love Island partnered with Misguided to create an app where viewers could buy clothes featured on the show every day. "The items featured had sales based in the region of 300-500%," Stafford said. "It really inspired people with what you could do with series sponsorship."
SINGLE REBRANDED
"In the past no one would have chosen to be single. But it's a lifestyle that's getting a rebrand," said Stafford, pointing to notable TV singles like Issa Rae and Mindy Kaling.
"45% of adults in America are now single or unmarried. It's not just that people are single; it's that they're actively having agency over that choice." 70% of singles over 40 are also happier on their own, she said; divorcées prefer single life according to interviews, and there is even evidence that it could be good for you, University College London claims: "It could be healthier, better for your self-esteem and sex life!" said Stafford.
The illustration for this one was a Tinder ad glorifying the rollicking single life.
Stafford concluded, "It's a challenging environment against the backdrop of a new consumer that's incredibly savvy, sophisticated, increasingly demanding, looking for personal attention and tailored services, and an outstanding creative approach to capture attention and engage them."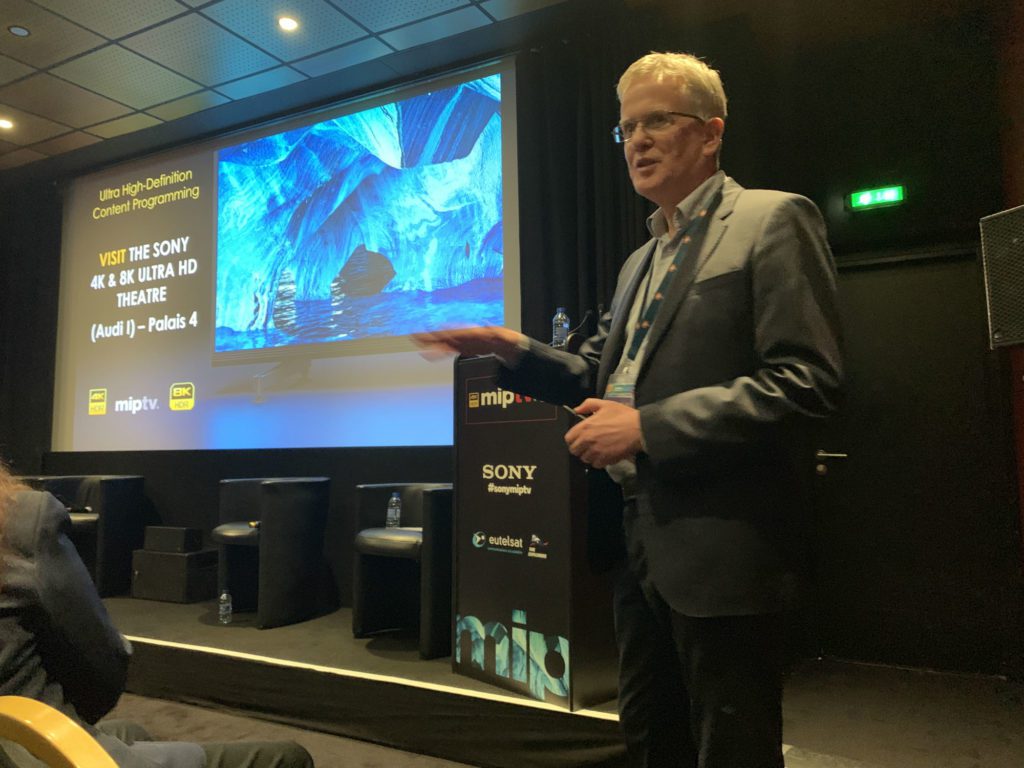 The afternoon finished off with a session in the Sony 4K Ultra HD Theatre promising a 4K masterclass in "Connecting with your audience using UHD and HDR". Delivering the teachings was Peter Sykes, strategic technology development manager at Sony Professional Solutions Europe.
Sony is getting ready for 4K Ultra High Definition workflows, in a world of intensifying competition between SVOD services. More than 80m 4K UHD television sets shipped in 2018 according to research firm Futuresource – and 60% of them featured High Dynamic-Range (HDR) imaging as a feature.
How many services are available to deliver this content? There are 155 Ultra HD / 4K channels or feeds worldwide, with 76 of them in Europe, according to Eutelsat. Since the last MIP, "that's about a 25% increase in the availability of the channels," said Sykes. He noted that more content is being shot in Ultra HD / 4K than is necessarily being distributed at this level: producers are future-proofing their shows, in anticipation of more UHD / 4K-capable services launching.
Sykes ran through the standards ecosystem around 4K and UHD (as well as the emerging 8K world) before talking about some of the tools that Sony has developed for producers to use, including its Venice full-frame motion-picture camera. It's been on the market for over a year now, and it has been approved by Netflix for use in productions intended for its service. James Cameron is also using the Venice to shoot his Avatar film sequels.
He also talked about 8K, for which Sony currently has two cameras: one designed for studios, the UHC-8300, and the F65. "At the moment this is very, very early days in terms of production… We know that NHK are doing 12 hours per day," said Sykes.
Additional reporting by Stuart Dredge and James Martin