Michael Aragon, Content SVP of gaming-focused streaming platform Twitch, took the stage in a morning keynote today, followed by a Q&A with journalist Kate Bulkley.
Twitch started as a gamer platform a handful of years ago. Known mostly for its livestreams of esports competitions or of people playing games and explaining them live, Twitch has since become "the leader service and community for multi-player entertainment," Aragon said. It was purchased by Amazon in 2014 for just under $1bn.
Aragon divested listeners of an itchy question, often asked: Why watch people play video games? "That's really no different than people wanting to watch LeBron James play basketball," he said. The activity is mainstream, and growing: "66% of people over 13 play 1 hour of video game content daily."
While gamers will always be the primary audience, non-game content is rising. Twitch users don't want to "lean back; they really want to lean forward into the content experiences and be a part of that." Aragon added, "We describe ourselves as a community that uses video games, or other content, as a way to connect with each other."
Twitch positions itself as "multi-player entertainment," differentiating itself from other models by being "live, shared and interactive." The "live" aspect is integral: It represents "in the moment, never-to-be-repeated experiences," which basically means content gets windowed, whether it's live or not. Showing up for something at a certain time is a major value-add, keeping people engaged far longer than they otherwise would.
To promote the last Power Rangers film, Twitch initiated its first-ever Twitch Presents marathon, taking all 831 episodes of the show and airing them back-to-back over 4 weeks. What's more, the show was overlaid with all the affordances of a "live" Twitch experience: Special emotes and live chats, making an otherwise diffuse online activity feel community-driven and experiential, not far from being in a theatre with a bunch of friends.
The Power Rangers marathon yielded 4.8m unique viewers and 100m community interactions. And this isn't a one-off; Bob Ross' 80s show The Joy of Painting was among Twitch's first non-gaming inclusions, and marathons of the meditative oldie continue to please: The channel's generated over 26m views.
The model also holds for sports. NBA games are featured with video overlays of player stats and leaderboards. This type of content is called "extensions," varieties of which number in the thousands on Twitch.
"For younger, more engaged audiences, these things enhance experiences," Aragon explained, and pointed to the figures: Extensions have existed for less than 18 months and already count 30bn interactions. People are twice as likely to return if an extension is used on content, and extensions yield 50% longer viewing sessions.
But Twitch isn't just engagement-driven; it's also co-creation driven, and these things can't be separated. Its co-streaming model – where streamers, or Twitch broadcasters, can stream others' video feeds in their own channel – is "a form of influencer marketing," said Aragon. "A lot of our streamers have tens of thousands of followers; some of our largest creators have millions." When content – be it video games, sports or shows–is streamed or shared by them, it's amplified to their fanbase and given a runaway life.
The symbiotic nature of co-creation and engagement, on a live stage, creates unique opportunities to test things… like crowdsourcing formats. Aragon said, "I asked my team to pivot a little on our strategy and said, 'let's create a cool interactive talk show or gaming show. Here's the assets, here's the extension'."
Now, "Anybody out there who's a streamer on Twitch can build their own gameshow. Some will do it well, some won't. But we want to be a seed for ideas, not control the idea." Today, Twitch hosts 3m unique broadcasters and 15m average daily visitors. There's an average tune-in of 1m at any given time, and non-gaming content composes 10% of total hours watched.
And the attention span is stereotype-defying. "Our session links are among the longest in the industry; fans typically watch 60-90 minutes of content," said Aragon. "This is not a bite-sized viewing experience."
Asked about Twitch's financing model -it has an SVOD model as well as a free, ad-supported one – Aragon said, "Twitch has probably the most diverse range of monetisation options out there. Ads are an important part of what we do, and Twitch Prime." (You can link your Amazon Prime account to Twitch Prime, granting you a token to offer one of your favourite streamers. "That's a big revenue stream for them," Aragon noted.)
He continued, "Fans who subscribe get special emotes." Challenged about the number of paid subscribers Twitch enjoys, he replied, "It's in the tens of millions." People can also make money selling merchandise, bits and cheers, ways of expressing gratitude or recognition to content creators. "We're very much a patronage model. That's actually a really meaningful way for fans to show they care," Aragon said.
Twitch currently works with the BBC, NBCU, CollegeHumor, Buzzfeed, the MLB, NBA and PBS, among other partners.
To conclude, "gaming is always gonna be the core of what we do. But we know that our target — that very large group of enthusiastic gamers — have a lot of adjacent interests. They love gaming, sci fi, anime; creative content."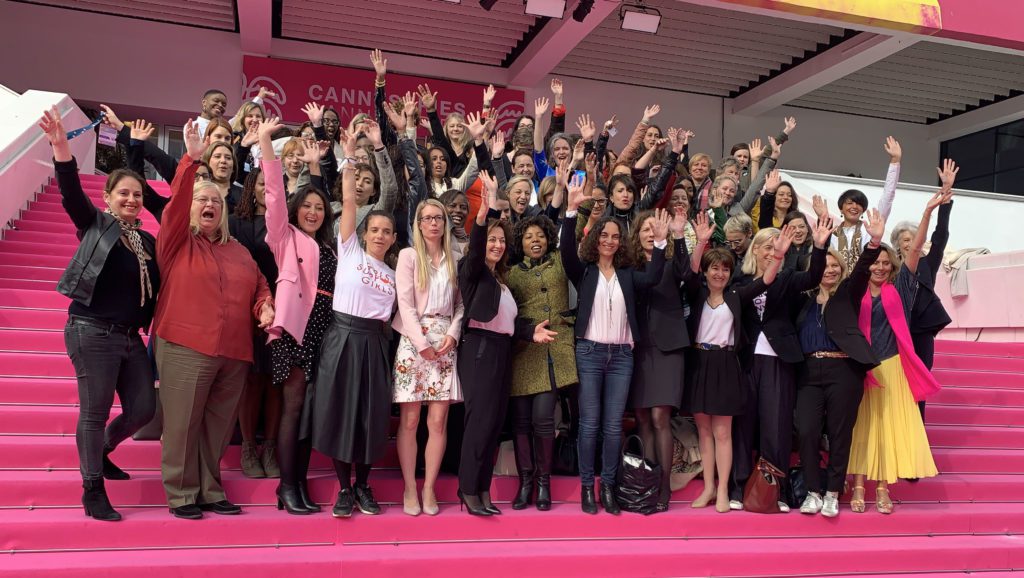 This morning began with a MIPTV Women's Mentoring Breakfast co-hosted with MediaClub'Elles, a follow-up to the first edition at MIPCOM 2018. Attendees gathered on tables, each with a senior industry figure as a mentor, to discuss their challenges, share their solutions, and to forge networking bonds via promises to meet up, as well as WhatsApp groups for day-to-day support.
After an hour of discussion, each table's mentor stood up to tell the group about what they had talked about. Among the advice and thoughts:
"The one big topic we talked about is being a female leader and owning your own company: it can be overwhelming". But also the importance of having a space / people to talk about it with.
"The best advice is just to be ourselves" and not to be restricted by "the rules that were built and made by and for men… to just be who we are, and try our best, and see what happens!"
Confidence at work: "Can I really do that? Am I trusted by my bosses?" What kind of behaviour is expected? Plus the importance of planning: "What am I gonna do in 10 years, what are the next steps?"
"What's really important here is also capital investment, and changing the ways we invest capitally… change what happens around the board table: until we do that nothing changes, because money talks."
"Be proud of who you are, don't be sorry for who you are, be kind to yourself and empower others". Also "Don't try to be loved by everybody: just be respectful and focus on your expertise."
Read our Twitter thread for more details.
MIPTV is supporting the UN's initiative to advance awareness of sustainability issues among media and entertainment companies, as part of the Sustainable Development Goals adopted by all world leaders at the UN in 2015. This morning, a showcase of new TV project The Swim focused on long-distance swimmer Ben Lecomte's record-breaking swim across the Pacific Ocean. Lecomte was joined by Group Nine Media's chief brand officer Suzanne Kolb and Nomadica Films executive producer and owner Jared McGilliard. The moderator was Ali May.
First, Reed Midem's Lucy Smith announced a new award for MIPTV 2020: "We'll launch the first MIPTV Global Goals Media Compact Award… honouring a company or an executive who's made a positive impact on the world," she said. More details will be announced in due course.
The strong theme of the session was the impact of plastic pollution on the Pacific Ocean. "From the first day when we left the Japanese coast we found a lot of plastic, but then 1,000 miles away, we are [still]finding plastic… It was omnipresent, said Lecomte. Kolb talked about the ethos behind the film itself. "We're looking to tell stories that illuminate what's going on in the world in a very simple, bold fashion. Conservation is something that our audience is deeply passionate about, so it was the perfect arena to go into," she said. "You're doing it for the art and the storytelling, but you're also doing it to get the message out."
McGilliard said that his goal was "to really get people to fall in love with he ocean, and the beauty of the ocean. We want people to have an experience". But he returned to the plastics issue. "Ben saw amazing sea-life. Encounters with some of the rarest creatures in our ocean! But he also encountered trash and plastic on a daily or even hourly basis… We want the film to be a vehicle that pulls in a new audience to the story of our oceans."
Kolb agreed, and said there's a responsibility for media companies more widely. "We tell stories… That's where we can not just get behind a cause, we can tell the story, bring it to the public in a way that doesn't just make you know about the cause – it makes you feel it," she said. "We can do such a service to the greater good by having people really feel these stories, rather than just preached to." McGilliard agreed: "We're not expecting the film to change everyone's life… but we're hoping it gets the audience to notice the plastic, and to have an emotional reaction when they see it. That's an important first step."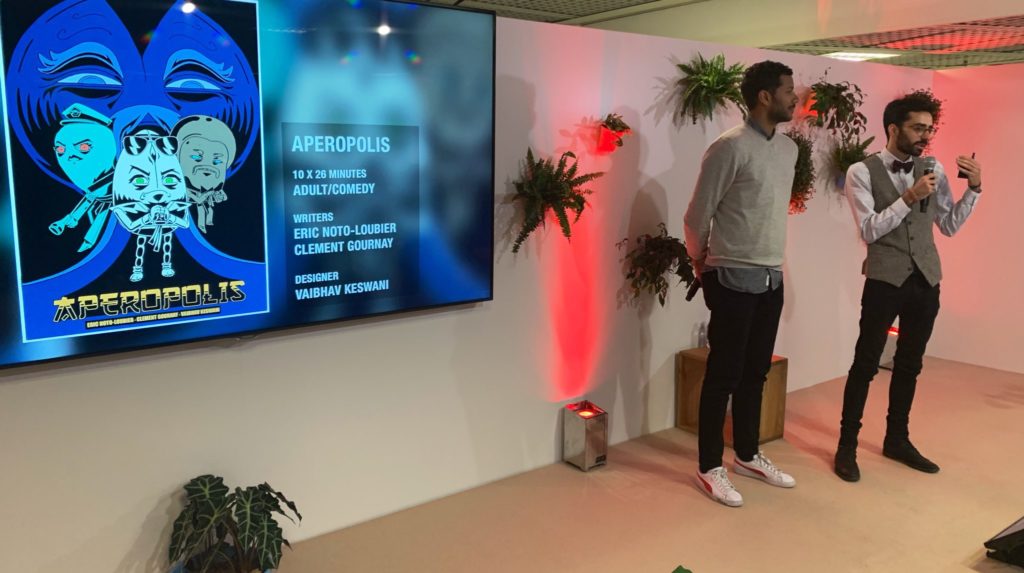 Another highlight of this morning was the first ever MIPTV Student Pitch, where the potential future talents of the TV industry presented their concepts for TV programmes. "This is an opportunity for the students to walk through the doorway into the industry," said Boxatricks Entertainment's John Gough, presented by host Paul Boross. To open that door, they first had to impress an expert jury comprised of Mounia Aram, Happy Family Ent; Christoph Fey, Unverzagt von Have; Matt Graff, Zigzag TV; Espen Huseby, Nordic World; and Maria Jose Vadillo, By Side.
The concepts pitched were League of Dreams, an interactive sports-reality show focused on football, from Poland's Loz Film School's Mateusz Kozak & Bartosz Bednarz; Age on Stage, a quiz in which generation Z contestants team up with their grandparents for a clash-of-generations competition where analogue meets digital, presented by Alexsander Kaludjerovic and Angela Lekovic of the Faculty of Dramatic Arts (Serbia); Aperopolis, a funny animated show in which "every character is an appetiser" said pitchers Eric Noto-Loubier & Clément Gournay, of Paris' Gobelins & CEEA; and Seven Keys, a reality gameshow based on the concept of escape rooms, from presenters Kateryna Kononenko & Delisa Hernandez, of Regents University London.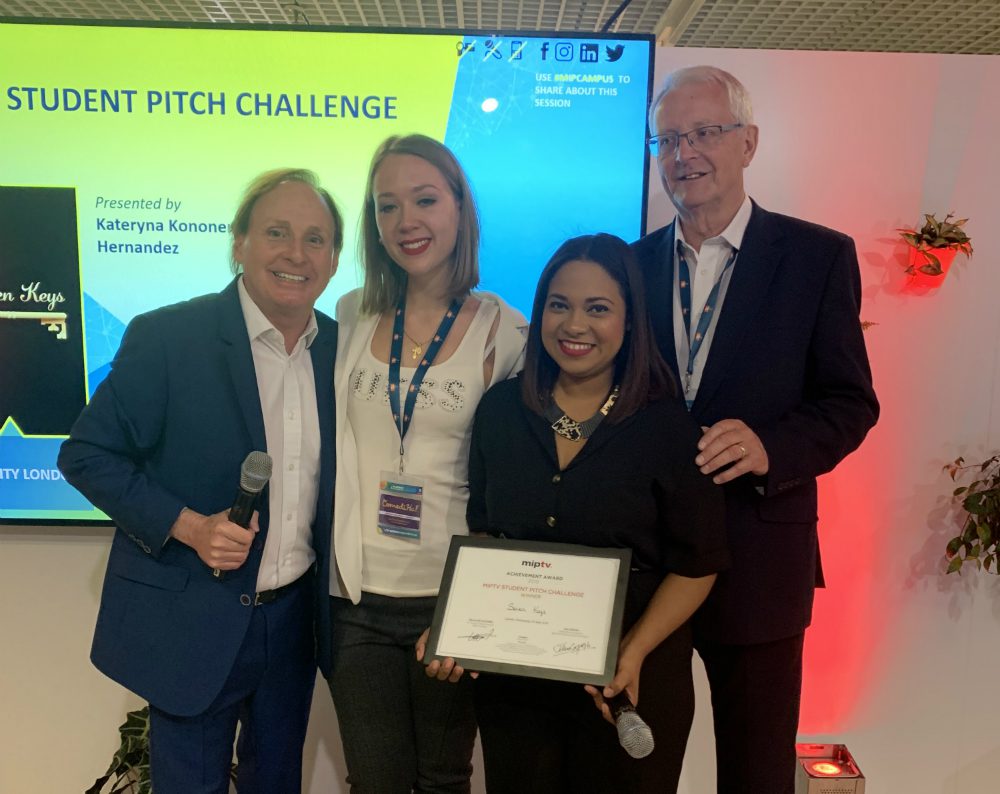 And the winner was Seven Keys! Kononenko – so happy, she cried! – and Hernandez accepted the prize from Gough and Boross. An illustrious career awaits…