Ilene Chaiken, the creative force behind such hit series as The Handmaid's Tale, Empire and The L Word, appeared in an anticipated keynote with questions from World Screen Group Editorial Director Anna Carugati-Guise (right).
Chaiken is currently under a multi-year producing deal with 20th Century Fox Television, where she is actively developing several new projects for broadcast, cable and television streaming services.
She called showrunning a "mysterious job" that, for all its executive functions mixed with creative duties, "still starts with the writing. There isn't a showrunner that isn't first and foremost a writer."
Chaiken first wanted to write at age 6. "I wasn't looking to be a TV writer, per se, and I wasn't espeically looking to work on a TV series," she said. "But I had an idea- a show about lesbians in Hollywood. I kinda guessed it was not a movie; it felt like a series. I whimsically, not seriously, pitched it to Showtime, in a very half-assed way. I just said to a bunch of friends in a room, 'what do you think about doing a show about a bunch of lesbians in Hollywood?'"
That pitch didn't fly, but then she brought Showtime its first Golden Globe. It also helped that they'd recently programmed Queer as Folk. "Before we won, [the president of the network]whispered in my ear, 'I heard about that little lesbian idea. I think we're gonna try that.'" Suddenly she found herself having to staff a writers room for what would eventually become The L Word.
"I was advised, 'you don't need to hire lesbians to write this show. You just need to hire good writers'," she recalled. "I knew he was telling me to hire experienced writers, some straight guys, some straight guys, a little of everything. I did, because I wanted to be a good team player." You can imagine how well that went. "What I found out in the first season is the only ones that could write that show were lesbians. When you're telling stories about a marginalised group of people whose lives have never been portrayed, the people who tell those stories are people who live that experience."
That insight helped immensely when she started working on Empire, which she initially turned down. Upon seeing the script, "I said this is good, but I'm still not gonna do it." (She'd just finished prepping The Handmaid's Tale, and was waiting to see whether Showtime would greenlight it. Spoiler: They didn't.)
In Empire's case, it was the pilot that did it. Once she'd seen it, she knew she had to. But after The L Word, Chaiken wanted to be mindful of her approach. "It's not to say I didn't play a role in deciding stories, but it started with my listening and deferring to people whose stories these were."
As previously mentioned, Showtime passed on The Handmaid's Tale but Hulu ordered it straight to series. Chaiken reflected on how the world changed in the interim: "When Hulu ordered that show, Barack Obama was still president. By the time it went on the air, he was no longer president and someone else was." In many ways, it's the perfect time for Handmaid to appear.
Chaikin was also instrumental to the L Word sequel, which Showtime wants to release in 2019. It was the cast, with whom she's remained close, that hounded her to do one. "They were relentless," she laughed. "Then there came this moment when I thought it was time. We should continue telling the stories of some original characters but they're older too," she admitted. Three days later, Gary Levine called and said he was down to go.
Asked whether, given all her experience, she understands what goes into greenlighting a show, Chaikin said, "I can tell you many things but I haven't got a clue. Because they always make the wrong decisions–except when they order my shows," she quipped. "It's very mysterious." She continued, "I understand better what happens in cable and streaming. They're much more our creative partners," rather than roomfuls of strangers from other departments, weighing a product whose origin or people they don't even know.
Part of this may be because business people don't see cultural shifts the same way audiences are living them.
"Telling stories changes culture, lives, the way one individual feels about her or himself, and how the rest of the world understands individual experience," Chaikin said. "The audience is changing in significant ways; it's more sophisticated, hungrier for new stories. In some ways the audience has changed faster, and become more sophisticated, than the programmers. We don't have to repeat the same formulas."
On diversity generally, and what remains to be done, Chaikin said there's more work to do.
"It's still a predominantly white male world," she said. "There's still a scarcity of stories of marginalised populations being told. It's getting better. The GLAAD stats for last year on LGBTQ representation are slightly encouraging, but we're still down in the miniscule single digits."
Her closing advice to young writers was twofold: To begin, "Study craft, be a writer and become a writer. Never stop writing, never stop getting better. Craft is key," she said. "It's everything. Learn from those who've done it and from studying. For 20 years I thought I was great. I now know how much I didn't know, and it's palpable."
Secondly, "Write about the things you care about; let what you care about seep into your writing. I call it writing with an agenda. People are told not to have an agenda, to be neutral and jsut entertain. I don't believe that. I think that's nonsense."
What TV does best, what's needed and wanted from us, is to see what we haven't seen before but that makes us feel connected, Chaikin reminded us.
Also, "Tolerance is a diminishing word."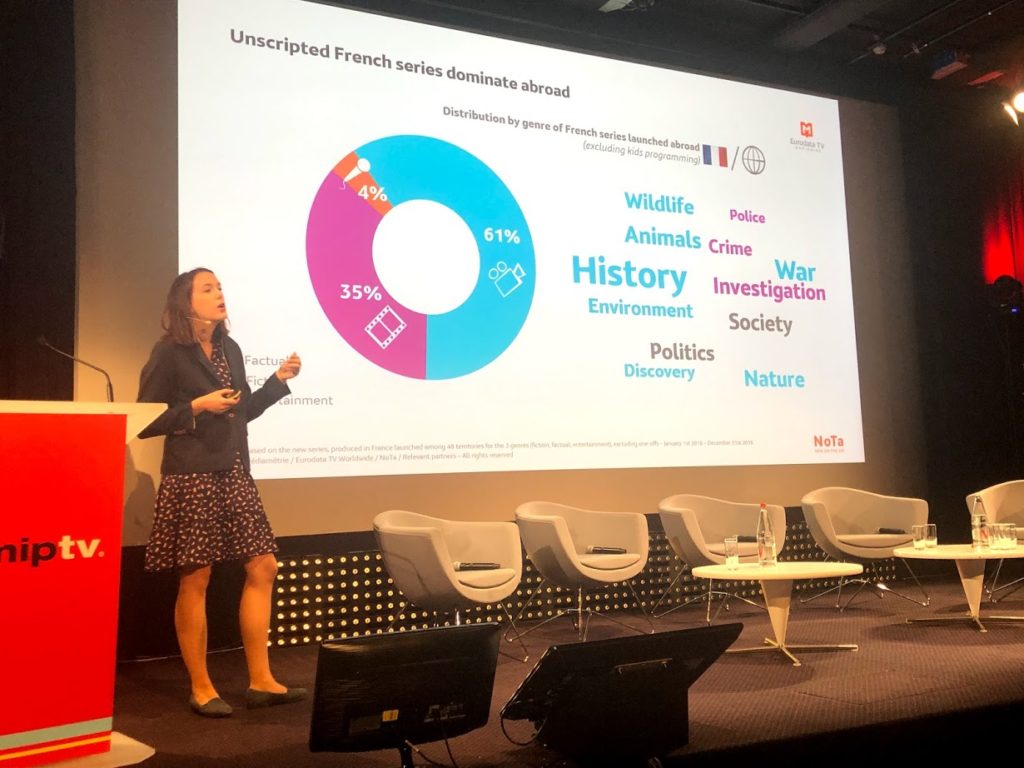 Eurodata TV Worldwide treated us to an overview of France, MIPTV's Country of Honour, led by Content Insight Head Avril Blondelot.
"France is first and foremost 58.3m potential viewers, watching on average 3h46 per day, including online screens and OOH viewing," Blondelot began.
The top 5 channels are, in descending order, TF1, France 2, France 3, M6, and France 5. Their concentration of the overall market is 55,7%, quite high compared to 50,8% in EU at large and 25.6% in US, 19.7% in China. In fact, 9 out of 10 top programmes in France air on TF1 alone.
In 2018, 230+ original FR series launched on TV. Original creation is boosted by co-production. "It's rare to see a country that co-produces as much as France does," said Blondelot.
10% of distributors sell over half of French launches abroad. International programme sales are rising, making €205,2m in 2017, the best performance in 20 years, resulting from a steady increase since 2008. Animation comprises most exports, with 75,6M€.
But fiction is the fastest-growing genre. Unscripted French series also dominate abroad: Distribution is 61% factual, 35% fiction and 4% entertainment among abroad-launched series that exclude kids programming.
Among kids, the best new launches abroad include Grizzy and the Lemmings, Pirata & Capitano, and Gigantosaurus. And in terms of successes to come in kids animation, there's The Wolf (TF1) and Jean-Michel, Super Caribou (France TV). "He's sensitive," said Blondelot of the aforementioned caribou, "he's super. And he flies."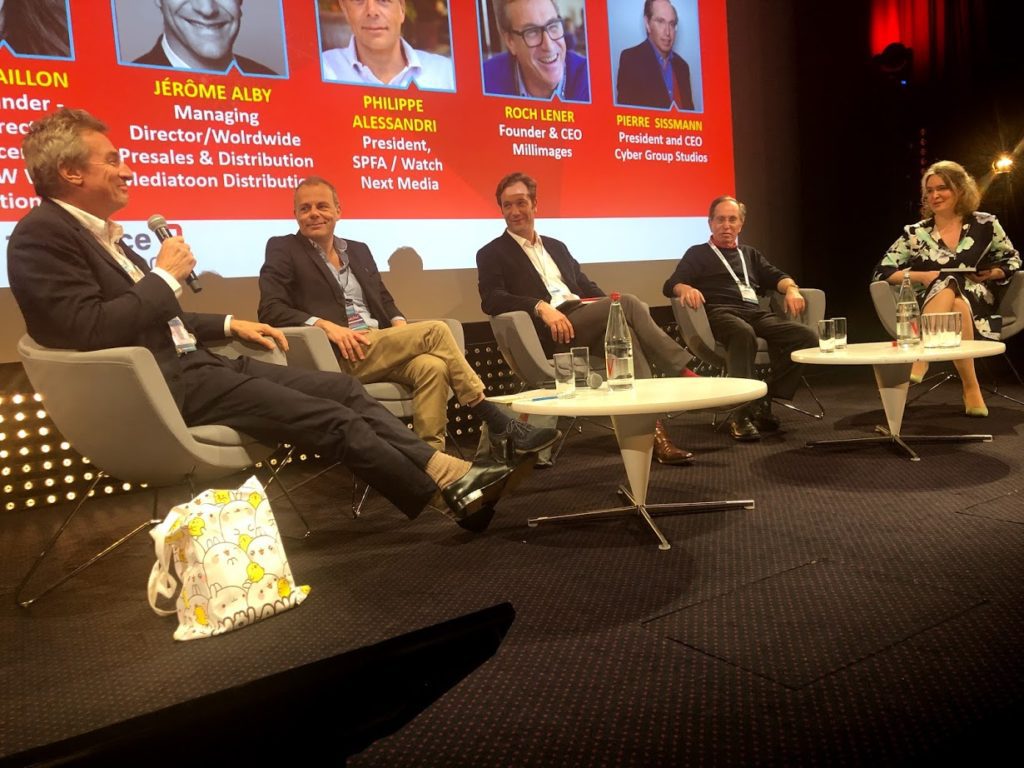 French Kids on the Block featured Roch Lener, CEO, Millimages; Philippe Alessandri, President, SPFA / Watch Next Media; Jérôme Alby, Managing Director Wolrdwide Presales & Distribution, Mediatoon Distribution; and Pierre Sissman, President and CEO, Cyber Group Studios. Like all this afternoon's France sessions, it was moderated by Emilie G Caillon, CEO & Founder – Writer, Director, Producer, Edgar Pow Wow Productions.
Caillon asked the panelists whether they truly believed there was such a thing as a "French touch."
"There is a French expertise, for sure. But no French touch," said Alessandri. "We're producing good international programming, but there's nothing special about that." Lener quickly agreed. "Our business, and also our passion, is to create IPs. The beauty of the genre of animation is that it travels; kids are less affected by their own culture than adults."
He continued, "What we try to do is create properties that can speak to every kid in the world, if possible. To say there is a French touch would mean there's a specific French style that speaks to the French and not the world. That would be wrong. There is a French savoir faire, good talent in France, and a good ecosystem that helped create that."
Sissman, who, earlier in the session, had said French talent is "unsurpassed," recounted a story of working at Disney, when the Secretary General of Ionesco approached him and said he wanted to talk to him about uniting with the world's children. Since creating his company, "the best kick I'm getting is creating programmes for children and families around the world without distinction of race, nationality, religion, whatever… You need savoir faire, but not a French touch."
In other notable questions, they also pondered why it is harder to build IP in France than in other countries. Alessandri felt strongly that it's much harder than in other "major producing markets."
"We have broadcasters who want us to produce series that appeal to a wide demo… [and]suffer from a lack of international toy companies based in France. We're not in Japan or the US," he observed.
But wait, there's more! "Historically France was not a country for pre-school," Alessandri went on. "Preschool is the easiest demo to start merchandising to, to build brands. It's very recent that French broadcasters are commissioning pre-school. It's not because it's hard that we never succeeeded."
Lener quipped, "If it was easy, we would all be rich!" Then he softened, grew philosophical. Asking whether it's hard to build IP in France, he said, is like "if you asked a music composer, is it easy to create a tune?"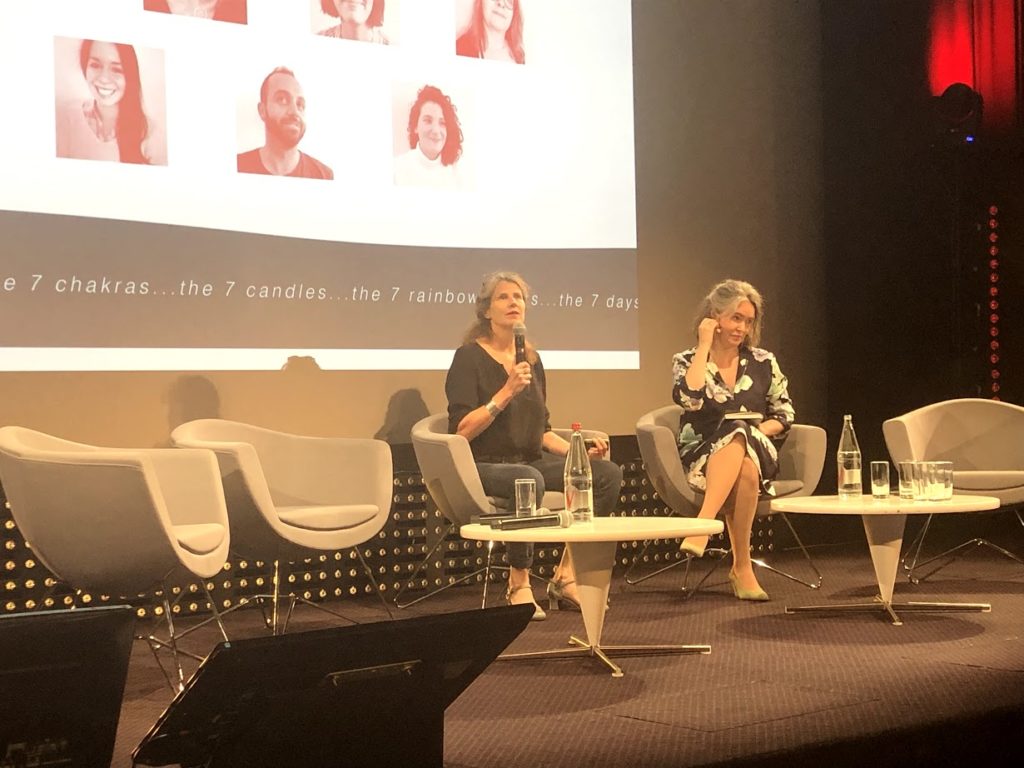 We began French Animation: Talent to Watch with Emmanuèle Pétry Sirvin, Head Of Creative Development And International Distribution of Dandelooo, who described her company as one where "we have a strong demand for kindness, because all of us are friends who share a passion for children's programming."
Dandelooo has just acquired rights to The Upside-Down River, a charming tale by Jean-Claude Mourlevat. It's "a wonderful, wonderful book I recommend you all read," said Sirvin, who said they would be using it to make "a serialised adventure love story."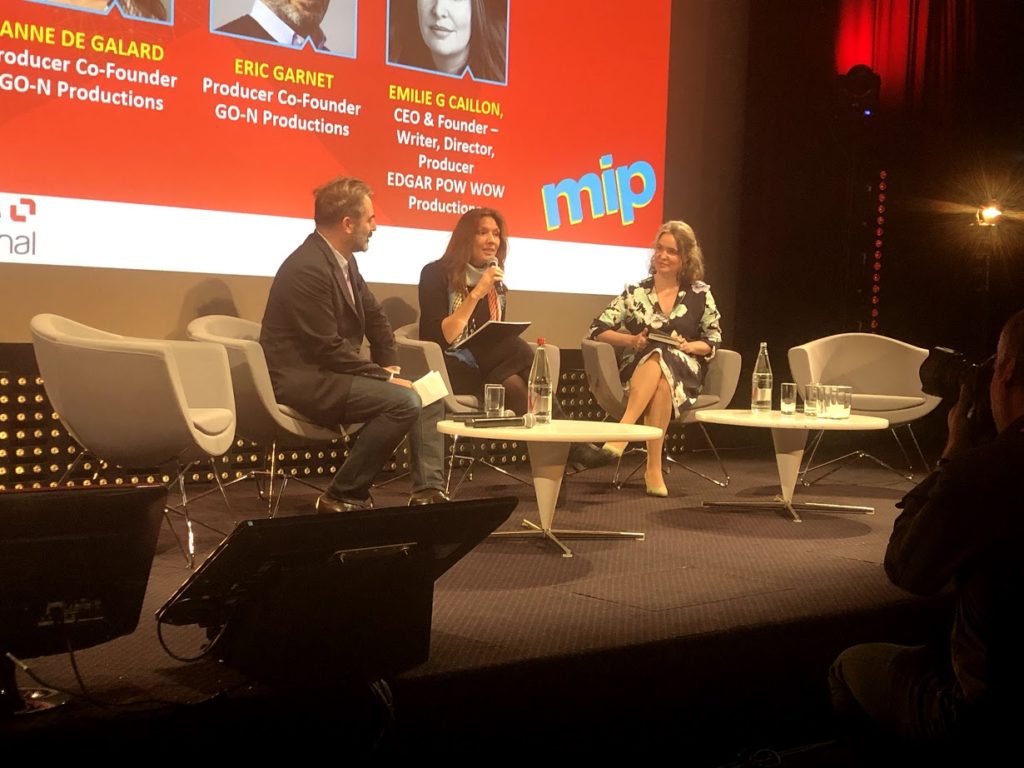 Next, Anne de Galard and Eric Garnet of Go-N Productions talked about what they're doing now, like working on production of season 2 of Zip Zip. And they've just finished Tib & TumTum for TF1.
But something new's in the air, too: My Dear Gnome, co-produced with French production company eddy. It features "a ceramic garden gnome and a plastic toy looking like a deer; quite an odd couple," said Garnet. "It's going to be non verbal & about their complex relationship."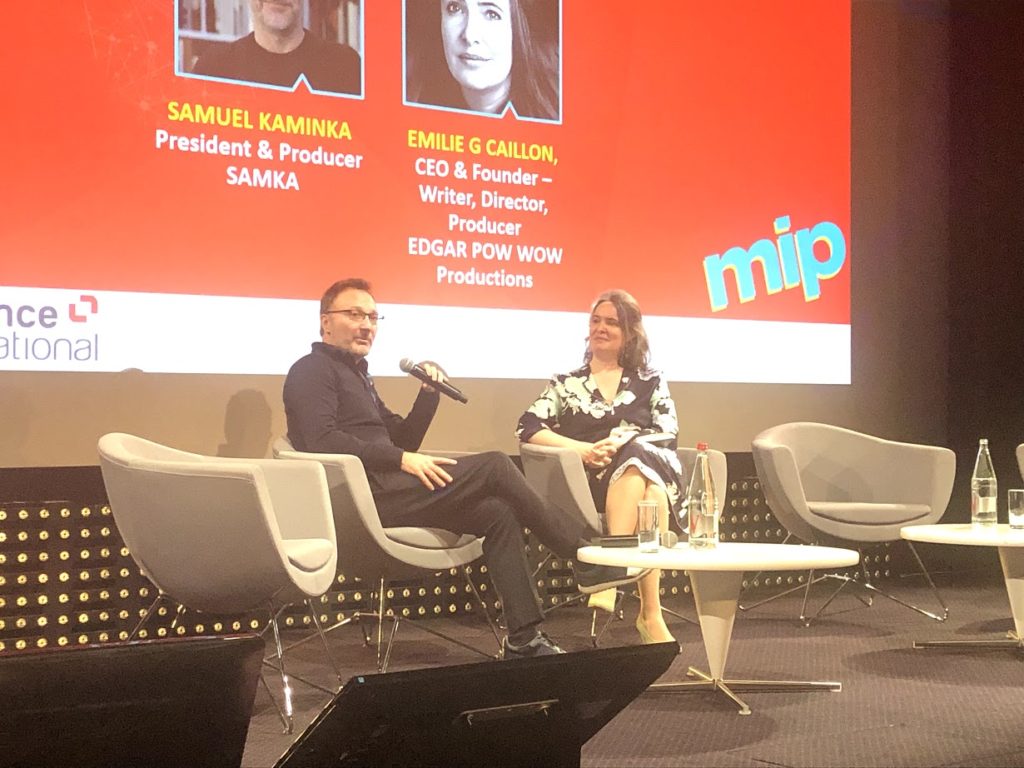 Samuel Kaminka of SAMKA Productions announced a new hybrid project, but did not share its name. Also, "We're about to start working for other producers as a servicing company," he announced.
SAMKA is additionally the majority shareholder for Jetpack Distribution, working with over 20 producers worldwide. Presently, Kaminka's beginning development on 2 CGI preschool features and 3 live-action kids series.
"We want to stick to the boutique field, having a sustainable level of productionn," he said. "We don't necessarily have to conquer the world."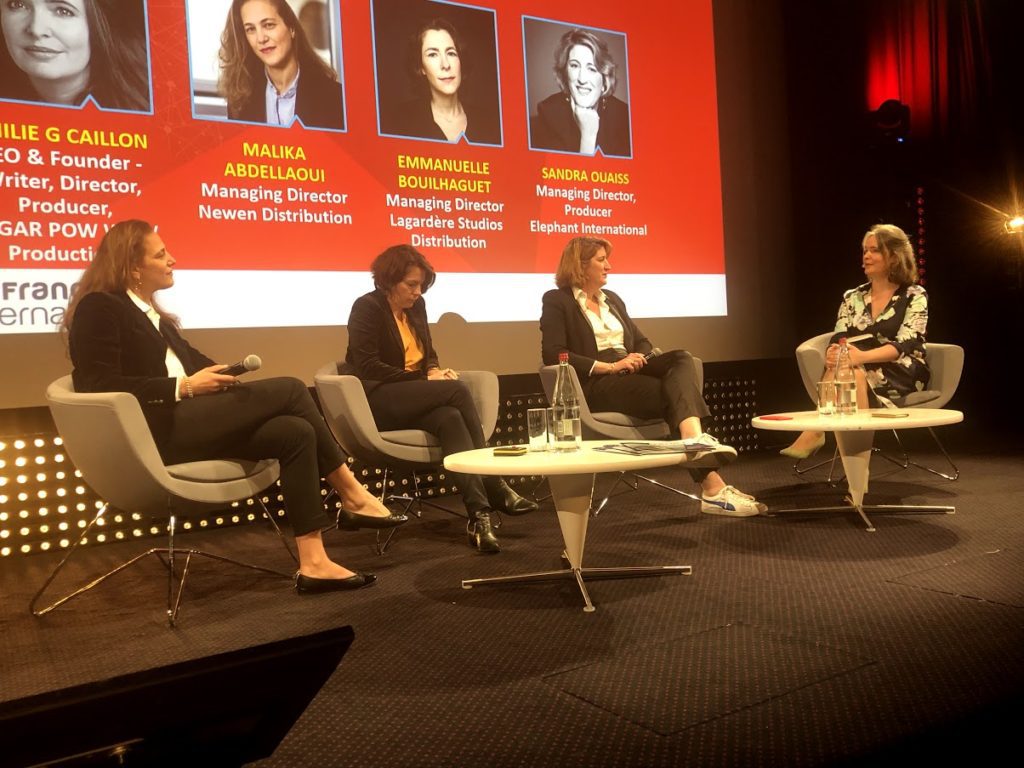 The Dramatic Savoir-Faire session then featured Malika Abdellaoui, Managing Director, Newen Distribution; Emmanuelle Bouilhaguet, Managing Director, Lagardère Studios Distribution; and Sandra Ouaiss, Managing Director, Elephant Story.
Bouilhaguet demystified some false ideas people may have about their roles, saying there's an "illusion of easy. We are distributors and Netflix could eventually replace our jobs," she said frankly.
"Personally, I think the job of a distribution is of course to make a deal, and that deal could be platforms, local or linear channels, and other ones [like]Netflix or Amazon. It's not something you do in 2 weeks. Our job is to optimise and work on windowing and small conditions. Selling isn't just having a fee; it's all the rest."
Caillon again asked her question about whether a French touch exists. "There's a knowhow on producing in France," said Abdellaoui. We're trying to sell this knowhow, concept, execution. Regarding the genre, French procedurals are performing well outside France." She pointed to Newen Group's latest darling, Candice Renoir, a full French procedural. It's doing well internationally and the number of episodes ordered is quite high, around 67. Caillon praised the work. "Most of the time we're told we need to create more universal, but this is really a French French production," she said.
"We think it's universal. That's why it's successful," Abdellaoui replied. "Candice Renoir is a girl next door. She's funny, she's pretty but not too much… like us. She's a normal woman. But perhaps the second life of Candice Renoir will be to be adapted to another country."
Speaking to Caillon, Ouaiss reflected, "Maybe what you perceive in this product as the 'French touch' is comedy." She observed there are only two truly successful genres: Family dramas and comedy.
Bouilhaguet pointed out that there are moods that decide a market's appetite for foreign works. "I like French series, and Spanish and Flemish, but the reality is that there's a cycle," she said. "We're working on Eden, which is shot in English and a co-production between France and Germany."
She continued, "The story is the key element to get interest of broadcasters, but the language is still something to discuss, especially in the UK and US. So I'm happy to sell some local language stuff; when you have strong IP, you can do whatever you want. But sometimes when you have something organically in English, it could make the difference."
From TV and a YouTube channel to Playmobil: The Movie, children's brand Playmobil is growing its brand on every screen. The company starred in a case study at MIPTV this afternoon, with chief marketing officer Lars Wagner; ON Entertainment CEO Aton Soumache and Wil Film ApS CEO Erik Wilstrup, moderated by Wildseed Studios creative director Jesse Cleverly.
"It's really a transformational time for the industry, and certainly for Playmobil as a company," said Wagner, of the changes. He also explained why digital is key. "Digital experiences and video content are the two big drivers for eating into any other activity, and that includes the roleplaying that we all grew up with, with the Playmobil figures," he said. "Kids have less and less time to play with extensive play-sets. They love it, but there's less time. And the portability of having the Playmobil brand on your mobile device, on the school bus, wherever you are, in the back of the car with your parents. And having access to the characters you love, the theme worlds… the mobile element is also very important."
Soumache offered some advice for people taking toy properties into TV and film. "The main thing was understanding what they were looking for," he said. "If you take the toys as it is, it's not an interesting show. It's a commercial… You have to put emotion, the characterisation, the back-story and everything." But he warned that this all has to happen with the full cooperation and agreement of the brand. For example, Playmobil toys have dots for eyes, but this would be problematic on television – Soumache suggested it would restrict the TV show to the pre-school niche. "It took me six months to convince Playmobil to put eyes on the characters!" he laughed.
Wilstrup talked about the need for quality. "Everybody loves content, and wants content, but content can be very badly made! It can be poorly animated or written, and who wants that?" he said. Meanwhile, Wagner returned to the importance of digital in general, and YouTube – where Playmobil's main channel has 272,000 subscribers and 242m lifetime views. "Clearly we know that YouTube is becoming the number one choice for kids from a very early stage and age onwards. You just have to be there: you have to be accessible. And obviously you want to be there with content and volume that gives enough variety… YouTube we see as the daily dose of Playmobil that you can get."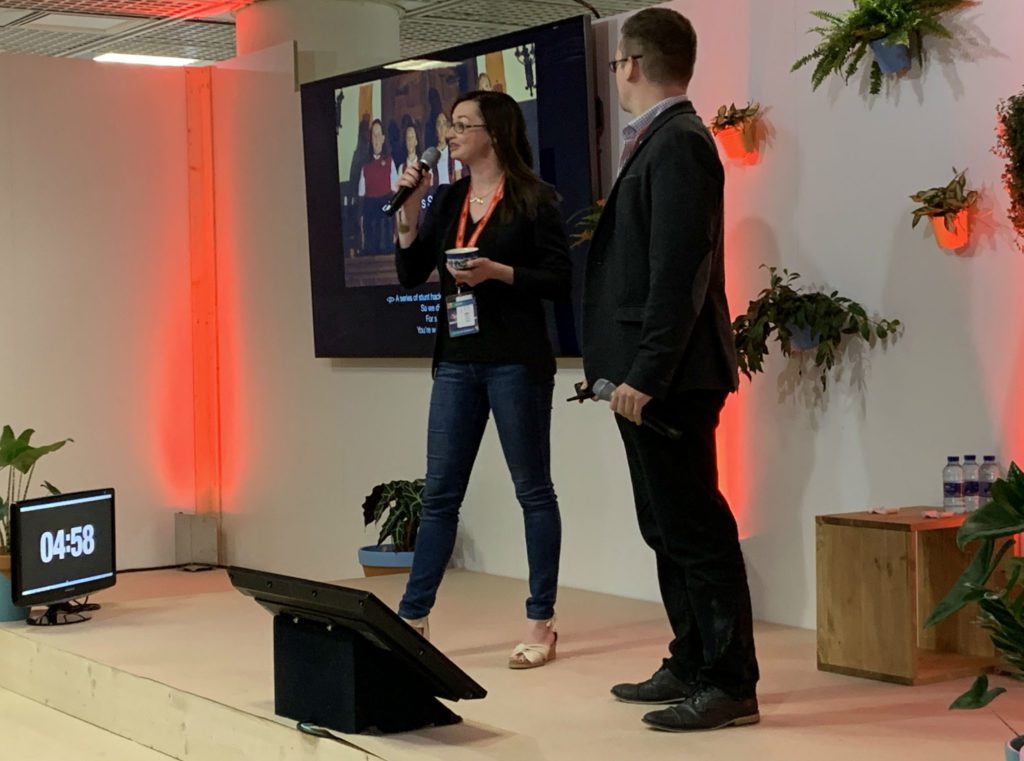 This afternoon also saw the second edition of the MIPTV Kids Live-Action Pitch, with five new and original live-action scripted projects showcased. Anarchy Anderson was pitched by Mosaic Entertainment from Canada: a mockumentary-style series about a girl campaigning to become class president – against an unscrupulous rival. Lady Ada's Secret Society was pitched by Coconut Effect Productions from Canada, and focuses on a hyper-traditional girls' boarding school that refuses to teach technology – so a group of girls build their own tech and prank the school. "This show is for all the nerd girls who are a little frightened they're not going to fit in!" said creator Shannon Fewster (pictured above).
Super Huu was pitched by Sublimate Entertainment from Australia. It's about an Australian-Vietnamese boy – "He sounds like Hugh Jackman, but he looks like Bruce Lee!" – trying to fit in at school, with the help of some ancient warriors, some super-powers, and a loyal group of friends. The Strand was pitched by Magpie 6 Media Entertainment from Ireland. It's a Romeo and Juliet-style story of teenagers falling for each other, but facing the wrath of their duelling families, set in a surfing community. And Yalla! Yo! was pitched by Studio 100 from Belgium: it's about an Arab boy named Rachid whose parents foster four white girls. The show explores cultural differences in a sensitive but comedic way. "We see a lot of Rachids on the street, but I don't think we know them enough – and we don't see them on the screen," said CEO Anja Van Mensel.
This was not a pitch contest where a single winner was chosen: instead, it put the pitchers on the radar of judges Nina Hahn (Nickelodeon), Nicole Keeb (ZDF), David Levine (Disney), Luca Milano (RAI) and Cheryl Taylor (BBC) as well as MIPTV attendees who came to the session.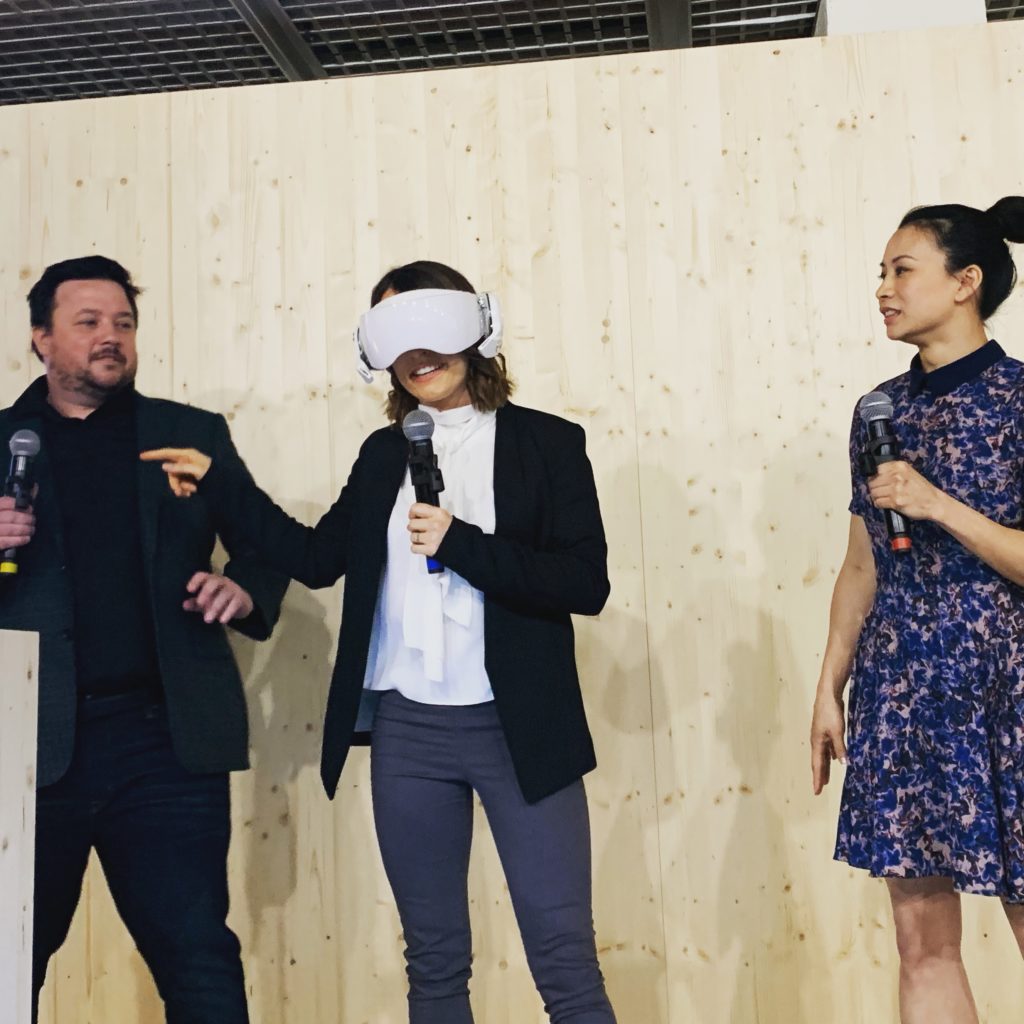 The day closed with a fascinating presentation of shorter programme concepts, at the In Development Drama Short Form Series Pitch. The programmes pitched were Twinky Doo's Magic World, about an imaginary brand whose warehouse is robbed by a group of childhood friends (I Licaoni's Francesca Detti & Alessandro Izzo presented); Café Primo, in which 1 massacre is told by 9 different characters (Assad Machnes presented); Homoscope, about a lesbian who forces herself to marry a man, due to traditional pressure from her Algerian family (Eric Pellegrin of Bridges presented); In a Foreign Town, 3 horror stories told across 15x10min episodes, based on the books of Thomas Ligottia (pitched by Michael Shlain); Interworld, in which the main character discovers her father is a monster, & has to choose between him & her village (Ismail Sahin presented); and Life XP, about a non-gamer who ends up in VR and ends up going viral "because she sucks at video games" (Ebnerds Multi Media Entertainment's Trevor Addie, Irma Leong & Cassandra Ebner are pictured above; the latter in a VR helmet!)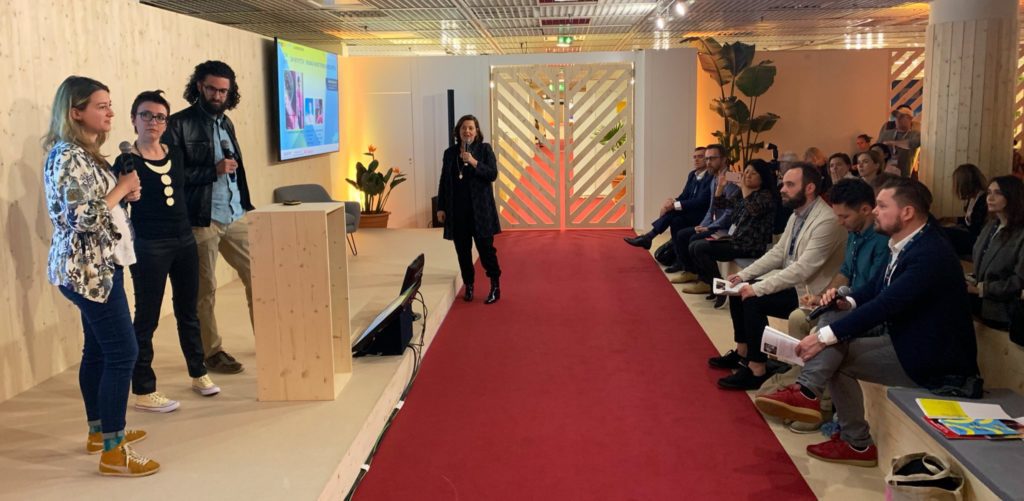 Thanks to our ever-excellent host, Anne Santa Maria, and jury, which included Flixxo's Adrian Garelik and YLE's Arttu Nurmi. Great job!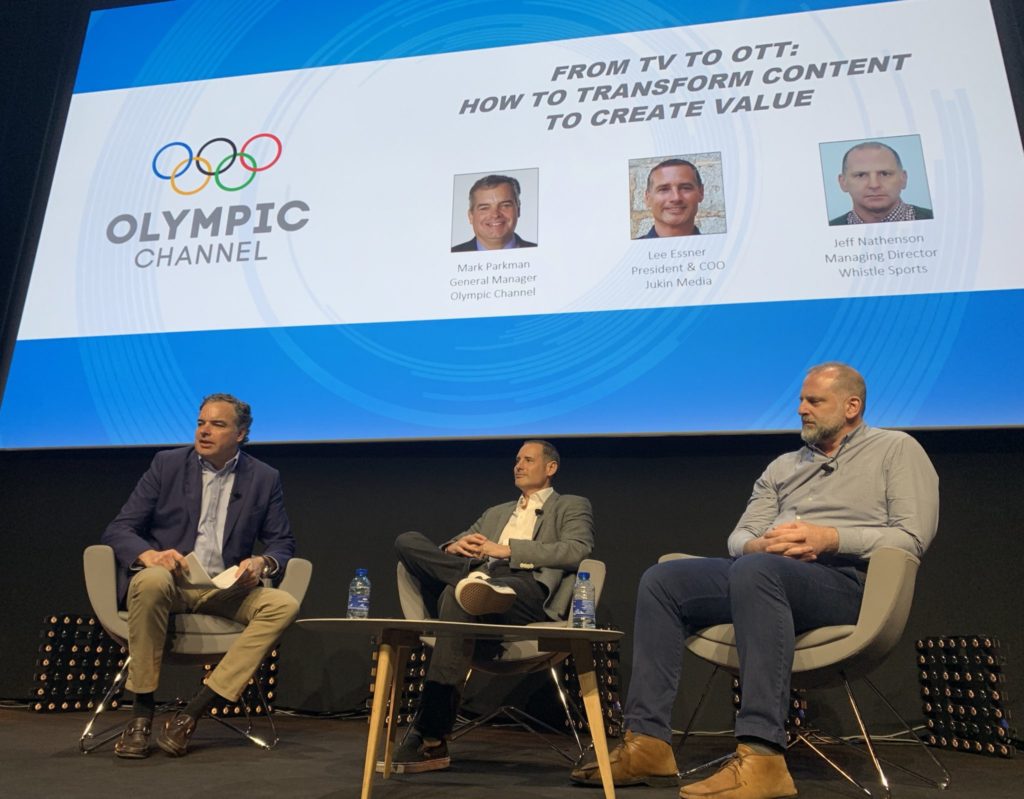 Also this afternoon at MIPTV, From TV to OTT – How to Transform Content to Create Value saw the Olympic Channel's Mark Parkman joined by UGC network JukinMedia's Lee Essner, and sports content network Whistle Sports' Jeff Nathenson.
"We start by building scale – we now have 185m fans – that gives us a lot of insights into what people watch," said Essner, "and then go up to OTT, for whom we repackage content; and TV/digital, for whom we also make programmes. So it's a circular model." For example, he elaborated, "Fremantle launched the Pet Collective on YouTube a few years ago. They were making TV-style content on YouTube, but saw our content type was working better, so they let us take over the Pet Collective."
Nathenson was categorical about how sports viewing is changing today. "'Hitting the Wall' (in which fitness YouTubers test themselves vs Olympians, to see if they're 'Olympic fit') is the best series we've done together", he affirmed. "We made social content that drove people back to the Olympic Channel. Now Olympians want to hang out with YouTubers. That's when you know you've made an impact."
Sports content can be ideal for reaching younger audiences, the panel agreed; but advertising models are slow to keep up, said Nathenson: "The ad sector has to get their heads out of their *****! Who in this audience sits and pays attention to 30 second spots? Spotify charges more for ads in the middle of podcasts than at the beginning. That engagement has value."
​