MIPFormats welcomed a UK TV titan for a special keynote session today: Peter Fincham, co-CEO of Expectation Entertainment (above, with moderator Kate Bulkley). After a career covering Talkback, the BBC and ITV, Fincham founded Expectation in 2016 with Tim Hinks, who had just resigned from EndemolShine, as Fincham had from ITV. They together came up with a rare concept: an multi-genre indie production house. Expectation now has 13 shows out this year, like In My Skin or The Big Narstie Show, many of which are up for BAFTAs.
Fincham's main message was to focus on the essentials of what makes good programming. "People don't sit at home thinking they're watching a format," he said. "Think of a greenhouse in which things can grow. If you create that environment, formats will grow. Things that have universality of appeal."
Similarly, he added, in today's fast-changing TV landscape, choice of platform is no longer important. "Binge-watching and things like that are just a trend. It's about what do we like to watch. Whether its a broadcaster or streamer, it doesn't matter." Indeed, Fincham revealed, Expectation is working on a non-scripted format for one of the streaming platforms, but can't yet say which one.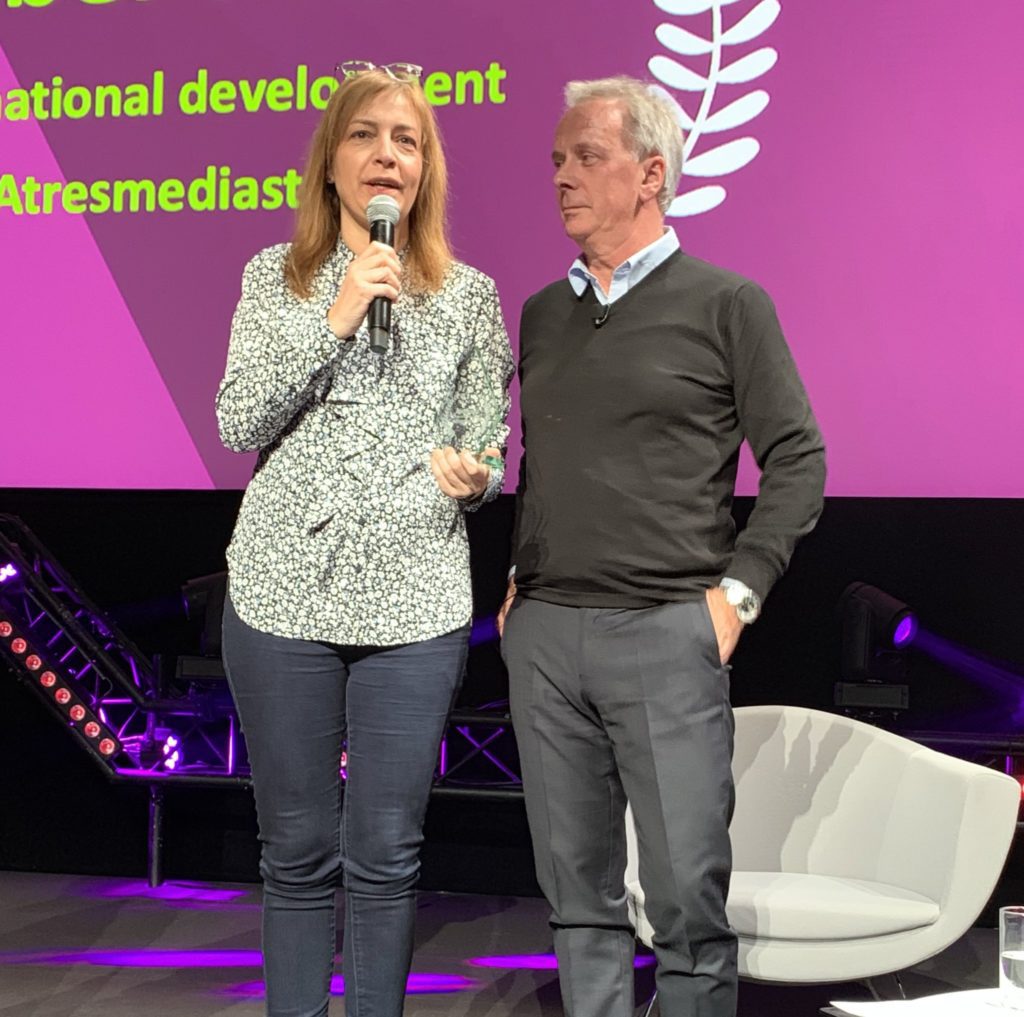 The session then concluded with the winner of the 1 Minute Pitch, a new competition in which ideas could be submitted to Fincham in video. The winner, from Isabel Duran of Atresmediastudios (left above), was Guess How You're Getting Married Tonight, a format in which the bride-to-be can't remember anything about her wedding… because she organised it under hypnosis! "I'm rooting for the person who'll get married, just having heard the pitch!" enthused Fincham.
Have broadcasters been too quick to admit defeat in the battle for attention with digital platforms when it comes to younger audiences? Danny Horan, head of factual at British broadcaster Channel 4, suggested that they have, in a session that saw him appear alongside colleague Fatima Salaria, head of specialist factual.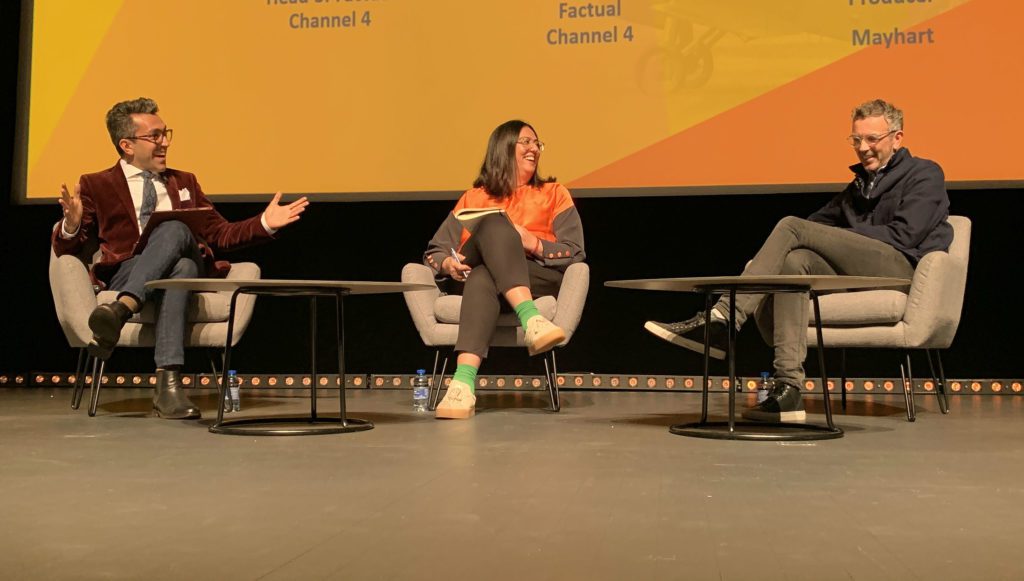 "All broadcasters are guilty of this across the world, certainly the traditional linear broadcasters have been slightly guilty of abandoning the younger audiences [because] they've migrated to all these different platforms… So how do we engage the younger audiences and what they're about? We're looking at formats in more entertaining ways, to get into issues," he said, in a session moderated by writer and presenter Ali May.
Horan and Salaria talked about their desire to broaden Channel 4's factual horizons. Salaria cited contemporary history and crime history as two areas she's doubling down on, as well as more partnerships. "I'm actively seeking more and more co-pros with people. What I want my history to feel is very international. And to be able to tell the bigger story, the bigger picture, is really one area I'm going to focus on."
"We are trying to reflect the world around us in much more detail, in a much more entertaining way, that tries to get to some of the complex, hard issues that we face in the UK – of which there are a few! We're trying to reflect quite a lot about what's happening in Britain, but we're trying to capture more about what's happening in the world," added Horan.
Natural history is also on Channel 4's priorities list, but with a firmer campaigning remit than the tentpole shows that fellow British broadcaster the BBC is known for. "We are not going to do Our Planet or Blue Planet or Planet Earth," she said. "We want to look at our impact as humans on animals. We want to do campaigning films that will tackle head-on conservation, the truth about what we have done to the animal population. We're looking for partners that will help us make these really big, opinionated pieces."
Eurodata TV opened the morning with data from its Entertainment Report in a session called The Future of Viewing Trends, where we learned reality competition is the most-viewed genre, consisting mainly of adaptations and featuring strong formats.
"Adaptation remains the only way to break through in other countries, as far as entertainment is concerned," Eurodata TV Worldwide's head of content insight, Avril Blondelot, who presented the information, went on.
She also pointed to interest in global competition: "Think Eco Challenge, The Final Table, The World's Best." And factual entertainment is also keeping up with stories, featuring mainly original creations and small characters. Love and Hip-Hop: Miami from VH1 is a notable example. Shows like Les Marseillais Australia and Les Princes et Les Princesses de L'Amour also capture a large share of online viewing versus TV viewing.
Meanwhile, The Real World is an iconic brand and has been on air for 25 years and 32 seasons. Now it's on Facebook Watch, "which is bringing a large audience and a new way to engage with viewers," Blondelot said.
Science experiments are also stealing the screen, with shows like Operation Live and Manipulator, not to menton How 'Mad' Are You?, which gauges whether psychologists can really tell who has a disorder among a group of people.
And there is the "current Asian craze for space-based shows," Blondelet continued: Galileo The Space Awakens, Space Challenge and Go to Space are circulating networks in South Korea for Space Awakens, and China for the latter pair.
Dancing and sports, of course, remain quite popular, specifically "sports-related shows that put the emphasis on the stories of sports men and women," such as Britain's Youngest Football Boss. 
"Out of the sports-related projects that we have, 42 percent are factual reality programmes," said Blondelot.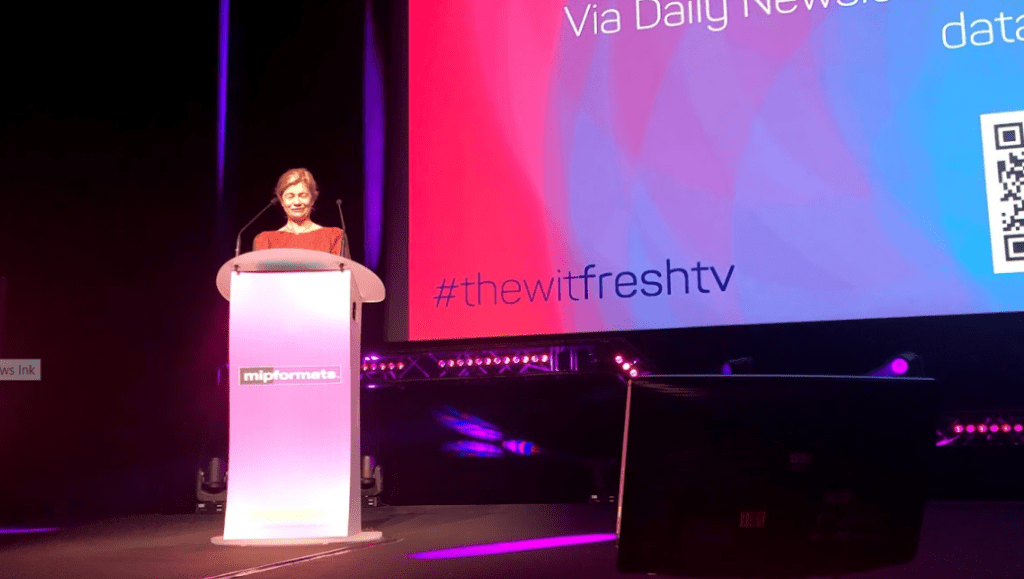 Virginia Mouseler, CEO of The WIT then presented Fresh TV: Factual Entertainment & Reality Shows.
Top non-scipted IPs are led by The Secret Life of 4 Year Olds (Banijay) and Grandpas Over Flowers (SmallWorld/CJNENM).
Diversity is a hot-button topic at present. Hire Me If You Can (WeMake/French TV) features unemployed people who struggle to find work, and are matched with an employer seeking recruits. Each signs a contract without knowing who the other person is. In The Conflict (Armoza Formats), people in severe conflict see disputes from a new point of view, aided by actors playing the story out.
Family is also on the hivemind. In Every Family Has a Secret (Red Arrow International), a host helps families explore the hidden pasts and scandals of their ancestry. In Good Bye House (LineUp Industries), siblings compete to choose the best possible home for their parents. But will their choices align with what their parents want?
Also, change is in the air! Your Home Made Perfect (ESG) features architects who are given couples' conflicting briefs for the perfect home, then use them to build radical mockups. The format features VR technology, which enables couples to see and "experience" the changes they hope to make, and the truly perfect plan actually gets built in real life. In Dressing My Man, Dressing Your Man (WeMake), four women face off in a competition to renovate the looks of their men.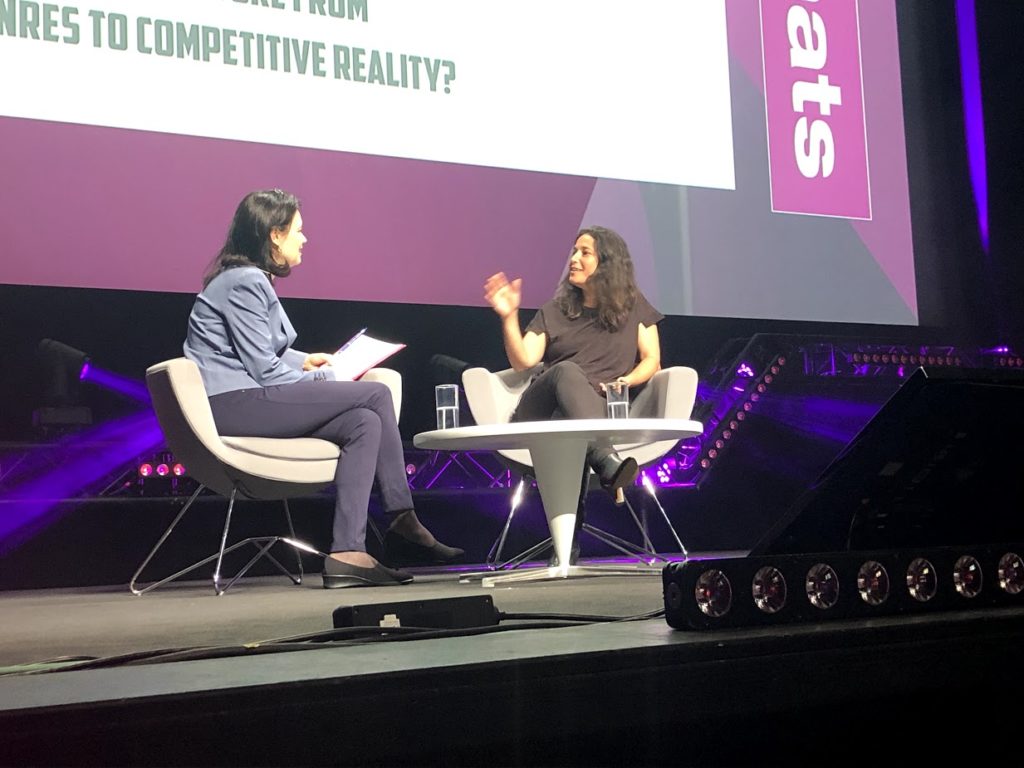 Next , we learned the secrets of futuristic reality series 2025, brought to life by Keshet International. 2025 consists of 12 people in a futuristic city, manned by six robots. Contestants receive a sum of money for buying sleeping accommodations, food or clothing; each week, the poorest competitor gets cut. At the end, the richest resident of 2025 is crowned winner.
The session was led by Revital Basel, managing director Keshet Network at Keshet International; and moderated by World Screen's group editorial director, Anna Carugati-Guise.
"2025 is not the future," Revital Basel began, observing that it's actually very close. "There is a personal day-to-day dilemma. Will I sleep in a suite, live like a rockstar and spend all my money? But that costs. Everything has a price. You can be homeless and live in the streets, or you can live in a suite."
But 2025's innovations can't be reduced to mere resource management. "In this reality show, helping others and supporting your friends is the strategy," said Basel. "This is a social game; if you have to share your fortune, and for that you gain points, it's a very strong experience. I think that's the heart of the format."
A true city was built to facilitate the show. The lot is 6000 square metres, twice the size of Israel's largest studio, said Basel. "We did it in a factory [in]four months, a huge operation. And it's not just a city; it's a smart city that follows rules you create, where everything you do shows up on the board on the screen."
Asked by Carugati-Guise to elaborate, Basel explained, "The biggest challenge was to plan a city that follows all the rules of the formats. It's kind of a Truman Show; everything is fake, even the mountain. We have 120 fixed cameras controlling it, plus 10 ring cameras. At any given time there's about 30 given cameras following" the people and storylines.
"I feel like, when I'm on the set… it's Disneyland for TV people," she reflected. "It's challenging to control it; 110 people work there in a day."
All this presented the perfect product integration opportunity for a certain big-box furniture designer, of course! "Everything is done by IKEA," Basel revealed. "On our website, we have a 3D tour of the house, where you can buy everything for real. The house itself is an IKEA catalogue; that's the only print book on set."
Given that you yourself become entertainment for your peers, maybe it's not surprising that the relationship between humans and on-set robots has become an important one. "Their face is so cute, you can't help but love them. They're very nice," Basel said of the robots, before sharing a clip in which a man on the show goes out of his way to try wooing one.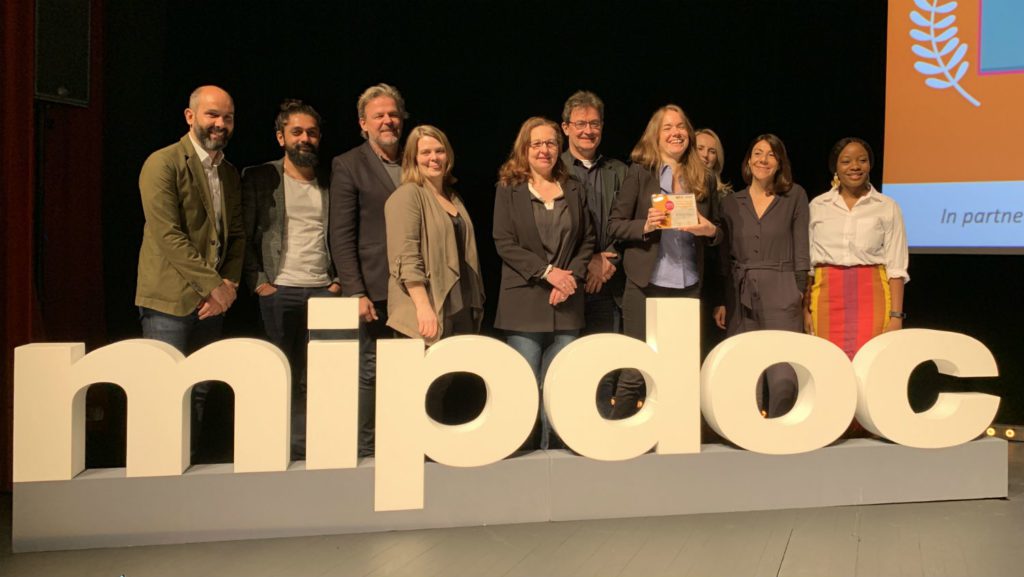 ​At MIPDoc, meanwhile, this morning saw an International Pitch session, in partnership with DocuBay, focused on Current Affairs and Investigation factual and documentary projects. A panel of judges including Bernadette McDaid (National Geographic); Martin Pieper (ZDF); Axel Arnö (SVT); and Akul Tripathi (DocuBay) sat in judgement over five projects from across the world.
Laura Guglielmetti, executive producer at 42° Parallelo, pitched Genoa: 11.36am, a documentary focusing on the collapse of the Morandi Bridge in Genoa in 2018, where 43 people died. Jolaoluwa Ayeye, head of development at Salt & Truth, showed Housegirls, a documentary about children in Nigeria who are working as house-maids. Francesca Dziadek, CEO and producer at State of Change, pitched The Affair Vanessa, about a Cameroonian woman who gave birth aged 17, but had her daughter taken away – and has spent the last eight years searching for her. Chloé Persyn-Preljocaj, head of sales and acquisitions at ZED pitched The Doubt Makers, exploring misinformation around issues like tobacco, climate change and big pharma. And Silje Bürgin-Borch, producer at Monday Production, showed The Svalbard Message. It's about a Norwegian area experiencing accelerated climate-change, with the show taking celebrities with a proven interest in climate-change to shadow scientists conducting research there.
The winner was The Doubt Makers. "Science can be manipulated to create doubt, turning science against itself," said Persyn-Preljocaj in her winning pitch. "Our idea is to decode one by one the strategies put in place by private corporations to mislead the public and paralyse political decision-making."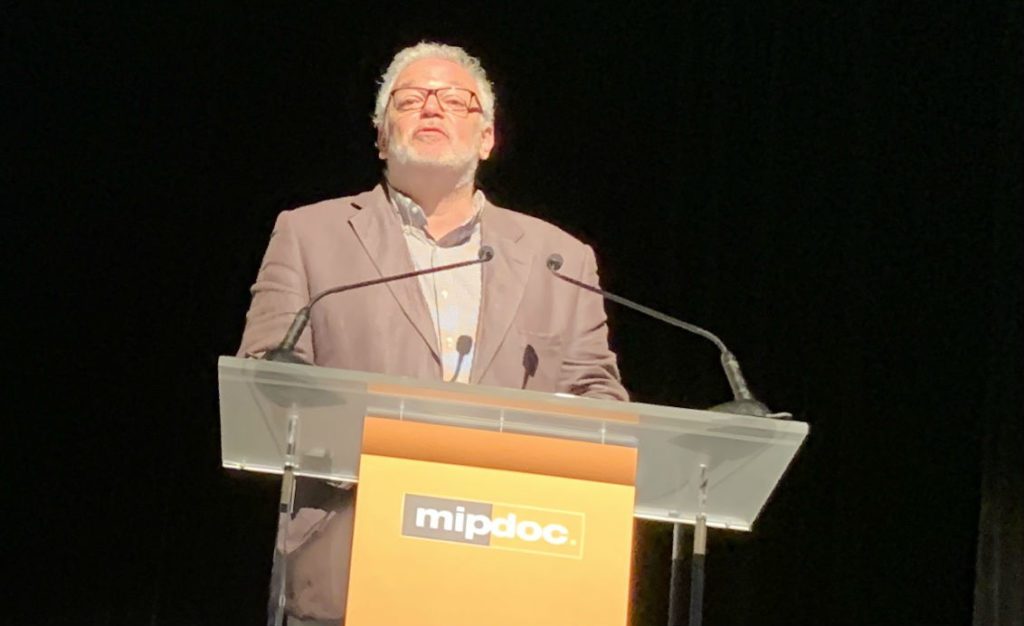 This year's MIPTV 2019 Country of Honour is France, and the party got started early at MIPDoc today, with a French Touch showcase of the latest and most innovative documentaries being produced in France. The session was presented in partnership with TV France International and LaScam, and hosted by filmmaker Gilles Cayatte (pictured above) who showed 15 of the latest, most innovative French documentary projects.
Highlights included Tehran Stories (distributed by Lucky You) which explores the daily lives of people in Iran's capital; Sex Slaves in the Catholic Church (Balanga), a hard-hitting investigative documentary; Lady Sapiens (Little Big Story) which tries to overturn stereotypes of what prehistoric women were like; and France: A Journey Through Time (France TV Distribution) which makes modern French landmarks collide with ancient landscapes, from lagoons to swamps, while time-travelling through history. To Kill A Queen (Zed), meanwhile, dramatises the final days of the last Queen of France, Marie Antoinette.
The other projects showcased included Planet Chef (Terranoa); The Battle for the Moon: 1957-1969, From Sputnik to Apollo (Roche Productions); Supernature (Only Distrib); Gulag: The Story (Zed); Shipwrecks: Secrets from the Abyss (Lagardère Studios Distribution); Hitchcock Confidential (Arte Distribution); My Life in Hitler's Germany (Roche Productions); Extreme Lands (France TV Distribution); Castro's Revolution vs. the World: Fighting the Giants (Arte Distribution); and A Wolf's Journey (Kwanza).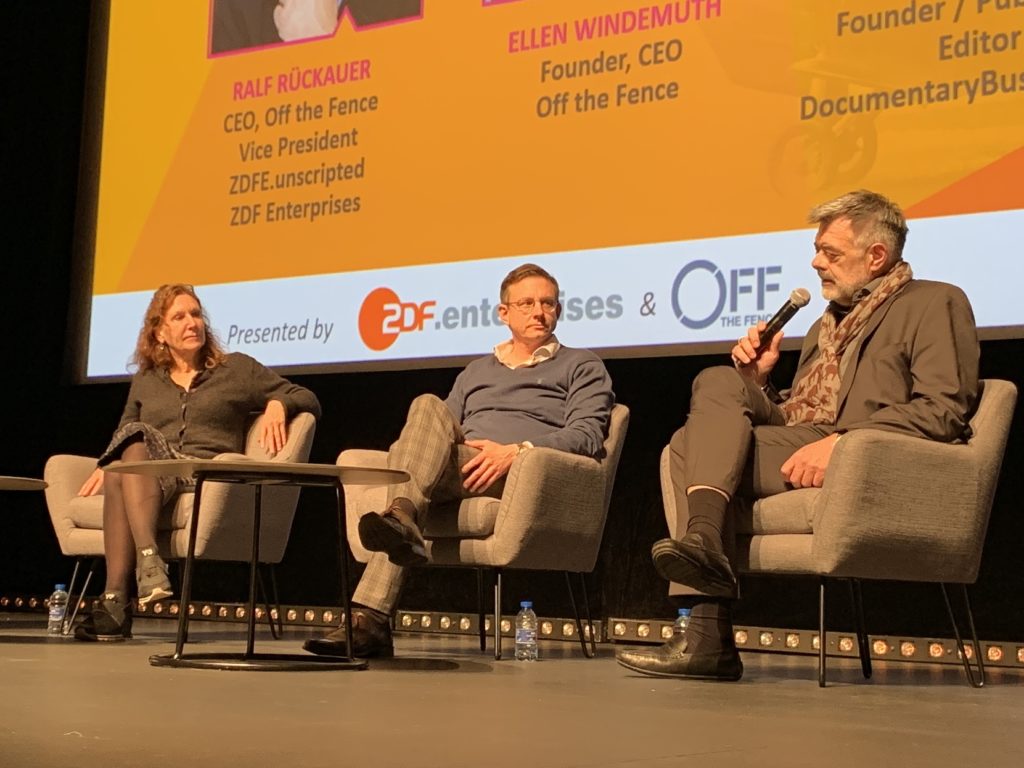 Recently, two of the big guns in non-fiction content, production group ZDF Enterprises and distributor Off the Fence, joined forces and networks when the former acquired the latter. Today at MIPDoc, Off the Fence CEO and founder Ellen Windemuth and co-CEO Ralf Rückauer, ZDF Enterprises' VP ZDFE.unscripted, outlined some of their plans. They were interviewed by DocumentaryBusiness.com's Peter Hamilton.
Rückauer explained that ZDF Enterprises has a "crystal-clear" focus on wildlife, science and history programming. "We have a really innovative approach, so we are always looking for new technologies," he added. "We are now looking at things like 3D sound and artificial intelligence. We are not only the old dinosaurs: we are at the same time the young, innovative explorers!"
The pair talked about the changing environment of television, particularly with the rise of the SVOD services. "It took me a year of feeling terribly uncomfortable when I realised how wildly disruptive Netflix is!" joked Windemuth. But Windemuth added that it has also had a knock-on effect for broadcasters, who "got together at places like this [industry conferences]and said 'we need to do things differently… Let's do more coproductions, let's take more risks'."
One of the risks that Off The Fence and ZDF Enterprises are taking is launching their own SVOD network called the WaterBear Network: "Dedicated to our future on this planet," as Windemuth described it. "We're going to test-launch in the Netherlands in the fourth quarter of 2019," she added.
The panel were also joined by a surprise guest: Walter Köhler of Terra Mater Factual Studios, and fielded a question about how to appeal to younger viewers. "What people want, be they young or old, is that they want to be moved, they want to care. And they're very tired of formulaic, factual, non-emotional stuff of the kind we've seen over the last ten years again and again… How can we get people to care again and how can we get them to feel?" said Windemuth.
"The new generation is very, very active," agreed Köhler. "They want to act. This is the best news in my lifetime. There are people once again who really want to change the world and want to act, standing up from their TV couch and doing something. And if we can help that with our productions, we want to do that." Rückauer also signified his enthusiasm: "I really like this young generation!"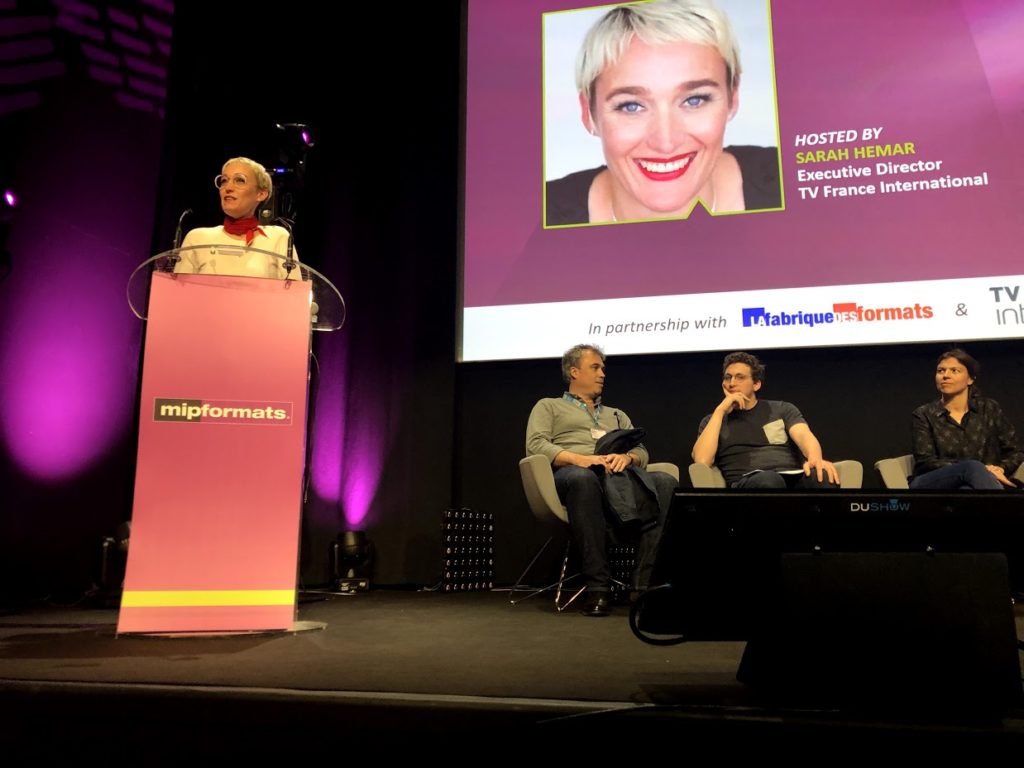 La Fabrique des Formats and TV France International teamed up to give us The French Touch: Formats Showcase, hosted by TV France International's executive director, Sarah Hemar. Below are the formats we got to sample:
Inspired by a short-lived game show from 2001, Burger Quiz (R&G Productions) is set in an American diner, with two teams composed of celebrities. Pop culture questions fly; the first team to get the most 'miams' ("yums" in French) can send a candidate to the final, speed-driven challenge. The buzzer, of course, looks like a burger.
"You can learn a lot. But the most important thing is comedy. Each question ends in a punchline," said writer Max Chabat.
Mathieu Vergne, Managing Director of DMLS TV, presented The Secret Song, the No. 1 new show in France last year: Famous people sit in a "secret song chair" with no idea what'll happen next. Then they're surprised by a song that means a lot to them, performed by a beloved artist or loved one.
"The show is about positivity: Thankfulness, love, respect and admiration," Vergne said.
Very Bad Blagues (Blagbuster Productions) was presented by Gurvan Riou: "For some of you, 'French touch' means champagne, joie de vivre… but French touch is also humour." The show features two comedians, reenacting banal, everyday situations in a comedic way–office team-building, weather reports and more.
Flat Cat Productions' Bader Benlekehal, a producer, shared High Side, which explores superbikes in a way that is quirky and contagious. Like Benlekehal , the hosts are journalists and professional motorcycle testers. "The goal was to make this fun and entertaining to anybody watching TV, whether they like motorcycles or not," said Benlekehal. "All the journalists are professional testers and say things as they are," which creates comedy gold.
Reservoir Productions' director of development, Eve Ewing, presented Old School Love, a "comedy social experiment" developed with a creative studio. Every season contrasts a young, modern couple with an older couple that's been together for ages. The older couple tries to help them get through issues while teaching them about the long-term nature of love.
"Imagine a young couple, just engaged, already facing problems," Ewing said. "But for once in a TV love show, there's no therapist or experts to tell them what to do. This format gives couples a new, fresh and exciting experience to bring the sparkle back."
Kiosco producer and founder Clement Chovin shared Speak Out, which is like Toastmasters meets The Voice.
"If I asked the room for someone to join me onstage to speak out, 75% of people would say no. People are scared to talk," Chovin observed.
In Speak Out, people stand before judges and make a compelling verbal case. They're judged on their capacity to persuade, entertain, and emotionally engage audiences.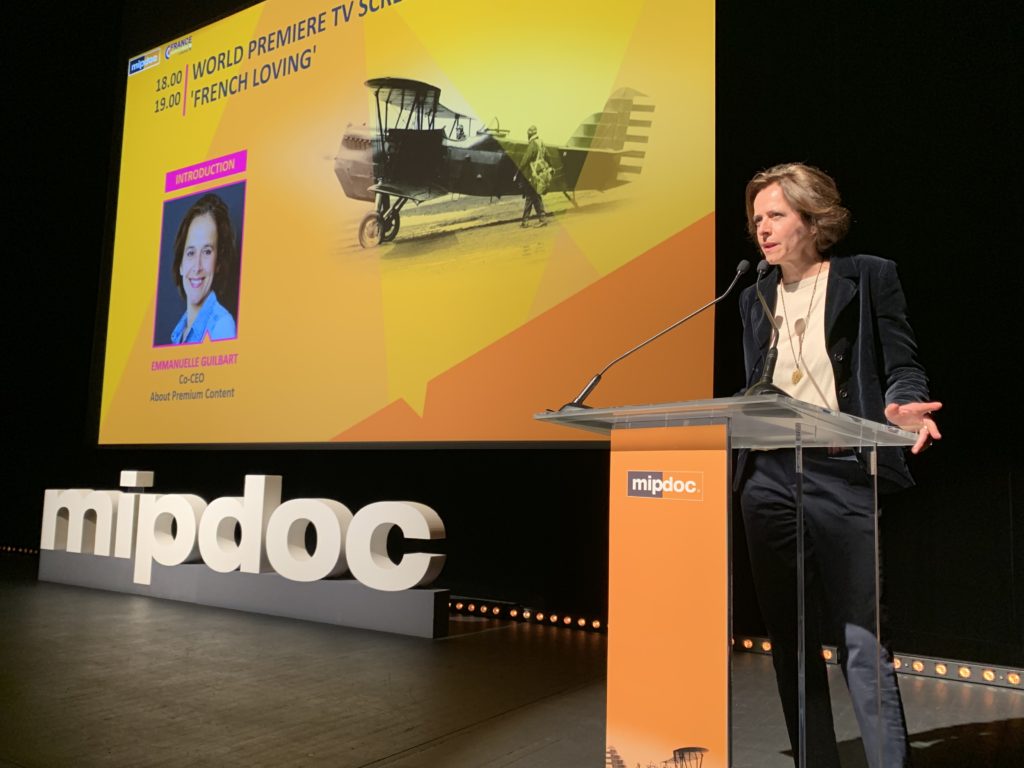 The day then closed with the World Premiere MIPDoc Screening of French Loving. Also part of this week's focus on France, Country of Honour, this playful documentary examines what makes so many people – 85 million tourists, for starters – love the country so much.  Presenting the show, Emmanuelle Guilbart, co-CEO of distributor About Premium Content, said "if you think it's too positive, there's another film called French Bashing, which does the opposite!" French Loving makes its debut on French pay TV channel Canal+ next week.
Et voilà for MIPDoc & MIPFormats 2019! Catch up on yesterday's highlights here…
Additional reporting by Stuart Dredge