The final keynote of MIPJunior 2018 featured Margie Cohn, president of DreamWorks Animation Television. She talked about how DreamWorks has grown its business in kids and family series, as well as how it's negotiating a world of ever-more diversified distribution.
Cohn made it clear that there is no formula for creating 'timeless' content, but delivered a warning: "Whenever content gets formulaic, you can be pretty sure it's not going to be timeless."
She talked about DreamWorks' history, including signing long-term deals for shows like Turbo F.A.S.T. and VeggieTales in the House in the early stages of expanding from DreamWorks' initial focus on films, to the multi-series world of TV. "We were very mindful that the best animation has always been possible with all audiences," added Cohn, of the company's commitment to reaching a broad market.
DreamWorks Animation Television was also thinking about binge-viewing from day one, thanks to its commissions from Netflix. "The binge used to consist of watching the same thing over and over… but in today's media world they have quality programming, which is fresh, new and varied," she added about children's binge-viewing habits.
Cohn also talked about the difference between linear TV and SVOD services. "Whereas linear TV answers the question 'What can I watch tonight?' streaming answers a more essential question: 'What can I watch that I love?'"
She noted that streaming can be tougher than linear, where a channel knows how to promote and launch a new show. "In a streaming universe this is arguably the biggest challenge of all," she admitted. Which is why DreamWorks Animation Television has put a lot of effort in to setting up its marketing teams to tackle that challenge.
"We constantly keep in mind that our consumers are not us. I say that not because they're kids, but because their frame of reference is almost alien to our own. To today's kids, TV can mean anything from that big old rectangle up on the wall, to that little rectangle living in their pocket," she said.
Cohn talked about upcoming series, including She-Ra and the Princesses of Power; Kung Fu Panda: The Paws of Destiny; an animated series based on Fast and Furious; and Where's Waldo? – an original series inspired by the famous books.
She also announced three new original series coming to Netflix in 2019 and 2020: Archibald's Next Big Thing, based on another popular children's book; Gabby's Dollhouse, a pre-school live-action / CG hybrid series; and Rhyme Time Town, a pre-school show with plenty of nursery rhymes and imaginative play.
Cohn then sat down for a Q&A with World Screen's Anna Carugati-Guise, who asked her what children are looking for now, in the multi-platform era. "They have so much choice. I think basically their tastes haven't morphed that much, but they're looking for what they want. And they're going to find it," said Cohn.
She talked about the research that went into the new She-Ra series, canvassing young girls about the themes and character traits that they wanted to see "Their idea of the most perfect, glamorous superhero was actually Beyonce!" she said.
Cohn also outlined a key tenet of DreamWorks Animation Television's internal culture. "We have a 'no jerks' policy! A few snuck in, but then they left. I try not to be one…"
The day began with a breakfast panel hosted by Cloudco Entertainment, focusing on its new live-action show Holly Hobbie, inspired by the iconic greetings-card character. It was recently commissioned by Hulu, Family Channel along with Universal Kids, and sees its lead character solving problems… and singing.
Showrunner Sarah Glinski said that "We wanted to create a Holly Hobbie to inspire this current generation… I see her as a superhero. But our superhero doesn't wear a cape, and she doesn't have magic powers. Her only weapon is her voice, both literally and figuratively."
"This is really a show about growing up. And we all now that growing up nowadays is complicated. Kids are more aware of all the trouble in the world than we were when we were growing up… but they dream that they can change it… If you can dream it—and if you can get your parents to drive you there—you can be the change!"
Star Ruby Jay, a singer/songwriter in her own right, recorded the songs for the show as her first dive into the character, before moving to Toronto to film the show. "She's so relatable. Her family is very important to her – she's fearless, she's smart but she's not perfect. Actually there's many times when she lets her emotions get the better of her, and that leads to bad decisions! » she continued.
Andrew Thomas, director of content at Hulu, talked about how Holly Hobbie fits with the SVOD service's wider slate. "At Hulu what we're trying to do is complement our portfolio with stories that feel connected to real kids' lives, » he said. « We're not talking down to kids about their experience of the world."
https://www.instagram.com/p/Bi2T0p9FpUl/?hl=en&taken-by=hollyhobbie
Change was a theme. « It's all about impact, and how Holly can impact anything, either in a small town, or in a bigger way. It's the power of being a kid, » said Universal Kids' senior director of content strategy and acquisitions Rick Clodfelter. Agnes Augustin, president of Shaw Rocket Fund—which backed the project early on—agreed. « There's just so much in the world right now where kids are wanting to make a change. We just loved that. »
Diversity was important for the show both in front of and behind the camera. Anthony Leo, co-president of Aircraft Pictures explained: "We made a really conscious effort on this show to reach 50/50 on all of the key creative roles, in terms of male-female representation."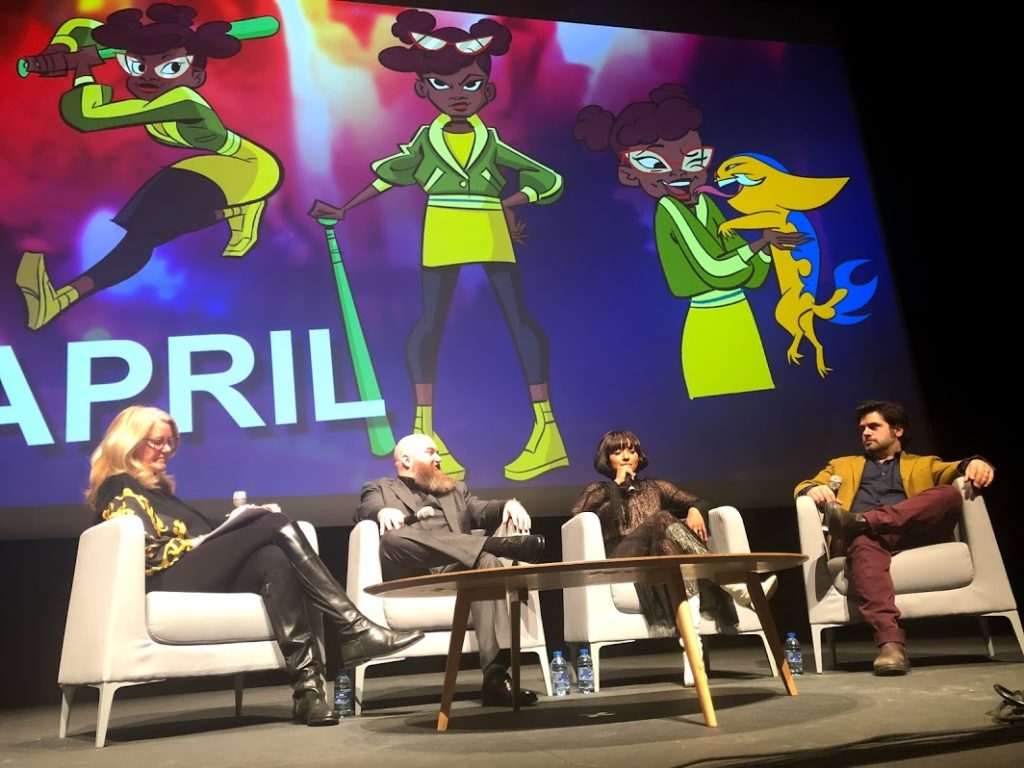 This MIPJunior morning continued strongly, with Animating for the Gen-Z Generation: "Rise of the Teenage Mutant Ninja Turtles" case study. Animators and executive producers Andy Suriano and Ant Ward explained the new series and where it fits within the Ninja Turtles' 35-year trajectory. And Kat Graham, the new voice of April O'Neil, shared her perspective on the first-ever African American animated rendition of the character.
The session was moderated by Jean Thoren, president and publisher of Animation Magazine—shown above, with co-executive producer Ward beside her, then actress Graham and co-executive producer Suriano.
"We knew we wanted to make a 2D show, bringing a hybrid of what the Ninja Turtles was expected to be, meeting the bande dessinée. It was fun, an adventure," Ward began.
He continued, "The franchise is inherently very whimsical. After the last iteration, which had serious tones"—"It got really dark," Suriano interjected—"we wanted to just embrace the silliness of what it could be. It's had so many different iterations."
"It's inherently funny and comedic, with really cool action elements," Suriano said.
Graham admitted that she really didn't think she'd pass the audition. "My tape was really silly," she laughed, but "I saw [April] in my mind before I saw the drawing. And I just put that in my phone, sent it off and forgot about it."
But they did call back, and she was chosen shortly thereafter.
"I didn't realise the gravity of what was happening until I saw the drawing of April," said Graham. "I was somewhat aware it would be a different incarnation, but I didn't realise the magnitude of what was happening—that they were basically making history with the first animated African-American April O'Neil."
"This is the closest character to who I am that I've ever played," she said, noting that she's a former engineer, which lends nuance to her rendition of April.
Graham also expressed that, growing up, "We didn't have young black girls taking action. It's so progressive. It's important that a lot of young black kids can see this and feel empowered by it … the Turtles are coming into their own, and April's coming into her own. Even if they mess up and make mistakes, they're still a family that keeps it together, pushes forward, and winds up always saving the day."
In terms of how the show has evolved in under their vision, "We thought [Nickelodeon] were going to stop us," Suriano admitted. "We feel that support and wouldn't be able to accomplish what we've done without it."
"It doesn't feel like a reboot. It's more a reimagining of the franchise. The universe is multi-dimensional," Ward added.
On how Rise of the Teenage Mutant Ninja Turtles has been received, Ward observed, "The internet can be a cruel and blunt place. People speak their mind, with the anonymity of it all. But with each release, the reaction kept going up and up. It's being embraced. People are getting it. Even at the first Comic Con experience, people were already in cosplay, dressed up. There was already an engagement with fans that were really excited about what we were doing."
"Kudos to Nickelodeon as well for sticking by this show, despite a lot of worried fans," Suriano reiterated. "They supported us through it all. They're putting it out there, letting it find its fanbase. It's fantastic."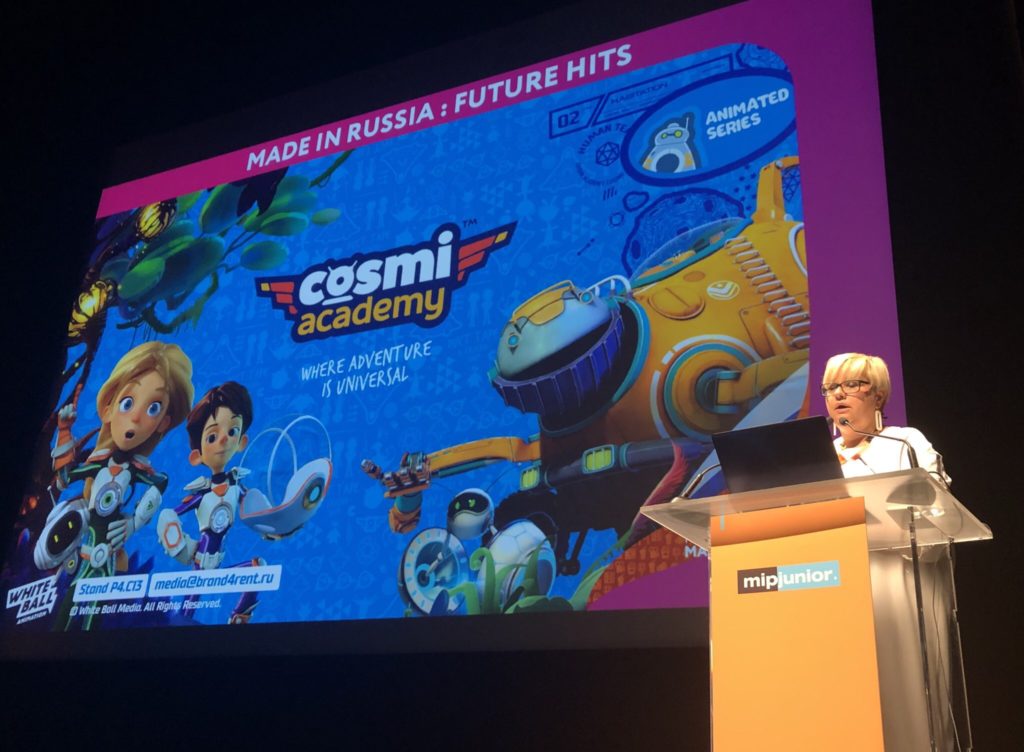 Another midday higlight was the Made in Russia: Future Hits session, in which Expocontent's  Alexandra Modestova presented hidden treasures of Russian animation. The room was packed for this Russian Export Center-supported showcase.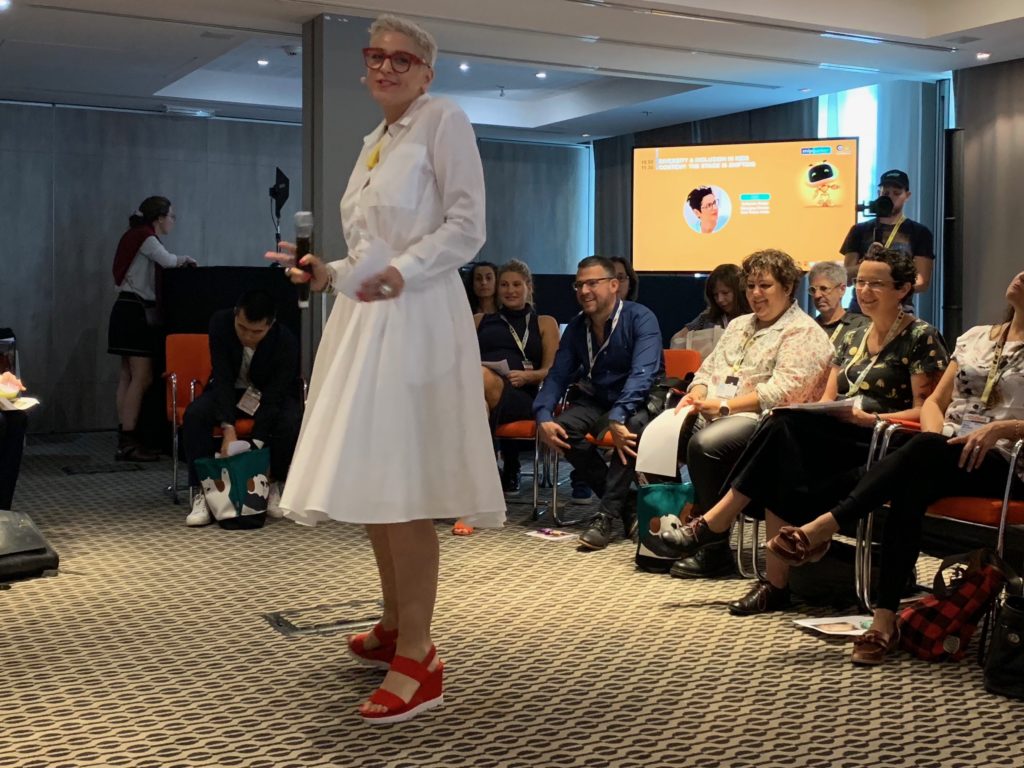 A packed Salon Renoir led to a thoughtful MIPJunior discussion on diversity and inclusion in kids content, moderated by Sallyann Keizer, MD of Sixth Sense Media. The focus: how producers and broadcasters can better support BAME, LGBTQI+, less-able and other poorly-represented populations. Rather than a convened panel, the views came from the audience—although for that reason, we've kept the comments anonymous.
A key moment came early on when Keizer asked the room to raise their hands if they think we have « nailed it » for diversity and inclusion in children's television. Nobody raised their hand.
There were positive views on the changing climate: from broadcasters expecting new shows to have diverse casts and topics, to voice-actors declining to put themselves up for parts if they do not match the ethnicity of the character. « They feel it should be going to the ethnically-appropriate actor, » said one producer with experience of this. « If it's an Asian character, it should be an Asian voice-actor! »
There was an acknowledgement that seeking out actors, voice-actors and other talent with diversity in mind can be a longer process. One Australian producer talked about spending months auditioning hundreds of indigenous children for roles in a show, but stressed that it was important and worthwhile to do this.
The same applies behind the camera. "Who's telling the stories? Who's writing the stories? Who's directing the stories?" was one comment. "You can't give up on trying to find the right people to tell those stories, because right now you can't get away with it, without having that."
There were positive stories: for example, a short film called IAN from Argentina, which has already won awards for its portrayal of a boy with cerebral palsy who encounters bullying:
The conversation also turned to the ambitions of producers and broadcasting partners. « We're trying to show kids this is the world as it should be. We have girls playing football and being really good at it. And doing maths, and going to the Moon and being astronauts. We're showing girls this is what's possible, » said one attendee.
Representing the LGBTQI+ spectrum in children's television continues to throw up challenges, particularly when broadcasters balk at the inclusion of (for example) gay characters and coming-out storylines. But there was also evidence of progress: at Disney, for example, Andi Mack has a character who came out; one of the lead characters in The Lodge was gay; and in the upcoming return of High School Musical, the parents of a lead character will be « two moms ».
"It really has to come from story, and it has to come from character. It can't just be shoehorned in… It has to come from an organic place, » noted one attendee.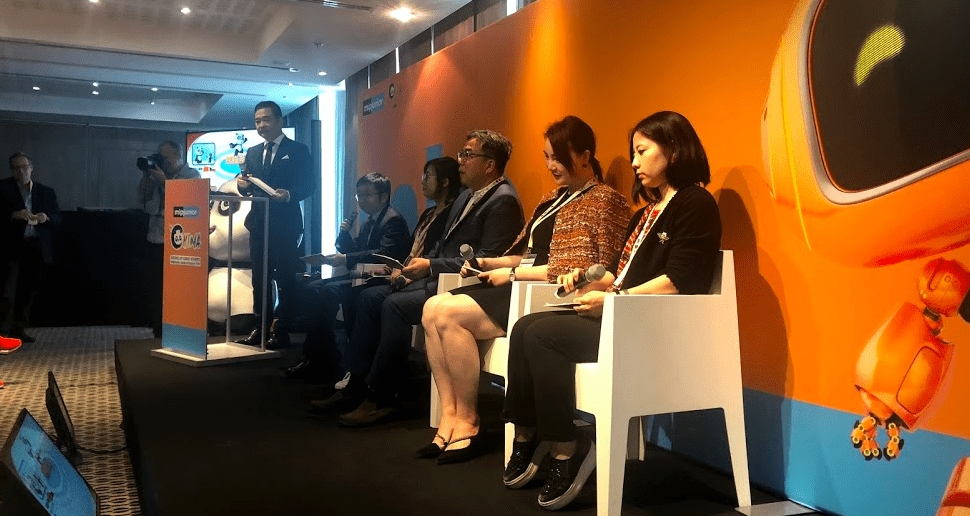 This afternoon China, MIPJunior & MIPCOM's Country of Honour, treated us to its Outstanding Animation Showcase, organised by the State Council Information Office, P.R.C. and the National Radio and Television Administration, P.R.C.
This sizeable panel happened in two parts and featured Ling Fang, chief operating officer, CCTV Animation; Buble Tang, deputy director of international distribution, Fantawild Animation; Wen Qi, producer, Tianjin Northern Animation Group; Huaqiang Wang, deputy director, Shanghai Animation Film Studio; Nina Wu, chairman, Zhejiang Zhongnan Animation; Dan Ding, deputy director of distribution at Happytoon; Chen Gu, general manager of the Animation Studio, Uyoung Culture & Media; Sophie Lau, international marketing head, Guang Dong Winsing Company; Ivy Zhong, chairman, Beijing Escape Velocity Animation Studio; and Zhenning Wang, marketing director, Fengzhi Entertainment.
Below are just a handful of the great works shared this afternoon. For more, check out the reels of the companies listed above.
Fang of CCTV Animation encouraged the audience to review Happy Mom and Girl, the company's latest offering for children.
Tianjin Northern Animation Group's Wen Qi presented Meng Wa, for which a second series is currently in production.
Shanghai Animation Film Studio presented a reel and explained its objectives: "To create a cartoon character that has Chinese norms but is joyful, innovative, green and funky," Wang said. The studio also works toward "promoting Chinese aesthetics, and cultivating Chinese patriotism through Chinese culture."
Zhejiang Zhongnan Animation's Wu also presented a reel and a show called Ruby: The Arrival of the Little Girl, "an entertainment series for preschoolers," she said.
She called Zheijian Zhongnan "one of the leading companies in the Chinese animation industry. Our mission is to create wholesome, healthy content that caters to all ages." The studio hosts almost 2000 hours of content.
Fengzhi Entertainment's Zhenning Wang showcased "Happy Friends," which has 11 seasons and two feature films under its belt, with another two television seasons underway for next year. "The animation style for Happy Friends is humour, enthusiasm and science fiction. We aim to build China's No. 1 superman brand," she said.
Guang Dong Winsing Company's Sophie Lau presented Kung-Fu Pork Choppers. She described 2019 as "the year of peace. If you are looking for partners in China, don't hesitate."
This afternoon also saw the MIPJunior Project Pitch, where five producers seeking financing for projects in development showed off their work, and fielded questions from industry judges Cheryl Taylor (BBC), Caterina Gonnelli (Disney Channels EMEA), Michael Stumpf (ZDF), Lila Hannou (M6), and Vicky Schroderus (YLE).
"I'm really looking for something innovative I haven't seen before, and also visually it has to be something that sticks out from the crowd," said Schroderus. "A big thing for us is humour: Kids love to laugh, and a comedy is really hard to get right. If you've got warm, relateable characters but in a funny situation, you're on to a winner," said Taylor.
First to speak was Melissa Vega from Dandelooo, with Billy The Cowboy Hamster. It tells the tale of a young cowboy hamster living in the desert with his caring dad. He and his friends, a worm called Jean Claude and a mouse called Josette, face up to unique challenges. "This series wishes to break cliches," said Vega: not least the fact that a cute hamster isn't the archetypal cowboy hero. The episodes will be seven minutes long.
Second to pitch was Joe Moroney of Fourth Wall Creative, with Milo. It's a show about an adventurous five year-old cat exploring the worlds of jobs and vocations through dressing up and exploring a role-play world. Each episode ends with a positive message from Milo celebrating the vocational theme. "In Milo's world, every vocation is amazing," said Moroney.
Third to pitch was Sebastian Wehner, CEO of Wolkenlenker, with Orbiteers. "Flying saucers do exist! See, I have proof…" he explained. The show focuses on a crew of aliens whose job is "UFO towing" – rescuing alien ships that have crash-landed on Earth. There's a grumpy boss, a rebellious pilot, a paranoid robot and more. It's a 360-degree property from the start, with a companion app with a game that'll get children building their own spaceships.
The fourth pitch was South Farm, from Yana Palamarenko of Yarki Studio. It tells the story of a penguin who's accidentally born on a sunny farm, rather than in their native habitat. "In one sentence we could say it's about a stranger in a strange land," she said. Challenges ensue. He's curious and sincere, cheerful and friendly.
The fifth and final pitch was The Borrowers, an animated adaptation of Mary Norton's famous books, pitched by Armelle Glorennec from Blue Spirit Productions. It focuses on the friendship between tiny Borrower Arrietty and human child Tom. "This is the first animated series based on this rich universe," she said. "This rediscovery of familiar things allows children to open up their imaginations."
While the jury deliberated, last year's winner Bruce Kane, of BES Animation Studios, talked about his experience since then with live-action format Boxwars: a show where kids build giant cardboard creations – then destroy them in a mock-battle. He talked about the process of talking to broadcasters about the show.
"Winning MIPJunior really set things in motion very very quickly for us. There was interest, there was media interest," he said, while noting that actually pulling the project together was always a longer-term task. He also talked about negotiating standards and practices. "Some people say 'you can't call it Boxwars'. It's not about war: they don't always battle. There's engineering challenges in here as well. But then the next person might say 'we really like the battling'."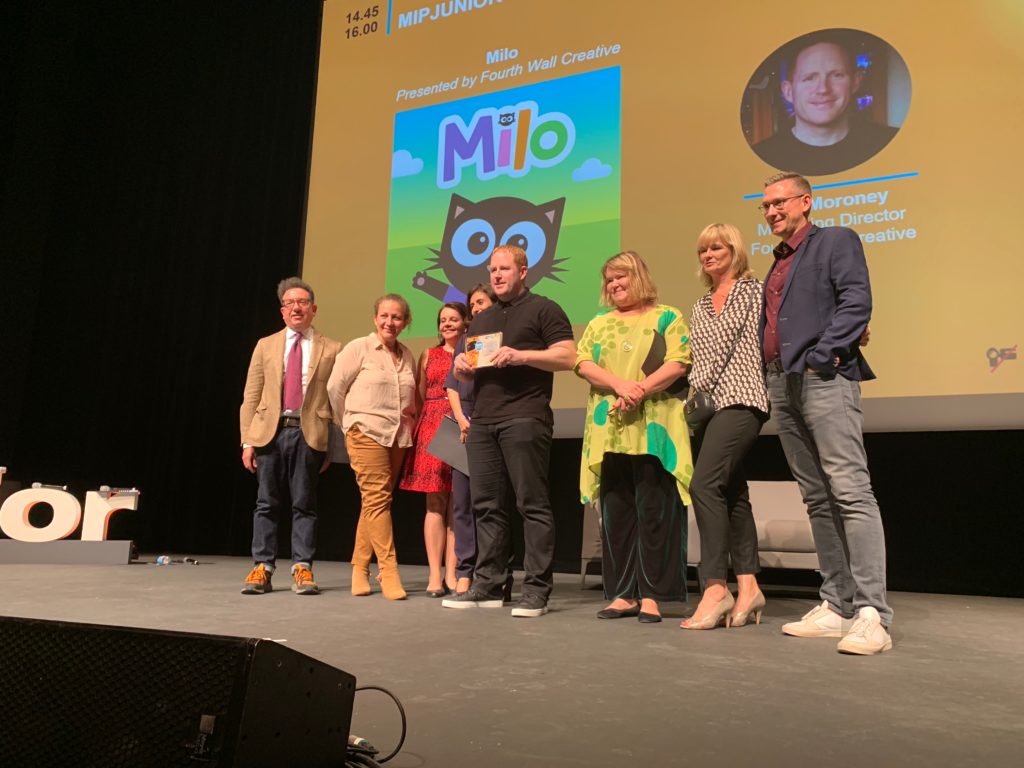 The jury then returned with their verdict. And the winner was: Milo, by Fourth Wall Creative. But the judges had warm words for all the pitchers, and wished them well with their projects' progress.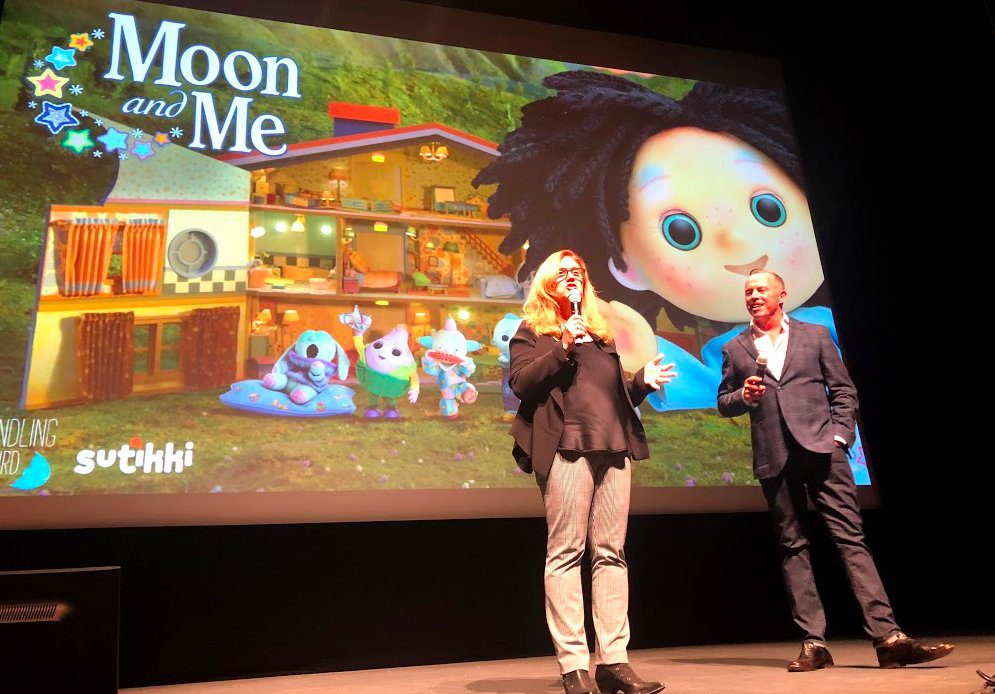 Then MIPJunior 2018 came to inspiring close with the World Premiere TV Screening of Moon and Me, the latest creation of Teletubbies creator Andrew Davenport. As BBC Children's Michael Towner said, "When somebody of his caliber rings you up and says 'I've got an idea', you jolly well listen." Producer Sutikki Kids' Sarah Weibel (above) was equally enthusiastic: "We are beyond excited to be able to do this, and so proud that Moon and Me represents Sutikki Kids' first show. »