Josh Sapan, president and CEO of AMC Networks, took to the Grand Auditorium stage at MIPCOM this morning, to talk about how the company has evolved into a global creative powerhouse, including growing its own direct-to-consumer subscription platforms. He was joined by actor Colman Domingo from Fear The Walking Dead – also an accomplished playwright and director – and moderator Anna Carugati-Guise from World Screen.
"There are people with stories to tell who want to tell them… Technology invites different ways of telling stories. And if we can marry that with the best storytellers and curate them against a backdrop of many, many more options, the world will pay attention!" said Sapan. "There needs to be a willingness, absolutely, to take risks. Almost every show that we've done that worked terrifically, seemed like it might not [beforehand]."
Domingo talked about Fear The Walking Dead. "It was about human behaviour, it was about survival, it was about all these issues we're dealing with… I was so interested in jumping on board and wrestling with those issues!" he said.
Sapan talked about the strategy behind AMC Studios, having begun with The Walking Dead all those years ago. "We saw: there is going to be a series of new entrants into the television world, and those new entrants… would produce content for themselves as opposed to buy it externally, exclusively. And that there would also be a demand for all this content, and it would be rewarded," he said.
"One thing that has guided us… we have always believed that content is precious, that storytelling can't be compromised. That being big is fine, if you wanna be a facilitator and make things accessible, it's a virtuous thing to do. But we wanted to bring the finest and the best… that informs everything we do through distribution, through our studio, through streaming." And perhaps most importantly, through the people it brings in.
What's the strategy for building long-term relationships with creators? "I think that television now is widely acknowledged to be a premier space to work, in which technology has really enabled great creative work to be done. It's not formulaic or redundant. What we believe, or attempt to do, is to treat every show that's done as precious: precious for the creator, precious for the writers, precious for the actors and precious for the audience," said Sapan.
He hailed recent success Killing Eve as an example. "We curated it. And it worked, and it developed attention. And I hope that when we speak to creative people, they recognise that we're not just saying yes and saying goodbye. We're saying yes and saying hello to a process that's ongoing, that will treat it as if it sits in the front window of the stores that we operate. Not somewhere on a shelf where you can find it if you want it… The front window's important!"
Domingo agreed, saying that he's developing an adaptation of his play Dot for AMC, telling the story of a matriarch with Alzheimer's disease, and how her new-found candour – because the disease means "her filter's gone" he explained – affects the family. He was hesitant to pitch it to AMC initially, since it felt like a smaller, personal story. But the network has supported the project and his vision.
Domingo spoke highly of the appeal of his Fear The Walking Dead character, Victor Strand. "When I first got the script, I thought it was some of the most sophisticated writing I'd ever read. It was such a complex character. I'd never seen a character like Victor Strand on television!" he said. "And It's such great and epic storytelling… We're creating short films actually. It has so much size and stunts and visual effects, but still these beautiful human stories. At the end of the day, the zombies are just in the way!"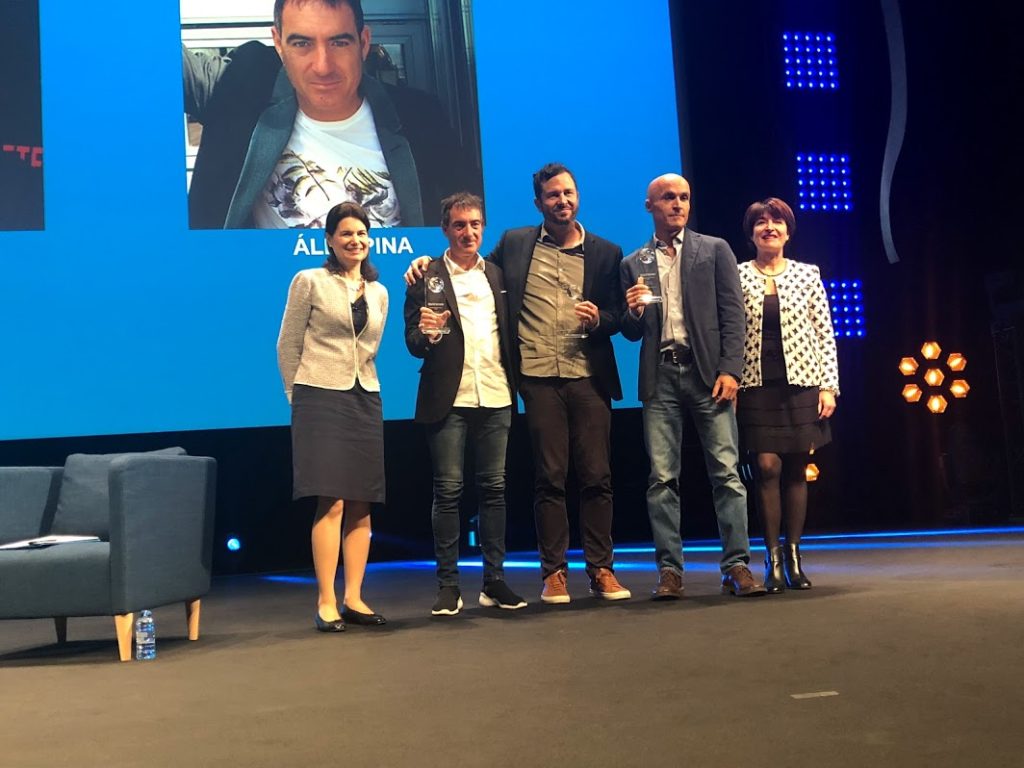 Talent Behind the Camera celebrated gifted individuals driving today's television. It featured Álex Pina, Creator & Executive Producer (of Money Heist and The Pier); Eric Newman, Showrunner, Screen Arcade (perhaps you know Netflix's Narcos); and Lorenzo Mieli, CEO of FremantleMedia Italia, whose creative properties include The Young Pope and My Brilliant Friend.
It was moderated by Anna Carugati-Guise, Group Editorial Director at World Screen. The panelists also received the World Screen Trendsetter Award for their contribution to the international television industry. It's not hard to see why: The session was packed with anecdotes about shows now beloved, but that would perhaps have been impossible to make just a handful of years ago.
Of The Young Pope, Mieli mused, "Everyone was expecting a show about the dark side of the Vatican, and it was not." He cited the first episode, when the young Pope reveals he doesn't believe in God at all. "The real complexity comes from the inner, not the outer," he said.
So despite the sex and glamour that The Young Pope—and actor Jude Law himself—are associated with, Catholics haven't fussed all that much. "One year after the show was aired, there was an article in a paper that nobody reads, but it's important because it's the official newspaper of the Vatican," Mieli revealed. "It said [The Young Pope] is one of the most interesting pieces about religion done in the past decade."
To make the show, FremantleMedia Italy tapped Paolo Sorrentino. "The way he tells stories is really weird. And thinking about them is even weirder… I thought he could be an incredible storyteller in long storytelling TV." When asked, Sorrentino said he'd never watched a TV show… or maybe just one. "I said good, that's the reason you should do it," Mieli said.
"Paolo studies a lot, then creates everything from scratch… he recreated something. There's authenticity in the research, but it's purely creative in the result." He also said it is forbidden to shoot fiction in the Vatican, so whole spaces within it were recreated. "Each part of the Vatican is a specific angle of Rome."
Newman explained the path that brought Narcos to the screen. "In 1996, I heard a story about the drug war, the efforts to take down Pablo Escobar. At the time it was thought of as a success. As I dug deeper, I was confronted by the complexities of this failing endeavour. I was drawn to it, began developing it as a film… and it got caught up in that era where things were moving away from drama, this sort of rise of a tentpole," he recounted.
"It just became increasingly difficult to get someone at a studio to embrace it… When Netflix announced they were launching in LatAm, they asked if I had something that might work; I said yes, but it has to be in Spanish, at least partially, and we have to shoot it in Colombia. I knew little about TV at the time, but… they said go do it. It took me 19 years between the idea and actually shooting."
Like Mieli, he addressed public reception of his work. "We've received criticism for glamorizing these people," he admitted. "What people are reacting to is the fact that we humanise them. Law enforcement, particularly American, tend to see the world as good guys and bad guys… The mistake people make is depriving someone, even the greatest villain, of humanity. Monsters do not spring forth from the womb. They're created, and they're created by ideology and rationale."
And of course, Pina described the origin story of Money Heist/La Casa de Papel.
"We wanted to deal with heists but had no money, couldn't compete with the big production companies," he recounted. "We had to develop a character, and that was a concept that was stimulating…" Ultimately, it led to a storytelling model that "offered us rhythm, freedom and versatility. We could describe claustrophobic moments, change the ambiance, almost the genre."
He also went into detail about Berlin, a character whose complexity is a favoured topic of discussion among fans. "The audience spends many hours watching fiction," Pina said. "They want more complex characters. In the beginning Berlin is very derogatory; we changed that, and made him highly empathic. The audience finds it more stimulating. We try to balance both aspects."
Illustrating the point, Newman interjected, "It's a character you want to die as early as you can get in the show, and by the end of it you're praying he doesn't. You can't do that in a movie!" To wit: "In the first episode of Game of Thrones, Jamie throws a child out a window! By the end of season three, you love him. You can't do that anywhere but in this medium," where a character can be developed over ten or more well-constructed hours.
For The Pier, Pina went in another direction. "The whole [of Casa]was shot in interiors; very claustrophobic. We decided to go outside with The Pier. It's a story about a man with a double life, and we try to understand everything he's feeling." This is perhaps due in part to their learnings with Berlin.
Mieli talked about the upcoming My Brilliant Friend, based on Elena Ferrante's Neapolitan Novels. Perhaps not so ironically, Fremantle's approach to the adaptation owes much to La Casa de Papel and Narcos.
"The story is so authentic because of who wrote it and why… casting was complicated because we had to find real Neapolitans; most were not professional actors," he revealed, never mind the dialect itself: "When I watch the show I don't understand 70%; we're gonna have subtitles [even in Italy]. That's a step forward after Narcos."
He described what makes My Brilliant Friend unique. "In the first season of My Brilliant Friend, there are two twists: A pair of shoes and a doll. It's a totally different way of looking at long storytelling"; nothing is making you leap out of your seat in every scene. Instead, "It's all about the complexity of the point of view of these female characters. It's a risk, but it could open a new way of considering long storytelling for art movies or art TV shows."
And he expressed hopes for what the show would achieve. "I hope the show performs, is well received, will be loved. But in a way, to have a show in Neapolitan in Italy on primetime… in a way it's already changed, the way international shows are seen."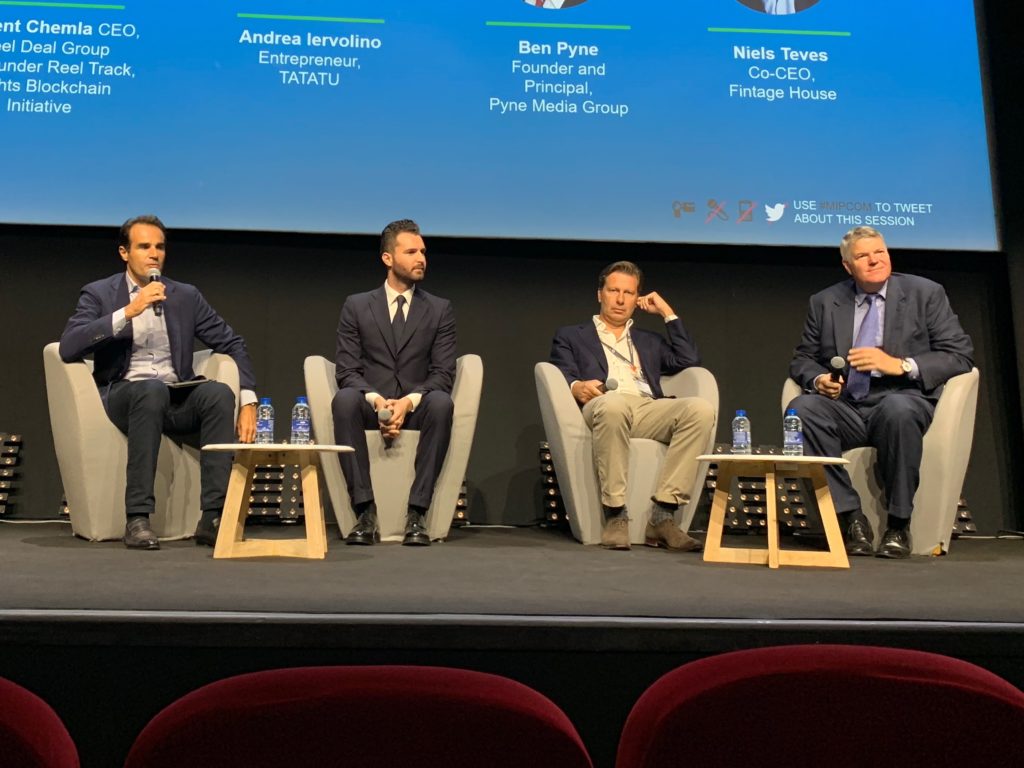 The much talked-about blockchain technology was on the agenda at MIPCOM today, with a session focusing on its potential impact on content discovery, community and rights management. Moderator Laurent Chemla of Reel Deal Group was joined by TATATU entrepreneur Andrea Iervolino; Fintage House Co-CEO Niels Teves; and Pyne Media Group Principal Ben Pyne.
Pyne is a veteran of the TV industry, having worked at Disney on a global basis in its distribution business. "There is friction, there is time, and as there are ever more content producers around the world, and ever more platforms in the digital world, the ability to streamline and speed up the process from creator to consumer, [there's a need for] anything that speeds that up – and I think blockchain has a very real application for doing that."
Andrea Iervolino explained TATATU: a platform where people can watch videos (including gaming videos) and listen to music; invite their friends; and get rewards in the form of TATATU tokens in their digital wallets. They can be spent on premium content or donated to charity.
"It uses the blockchain as a technology that is actually a normal real business which anybody can understand, without understanding anything about the blockchain. We stream movies, for free, and we sell advertising in exchange for our token. So when they buy advertising in TATATU, they pay in cash or TATATU tokens… and then we share these revenues, in tokens, with the users… with the content providers, and also with the friends of that user," he said.
Pyne gave a TV industry-veteran's view, suggesting that blockchain technology could give content owners more trust in licensing their content to advertising-supported streaming services, for example. "Clearly the studios have libraries that they would like to unlock. How do you unlock that in a way that you know where it's going, and you know that you'll be paid for it? I think blockchain will allow you to do that," he said.
Teves talked about the idea of the ID of works being put on the blockchain, to help the rightsholders track where they are being used. "If we have a perfect ID system, that would be my first goal for blockchain," he said. "And it can unlock unsold territories. You have unsold rights in unsold territories, so it's perfect for them… There are interesting possibilities."
Pyne finished with some thoughts on what the big studios will make of blockchain technology. "There are two things that the studios may be interested in. One may be unlocking value from libraries… and the second is that people want to know where their content is and who's watching," he said. "This allows a little bit more transparency. That's where the studios are. But there are smaller and more dispersed creators who may be able to take advantage even sooner."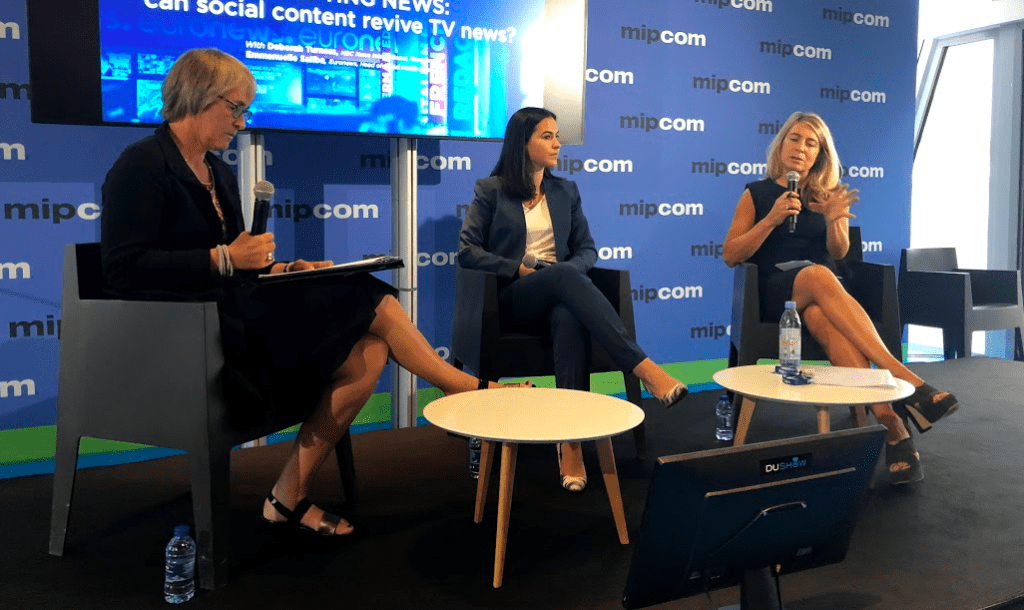 Can social content revive TV news? More than that, can people's faith in news be restored? These are the questions that were asked in a panel moderated by Kate Bulkley, independent media commentator and journalist, and featuring Emmanuelle Saliba, Head of Social Media Strategy, Euronews, and Deborah Turness, NBC News International.
Saliba and Turness talked in depth about the mission of Euronews in polarised times.
"When we looked at the operation, we saw a real opportunity to create a startup brand within the brand, to say Europe is divided," Turness said. "We are building Europe's town square: All voices, all views, all welcome. That is the foundation that underpins the new Euronews."
What does that mean, exactly? "We want to discover the real meaning of impartiality," Turness explained. "We want to speak to the populists and nationalists if they want to have a rational debate… politics is increasingly tribal. Where is the platform where you can have that debate and that [people can]trust?"
In May, Euronews launched Good Morning Europe, an avatar that embodies these values but also demonstrates how "we are using social in a way nobody else is," Turness said. "We don't own any cameras; all our journalists have iPhones. People will let you in, talk to you in ways they won't when you have a big heavy camera."
A practical example of how mobile changes journalism: Anelise Borges was the only broadcast journalist able to board the Aquarius. This enabled Borges to film over 20 hours of footage via iPhone, bringing the migrant crisis to stark, tangible life.
"We were embedded," Turness said.
For this work, Borges won two awards. The footage yielded a one-hour documentary: "10 days at sea, the real story of Aquarius."
That nimbleness extends to the broadcast desk. Per Saliba, Euronews built a newsroom with "completely new technology" that "allows us to keep up with how fast news develops and breaks on social. We bypass the usual control room. When you [normally]see an anchor talk with an iPad, it's going through a gallery, a control room. We're doing all that with laptops, phones… so we can verify info within seconds."
That speed to air serves a critical purpose: "We verify info and debunk it live," Saliba went on. "People are increasingly deceptive on social. People want the media to be wrong, there are trolls in breaking news that pretend to be [in the news situation]. As soon as you see something in your feed, we'll explain that and say 'you know what, that photo is fake'. No one else is doing that on air, pointing those facts out."
This position is mission-driven by both necessity and journalistic commitment. "We believe we can't stay silent anymore. If we're doing debunking work, we have to be transparent with viewers. We're making our audience smarter, taking them along with us so they recognise that video from the hurricane is 5 years old."
Another recent Euronews product is Raw Politics, launched in September. "We felt strongly that we should go out there and say, 'it's about rediscovering impartiality'," Turness said. "We say we are unapologetically impartial… it's a controversial idea. We're passionate about Europe, but Europe is divided."
And Europe's long, sometimes fraught trajectory defines Euronews' compass. All sides of its stories need a hearing and a weighing.
"If we're honest, most media is predominantly liberal," said Turness. "The balance for us is, have we challenged ourselves to [reflect that other]point of view? Are we constructing ourselves differently, with people with curious minds?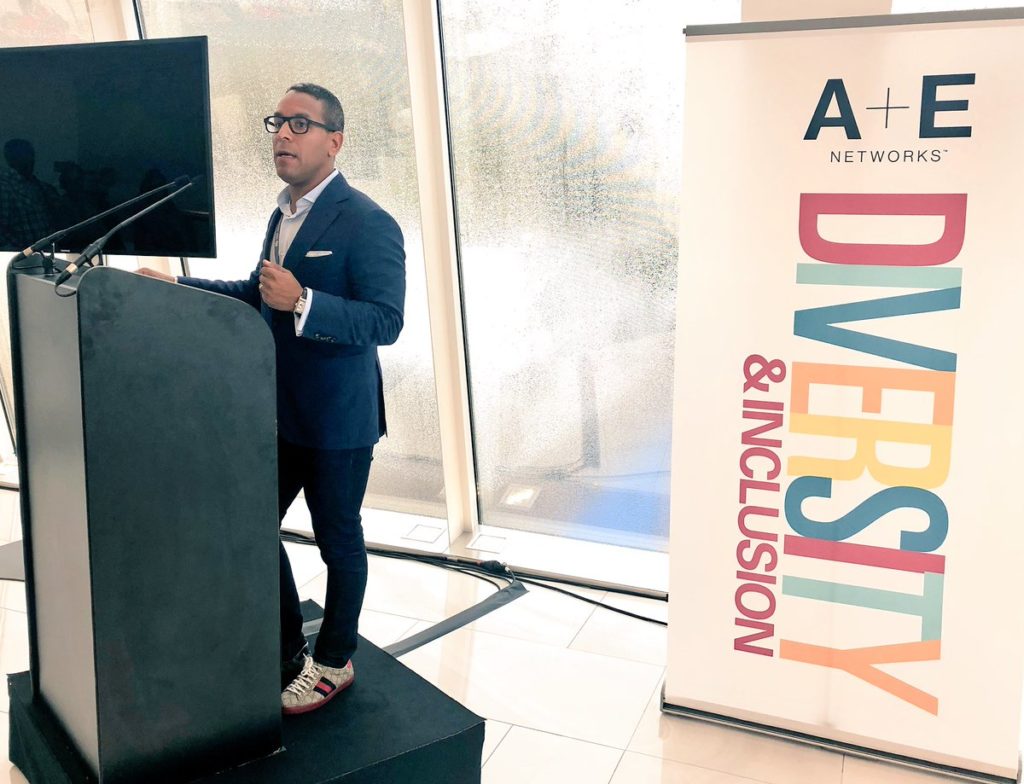 Another day 2 highlight was the Diversity Networking Lunch, which officially kicked off this MIPCOM's unprecedented focus on diversity in TV. Guests were welcomed by A+E Networks' Sean Cohan (above), who said "you're standing up for our industry's commitment for diversity" simply by being here at MIPCOM. "We can work together for a global culture that encourages inclusion. Plus it's great business, and people are increasingly recognising that."
More at the MIPCOM Diversity TV Excellence Awards this evening, which we'll naturally be livetweeting!