This morning saw the 2018 MIPCOM Personality of the Year keynote from Issa Rae, the creator, producer and star of HBO show Insecure, who is also an award-winning online star (with her web-show The Misadventures Of Awkward Black Girl) and a bestselling author, thanks to her collection of essays. She was interviewed by writer and critic Iris Brey.
Rae started by talking about her early inspirations. "The desire came at a young age. My parents had one of those old Apple computers, and I just loved telling stories and typing… that runs in our family: just making each other laugh. So for me, I wanted to tell funny stories," she said.
Later on, she was also influenced by what she saw on television – and also what she didn't see. "There was a singular representation of black women that I felt was not characteristic of anyone I knew. It was at that time that I decided I want to create something, that reflects me and my friends." That led to Dorm Diaries. "I had a lightbulb moment when I was in the bathroom. 'I should create a soap opera or a docuseries of what it's like to be black at Stanford University. I should cast my friends. They will share it because they're vain!'" she laughed.
Rae cited experiences from her career being told that there wasn't an audience for this kind of content. "The answer for me was putting something online for my friends to watch," she said. "Wow! I didn't have to go through anyone. I just put it out there and people are watching it."
By the time she was making The Misadventures Of Awkward Black Girl – starring in it herself because the friend she'd earmarked for the lead role had gone to law school – Rae had at least one new inspiration: Grey's Anatomy / Scandal showrunner Shonda Rhimes.
"Just to hear about this black woman who had this successful medical show, who was a showrunner who was just producing and empowering women," she said. "To be an internet creator and to see the internet community respond so enthusiastically to a TV show starring a black woman. She paved the way for all of us. »
Rae thinks there's been an important change since the 1990s and early 2000s, when network shows were "geared to capture the biggest audiences possible" – which is why their commissioners tended to steer clear of anything they feared would turn some (i.e. white) viewers off. "With the advent of cable and streaming, the desire to be ridiculously broad and to cast a wide net of eyeballs isn't as important. It's really just about authenticity."
A large part of the audience for Insecure is white. "Which is great. It makes me want to go back in time to find that person [who said]'nobody's interested in watching these'. The person who told me when I had black leads in my film 'you need to make it more multi-cultural', which means add a white person," said Rae, of Insecure finding a big audience of white viewers. "It's indicating that white people are sick and tired of just seeing white people in shows! It's overdue."
Insecure's writers room is made up predominantly of black women, with a range of ages and sexualities. « We just wanted to make sure that the voices that were dominating this story were also reflected in the room, »  said Rae, who stressed the importance of representation. "In this industry, and in society, the default is white and we just don't necessarily question it. Or haven't for a long time, in the content that we viewed, or think about the impact that has on the others who watch it: 'Your experience does not matter… your stories aren't important enough to be told on screen'."
Rae added that she thinks today's momentum will not ebb away, as it has in the past. "This feels like one of the few times where a lot of the creators behind the scenes are empowering other voices, and are pretty much taking the reins. 'We're here to stay, and we're putting executives in positions of power to have the experience to ultimately go and run studios'… and having the people able to greenlight shows being people who look like us and have those experiences," she said.
"The difference between now and the past was there was the perception that there was just one spot. Now it's about opening doors… so other people can climb through and make their mark."
The conversations turned to the depiction of sex and sexuality in Insecure, with Rae talking about the awkwardness of her mum watching sex scenes in the show, including one that featured a threesome gone wrong.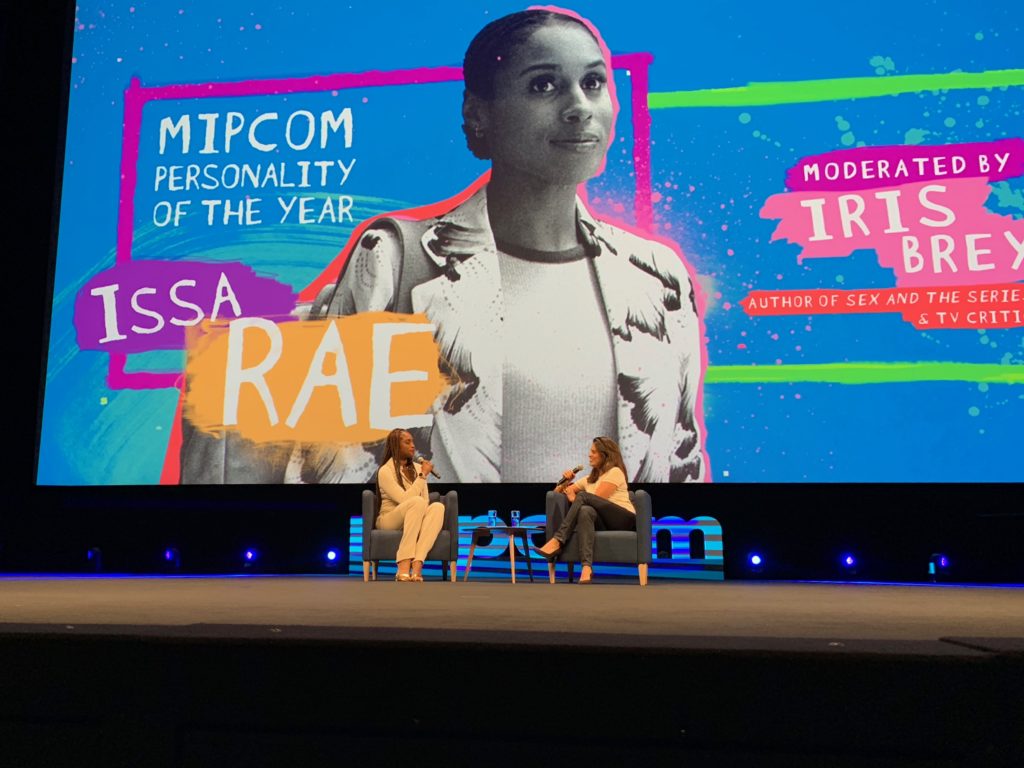 Tackling stereotypes of black sexuality is one of the challenges Rae has made a priority with Insecure. "One of the things that was very important this series was to just show black people having sex without the weight of race… we have sex, and sometimes it's not as drastic or dire. It's not ugly or sad: it's just sex. We make love! And to show dark-skinned black women having sex where it's not over-sexualised, it doesn't look like a music video. It's sometimes absolutely awkward. We just wanted to show that."
She also stressed that the female gaze is the driving force behind how Insecure's sex scenes are written and shot. "We're telling the show through the female lens and the female gaze which is pretty rare. So as an audience member, you're seeing what I see, what Molly sees. We're always seeing titties and ass from women, which is fine. If you have it, flaunt it! But this male gaze that we've always been subjected to? This is an opportunity to reverse that."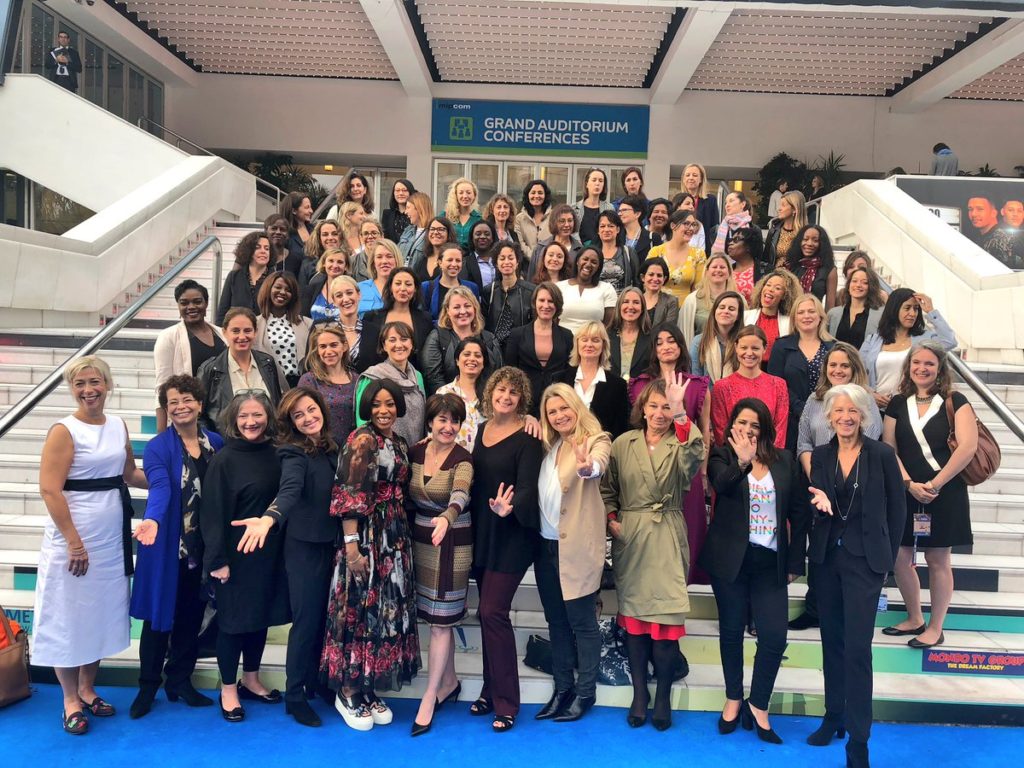 Speaking of reversing the male gaze, a special mentoring session this morning saw female TV industry leaders provide mentoring and advice to their peers, in a breakfast event organised by French association MediaClub'Elles. Hayley Babcock of A+E Networks, for example, summed up her table's discussion as follows: "don't be afraid to advocate for yourself. Everyone has recommended someone to someone else. Do it for yourself. Men do it all the time! If you don't ask, you don't get. Use your own personality, don't change it for others." After breakfast, guests gathered on the Palais' steps for a group pic (above). Head over to Twitter for more photos and conclusions!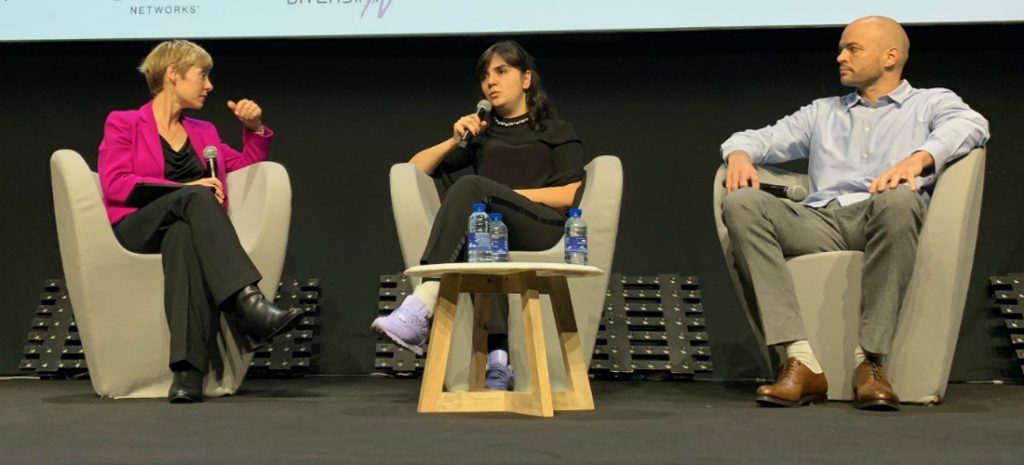 MIPCOM's Stories Without Borders strand saw an inspiring session this morning with Rania Ali, who filmed her journey as a refugee from Syria to Austria for a documentary, which was premiered on the site of newspaper The Guardian last year. She was joined by director/producer Anders Hammer to talk about the project, interviewed by BBC World News presenter Philippa Thomas.
"It all happened by chance!" said Ali. She met Hammer in 2015 when he was working on another project, and told him that she was leaving her home in Kobane and planning to film her journey on her phone. He provided her with a GoPro camera and a week's training. Ali said she was responding to the coverage of Syrian refugees in the media.
"There was a huge misrepresentation of the people. The words that they were using, the numbers, the percentage of men/women, who they were showing… it was all very wrong in my opinion. It was not personal. There was not a personal story. And the way they were showing it was as if people had a choice to leave, like they wanted to come to Europe to earn some money, or to get a better life," she said.
"Well yeah, they do want a better life: one without bombing and killing! I wanted to have ownership of my story… They were dehumanising people: it was either a victim or someone to be scared of. When you see some newspaper saying 'millions are flooding across Europe' that's a very scary way to describe something, and people will be terrified of it," she continued.
Hammer admitted that he had no idea how far Ali would get on her journey. "Our plan was to document the trip, but it took a long time before we could realise how the project would look," he said. The pair communicated via WhatsApp regularly during the journey. "Every time I would reach a country I would tell him… and then we met in Greece, so it was quite often," she said.
Ali also talked about how it felt to be pushed back and even attacked along the way – as in a scene filmed on the Macedonian border, where the refugees were tear-gassed. Did documenting it help? "Yeah, I think it does. But I didn't expect this. I'm used to it in Syria – used to it in the sense that anyone with a gun could threaten you or kill you or assault you. Your dignity is not protected there. I didn't expect that this would be the same situation in Europe. My dignity was not respected. No one cared about me as a human being – at least on the Macedonian borders – or cared about one of my basic human rights being to seek safety," she said.
"The filming helped a lot. It somehow gave me strength – I was talking to a lot of people, hearing different stories, so I was also somehow comparing my situation with theirs. My situation was a lot better than a mother with five kids who is running out of money. Or a minor who is without his family… That somehow strengthened me. Every single one of us deserves to be heard. We all have voices, and no one has the right to shut them down."
The documentary has won awards and rippled out over the internet, being shared widely on platforms from YouTube to Facebook. That has helped Ali in her ambitions to work with people who have made similar journeys.
"I'm working with an NGO and we're running a project where I meet refugees who arrived to Europe recently. I mostly meet young people, and at the same time I also talk to people from the host community. Germans, Austrians," she said. "The point is to get their perspective and their opinions and voices also out. I've seen that the personal stories are very important… and one voice could change one opinion, or give a different source of information to people."
Hammer and Ali are making a follow-up to the documentary, including footage of Ali in Austria – that will be released in 2019. He was asked how easy it is to fund a documentary like this, and whether there is fatigue around this kind of material.
Beyond The Guardian, he admitted that it had been hard to sell other news organisations on the project. "I think a lot of the editors thought that they had already published a documentary about refugees or two or three, and they couldn't see why they should do more," he said.
"This has been an experiment in many ways. It has today 9.4 million views, when you put the numbers together from Facebook and YouTube and the Guardian. So there's definitely an audience there that wants to watch… It has shown that it's really possible to share and build and expand a project through social media. I'm sure we wouldn't be here today if it hadn't been published on Facebook and shared that many times. Every day, somebody gets in touch because they saw it online."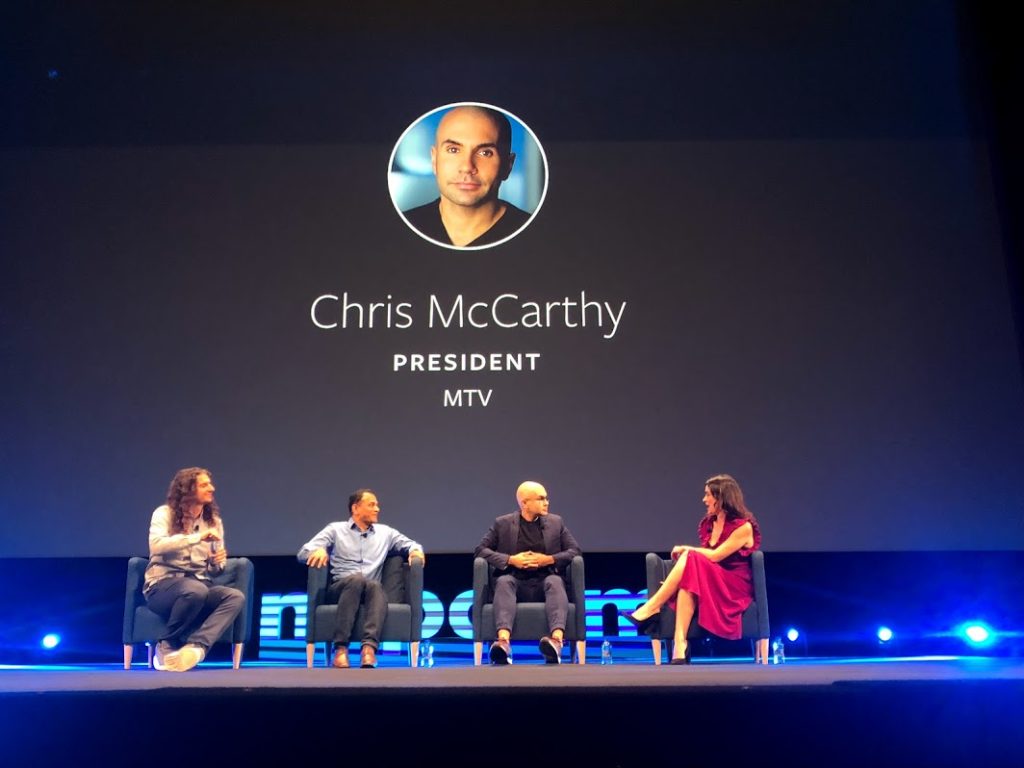 Facebook started off MIPCOM's 3rd day to talk about updates to its Watch product. Moderated by presenter Marjorie Paillon of France24 (also founder of I Love Productions), it featured Matthew Henick, Head of Content Planning and Strategy, Facebook; Paresh Rajwat, Head of Product, Video, Facebook; and special guest Chris McCarthy, President of MTV.
"Over 50M people come to watch videos for at least a minute on Watch," Rajwat began. "Time spent increased by 14 since the beginning of the year. And when people come to watch, they come with intent: They spend five times longer watching videos compared with watching videos in Newsfeed, when they are in discovery mode."
Facebook Watch, he continued, is "grounded in the principle that watching videos doesn't have to be a passive experience."
The Watch Party feature enables people to "co-watch" something together live, as they do on Twitch. For episodes of Jamie Oliver, for example, Oliver himself was in the Watch Party, answering questions as people consumed the show.
Premiere is a just-launched product that "enables video creators to publish a new pre-recorded video as a live moment," Rajwet said. "Premieres bring publishers and fans together in a unique way. It starts with creating anticipation, leading to a premiere where publishers can connect with fans and have a more engaged discussion."
Henick hit the stage to talk about the success of various content properties on Watch. In the Jada Pinkett Smith talk show Red Table Talk, for example, people can interact with the official show group, where they can talk about what topics and guests they want for future episodes. And in Huda Boss, people can help name new beauty products.
"Most traditional formats, like game shows and unscripted shows, can become more community oriented on Facebook," Henick continued, hinting at what was to come.
Soon, a product called Confetti will launch in EMEA, APAC and LatAm, to give game shows that extra boost of live engagement. An upcoming format, World's Most Amazing Dog created in partnership with The Dodo, is a "global competition show where anyone in the world can post an audition with their dog; the Facebook community will vote for the winner," Henick said.
But here was the crowning glory of the Facebook panel: MTV's The Real World, one of the first reality shows ever made, will be returning exclusively via Facebook Watch. Viewers will be able to submit themselves live, and also participate in casting, co-watch weekly episodes and consume "daily drops" (as they do for existing scripted Watch series like Skam).
The new and improved Real World will consist of three seasons: U.S., Mexico and Thailand, "each natively shot and intended for that audience," said Henick. "The show will be global from the start. »
McCarthy, who then joined the panel to applause, offered his two cents. "For us to bring the show back, it would have to be in a whole different way for a whole different generation," he said, making the Facebook Watch collaboration an ideal medium. "We're calling the genre 'shared reality TV'."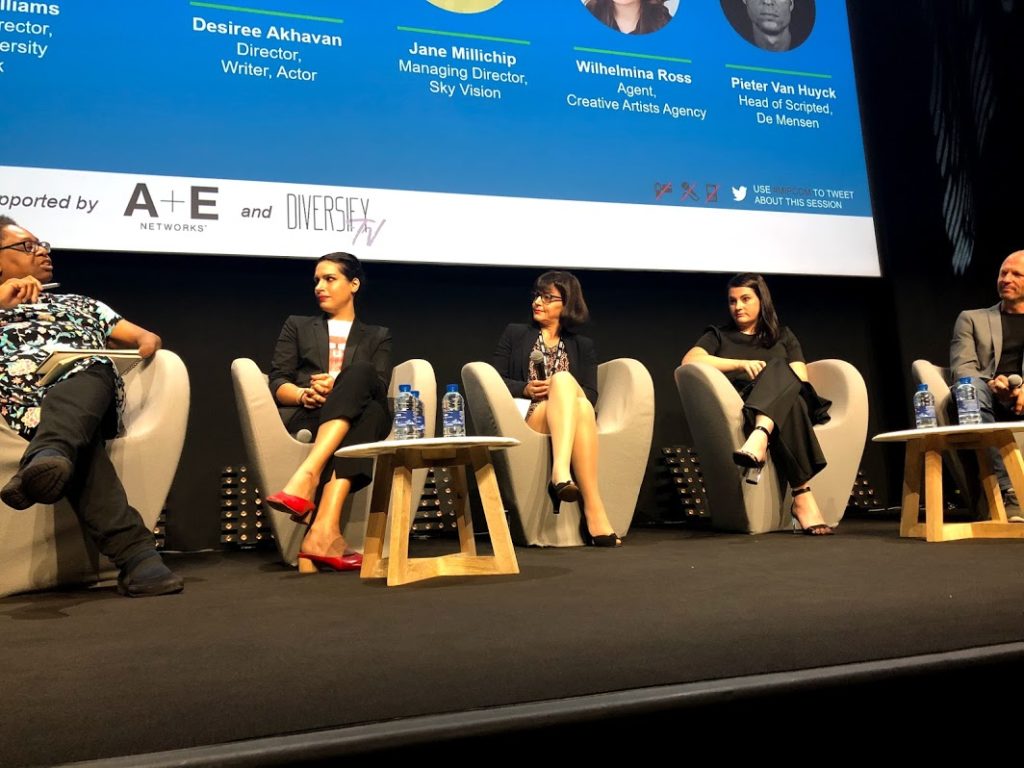 This morning we were also treated to a panel on embracing diversity. Perhaps the best way to sum up how "diverse" people feel about such panels is something writer/director/actor Desiree Akhavan said when first called upon to speak by moderator Deborah Williams, Executive Director of Creative Diversity Network.
"It's surreal sitting here, being in this conference," Akhavan said. "The business of film and TV is so at odds with the creative process. It's a real mood killer talking about these things. It's bleak."
Yeah, it is. But Williams made it work, setting the tone at outset by saying diversity shouldn't feel gimmicky, or lofty. This is a conversation about solving a problem, and perhaps one of the best conversations about that problem seen all week.
Managing Director Jane Millichip of Sky Vision chimed in early for quotas, which Sky set into place to ensure a 50:50 male/female split by 2020. "At Sky, we like quotas. They give you a kick up the arse; you get to the end goal faster," she said. "They can be draconian, so need to be accompanied by a changing culture" that brings softer skills to bear as well.
One insidious thing she's paying special attention to is unconscious bias. Millichip's hackles rise as soon as a production partner, for example, concedes the importance of "diversity" but adds, "I've got to hire the best people for the job."
"That's unconscious bias," she said. "You have assumed a woman wouldn't be the best at the job. That's the kind of sloppy language we need to eradicate. People who aren't in the liberal educated elite don't necessarily have the confidence to stay in these teams. If you say things like that, they won't stay around. So we're trying to address culture and corporate."
Actress Issa Rae set up Color Creative, an initiative meant to find more diverse voices. Through it, she organised a writing competition called Fresh Wave, sponsored by Sky Vision. The shows of the winner and runner-up are now being pitched internationally. The winner was The Awoken, whose trailer we screened.
Speaking for De Mensen, where he's Head of Scripted, Pieter Van Huyck talked about the importance of not telling stories about inclusion but instead embedding inclusion de facto into stories. Team Chocolate—which won a Diversify TV award last year for excellence in representation of Disability (scripted)—is "just a beautiful story about a guy who falls in love," he said. "He has a challenge, a desire… We never pitched it to the public as a show about diversity or a certain group. This is just a romantic road movie. And we told the production team there's no reason that, on a quality level, this can be less than any show we make. Also, these actors have to perform."
Team Chocolate stars a young man with Down Syndrome, working in the packaging department of a chocolate factory with other disabled people. He falls madly in love with an autistic woman from Kosovo, who, because of visa issues, may have to return there. Hijinks ensue!
"In Belgium, there wasn't a lot of discussion about disabled people when it aired. It was just a story about what it was to be in love and … have sex basically," he said, laughing, egged on by Williams. "In Italy they're shooting a remake, which is very cool."
Agent Wilhelmina Ross of Creative Artists Agency talked about the multi-cultural committee in her building. "We have a mid-level mentorship, a diverse writers programme where we pair veteran showrunners with mid-level voices," she said. "We bring people in for panels like this, and have an Amplify retreat that invites diverse voices to ensure people connect."
She also talked about their latest coup: Joss Whedon's new HBO show, "a female Peaky Blinders with supernatural elements" that will feature "diverse female voices from across the globe."
Ross added, "We're seeing something cool happen. If you want to be heard, you want your script sold, it has to be more special than ever before, no matter who you are. You have to fight for things more than ever because of how many voices are being heard. We're seeing some of the best material we've ever seen."
"Diversity requires a monetary risk, putting money where ideals are. It's hard in LA to get people to do that," Akhavan observed. "It looks nice to have incentives and mentorship programmes, but if you're not willing to take a financial risk on stories that don't have parallels," it's going to be hard. "When you boil it down to dollars and cents, that's where it comes at an impasse."
Akhavan herself got into this business because she "grew up on TV. The characters on The Brady Bunch were the only friends I had. I learned about sex from Saved By the Bell. Friends was my only source of comedy growing up."
She painted a picture of who that kid was, seeing all those characters. "I was lonely and isolated, the ugliest person at school. I ate lunch alone every day in the locker room. I never saw myself onscreen, or anyone who looked like me, talked like me, was like me. When I got old enough to find my life, it looked so different from what I saw on TV. It was such a rude awakening; I'd been lied to! So I am intent on making stories as I know them."
We then screened her trailer for The Bisexual, which airs on Channel 4 in the U.K. and on Hulu in the U.S.
Millichip pointed out that it's often the broadcasters that ghettoise diversity, pointing to how hard it was to get a particular cooking show, starring a black female chef, on air.
Akhavan interjected, "Because they're all straight white men. If the people making the slots could relate personally… this is about empathy. The decision makers are all the same. If they can't empathise with a black person running a cooking show, that's the problem."
Millichip ultimately did get her cooking show to broadcast, but alluded to it taking a great deal of work. "I long for the day when you can be a black woman on a panel not talking about being a black woman on a panel. But we're in transition and that's okay," she said.
Akhavan has one thing to say to people who tell her, 'diversity is not for me': "It's not an option." We live in a different world, she went on; this is what people want now. But it isn't just a commercial imperative; "it's also a moral issue… it's a huge responsibility to be in people's homes every single night."
Additional reporting for this wrap: Stuart Dredge