MIPCOM 2018 got off to a strong start this morning with its first keynotes: TV chef and entrepreneur Jamie Oliver (top photo) and ITV chief executive Carolyn McCall.
Jamie Oliver celebrates 20 years in the TV industry with us this week. And in a Media Mastermind Keynote moderated by Michael Idato, Entertainment Editor-at-Large of the Sydney Morning Herald, he reflected upon career highlights from The Naked Chef, School Dinners and Jamie's Kitchen to Sugar Rush, Jamie & Jimmy's Friday Night Feast and his recent global hit, Jamie's Easy Food.
With an estimated global TV audience reach of 64 million and more than 35 titles broadcast in 182 territories through 185 broadcasters, the BAFTA and Emmy award-winning chef talked about his mission of facilitating positive social change in TV storytelling.
"I'd grown up in a pub restaurant, a family business," he began. "The plan was to come to London 3-5 years, put my head down, work in some local restaurants, and go home to start a life… then TV happened."
Thus began his origin story, and not a moment too soon. "Food saved me; I did so badly at traditional academics," Oliver laughed.
And his work at The Naked Chef was also trial by fire. "I was so naive … and I really didn't want to be on telly. I didn't trust TV at all." He focused on "stripping down restaurant food, me at my house, with my friends, music from my record collection. From that, stripping it bare, that's where the name came from. It was the right show at the right time."
At the time, cooking was primarily seen as a female occupation. "Women were coming to work in velocity… men were not cooking," said Oliver. "The job of The Naked Chef was to take it from 'cooking is for girls' to 'cooking can get you girls'… it was about 'anyone could be part of this gang'."
Setting up his own production company was a natural next step, an effort to take control over his television career based on what mattered most to him. "How do you do a genuine, legit, measurable campaign with content and get social change?" Oliver asked, observing that too few succeed because " it's bloody expensive."
He said, "For 15 years, running my foundations and campaigns department has been at least 1M quid a year. At least… Campaigning is about caring, and that costs a lot of money."
And yet he has a model that people respond to, perhaps because his approach to television is as organic as his approach in the kitchen.
"I started to treat TV, broadcast and creating content like cooking—fantasy, asking the question 'Why?'," Oliver explained. "There's a lot of protocol in TV production, a lot of old wives' tales about how you should do something. What's beautiful about starting from nothing is [you learn every department]; every element of our industry is a gift, a joy. To understand that the grade is as valuable as the sound man, the direction, the imagery. That's beautiful; the craft of TV."
He compared the work of broadcasters to that of a deejay: "It's not just about the tracks or the music; it's when you play them, how, what time of day. So even scheduling channels is fascinating. And I like giving the audience different sides of me" to play to those different occasions.
"We are fighting to keep cooking alive… convenience and price always win," he acknowledged. "The craft of cooking is dying, but keeping people connected to food answers so many questions outside food: Environment, farming."
That's a model he believes in. "My body of work over 17 years proves I work really hard. We always deliver a great product: Either what's relevant now, or what will be relevant in your country in the next couple of years. My job is to listen to my audience."
The second Media Mastermind keynote came from Carolyn McCall DBE, Chief Executive of ITV (above). She outlined ITV's new 'More Than TV' vision, including its plans to grow its UK and global productions by working with creative teams around the world. She was interviewed by journalist Kate Bulkley.
"You have to start from the consumer perspective. I think this is the golden age of content: everyone talks about that. There's an insatiable demand for content," said McCall. "Viewers will view great content, but I think what we have to do is make sure we have the relationship with the viewers, and we understand the viewers."
ITV is creating a new division of the company that is focusing on that direct, deeper relationship with viewers. That will include launching a streaming service, but ITV has also hired a chief data officer and a group strategic technology officer to buoy those efforts to better understand its viewers. "We wouldn't be making the right shifts, given the world around us, if we weren't also looking at doing something more directly with the consumer," she said.
McCall reiterated ITV's decision not to put in a bid for production giant Endemol, but said the broadcaster still has an appetite for "rational, disciplined acquisitions" in the future, as well as its investment in new teams and technology, to make ITV a "fitter, stronger business going forward".
On-demand is a major area of focus for ITV: "We're investing £60m over three years, and that excludes SVOD," said McCall – it's entirely focused on its existing ITV Hub catch-up service. "Currently, it's a catch-up service, and what it will become is much more of a destination where people want to spend time. There'll be more personalisation… You'll start seeing that by Christmas, and then next year. It's a phased plan."
ITV's advertising-supported AVOD business is growing at 40-45% in terms of revenues. "We have 27 million registered users already, so we are very galvanised by the opportunities we have, both for the advertiser and for the consumer," she said. ITV's revenues are around 60% from advertising and 40% from ITV Studios – a big shift from its traditional ad-focused business. "We do believe that the global content market is going to continue to grow for some time to come… however the profitability is around 70-30, so there is a little way to go, I think," said McCall.
ITV has SVOD ambitions. "Netflix is Netflix, and what we will do is specific and differentiated for the British market," said McCall. "As long as you're doing something distinctive and good-value, consumers will pay for more than one, two, three subscriptions. But there is a limit… There is a window in the UK, and we have an opportunity." ITV will launch its streaming service in 2019. "We've said we want to work with partners, but it will be ITV-led. And it will be British-originated content, which is what will make it distinctive… There will at some point be original content, but we're not launching with that."
What about Facebook, Amazon, Apple, Netflix, Google and Snapchat – the so-called FAANGS – how much of a threat are they to a company like ITV on the broadcasting side, and an opportunity as clients for ITV Studios?
"I don't think they are enemies. I think they are actually more friends than enemies. I think what Netflix has done in terms of content, and in terms of getting people to pay… Spotify and Netflix have said to people 'if you want to get this content, you have to pay'… It's a significant shift for consumers to pay for what I want, when I want it… Netflix is an important client for us, and they've changed the way consumers view. We just have to respond to that change. We're not head-to-head with Netflix though."
ITV also has a deal with Amazon and collaborates with Google, while competing with it on the advertising side. "It is more complicated, these kinds of relationships: Netflix is somewhat more straightforward than Google, for instance."
The conversation continued with reality show Love Island, which has attracted exactly the kind of young viewers who are often assumed to be ditching television. "There is a misnomer that TV doesn't reach 16-34s. If you look at all our big shows… roughly between 40 and 50% of those audiences are 16-34. All our big shows. So they do watch programmes that they like, and actually love," she said. Love Island's success partly came from its watercooler status as the show people talked about.
"You've got to be patient with these shows. In year one and year two they may look as if they're doing okay. But Love Island actually really found its form in year four… It was being used to it, understanding what people wanted, listening, and then producing it really really well, and producing it for the current generation: millennials," added McCall. "And other demographics came in because they wanted to know what all the fuss was about. I know lots of middle-aged women who were watching it because their kids were watching it – and they wanted to communicate with them."
McCall showed an exclusive clip of ITV's upcoming War of the Worlds drama before finishing with some thoughts on the changes in the TV business. "Not a lot keeps me awake at night! But it's just about speed. It's about agility, speed, flexibility, and making sure you have the right skills. Making sure you're moving in the right direction and really listening to your consumers."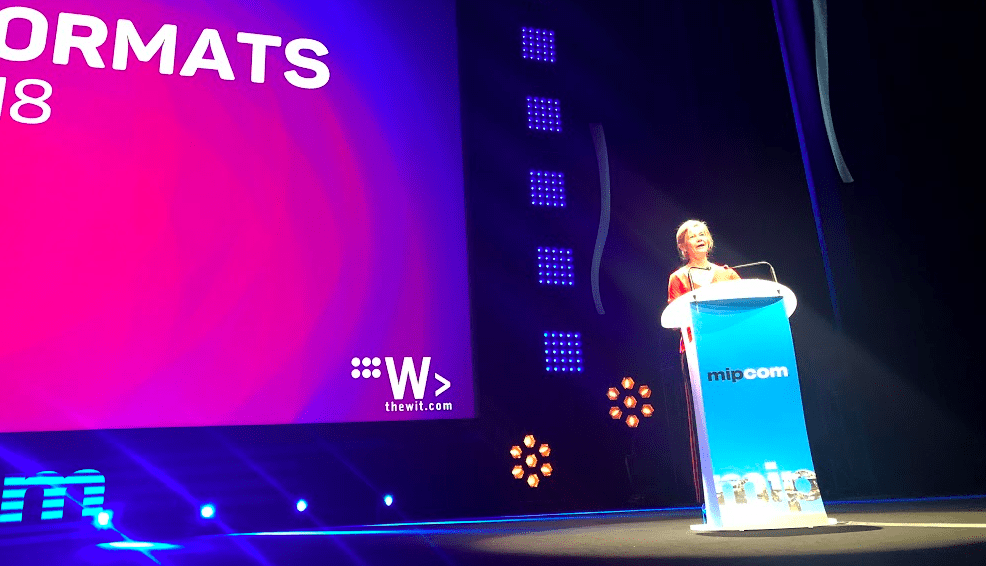 Virginia Mouseler, CEO of The Wit, opened her highly-anticipated Fresh TV Formats with ABBA's Dancing Queen, for reasons you'll discover soon. Otherwise, she observed that "slower, smaller formats" are taking the lead in 2018, meaning they sell more slowly and to fewer markets. They are also much younger, with 78 percent of the top 10 formats under 5 years old (versus in 2011, when it was 62 percent).
Dance was a big theme. Dance As One (Talpa Global) puts 20 dance crews in competition to dance in synchrony. They are filmed in slow-motion, so the jury can study every detail of their work. Among the great panoply of dance formats, there is also Dance Revolution (Armoza Formats), Dance to the Music (BBC Studios) and Dance Stories (WeMake), where people share messages with loved ones through a dance performance, with help from choreographers.
Community-oriented projects were also a major point of reference. Make Belgium Great Again (Be-Entertainment) follows young TV-creators who embark on secret missions to prove that anyone can positively impact their country. And in Secret Mayor (All3Media), actual mayors go undercover to better understand their city's problems.
And singing shows made a comeback: The Talent Project (ESG) offers talented contestants intensive 100-day training with top artists, punctuated by a fun two-minute time-lapse that enables viewers to observe their progress. The Duo (Banijay Rights) puts singers together with people they can't see until their voices combine in perfect harmony, at which point the curtain is raised and their partners are revealed… right in the middle of their debut performance together!
Another highlight of the day was the annual Women in Entertainment Global Power Lunch, hosted by A+E Networks, on the first anniversary of the #metoo hashtag. As renowned TV anchor Elizabeth Vargas (left) put it in the pre-lunch panel, "You don't fix this kind of enormous cultural issue in one year. We'll be talking about #metoo in 6, 7 years. It's going to take a lot of conversations. But it's happening. It has to happen."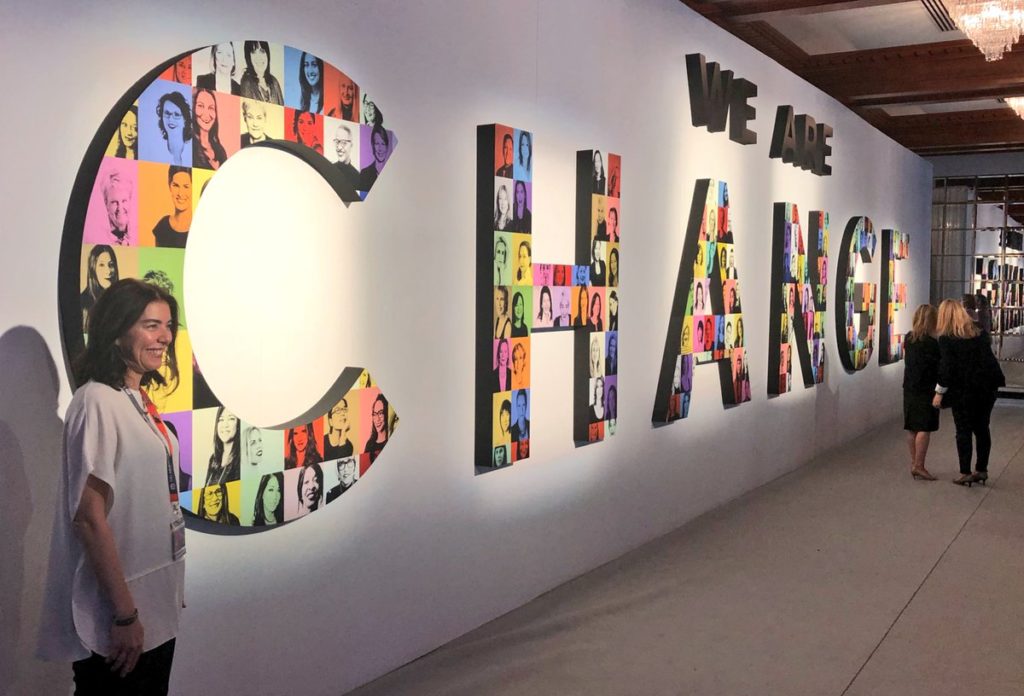 Guests at the Majestic were also proud to discover a wall adorned with the message "We are Change," made up of photos of the leading women in entertainment.
Private funds have bloomed over the last several years, providing alternative financing for premium content. In a series of fast-paced presentations as part of the new Production Funding Forum, hosted by Managing Director Amanda Groom of The Bridge, financiers unveiled what projects and partners they're seeking.
"The climate is right for long-form storytelling. That's of interest of us—to not just do feature-length but also do it over a long period of time," said David Davoli, Senior Vice President, BRON Studios.
Briefly, he discussed Canal+'s Shadow Play, "The first project that's come out of my mandate in Europe: to find programming with European creatives and European production companies." He revealed, "It came out of a trip to MIPCOM—it was a meeting I had with Jonas Bauer. We started talking projects and sharing information. That's a script I really responded to."
In terms of what Davoli seeks, "We are in the drama space. Definitely looking for high end dramas, good stories, great storytellers. The business side is secondary. I'm looking to develop and nurture relationships with buyers, to meet producers that are the best at what they do in Europe, and am also on the hunt for new shows and IP I really respond to creatively."
Next was Sebastian Burkhardt, Senior Vice President, Acquisitions & Digital, Keshet International. "As distributors we're in the business of backing and financing specific projects… high-end premium drama, predominantly English-language," he said. "We are more and more in the market of working with third party producers in terms of getting projects financed."
Because Keshet is approaching financing from the production world, he feels they can approach distribution "from a different angle. You need to find innovative models to support new projects: If that's straightforward financing, or a hybrid that involves us as a producer… we like to help the producers behind them sell and get into the international market."
Concretely, he seeks projects with "all development materials in place, and an interesting package in terms of talent. Ideally there's also a financing plan and an anchored broadcaster."
Meg Thomson, SVP – Worldwide Content, Globalgate Entertainment, said, "Our focus thus far has been theatrical films. We've been around for 2,5 years; like everyone, we're moving into the TV market."
And while Globalgate is "constantly sourcing IPs from other countries," she added, "Our primary objective is to finance local language films for local audiences. We're not looking for movies that travel; ideally we're appealing to audiences that want to see their own stars, their own stories in their own cities."
Thus Globalgate prefers working with local partners "rather than imposing our IP onto a territory."
What does Thomson want? "We're looking at commercial content… which tends to be thrillers and comedies, but straight drama works, too… adapting IP can happen anywhere. All these producers who worked in theatrical films are making TV, and we're trying to activate those relationships."
Thomas Dods, Relationship Director, Technology, Media & Telecoms at Barclays, provided a neat example for Barclay's financing role in creation. "People may think they've lucked out with a Netflix commission," he said, "then Netflix comes around and says 'we might pay you 25% upon delivery'… then pay you the balance over three years. That's where Barclays comes in."
McMafia and Black Earth Rising were both financed by Barclays. McMafia was a BBC/AMC co-production; Barclays funded "the difference between the milestone payments between those guys, essentially cashflowing," Dods said.
Black Earth Rising was a co-prod between the BBC and Netflix. It required 17M pounds to get off the ground.
Justin Deimen, Group Managing Partner, Aurora Media Holdings, operates out of Singapore and has a unique focus on the Southeast Asian market.
"We needed to consolidate film financing in this region," said Deimen. "In SEA generally, financing hasn't been on the forefront. [It has] great producers, great IP, but getting into execution has always been an issue."
Aurora mostly invests in "content infrastructure and tech," like OTT platforms, cinema or media technology. Its content can range from features to short films, "depending on how it gets monetised," with budgets that easily slide from $500.000 to $50M.
A few titles under their belt include Storm Boy, "based on a famous Australian IP," and Stano, from the producers of Rocky. Song of the Scorpions is a Swiss, Singaporean and French co-production that reflects Aurora's unique capacity to leverage rebates and taxes across borders.
"We tend not to fund scripts. We'd like to at least see a package from your end. We work with you as co-producers, not just funders; that's an important distinction," Deimen said. "We want to see how you bring some of the skin on your side to the table."
But that risk is perhaps worth it in a market often perceived as impenetrably opaque to Westerners. "If you need partners in Asia, we are in the best position to do co-productions in a more structured way," he said.
Next, Harry Eastwood, Senior Investment Director, Ingenious Media explained his model. "We get involved in the full range, from cashflowing individual pieces of production budget… to taking equity in productions," he said.
"We tend to do more tax credits than some"—notably in Eastern Europe, multiple American states and in Australia—"when someone comes to us with a fully financed plan. If they're looking to have deficit and close the finance plan, they can come to us earlier, but we like them to have a lead broadcaster attached."
Lastly, Anton Capital's Sebastian Raybaud, Founder and CEO of Anton Corp talked about what he wanted.
"We focus on high-end, expensive shows. That's what we did in the U.K., as well as in film in Europe," he said. "Paddington is a great example; it was a very expensive film, $50M. We're good at taking big risks like that on big IPs that control the world."
Anton also works extensively with the BBC to co-finance high-end drama.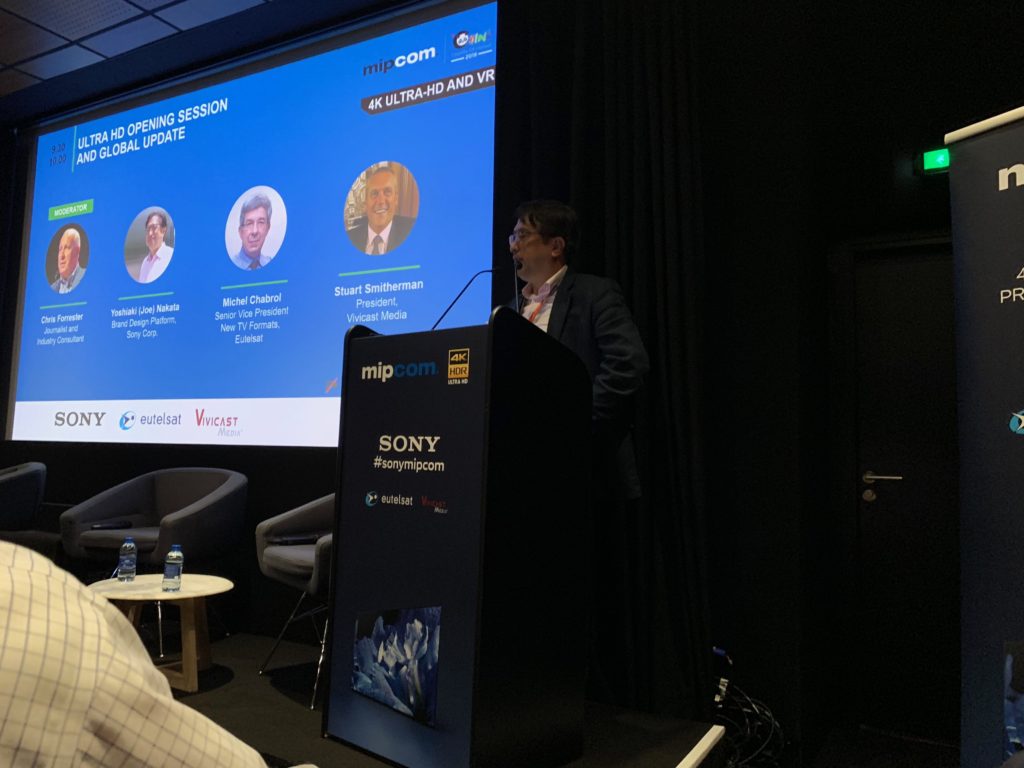 Earlier in the day, the programme in the Sony 4K Ultra HD Theatre got underway with an opening session and global update on the growth of Ultra HD technology. Sony Brand Design Platform exec Yoshiaki (Joe) Nakata was joined by Eutelsat's Senior Vice President of New TV Formats Michel Chabrol and Vivicast Media President Stuart Smitherman, with journalist Chris Forrester on moderation duty.
Forrester said that the install base of 4K Ultra HD televisions will be three times larger than today by 2022: growth that he described as "nothing short of spectacular" adding that the content to make the most of these screens is proliferating.
Nakata talked about Sony's "lens to living room" strategy of fostering great Ultra HD content, as well as its work on 8K and 4K cameras to suit the needs of producers and broadcasters – and its new Venice camera, which is being used by James Cameron for his upcoming 'Avatar' sequels. And by December this year, the five major broadcasters in Japan will start commercial broadcasts of 4K – with NHK also launching an 8K channel.
Chabrol provided some figures: there are now 142 worldwide Ultra HD channels, including 76 in Europe – 29 channels or 35 satellite feeds, and 41 IPTV services. He talked about content recommendations for production companies: "Ideally all the content should be shot in 50 or 60 frames-per-second," said Chabrol. "And create all the productions in UHD: when you do that, you know your content can be sold for the next five or maybe 10 years."
He also warned that promotion of 8K, when 4K is not yet a mass-market product, risks causing confusion, but hailed the impact of the football World Cup this year, when 24 broadcasters subscribed to the Ultra HD HDR offer.
Vivicast Media's Smitherman gave his company's view on the technology's status. "In the United States we're now up to a dozen cable operators that have signed," he said, adding that another major cable operator is in the process of signing on. But he admitted there are still challenges. "There are huge hurdles to overcome… we have 952 different cable companies with totally different ecosystems," said Smitherman.
"One of the things that I think right now in the US and Canada we need to do is start to educate people who have bought a 4K Ultra HD television… you have to know how to access the content, and what equipment you need to make that work. Those are challenges that are not just in North America." But he was optimistic about the future: "In the next 18 months time we're going to see a huge growth in 4K in the United States."
This morning also saw MIPCOM's first panel session focusing on the buzzy new world of blockchain technology, as Reel Deal Group CEO Laurent Chemla gave attendees a primer on 'Blockchain for Beginners'.
"Blockchain can be considered really as a new layer of the internet," he explained. It's about an internet of transactions and value exchange. "Pretty much the whole internet will be rebuilt using blockchain architecture," suggested Chemla, citing the security of this technology as one reason.
Blockchain is the technology that powers the Bitcoin cryptocurrency. It's a ledger of transaction records – from stock trades to medical records or past owners of a car.
"I think of it as a giant Google spreadsheet," said Chemla – a spreadsheet which is shared by a number of participants. He also talked about decentralised systems as more trustworthy. "We're moving from a world where we had centralised clearing houses, like the banking system… to the case of decentralised transactions" – where each transaction is verified by every 'node' in the network, rather than by a central authority.
There's no middleman, complete transparency for transactions, which happen instantly, and the fees for all this are "negligible" said Chemla. "There's no way to shut down blockchain: you would have to shut down the whole internet. It will keep on going," he added, on the security front. The session offered a clear, accessible introduction to blockchain as a technology. Later in the week, we'll be hearing about what TV companies can do with it.