This afternoon's MIPTV keynote examined what's driving the influx of more complex female characters in scripted drama. It was moderated by journalist Catherine Boullay and featured Pascal Breton, president, Federation Entertainment; Teresa Fernández-Valdés, executive producer, Bambú Producciones; Fleur Pellerin, president, CANNESERIES; and Audrey Fouché, screenwriter & director.
From House of Cards' Claire Underwood, to Offred in A Handmaid's Tale, where are these rich roles coming from? The rise of women in showrunning, direction and production, of course.
Among other topics, panelists speculated on why most female showrunners are American, not French. "The reason there are more Americans is they are trained to become showrunners," said Fouché (presently writing for Netflix's Osmosis). She used Jill Soloway of Transparent as an example. "She worked on Six Feet Under, learned along the way to become a showrunner and had access to that position of power." 
The current state of showrunning in France is partly inherited from auteur theory in cinema. The Nouvelle Vague bequeathed us with the notion that "directors add vision to the film" and screenwriters were less important, Fouché said. "So in France for a long time… TV writers would produce scripts and not be associated with the rest of the process, cut out of all the decisions that lead to the final product."
Almost as if to illustrate the point, Breton said he felt there's a rising number of female directors in film, but "the main problem is in writing because… it's obvious to me that writing is more feminine. Writing series is about characters. Movies are more about men."
"It's a traditional thing that women were writers," Fouché retorted. "There is no shortage of woman writers, but there is a shortage of woman directors."
"It's true in France… that with the Nouvelle Vague we have this fascination for directors," Pellerin said. But "when I talk to producers or creators of TV series, they all tell me the most important person in a TV series is the writer. Sometimes you'll have one showrunner and different directors. Maybe TV is where writers can take power. And because there are many woman writers, it's a good opportunity."
In terms of recruiting more women writers, Pellerin felt quotas are bad for creativity but a lot that can be done to promote representation of women—"more gender balanced juries, encouraging girls in school to study and be trained as showrunners, we have a lot to do. That's where politicans can have an influence."
"We have a lot of tools, a lot of information," said Fernández-Valdés, who's working on Cable Girls for Netflix—a show that, she observed, young people tend to watch with their grandmothers, creating an affinity that unites generations. "It's key to educate kids about how they must respect one another," she said. "I don't think because you're a woman you'll do it better, but I think we can make rich TV by respecting each other."
Fouché benefited from Tom Fontana's model in the US: Hiring young writers, then training them year after year. "It's very organic; you learn on the field… France needs stuff like this. I'm lucky I benefited from it but I would love—on my show, maybe future shows—to start training young writers that way." She also brought up the Bechdel test, which she keeps in mind when creating her own characters. "I'm careful not to make women revolve around a love interest; [I ensure] they have their own goals, motivations, professional ambitions."
Asked whether she'd consider writing in the US, she replied, "We have so much to do in France to promote that kind of model. I think it's more exciting to do that in Paris than go to LA. It's also one of our responsibilities to try to do it at home, not run away abroad."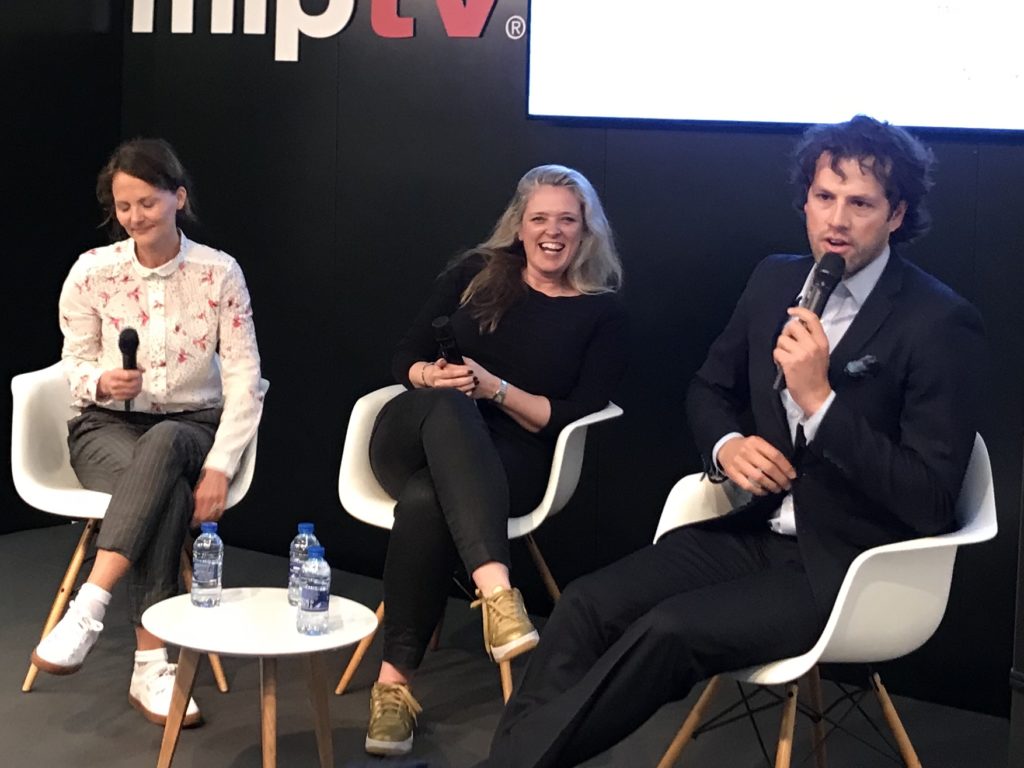 Instagram may not be commissioning TV-style shows (yet!) but there are still people creating interesting video content for Facebook's photo and video-sharing app. Two of them shared their experiences this afternoon at MIPTV: Hyppe Salmi, executive producer at YLE in Finland; and Joanna Wells, VP of digital at MTV UK and Comedy Central. The moderator was Drew Baldwin, CEO of Tubefilter.
Wells talked about the advantages of broadcasters and producers being early on to any new social/digital platform. "There are similarities [between them]but it's just understanding what each platform requires… you learn as you go, and if you're there from the very start, you get to build up your insights. Don't be scared to try anything: fail fast, have a go, and just be creative and innovative."
"Instagram can be quite intimate," she continued. "And you've got about a second to grab somebody's interest within a feed. So it has to be something that really engages. You have to get their attention in the feed, but when they go to your homepage and decide to follow you, that's when you turn them into believers… You have to have a really clear idea about what your brand identity is going to be." There's not yet monetisation on Instagram, but its 'stories' feature can be used to embed links to drive viewers elsewhere. "Instagram stories, it was Lilly Singh last week who said it's the biggest traffic referral back to YouTube for her. We're seeing that as well. We've been hit by the algorithm of Facebook, but we're using stories to push that back [up]."
Hyppe gave the view of a public broadcaster. YLE developed a drama series called Karma told entirely through Instagram stories, working with a young independent producer. Viewers were encouraged to follow its Instagram account and comment on the action and stars. "It was a three-day event, sort of like a theatre going on a performance," she said: around 30-35 minutes of content were produced in total. "All the girls were living together, and they shot with their phones, published, read the comments and took the comments into the next scenes. And it went on like that… It was made in Instagram. We didn't do any post or anything."
https://www.instagram.com/p/Bdawpu6Fuls/?hl=fi&taken-by=karmadraama
Wells talked about MTV's strategy when it comes to figuring out what to do with linear shows on social platforms like Instagram. "Second screen is just as important for us as linear at MTV, and we have a completely 360 approach to all of our linear shows now," she said. "It's completely joined up." And she also offered a tip for producers who are puzzling over how to grab people's attention in that one-second window. "On Instagram 60% of people have the sound on, Facebook, almost everybody has it off," she said. So sound as well as visuals may be crucial on this particular platform.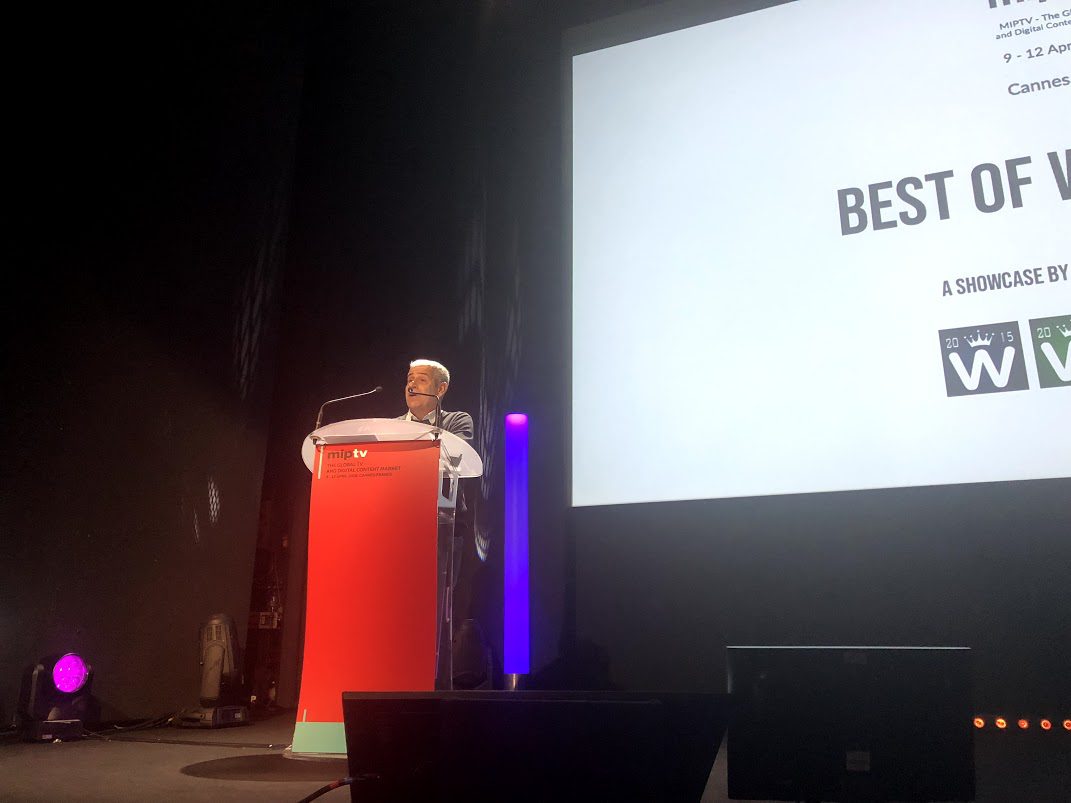 How awesome can web series get? At MIPTV's best of short form series showcase, the answer was pretty awesome. The rise of OTT platforms has unleashed a booming demand for short series and churned up a perfect storm of commissions and creativity across all genres. Joel Bassaget, consultant at Web Series Mag, presented a curated showcase of the latest examples.
Joel Bassaget, representing Web Series Mag, led MIPTV's best of short form series showcase. It was different from previous iterations: Instead of sharing existing work, he shared one short episode and one trailer of as-yet-unreleased work.
We kicked off with a complete episode of High Life, where a sensitive and over-achieving 17-year-old student experiences her first manic episode of bipolar disorder. The series will air on BBC 3 from Sunday; interested parties can email lukeeve@moresauce.com.au.
Next came a trailer for Tubeheads, an anarchic and visually-stunning puppet comedy web series exploring pop culture. It was named Best Upcoming Comedy Channel on German Youtube. Email axel@lumatik.de for licensing details or more information.
The Hidden Track (contact: grigorieva.nat@gmail.com) is based on an online bestseller by Valentina Nazarova. It follows Nika, who's investigating the mysterious 2007 disappearance of her sister in the UK. Using social networks, Nika discovers clues … and British rock.
In Hotel Romanov (gastonarmagno@gmail.com), Isabella wins a stay at a beautiful hotel in Cologne, where she discovers the hotel workers have a bizarre obsession with her. Selección Natural (crew@helenafilms.com) is about Guillermo, a prosecutor facing the murder of a famous transsexual, which kicked off a protest led by the LGBTI community that is jeopardising his case. Can he solve the crime while battling his country's prejudices?
Gut Holz (info@reclaimedmarshland.com) sees a famous tennis player return to his home village after his father's death—where he discovers he's still got a score to settle with the ol' bowling alley. Random season 2 (sullivan.lecorvic@gmail.com) picks up where the last series left off, with the nightmare of confinement they escaped proving "only the beginning". Lastly, 7Peas (hugo@vastbemess.com), still in development, is about a war between a brother and sister, who use toys to compete.
"The market for short film isn't there yet, and the reason is that the audience doesn't know this fantastic entertainment for mobile exists," said Bassaget. "We need to be innovative and creative about showing and distributing this content to the audience. One of the keys is to use the experience of all the popular things on the internet, like video games. And get closer to branding."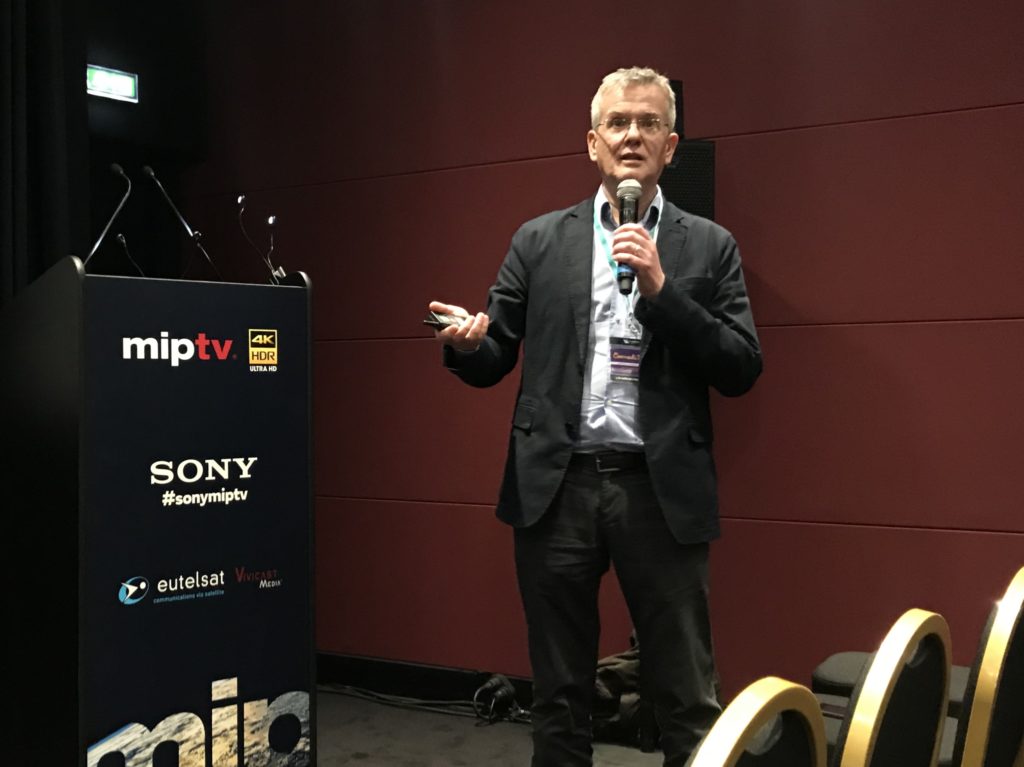 Late in the afternoon, Sony's 4K Ultra Theatre played host to a session exploring the potential of Ultra High Definition (UHD) and High Dynamic Range (HDR), aimed at producers. Peter Sykes, strategic technology development manager at Sony Professional Solutions Europe, provided the expertise.
Sykes talked about trends in the industry. He said substantial progress has been made with UHD in the last year. "We have more services in Ultra High Definition than we had last year, and more high-profile events have been broadcast in 4K," he said. He noted that Netflix had around 800 hours of UHD and more than 120 hours of HDR content on its service in 2017 – and more now – while Amazon, Apple TV, Vudu and Sky Perfect are among the other services offering HDR content.
He also said 4K and UHD-capable devices continue to proliferate, from smartphones to big-screen televisions, as well as home-cinema projectors. After outlining the definitions for UHD and HDR, Sykes talked up the creative potential of HDR, and its ability to handle darker shades. "In episodic TV, shadow is important. In suspense-action that's where all the bad stuff happens: the killer will emerge from the shadows!" he said.
Sykes stressed that Ultra HD with HDR is here already: the first HDR cameras were launched 10 years ago, and they're in widespread use. And the standards for creation of the content and its exchange are in place, with proven post-production workflows too, through to the growing number of HDR-capable televisions and projectors, and the services that support this content. "The standards are there, the technology's there." And Sony is keen to help people with the necessary know-how.
Additional reporting by Angela Natividad