"We're in the Golden Age of TV. TV series have never been done better. It's the right time for CANNESERIES." stated CANNESERIES Jury President Harlan Coben in the press conference yesterday.
CANNESERIES' Official Competition presents 10 brand new series from April 7 to April 11 in the Palais. On Wednesday, the festival jury will hand out awards in five categories: Performance, Special Performance, Music, Best Screenplay and Best Series.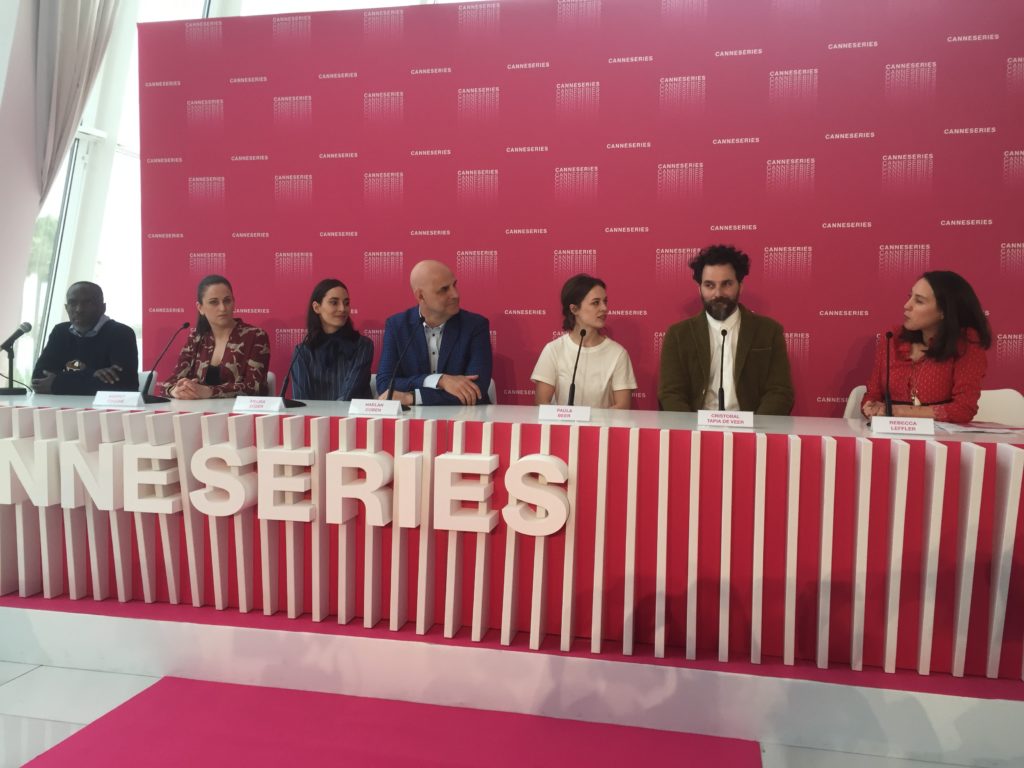 Jury president Harlan Coben said at the jury press conference: "I'm looking forward to seeing originality, great entertainment, stories that move us and we haven't seen before." Also on the jury are German actress Paula Beer, French screenwriter and director Audrey Fouché, Turkish actress Melisa Sözen, Chilean-Canadian composer Cristobal Tapia de Veer, and actor Michael Kenneth Williams, best known for his role in The Wire.
When asked about the difference between playing a character in a movie and a TV series, Michael Kenneth Williams replied: "The TV character becomes a part of you, if you play it for such a long time." German actress Paula Beer agreed and added that in a TV series you can also show more dimensions of a character. "You have to prepare a lot more for a TV series, though", she continued. Her latest TV series Bad Banks consists of six episodes à 60 minutes. "That's basically three movies."
Turkish actress Melisa Sözen explained that in Turkey, drama series episodes are on average 120 minutes long. Therefore, "TV series are more challenging and demanding than movies for actors." For her the most important aspect of a series is a powerful and unique story.
All of them agreed that a unique story and amazing writing are the most important elements of an outstanding drama series. French screenwriter and director Audrey Fouché said: "TV is a writer's medium, not a director's medium." And Michael Kenneth Williams added: "I like to read my scripts like a good book."
CANNESERIES is taking place at the same time as industry event MIPTV, but jury president Harlan Coben assured the jury will judge what is the best in terms of creativity and production, and not what will sell.
For the CANNESERIES opening ceremony last night, the pink carpet was rolled out and international stars such as Downton Abbey's Michelle Dockery, who received the inaugural Variety Icon Award, and Grey's Anatomy's Patrick Dempsey walked on it, but also French celebrities such as Comedian/Actor Michael Youn (below) and Kyan Khojandi, who will host the Closing Awards ceremony on Wednesday night. The Awards Ceremony will also be broadcast live on CANAL+. You can check out all ou pink carpet photos on Twitter, here…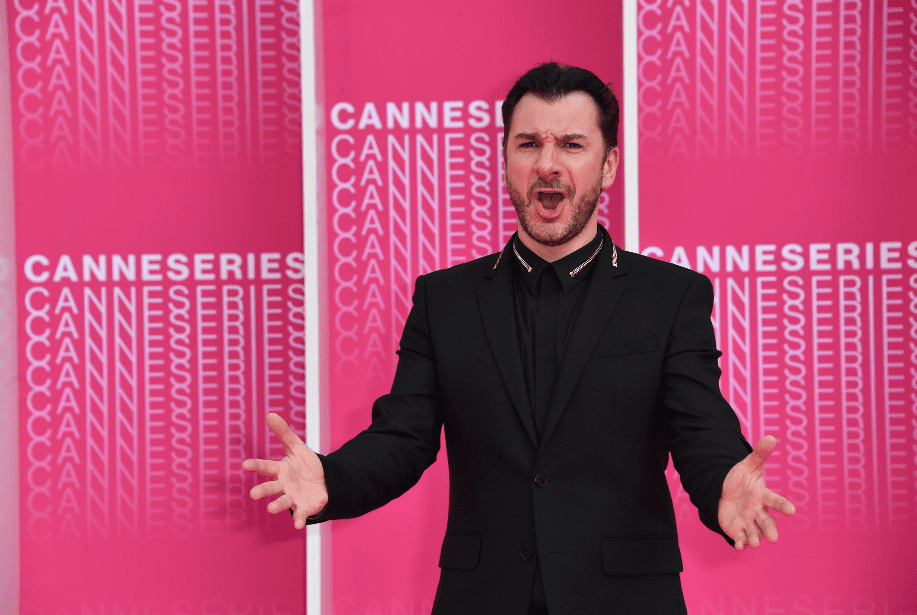 Highlight of the opening ceremony was the stunning Michelle Dockery (top photo), who received the inaugural Variety Icon Award, which recognises outstanding achievement in acting that has been praised by both fans and critics.
In her acceptance speech, Michelle Dockery confessed that she was "obsessed with television as a teenager." She said: "I would sit with my mum and dad, we would watch Prime Suspect, starring the great Helen Mirren, Jimmy McGovern's Cracker, and The Jewel in the Crown. Those were the shows which inspired me to pursue a career in acting."
The other highlight was the presence of director Jean-Jacques Annaud and actors Patrick Dempsey, Ben Schnetzer, and Kristine Froseth, as well as a sneak peek of 35 minutes selected scenes from their series "The Truth About the Harry Quebert Affair." Patrick Dempsey said ahead of the screening: "It has been a tremendous experience. Working with people who love what they do is inspiring."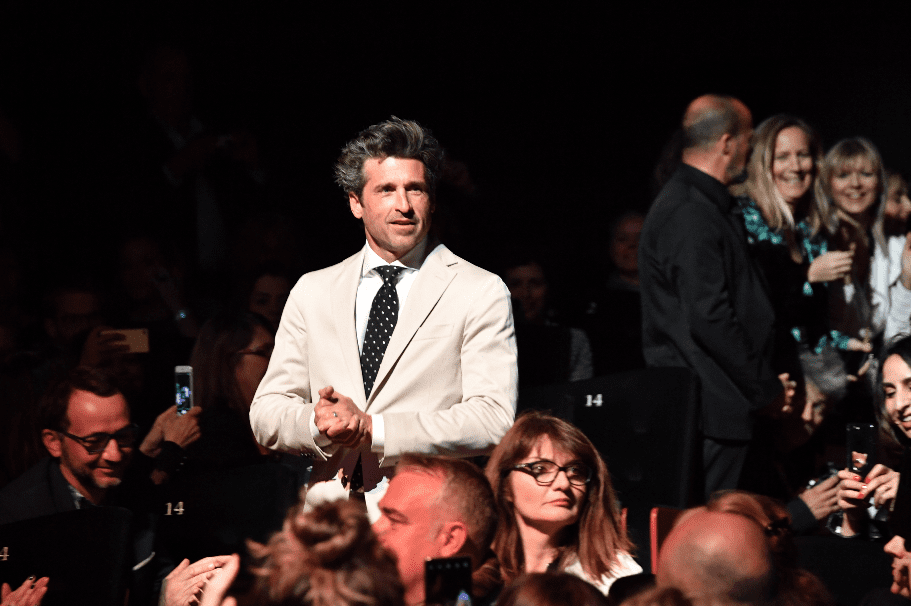 Described by Annaud as a "thriller about impossible love", "The Truth" turns on a young novelist who in 2008, suffering writer's block, seeks out his mentor Quebert, author of a masterpiece of modern American literature. But he is suddenly indicted with the abduction and murder of a girl he met in 1975. The 10-part series is produced by MGM Television, Eagle Pictures and Barbary Films.
The first Official Competition screening of today, April 8, was Félix, written and directed by Spain's Cesc Gay.
Felix, an ordinary man with a quiet life, encounters Julia, a woman of Asian origin he hardly knows anything about, but with whom he falls in love. After a few casual encounters, Julia disappears. Felix soon realises she is not the woman she pretends to be, and he cannot avoid becoming an amateur detective of sorts. 
Cesc Gay is mixing genres in this romantic thriller series. During the press conference today he said: "My inspiration for this series was Alfred Hitchcock. He brilliantly mixed humour and thriller." It was intriguing to strike the right balance between slapstick and drama. The most challenging part for him was the element of humour, though. "Humour changes between cultures. There are places where Felix connects better and places where he isn't connecting with the audience."
Each episode is focused on Felix and the mysterious woman and each episode sheds more light. Argentinian Actor Leonardo Sbaraglia not only stars in it, he also narrates the series. He was in front of the camera for 20 weeks. "It was a challenge, but also a fantastic experience." The series is set in Andorra, the mountain principality locked between France and Spain. Cesc Gay chose this location, because "in this apparent paradise there are many things happening below the surface." An investigation into the Chinese mafia laundering money in Andorra was the inspiration for this series.
Now, as Benoît Louvet said last night when he opened the festival: "Viva CANNESERIES!"