A common perception is that Canada is very similar to the United States, differentiated only by their love of hockey and Tim Hortons. However, the differences between these two North American markets can be significant and television content producers and distributors would do well to cater their offerings specifically for each country.
Armed with Parrot Analytics' cross-market, cross-platform demand data, the popularity of titles can be compared between these countries, revealing broad trends that illustrate the importance of treating each market quite specifically, and individually.
To see how trends in television content differ between Canada and the United States, the demand for sub-genres were averaged over 2017 and ranked in both countries. Many sub-genres rank highly in both markets, often driven by a single popular title (i.e., The Walking Dead for apocalyptic dramas). However, the sub-genre rankings do vary, revealing differences between the two countries as the table below shows.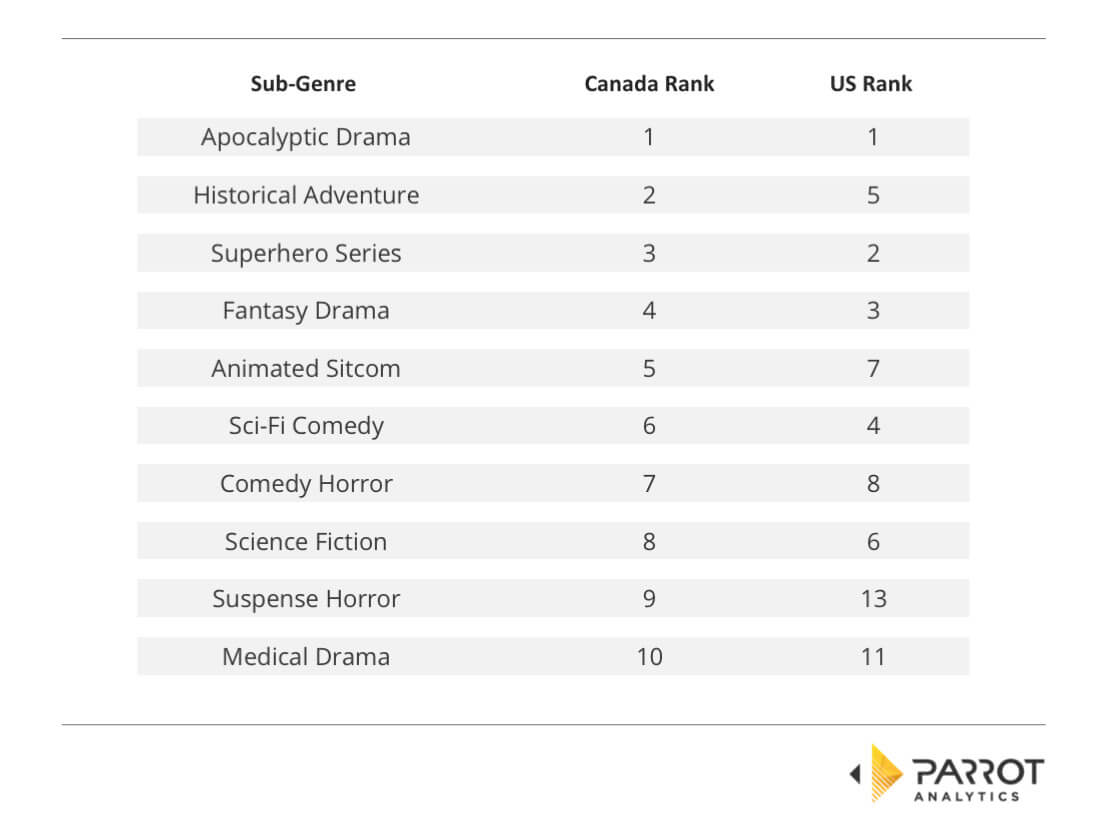 Historical adventure titles rank second in Canada due to the popular Canadian production Vikings, while these titles only rank fifth in the United States by average demand.
The largest difference in rank is for suspense horror titles (such as American Horror Story): These titles rank ninth in Canada but four places lower in the United States.
To quantify these differences in sub-genre preferences, the percent difference between Canadian and US demand for these genres is calculated: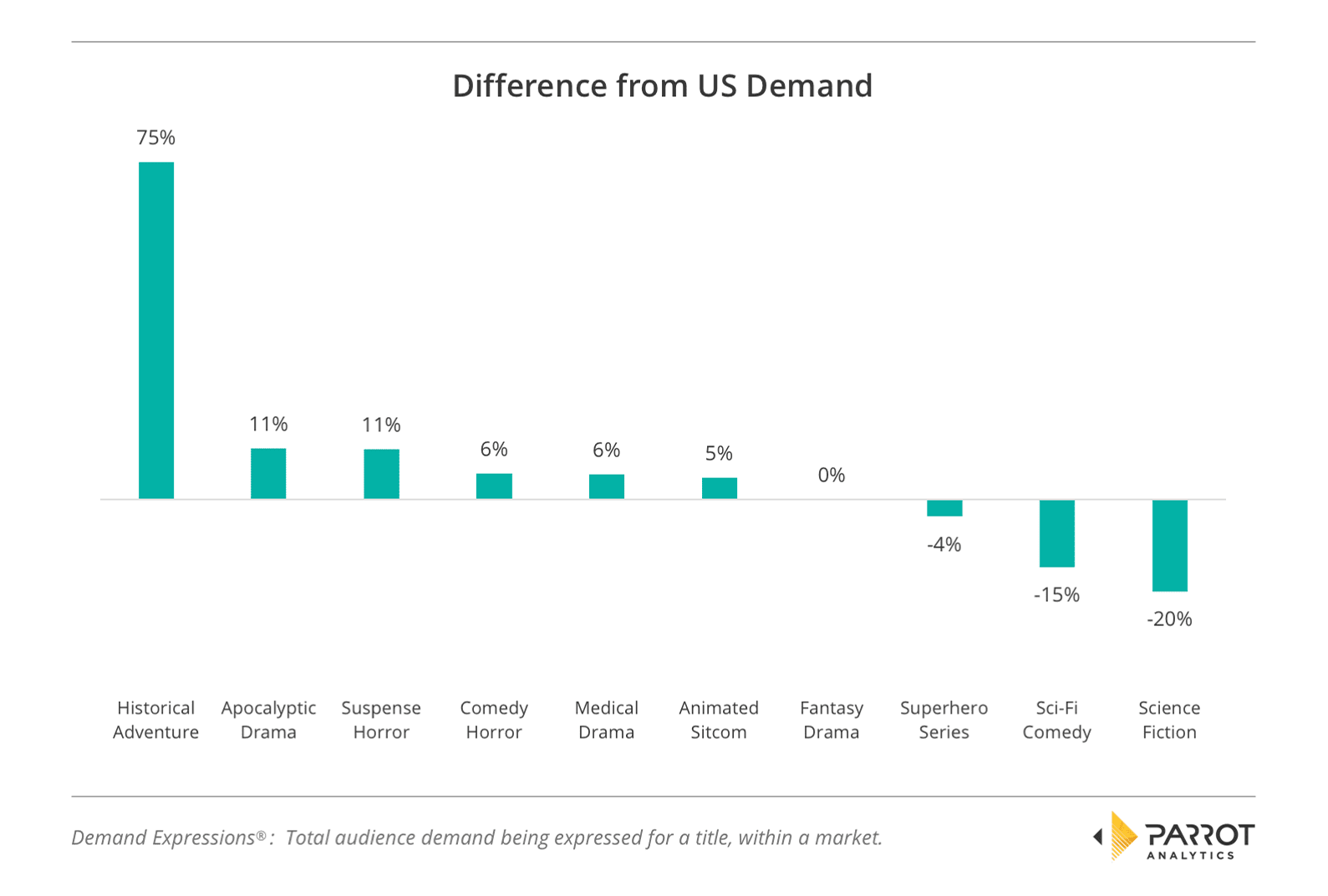 Compared to their popularity in the United States, drama and horror genres over-index in Canada. Some comedies with darker undertones, such as comedy-horror or adult-oriented animated sitcoms, also have more demand in Canada than in its southern neighbor.
In contrast, genres with fantastical elements – fantasy, superheroes, and science fiction – are less popular in Canada. These genres generally deal with lighter themes and stories than dramas and horror titles; Canadians seem to like their TV dark and gritty.
However, they do still like some forms of escapism: Historical adventure titles are 75% more popular in Canada than in the US, though, again, the hit show Vikings is primarily the driver for this.
These preferences are represented in the top titles of last year. Three out of the ten-most popular shows in Canada are unique to the market; they do not rank within the top ten titles in the United States: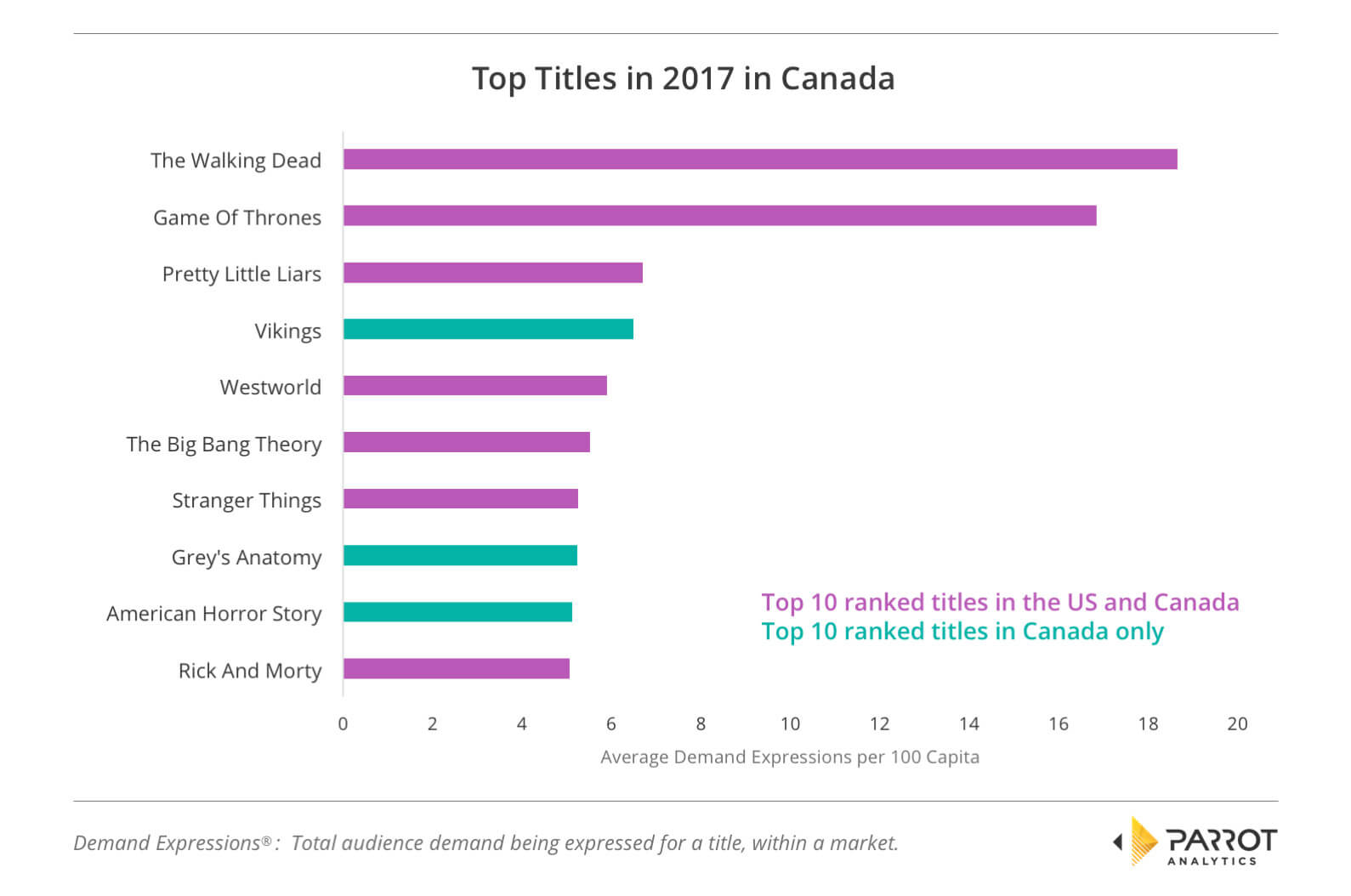 Vikings ranks fourth in Canada, driving the high demand for the historical adventure in this market. The US titles Grey's Anatomy and American Horror Story are more popular in Canada than in their home market and represent the medical drama and suspense horror genres, respectively.
The titles that are more popular in Canada also tend to be older series with five or more seasons, indicating that mature shows like these have a stronger audience in Canada than in the US, where they may be superseded in popularity by new hits.
In the United States, these titles are replaced by The Flash, Star Trek: Discovery, and Shameless. In fact, the new sci-fi hit Star Trek: Discovery does not even rank within the top 20 shows in Canada, illustrating the relatively low demand for this genre in this market and the tendency for older titles to be more popular.
The remaining titles in the Canadian top ten, especially The Walking Dead and Game of Thrones, also rank highly in many other markets, so the appearance of unique titles in the top ten are significant and indicative of the preferences of the Canadian market.
Image: Vikings (History) © TMS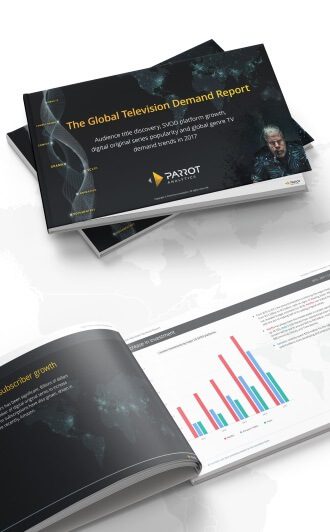 Parrot Analytics: The Global Television Demand Report
MIPTrends is excited to share Parrot Analytics' latest in-depth global research report with you: The 2017 Global Television Demand Report. This 65 page in-depth whitepaper takes a comprehensive look at global television audience demand trends across 10 markets in 2017: Australia, Brazil, Canada, France, Germany, Japan, Mexico, Spain, the United Kingdom and the United States. Parrot Analytics reveal how TV audiences discover new TV shows to watch in each market, the top digital original shows in each country as well as genre trends and SVOD platform market share in each country for 2017.
> Download this report now.