Can consumers tell the difference between HD and Ultra HD? The answer is, probably not… and that may well be what ensures its dominance. In a session moderated by journalist and industry consultant Chris Forrester, a number of ultra high-definition (UHD) insiders presented data, content and — by and large — encouraging news about the rising quality of our viewing experience.
We're still struggling to create content and a mainstream market for 4K definition. But, quoting a colleague, Forrester introduced the panel by pointing out that the South Korea Winter Olympics will be the fourth Olympics to carry 8K. What's more, there are more platforms than ever whose standards are rising, ensuring 4K gets its day.
"Distribution is no longer just TV, but to other devices, including OTT and small devices," Forrester said. "We see these elements coming together and being seamless for the viewer, irrelevant to the tech or delivery system. By 2022, we'll no longer talk of 4K or 8K but of excellent quality, okay quality or small device quality. A viewer won't know they're buying an 8K set at a store."
With this fortuitous introduction, Sony Corporation's senior producer Yoshiaki "Joe" Nakata shared a breathtaking trailer of Sony Bravia's OLED TV, dubbed "Earth Rising."
Notably, the unbelievably thin unit has no speaker. "We incorporate glass sound speaker technology, where sound is coming from the screen itself," Nakata revealed. The television is being demonstrated this week in 55 inches, just outside the Sony 4K theatre, where this morning's panel took place.
Like the speakers that would follow, Nakata also provided insight on what he feels has held mainstream acceptance back. "We need you to make great 4K content," he admonished the audience. Coupled with difficulty defining an industry technological standard, this was a common refrain.
Next up, CEO Rian Bester of Insight TV — conveniently, a content provider — shared his point of view.
Bester is a Sony 4K session old-timer; this is the fifth such session he's done. In 2017, Insight TV's managed to spread its UHD content scope to 21 linear platforms and 10 digital platforms. The company has over 300 hours of premium ultra HD content … for which it holds all global rights.
Here's an example of the kind of content it provides.
Insight TV's content is targeted to millennial audiences.
"We wanted to create compelling content from the start," Bester told us. "There's still what I call a lot of wallpaper content; people producing timelapse sunsets and all that. Nobody's gonna sit down and watch that."
Echoing Nakata, he added that content remains UHD's weakest link. The Winter Olympics and more sports events are being broadcast in UHD, but elsewhere it's a barrier. That's why Insight TV focuses on three core genres: Entertainment, action sports and lifestyle.
"We've tried filling that void from the start," he said. "We've maintained extremely high tech specifications from day one. Now we're able to remaster some of our first content in HDR that wasn't done at that time. HDR is an important factor, a critical success factor for the success of UHD."
And there's no better time to be banking on that success.
"We focused not just on linear broadcast, but also the digital space," Bester went on, "any platform that can convey UHD to the consumer."
Currently Insight TV streams SVOD in RK-UHD+HR, with an aggressive focus on penetrating Amazon channels, Android, Samsung, PS4, LG, Sony, XBox One S, iOS, and Chromecast. "We're targeting all these devices with our streaming services. Based on changing viewing behaviour, especially of our target audience, this is a must for us."
As for whether millennials care about UHD in the first place? Bester himself shared data showing that, though people "can't really see the difference between HD and UHD," they're still buying more of the latter.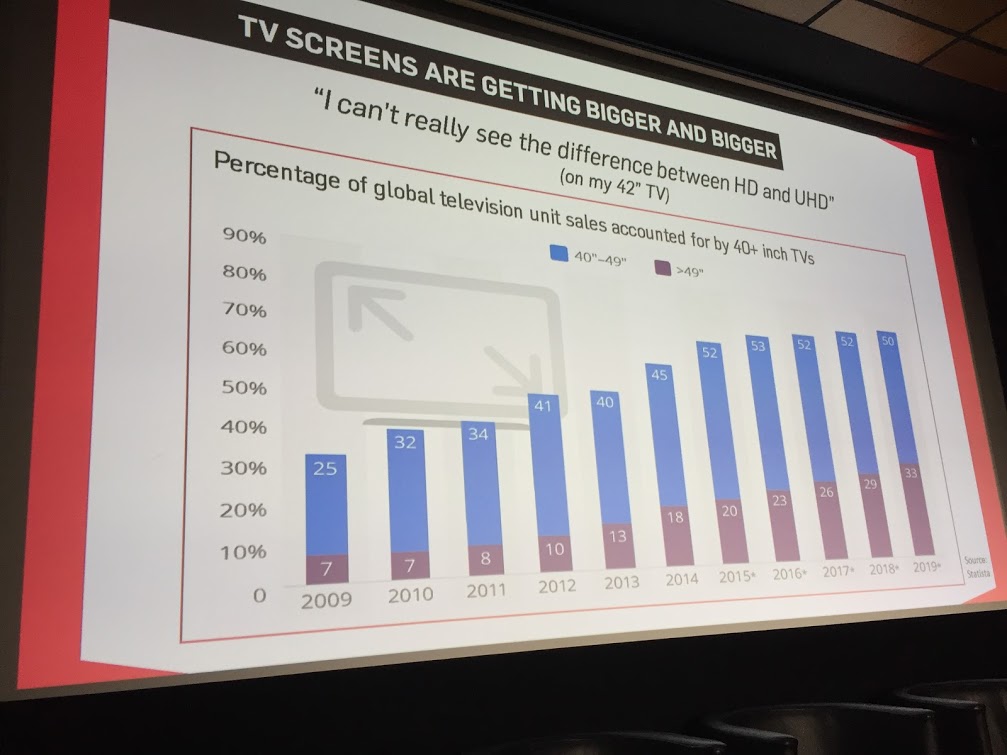 "The cost differential to buy a UHD screen is becoming so small that consumers—regardless of whether they know it or want it—get the UHD screen because it's the latest," Bester said simply. "People are increasingly buying bigger and bigger screens. The stats show that."
With that in mind, the following words of his became especially prescient: Per Bester, people have said, "'We are not going to embrace UHD because it's a conspiracy by the engineers'. I am an engineer, and I promise it's not a conspiracy. UHD is a reality that's going to stay."
Next, Michel Chabrol, SVP-New TV Formats of Eutelsat, shared his state of the sector.
"60, 50 frames per second is no longer exceptional; it's the baseline," he told us, adding that channels must increasingly try courting business from cable and IPTV distributors. "Insight has been very successful in penetration of IPTV and cable networks. Last step: Adoption by pay TV platforms."
He also shared his perspective on what's delayed UHD adoption: The lack of a coherent shared HDR standard. "It wasn't easy for some CTOs or business development managers to order three, four or five million set top boxes—14 million set top boxes for certain countries—without knowing which standard to take."
He also reiterated that "Broadcasters need more production to propose attractive content. What people need is a story. You can't stay for four hours in front of a 4K TV set if you don't have a story to listen to, if you don't have a programme."
As for sports? It's been a nice way to slide 4K through the door, but rights will always be the problem there. Still, Chabrol is optimistic about the Olympics and FIFA 2018 in Russia: "These 2 events should be a booster for ultra HD, whether 8K or 4K."
Next, Vivicast Media president Stuart Smitherman gave his report.
Vivicast licenses 24/7 live linear TV networks, as well as TV content in 4K and high dynamic range to US operators. Vivicast has carried nine UHD channels into the US market.
"It's fair to say the US market was fairly slow in picking up UHD," Smitherman admits. "The biggest reason was lack of 4K set top boxes, simply because we have so many different ecosystems we're trying to run video across." However, he predicts an impending eruption of ultra HD content: "We're starting to see it now in sports."
Last but not least, Eutelsat's director global market research & customer experience, Claudia Vaccarone, sent us home with some reassuring data, composed of a TV observatory perimeter of 51 countries across three regions: 17 countries in Western Europe, 17 in Eastern Europe and 17 in MENA.
"In terms of equipment, the numbers are starting to look really good," she reported, pointing to how 8 percent of Western European TV households are already UHD equipped, with a whopping 14 percent planning to equip in the next 12 months. Awareness for all regions is now over 50 percent—not bad.
These figures may be conservative; notably, IHS has a slightly rosier outlook of existing equipment in the Western European market.
Paul Grey of @IHS "10% of Western Europe homes already equipped with #UHD screens" #mipcom #4K pic.twitter.com/CJ5UIBDGAZ

— Claudiα Vaccarone MSc. (@claudia_v_) October 16, 2017
What's holding UHD back? Vaccarone falls on the content side of that debate. "Lack of pervasive content makes it hard for consumers that are not equipped to fully embrace this," she said.
And the hardware is right there waiting. Currently, UHD is served across 41 channels or 68 feeds as of the month of October. IPTV has 56 equipped services and/or operators, and two channels are broadcasting terrestrially in Seoul to prepare for the Winter Olympics.
"We're still in early stages, but from one year to the next we're seeing real progress," Vaccarone said—a decidedly understated conclusion.